Colorful Crunchy Sweet Corn Salad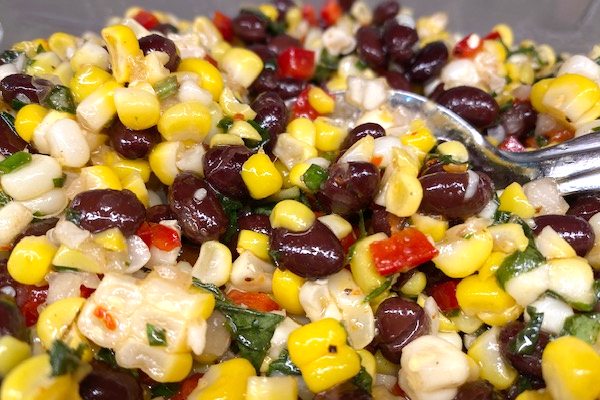 Sweet corn salad begins with perfect sweet corn! Locally grown sweet corn is one of the summer's most precious fleeting gifts! Sweet corn stands are popping up on every street corner! Stop and buy some from one of them instead of going to the grocery store to get it! You will be supporting a family business when you do!
And, when you buy sweet corn directly from the farmer that grows it, you can be sure it is fresh and the sugar content is at its peak. Someone probably picked each ear earlier the same morning as you buy it! That means the flavor is as good as it gets. Nothing beats farm-to-table freshness!!
Ears To Your Health Sweet Corn Is Good And It's Good For You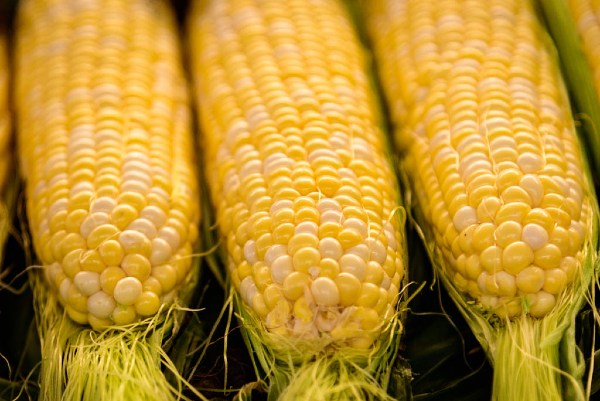 Some folks think sweet corn is nutritionally bankrupt, but nothing could be further from the truth! Corn has loads of health benefits. The high fiber content can aid with digestion, helps prevent constipation, and assists you to stay full longer between meals.
Sweet corn also contains vitamins essential to your overall health, like B, E, K, and C. And corn is rich in minerals such as zinc, potassium, magnesium, copper, iron, and manganese.
During sweet corn season, we eat corn on the cob almost every night. I eat mine plain and simple, with no butter or salt because the taste is pure perfection. Papa slathers on both butter and salt! The rest of our meal is pretty sparse, but we do indulge in this summer delight with gusto!
I wanted to make a sweet corn salad with no mayonnaise or cilantro. Personally, I think cilantro tastes like soap, so I left it out. (I know lots of folks who adore cilantro, and we are still friends.😉). The recipe I created has a spunky red wine vinaigrette with garlic; instead, that gives it a real flavor boost and makes the salad an exceptional keeper.
Basil and chives were born to marry with corn and beans. It's a delightful flavor profile! What's more, black beans, along with corn, make it a nutritional powerhouse. I call that a win!
So hurry and grab some succulent ears of sweet corn from your favorite roadside stand before it's too late and make this salad!
You Make It Healthy And Fresh You Make It Quick And Simple
Blanch the ears for just a bit to keep that sweet crunch, cut it off the cob, and put it in a bowl. When you blanch corn, it stops the enzyme action, kills any bacteria present, and brightens the color of the corn kernels.
Oh, you want to know how to blanch corn? Remove all the husks and silk, then plop the ears in a pot of boiling water for about 3 minutes. Then pull them out and put them in a sink full of very cold water to stop the cooking. Here's more information about blanching corn if you want to freeze some for later, too!
Break up the corn kernels a bit, but let some stay in little chunks. Those nuggets are the tastiest bites of this colorful, yummy combination! Next, drain and rinse a can of black beans and add it to the corn and the other ingredients.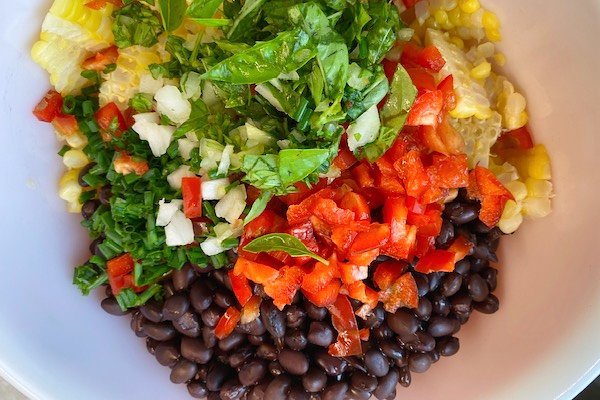 Now, shake up the simple red wine vinaigrette and pour it over the corn and bean mixture. Garnish with fresh basil and refrigerate. This salad will keep a week or more in the fridge, and things will stay nice and crunchy.
If you like, add some grape tomatoes for garnish, but put them on them when it's served. They taste great but remember; they do not refrigerate very well.
This week we've had this dish alongside grilled burgers one night and ham another. What a great combo both times!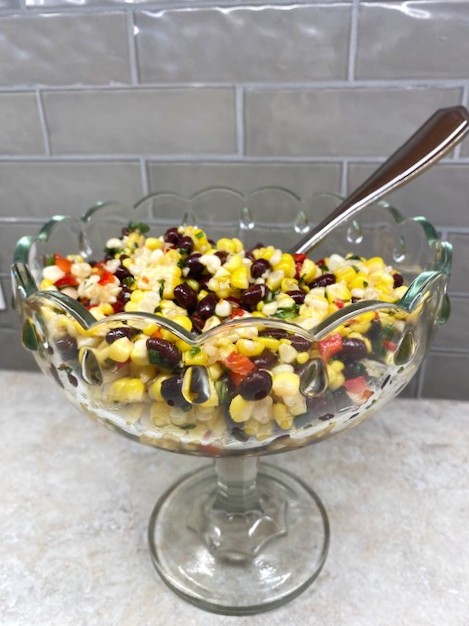 Crunchy Colorful Sweet Corn Salad Is The Winner This Summer
This recipe was voted "Best New Salad" by family and friends! Do you have a favorite corn salad recipe? Even if it has cilantro in it, we'd love it if you'd share!
Yield: 10 servings
Sweet Corn Salad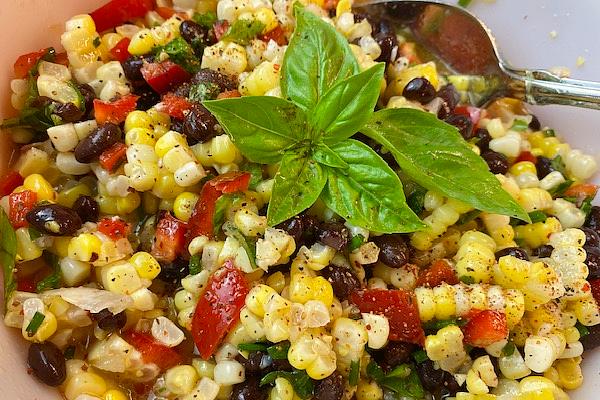 Crunchy, colorful salad of fresh sweet corn, black beans, sweet red peppers, onion, basil, and chives in a spunky red wine vinaigrette.
Ingredients
2 1/2 cups fresh sweet corn kernels, about 5 average ears.
1  15.5 ounce can plain black beans, drained and rinsed.
1/3 cup sweet red pepper, seeded and diced, about 1/2 average-size red pepper.
3-4 Tbsp fresh basil chopped fine.
1 tbsp fresh chives, cut fine.
2 Tbsp sweet onion or red onion, diced fine.
Grape tomatoes for garnish if desired.
Red Wine Vinaigrette
1/4 cup red wine vinegar
2 Tbsp salad oil
2 Tbsp extra virgin olive oil
1/2 tsp garlic powder
1/2 tsp seasoned black pepper
1 tsp seasoned salt
3 Tbsp sugar
Instructions
Blanch corn in boiling water for 3 minutes, remove and chill.
Cut corn off the cob and put it in a bowl, breaking up the kernels but not completely.
Drain and rinse black beans.
Seed and dice the sweet red pepper.
Dice onion finely.
Roll up basil leaves and slice thinly into ribbons or chop.
Chop chives into very thin pieces.
Combine all the ingredients in a bowl.
Combine all vinaigrette ingredients in a shaker or jar and mix vigorously until all is well combined.
Pour over vegetables and gently stir to mix.
Add more salt and pepper to taste and garnish with fresh basil leaves.
Garnish with grape tomatoes at the serving time if you wish; remember, they do not refrigerate well.
Nutrition Information:
Yield:
10
Serving Size:
1
Amount Per Serving:
Calories:

232
Total Fat:

7g
Saturated Fat:

1g
Trans Fat:

0g
Unsaturated Fat:

5g
Cholesterol:

0mg
Sodium:

155mg
Carbohydrates:

36g
Fiber:

9g
Sugar:

7g
Protein:

10g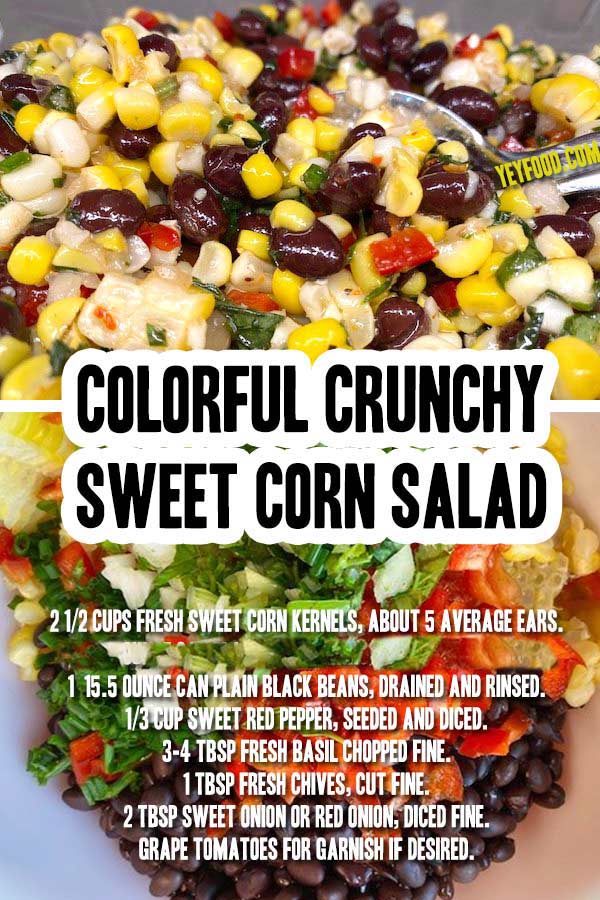 MORE OF OUR RECIPES
4 Reasons You Should Freeze Some Sweet Corn This Summer
How To Make The White BBQ Sauce That's Fascinated Us Since 1925
German Sauerkraut Casserole With Bacon And Brown Sugar
If you like these recipes, you are our people! You can check some related articles below or search via categories on the right. But, be warned; you will be on here for hours. Enjoy!
So, please share this recipe on your social media accounts like Facebook, Instagram, Twitter, and Pinterest. We would be honored and ever so grateful; thank you!