Chocolate Cake Bites Recipe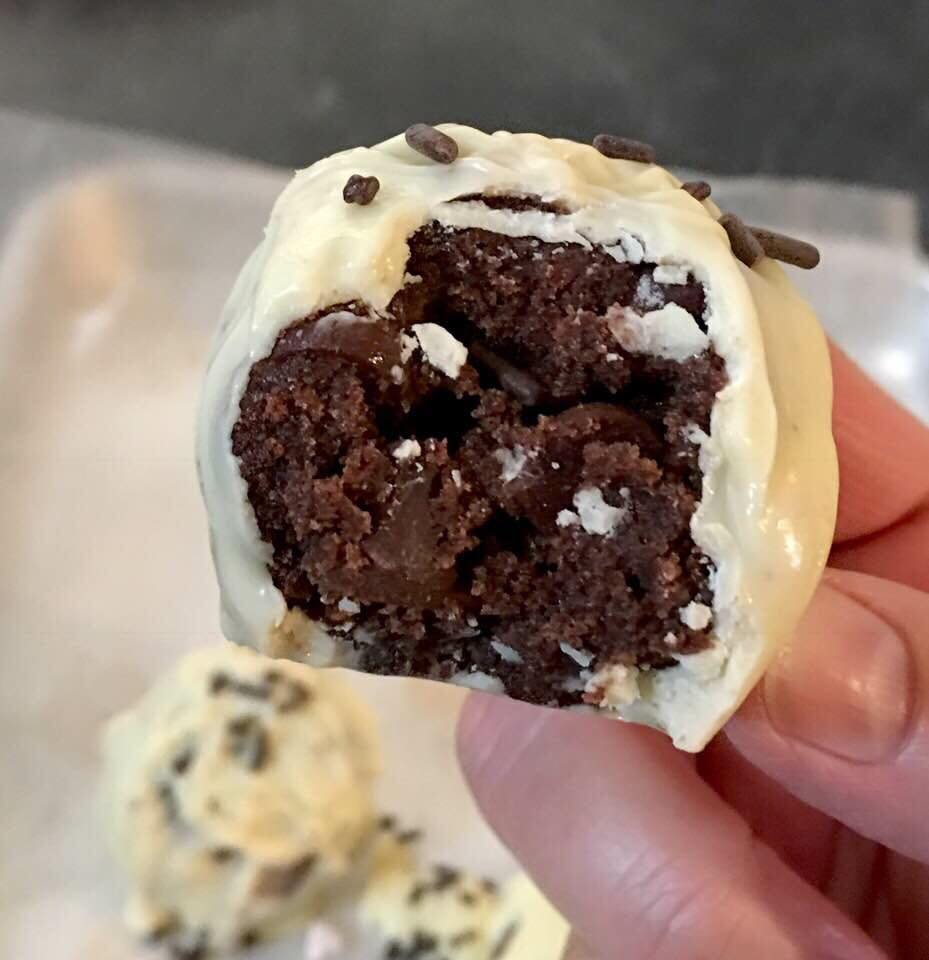 Think about how delicious this Chocolate Cake Bites recipe would be to bite into. The chocolate taste paired with the decadent frosting, you just can't go wrong making this.
A while ago, I was really craving chocolate but I didn't know where to begin. I wanted cake, but I didn't want to make a whole cake. That's where these Chocolate Cake Bites were born. This recipe is simple to make and it doesn't take a lot of time in the kitchen. You can make this recipe in under 30 minutes and be well on your way to eating them. Prepare to make lots because your family will gobble these up in no time.
Chocolate Cake Bites Recipe
I know you've had of cake balls, but cake bites are the less complicated version. You may already have everything you need right in your pantry. Isn't it nice to know that you can make a quick dessert for your family to enjoy? With any parties or gatherings you'll be going to, you can bring these cake bites and everyone will enjoy them!
Ingredients for Cake Bites
Let's talk about the easy ingredients you'll use in this cake bites recipe. Putting this recipe together, I wanted to make sure you didn't need a ton of ingredients and you could make it in less than a half hour. The ingredients you'll need for this include:
Chocolate Cake Mix Box: You are going to LOVE making cake balls out of this chocolate cake. These cake balls are literally the best because of chocolate.
Chocolate Frosting: Yes, you cannot go wrong with using chocolate frosting. It literally brings the flavor to the bites.
White Chocolate: You need this white chocolate in your life and it is the star of the show in this recipe.
Chocolate sprinkles: Don't forget to buy the chocolate sprinkles for these cake bites. The little crunch will make these bites worth making.
The ingredients for cake bites aren't expensive either. Make sure you buy extra, so that you can make these again if you start craving them.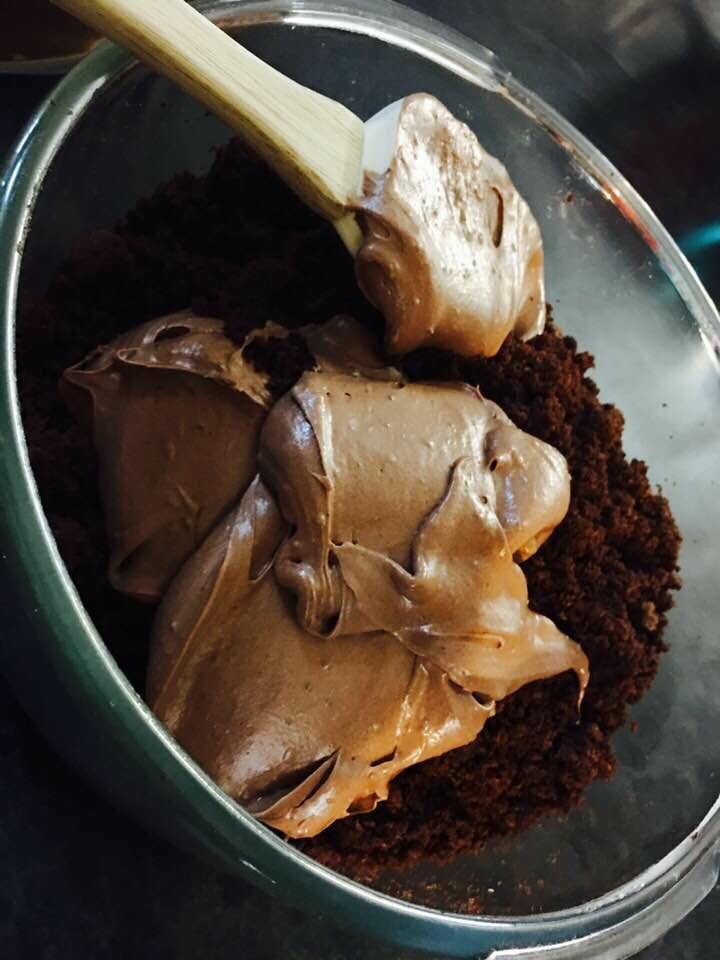 When it comes to making these Chocolate Cake Bites, you will want to lick the spoon. Get the kids involved and show them how to make these super simple bites! You can make these bites for Christmas, Easter, Thanksgiving, or even the 4th of July. You can't go wrong making these at any time. You can even change up the sprinkles to make them holiday focused.
How to Store Chocolate Cake Bites
Once you make these chocolate cake balls, you may be wondering how to store them. Place them in an airtight container and either put them in the fridge or in the counter to store them. As long as you keep the bites in the container, they will stay for a few days without getting moldy.
Yield: 36
Chocolate Cake Bites Recipe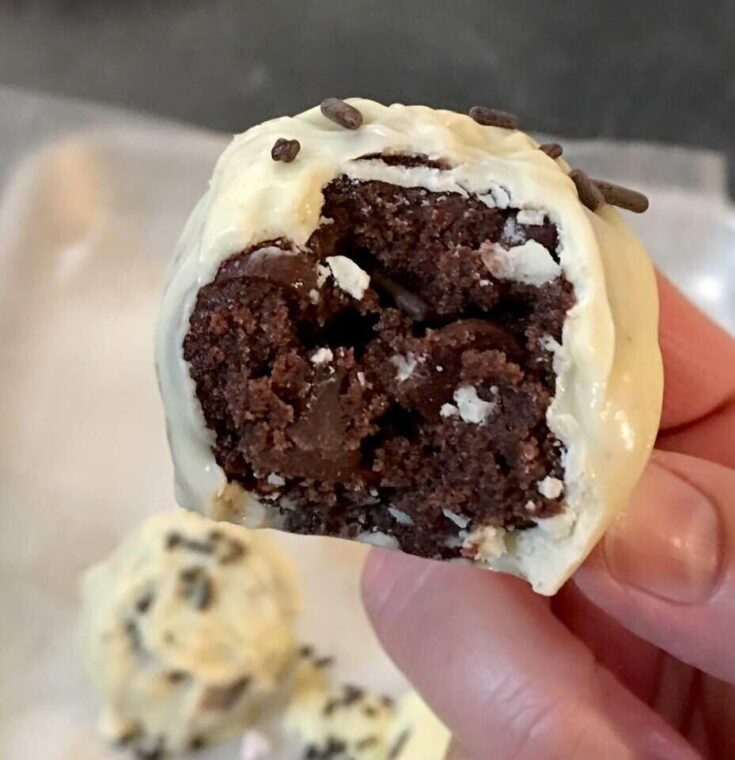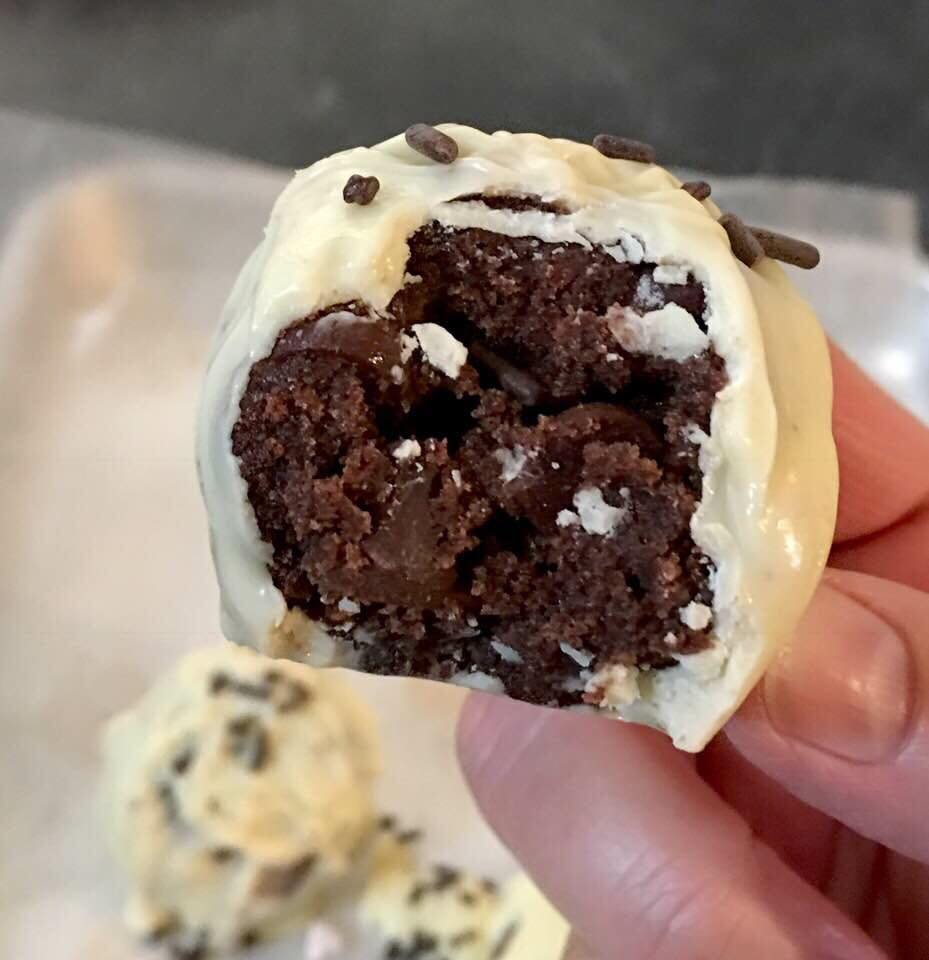 In no time, you can make these decadent Chocolate Cake Bites and enjoy them with family and friends.
Ingredients
1 chocolate cake mix box
18 tablespoons chocolate frosting
12 ounces white chocolate
1 cup chocolate sprinkles
Instructions
Bake the cake as directed on the box and let cool completely.
Crumble and mix the cake with the frosting and 1/2 cup of the chocolate sprinkles until fully mixed.
Roll mixture into 1 tablespoon sized balls and freeze for 60 minutes.
Melt the white chocolate in the microwave in a microwave safe bowl in 30 second increments until smooth.
Then dip each ball on top of a fork into the white chocolate, tap to remove the excess then place onto a parchment paper lined baking sheet.
Add chocolate sprinkles to the top of each ball and let harden.
Enjoy!
Please share this recipe on your social media accounts like Facebook, Instagram, Twitter, and Pinterest. We would be honored and ever so grateful, thank you!
If you haven't already, check out our facebook page where we post easy, delicious, and family-friendly recipes every day!
More recipes:
Super Delicious German Dessert Recipes
Amazing Frosted Brownie Cookies