Super EASY Chickpea Recipes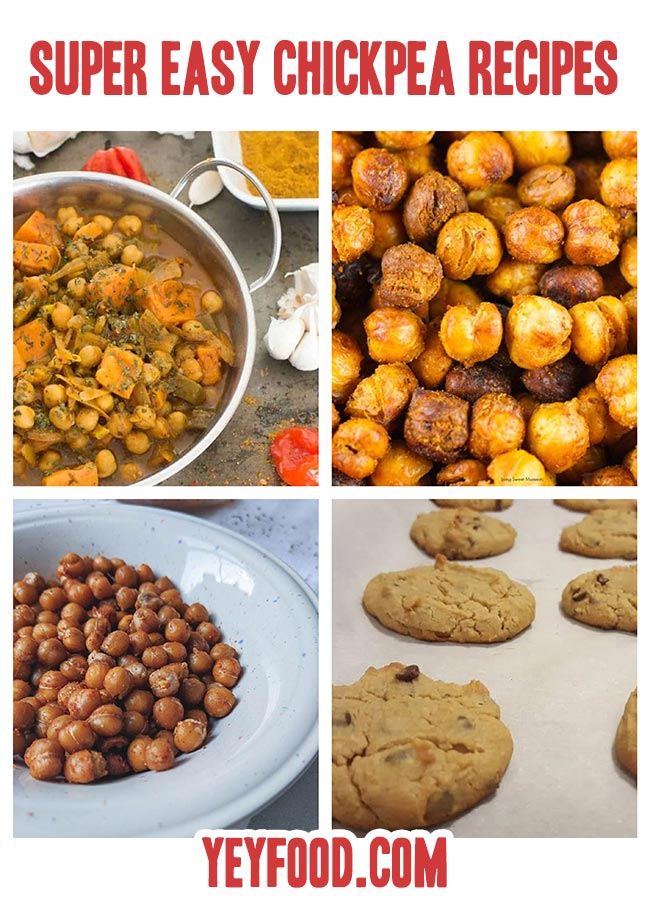 Hello and welcome to yeyfood.com. yeyfood.com a brand new website that I have created because many of you have expressed interest in seeing my own recipes and more recipes in a single post.
Many of you may know me from the budgetmeals Facebook page. For over 7 years I have been sharing other people's recipes with you all, but now it is time to go it alone and start doing long form recipes. So I hope you enjoy my content and make a few if not all of the recipes we share!
I wanted to start this website with a food that is VERY underrated and most people don't use on a day to day basis. The humble CHICKPEA!
What are chickpeas
If you didn't know, Chickpeas are a key ingredient in hummus. If you like hummus you are going to LOVE the chickpea recipes I am sharing with you today!
Chickpeas are packed full of protein. Just for a quick example 1 tbsp of chickpeas has a whopping 2.4 g of protein. So if you are in the mood for a meat free meal, making falafel is a great option to get a lot of plant based protein.
You can make chickpeas into flour, which has recently grown in popularity across the world as a gluten–free alternative to wheat flour.
Give me the best chickpea recipes
Ok. Here you go. I have selected some of the easiest and best tasting chickpea recipes that I could find. They are all below in no particular order. If you decide to make one of the suggested recipes please send us a picture over on FACEBOOK, I would LOVE to see the food you have made!
Roasted Crispy Chickpeas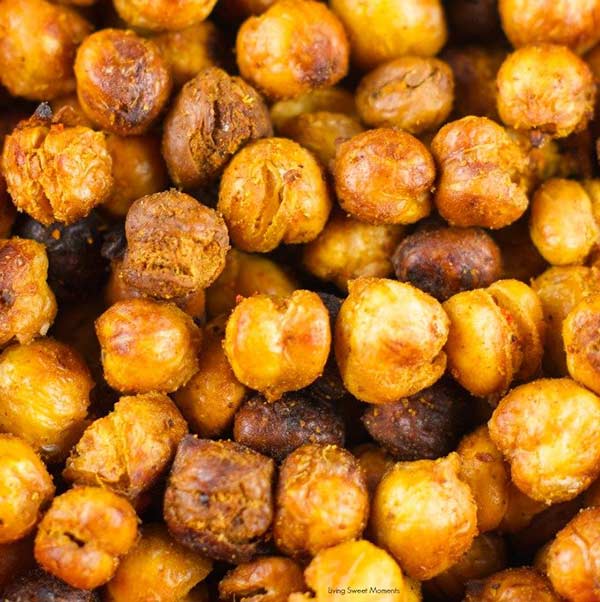 This healthy snack is crunchy and delicious. You'll think you're eating chips! Tossed in spice for amazing taste and texture. Yum!
RECIPE: https://livingsweetmoments.com/roasted-crispy-chickpeas/
Chickpea Wraps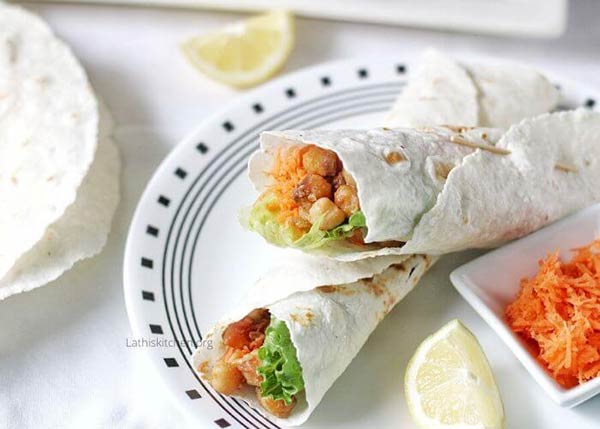 Making these easiest wraps for quick lunch today. I will be using my sweet potato rotis to make this wrap. And the chickpeas are done in my instant pot.
RECIPE: https://www.lathiskitchen.org/lunch/vegan-wraps-recipe/
Spicy Roasted Chickpeas (High Protein)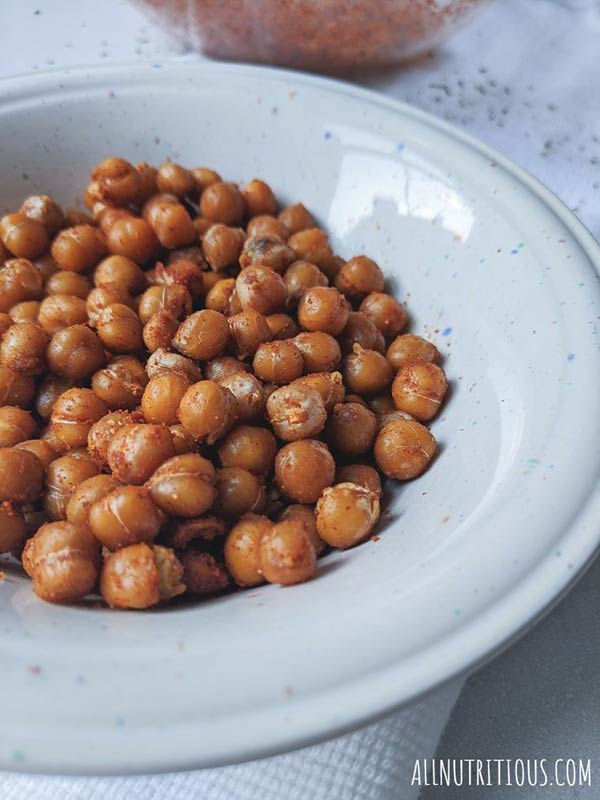 If you are looking for a little spice in your life these healthy spicy roasted chickpeas are a perfect snack! This recipe is so easy to make and even the kids will love them!
RECIPE: https://allnutritious.com/spicy-roasted-chickpeas/
Chickpea Avocado Salad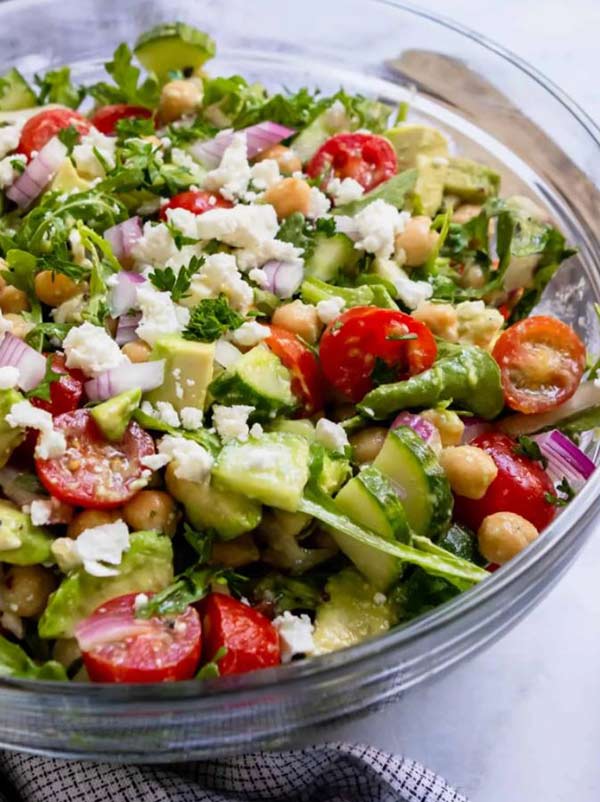 There is so much color and fresh veggies in this Chickpea Avocado Salad. Packed with protein and a salad that will fill you up. Ready in 20 minutes and a perfect compliment to any meal!
RECIPE: https://lemonsandzest.com/rest-life-im-going-happy-right-now-recipe-chickpea-avocado-tomato-salad/
Vegan Chickpea Curry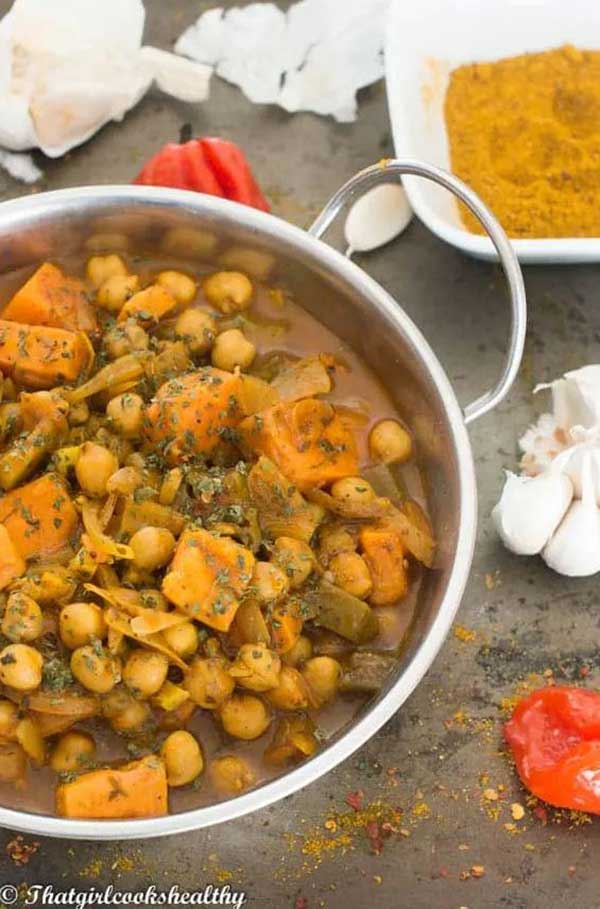 If you are looking for a delicious vegan dish, this recipe is a tasty legume based vegan style curry made with high protein chickpeas and sweet potatoes.
Recipe: https://thatgirlcookshealthy.com/vegan-chickpea-curry-recipe/
Chickpea Chocolate Chip Cookies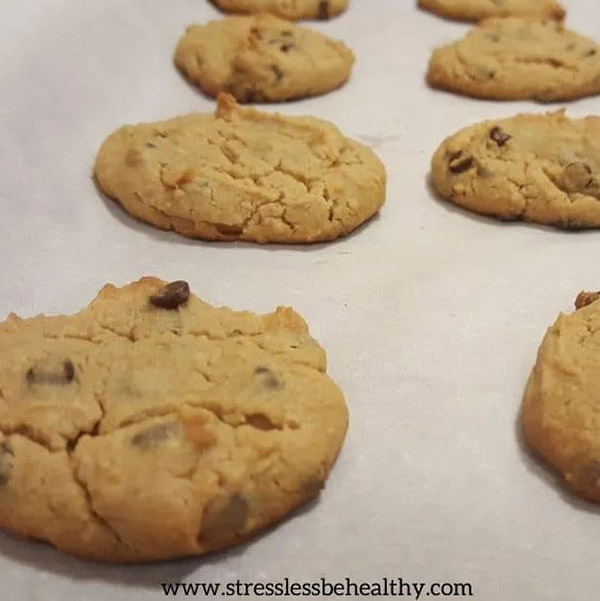 The easiest way to get more chickpea (and protein) in your diet. You'll love these chickpea chocolate chip cookies! Vegan and gluten free.
RECIPE: https://stresslessbehealthy.com/chickpea-chocolate-chip-cookies/
Quinoa Chickpea Salad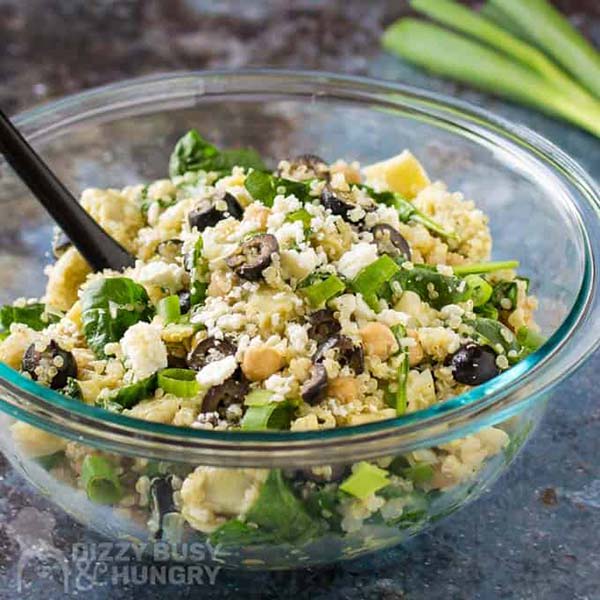 loaded with artichokes, chickpeas, and just the right amount of creamy feta cheese. This delicious and nutritious salad is a great side or a terrific meatless entree!
RECIPE: https://dizzybusyandhungry.com/quinoa-artichokes-chickpeas/
Chana Masala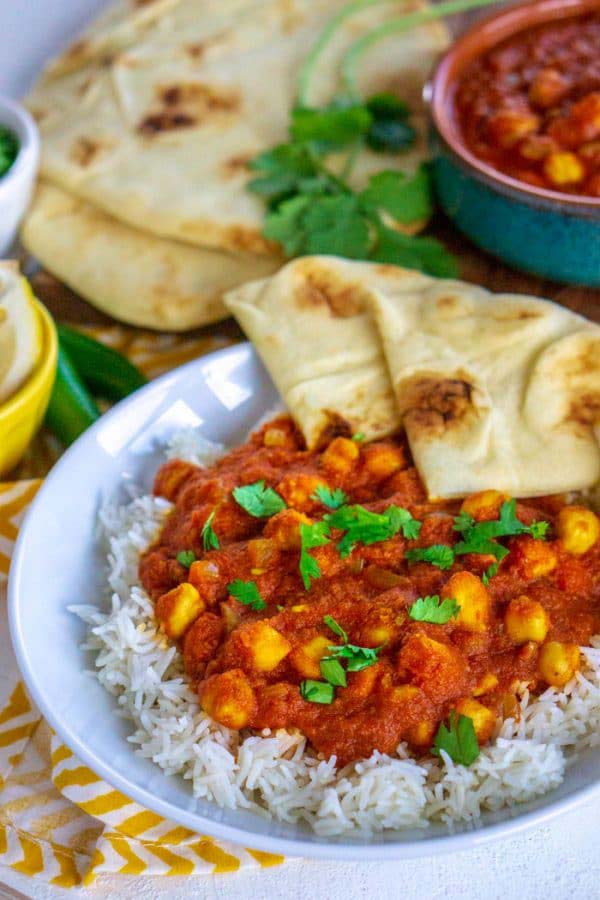 This easy Chana Masala recipe is vegan-friendly and healthy, too! It serves 6 people and costs just $7.83 to make and $1.31 per serving!
RECIPE: https://easybudgetrecipes.com/easy-chana-masala/
Southwestern Garbanzo Bean Salad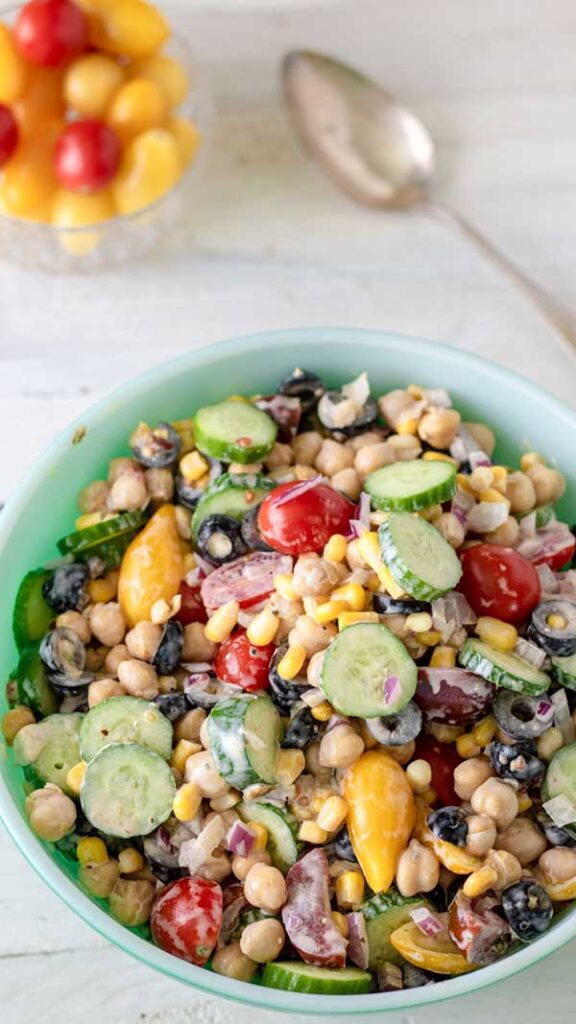 Garbanzo Bean Salad, with a chipotle, lime and roasted garlic dressing has a bit of a kick from the chipotle in the dressing. Load it up with fresh veggies and you have a colorful, delicious summer salad!
RECIPE: https://www.binkysculinarycarnival.com/southwestern-garbanzo-salad/
Vegan Chickpea Skillet Dinner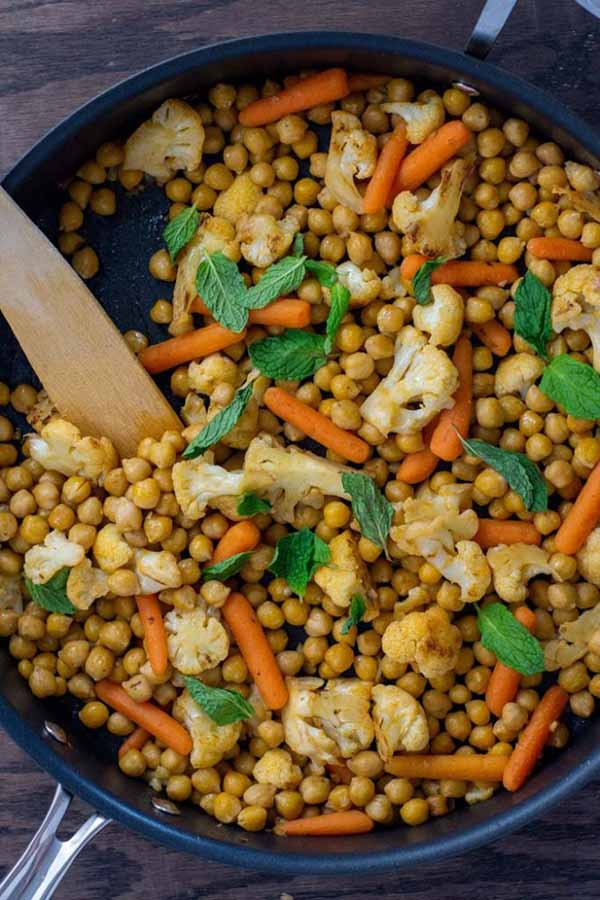 Meatless Monday has never been better with this easy Vegan Chickpea Skillet Dinner. Use just one pan and have dinner ready in about 30 minutes!
RECIPE: https://www.sonshinekitchen.com/vegan-chickpea-skillet-dinner/
---
There you go, I hope you liked the recipes from this chickpea collection. If you did, be sure to let us know over on our facebook page and as always, send in your pictures of the food you make. We really do enjoy seeing your foodie pics!
If you enjoyed this post today, please share it on your social media accounts like Facebook, Instagram, Twitter, and Pinterest. We would be honored and ever so grateful, thank you!
If you haven't already, check out our facebook page where we post easy, delicious, and family-friendly recipes every day!
More recipes: