Perfectly Seasoned Hamburger Patties Baked In A Delicious Gravy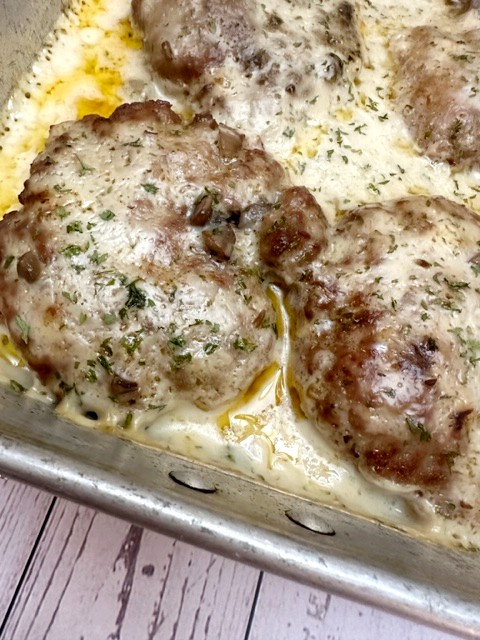 Smothered hamburger steak is a great dish for the whole family. Sometimes recipes like this are called "poor man's steak," but it is so tasty, tender, and packed with flavor that the name doesn't seem to fit.
These smothered hamburger steaks are delicious and perfect with mashed potatoes or noodles. You don't want to miss a drop of the fantastic gravy!
How To Make Smothered Hamburger Steaks
The recipe for the hamburger patties begins similarly to making meatloaf, but with more seasonings, saltine cracker crumbs, and milk instead of an egg. Garlic powder, onion powder, Italian seasoning, paprika, cayenne pepper, and salt and pepper ensure a delightfully seasoned product.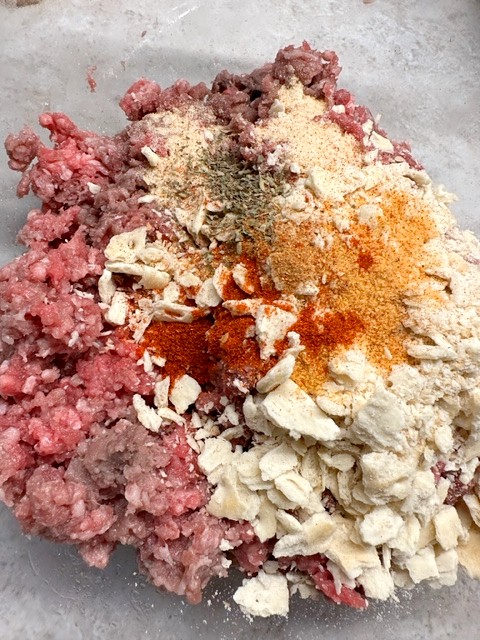 I found my trusty Danish whisk, the one Santa brought me a year ago, is the perfect tool for the job. Every kitchen should have one! With this innovative tool, you blend the ingredients instead of packing them together. The mixture is combined with a light touch. This ensures a tender patty.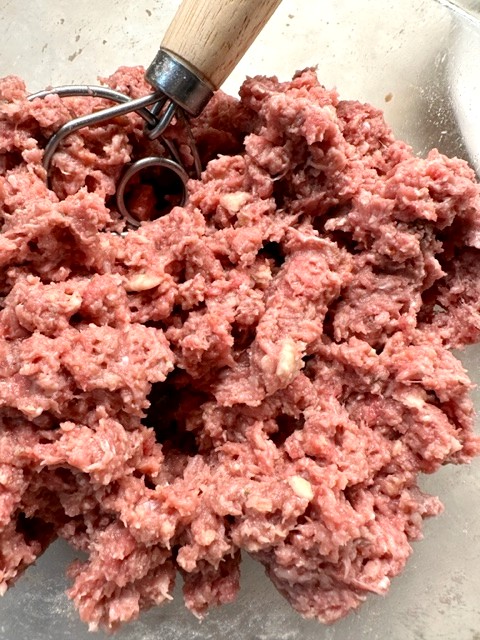 Once the meat mixture is ready, shape it into equal size patties and flatten them, then dredge them generously with flour. Don't skimp. The flour helps achieve a good sear on the burgers and helps thicken the awesome gravy as they bake in the oven.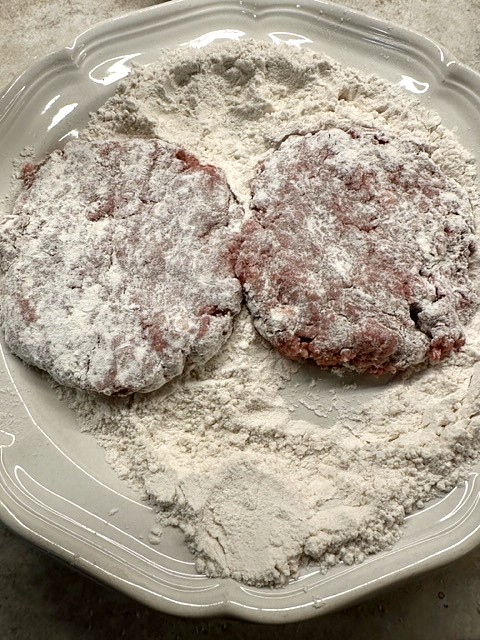 Sear the patties on both sides in a mixture of butter and olive oil, don't crowd them. Work in batches if you need. Arrange them in a greased thirteen-by-nine-inch baking pan. It is okay to make more than one layer.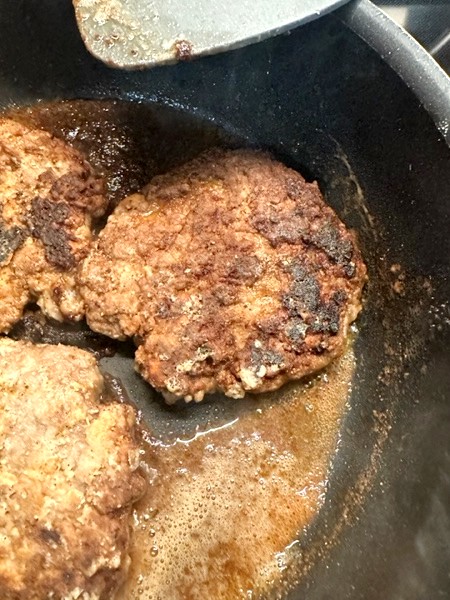 I reduced the ingredients when I made this recipe since there are just two of us; that's why you see just six patties. I made ours about five inches in size. I planned on making three meals for us from this recipe, and the patties reheated beautifully in the oven!
Mix the milk and mushroom soup with a whisk and pour the mixture over the patties. Garnish with parsley if you like, and cover the pan tightly with aluminum foil. Bake at 350 degrees for about thirty-five to forty minutes.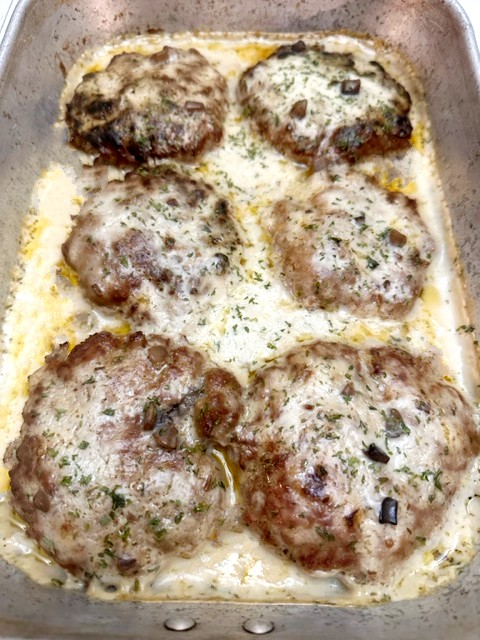 I could not resist getting out some of the caramelized onions I had made and frozen last summer. I defrosted them, warmed them up with a small amount of butter, then piled some of them on each burger patty. It was an amazing addition to an already spectacular hamburger steak.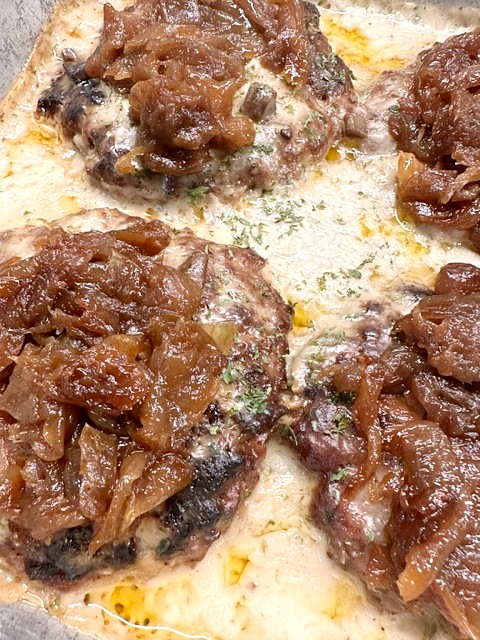 In case you missed it, here's how to do a full crockpot of caramelized onions with almost no hands-on time. They freeze beautifully and add great flavor to pizza, casseroles, and sandwiches. I hope you try it sometime.
We love cozy food and foods that are packed with flavor. Here are some of our most popular comfort food recipes. Colcannon, Shepherds Pie, American Goulash, Yummy Hamburger Casserole. What comfort foods does your family enjoy?
Printable Recipe:
Yield: 8 servings
Smothered Hamburger Steaks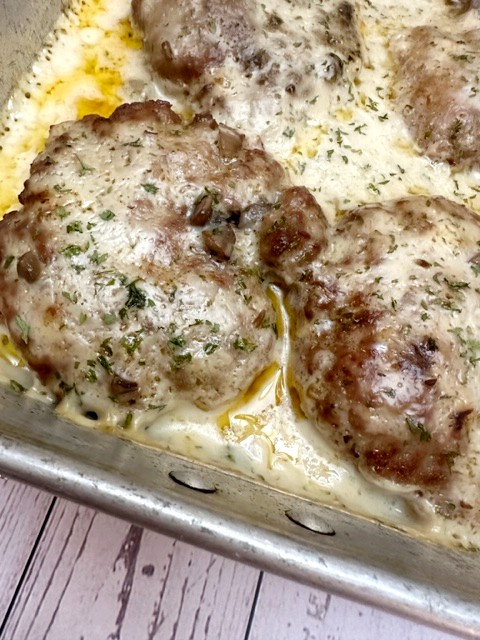 This cozy oven-baked dish is sometimes called "Poor Man's Steak," but it's so perfectly seasoned and flavor-packed, we don't think the name fits. Serve it with noodles, rice, or potatoes so you don't miss a drop of the wonderful gravy.
Ingredients
2 pounds lean ground beef
1½ cups saltine cracker crumbs
1 cup whole milk
½ teaspoon Italian seasoning
½ teaspoon garlic powder
½ teaspoon onion powder
½ teaspoon paprika
¼ teaspoon cayenne pepper
Salt and black pepper
1 cup flour for dredging (or more if needed)
2 tablespoon butter
1 tablespoon olive oil
Two 10.5-ounce cans of condensed cream of mushroom soup
1½ cups whole milk
Parsley for garnish, if desired. Use fresh or dried.
Instructions
Mix the ground beef, saltine cracker crumbs, milk, Italian seasoning, garlic powder, onion powder, paprika, and cayenne pepper in a large bowl. Season the meat mixture with salt and pepper to taste.
Form into patties of equal size and dredge in flour thoroughly.
Sear both sides of the patties in a skillet in a mixture of butter and olive oil. Work in batches if needed. Don't crowd; sear in a single layer.
Place patties in a greased 9" x13" baking dish.
Whisk milk and mushroom soup in a bowl and pour the mixture evenly over the patties.
Cover the pan tightly with aluminum foil and bake for 30-40 minutes in a 350-degree oven.
Serve with mashed potatoes, rice, or noodles.
These patties freeze well and reheat beautifully.
If you enjoyed this recipe, please share it on your social media! I would love for more people to try this delicious and easy-to-make Recipe. If you have any questions or feedback, please feel free to leave a comment below. I would love to hear from you! Shhh… Join our secret foodie group on Facebook.
More recipes from us: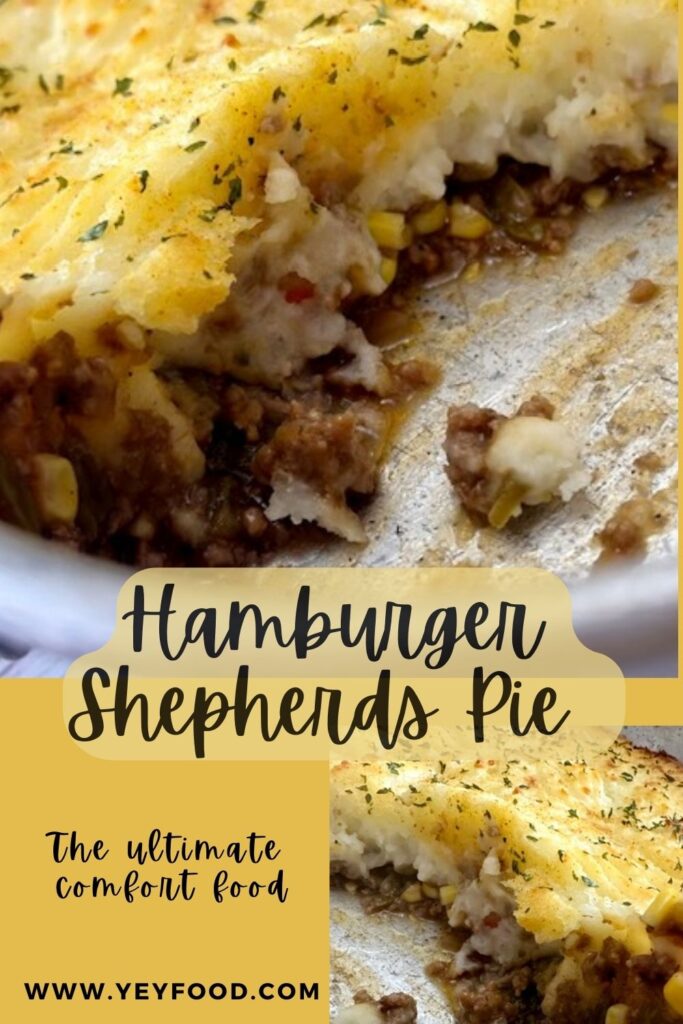 If you like these recipes, you are our people! You can check some related articles below or search via categories on the right. But be warned; you will be on here for hours. Enjoy!
So, please share this recipe on your social media accounts like Facebook, Instagram, Twitter, and Pinterest. We would be honored and ever so grateful; thank you!