How To Make Tasty Homemade Beef Shepherds Pie
It's January, and we have quite a bit of snow. When I threw out the question to my Facebook friends, "what comfort food are you craving?" shepherds pie was one of the top responses.
I couldn't agree more with that choice! A well-seasoned beefy gravy loaded with vegetables, baked under a thick blanket of delicious mashed potatoes, is at the top of the list!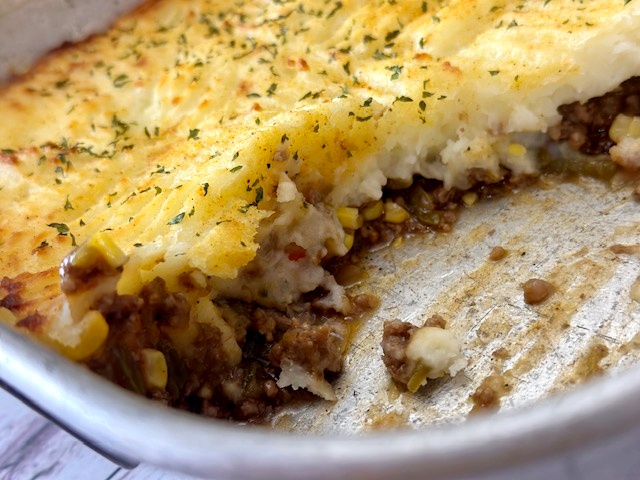 This casserole isn't as quick to make as my one-pot American goulash, but it makes eight or ten servings and reheats quite nicely. We don't say leftovers; we say plan-overs! In addition, these mashed potatoes have enough cream and butter to freeze this dish with great results.
If you have a smaller family, you may want to consider making it into two pans and freezing one for later.
When I created this recipe, I made it with very kid-friendly ingredients. It is seasoned conservatively without a lot of herbs and spices. I used fresh carrots, frozen corn from last summer, and canned french-cut green beans.
I am not a big fan of frozen mixed vegetables in soups or casseroles, but if your family likes them, use them, and you can save time.
How To Make Homemade Shepherds Pie With Hamburger
Begin by browning a pound of ground beef with chopped onions and minced garlic. Drain any excess fat. Add the carrots, corn, and green beans to the pan, one cup of water, and a tablespoon of Better Than Bouillon roasted beef base.
Let the mixture simmer for ten or fifteen minutes or until the vegetables are crisp-tender. You can peel, cube, and boil the potatoes while the beef mixture cooks. Mix cornstarch and cold water in a shaker and add it to the beef mixture. Stir as it thickens to a gravy-like consistency.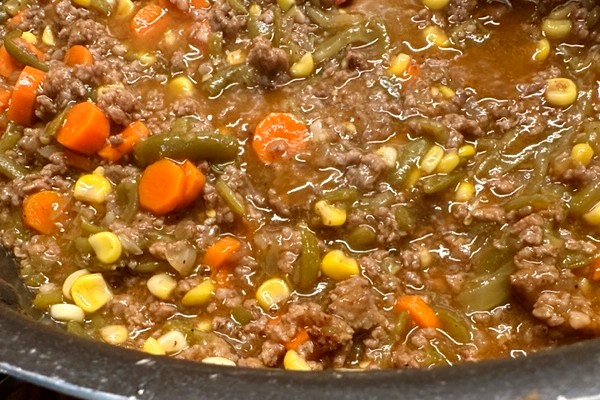 Grease a nine-by-thirteen pan. Pour the meat mixture into the pan and set it aside to cool a bit while you finish the potatoes. This cooling time helps keep the mashed potatoes on top of the meat mixture.
When the potatoes are easily pierced with a fork, drain them. Add the milk, butter, and sour cream, and mash the potatoes until they are fluffy. Add a little milk if the potatoes are too thick to spread.
I like to use a hand masher to keep a little bit of the rustic feeling of real mashed potatoes. If you don't want to deal with mashed potatoes or are in a hurry, instant mashed potatoes will work, too. You can make tasty shepherds pie with them, too.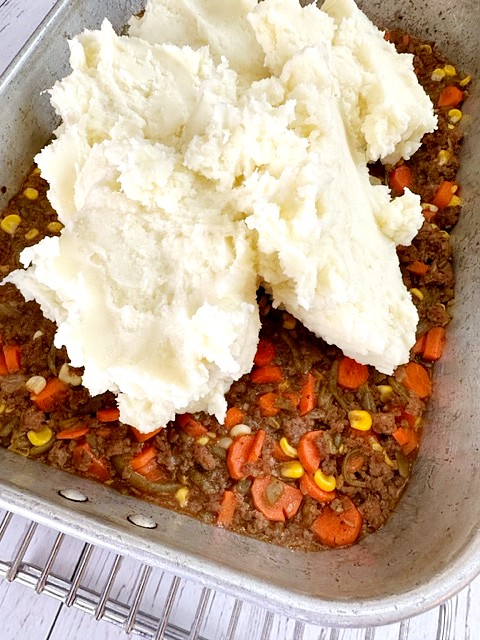 Spread the mashed potatoes over the meat mixture evenly. You can use a spoon to swirl the potatoes or a fork to make a little design on top if you like. Garnish the potatoes with parsley and paprika for a pretty pop of color.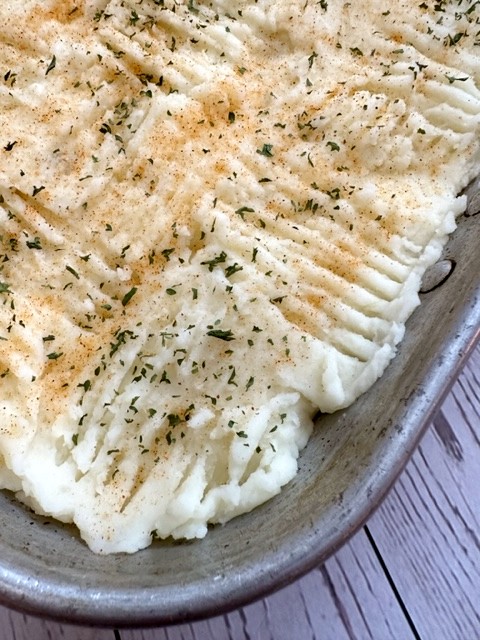 Bake the casserole in a 350-degree oven for about thirty minutes or until it is browned and bubbly. If you want it to look a little more browned on top, pop it under the broiler for a bit but do watch closely, so it doesn't burn.
Feel free to jazz this up as much as you want. Add cheese? Yes! Bacon Bits? Yes! This is the perfect dish to serve on a wintery night. Using my One Simple Yeast Bread recipe, make some homemade garlic breadsticks. Add a tossed salad, and you will have perfect accompaniments to this cozy shepherds pie.
Yield: 10 servings
Hamburger Shepherds Pie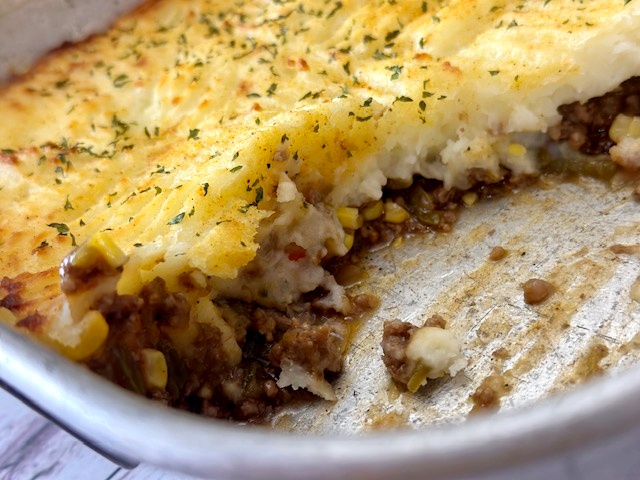 Ingredients
Mashed Potato Topping
2 1/2 pounds of starchy potatoes (Like Russets), peeled and cut into chunks.
4 Tbsp butter
¼ cup sour cream
½ cup milk
salt and pepper, to taste
Parsley and paprika for garnish if desired
Meat Filling
1 pound ground beef
1 small onion, chopped
2 tsp minced garlic
1 cup carrots, chopped
One 14.5 ounce can of french cut green beans, drained
1 cup of frozen corn
1 cup water
1 Tbsp Better Than Bouillon roasted beef base
2 Tbsp Worcestershire sauce
2 Tbsp ketchup
Seasoned salt and pepper to taste.
1/2 cup cold water shaken wth 1 Tbsp corn starch
Instructions
Brown and crumble the ground beef with the onions and garlic. drain any excess fat.
Add the vegetables, water, beef base, ketchup, and Worcestershire sauce to the pan with the beef. Stir well. Cover and cook for about ten minutes over medium heat until the carrots are crisp-tender.
Shake the cornstarch and cold water together and add to the beef mixture to thicken it.
Pout the meat mixture into a greased 9" by 13" casserole dish and set aside. This works best if the meat mixture cools a bit.
Cook the potatoes in a covered medium saucepan with just enough salted water to cover them for about 15--20 minutes or until tender. Drain.
Mash the potatoes with butter, cream, and sour cream until fluffy; add milk if needed to make them spreadable.
Spread the mashed potatoes over the meat mixture and make a pattern with a fork or spoon if you like.
Garnish with paprika and parsley if desired.
Bake at 350 degrees for about thirty minutes or until bubbly and brown.
If you want a little more brown on top, pop the pan under the broiler for a few minutes, and watch closely so it does not burn.
Nutrition Information:
Yield:
10
Serving Size:
1
Amount Per Serving:
Calories:

326
Total Fat:

14g
Saturated Fat:

7g
Trans Fat:

1g
Unsaturated Fat:

6g
Cholesterol:

57mg
Sodium:

414mg
Carbohydrates:

34g
Fiber:

4g
Sugar:

5g
Protein:

17g
Right now is a perfect time to serve some cozy dishes and enjoy some hygge as my Scandinavian ancestors do during the long dark nights of winter! You can make winter as wonderful as you want! Here are some more of our favorite comfort foods. Split Pea Soup with Ham, Colcannon, Iowa Glazed Ham Balls, and Turkey Tetrazzini. What does your family like to eat in the winter?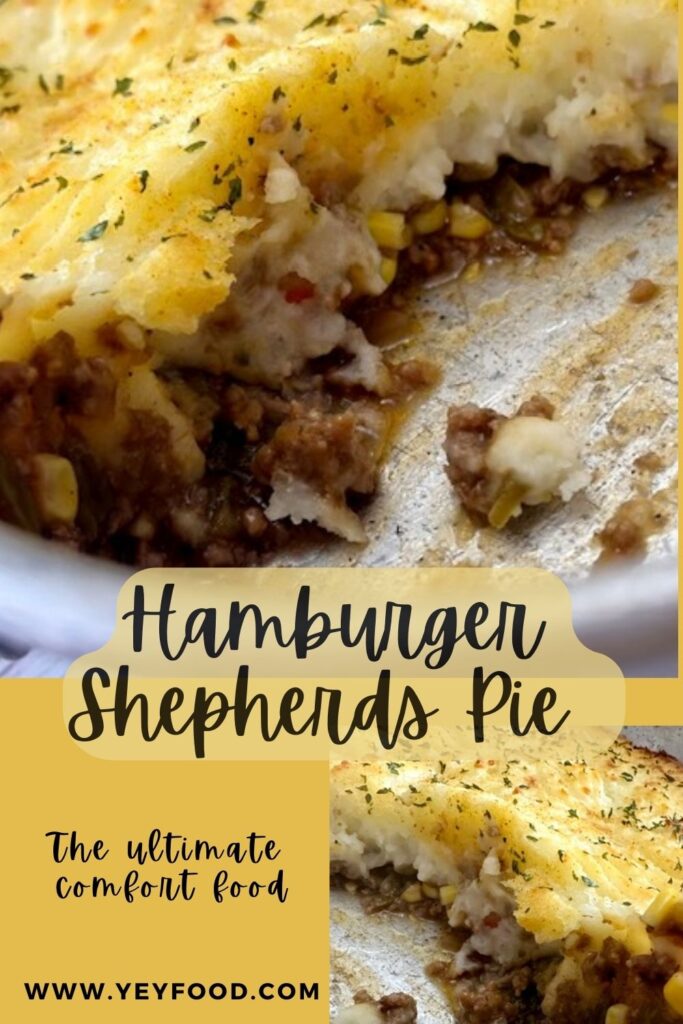 MORE OF OUR QUICK AND EASY FAMILY-STYLE RECIPES: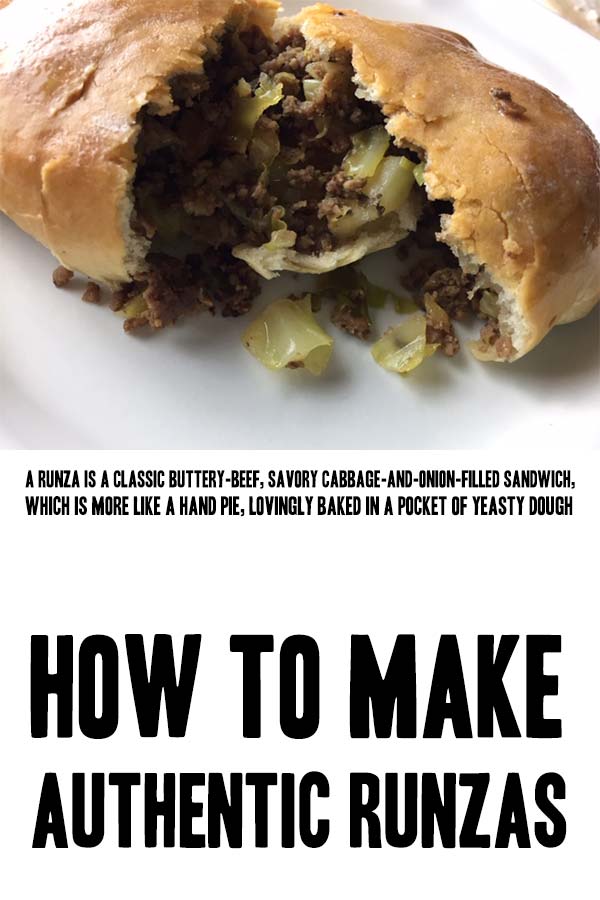 The Number 1 Practically Perfect Poppy Seed Bread
If you like these recipes, you are our people! You can check some related articles below or search via categories on the right. But be warned; you will be on here for hours. Enjoy!