Old-Fashioned Split Pea Soup With Ham Recipe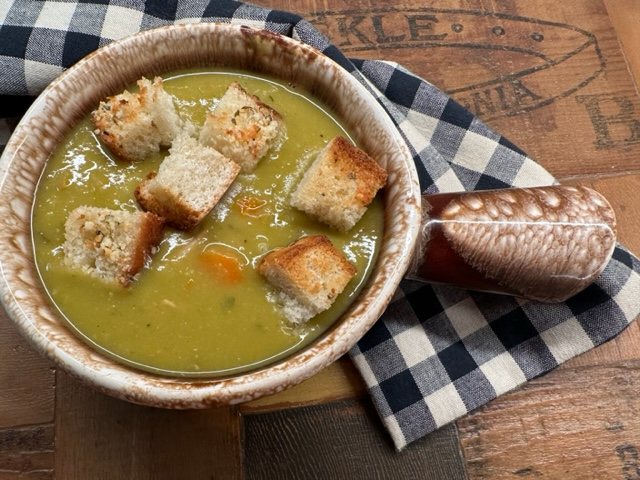 Split pea soup is a simple and hearty soup that's a meal in itself and has stood the test of time! It was popular among the working class in nineteenth-century England, but a soup made from legumes is mentioned in Greek literature and was sold by vendors in the streets of Athens as early as 400 BC. The soup contains dried peas, carrots, celery, onion, bay leaves, pepper, butter, potatoes, broth, and ham.
This savory soup brings back happy memories from my childhood. It is comfort food, but it's also very nutritious! It's packed with fiber and protein. It's quicker than you think to make! You do not need to soak the dried peas before cooking, so this soup can be ready in about an hour.
The ingredients for split pea soup are simple and basic, and there are many ways to make it. If you have a meaty ham bone left over from dinner, lucky you! Use that as a starter for your soup. I searched for a ham bone or ham shanks in several grocery stores without success, so I settled for a package of ham hocks to get some of the smoky flavor infused into the peas.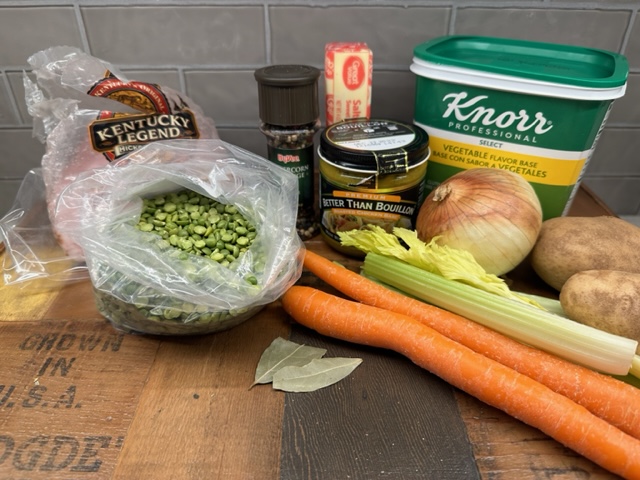 My foodie brother lives near a big city in another part of the country, but when we compared notes on the availability of ham shanks, he said he had no luck finding them in the meat departments of stores where they live. Ham shanks are lots meatier than ham hocks.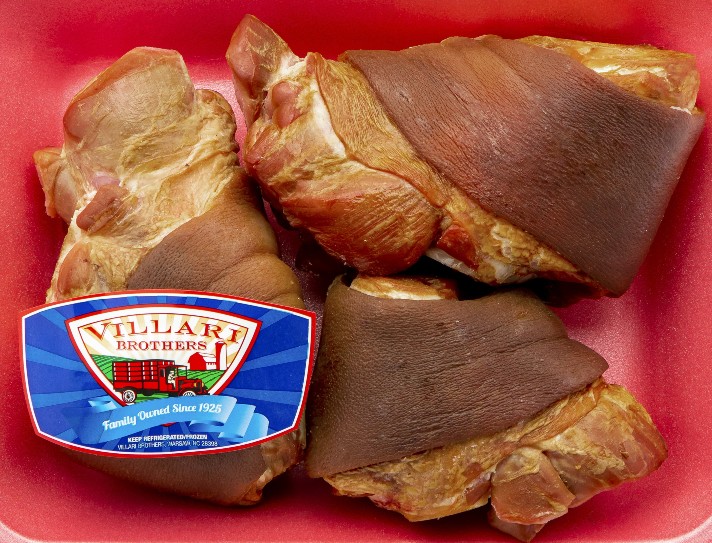 I started the soup by putting a pound of split peas in my large LeCrueset Dutch Oven/stockpot with a couple of bay leaves, freshly cracked pepper, and enough water to almost cover the hocks. I simmered the hocks with the peas, turning them over once for about thirty minutes, then removed the hocks and the bay leaves from the pot and set them aside.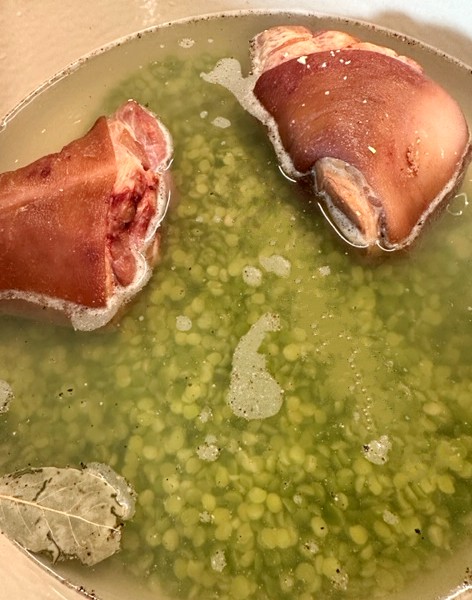 While the peas and hocks were simmering, I chopped the carrots, onion, and celery fine and made a mirepoix (say it meer-PWAH) by sauteeing them and the minced garlic in butter until they were fragrant and tender. Please include the celery leaves because they have an abundance of flavor!
Mirepoix is a mixture of finely diced vegetables cooked in butter or oil at a low temperature to sweeten them, not caramelize them. These slow-cooked vegetables make a delightful flavor base for many soups or casseroles. The difference in how the veggies taste when you do this step is amazing!
Only 30 More Minutes Until You Can Dip A Spoon Into Split Pea Soup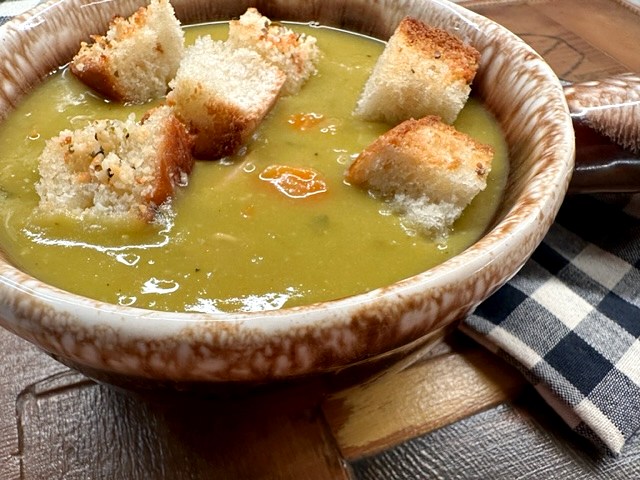 Add water and the Better Than Bouillon Roasted Chicken Base, the Knorr Select Vegetable Soup Base or their vegetable bouillon cubes, and a couple of potatoes you have peeled and diced. Now add the vegetables to the soup pot with the split peas. Let that simmer for about thirty minutes or until the peas are tender.
I do not get paid to endorse the Knorr or the Better Than Bouillon brands, but they have become my go-to products for making great soup. I like how the chicken and vegetable broths combine to create an amazingly tasty base for this old-fashioned split pea soup.
I was also extremely pleased with the Kentucky Legend ham I chose for this recipe. I added about 2 cups of the diced high-quality smoky ham to the soup just before serving it because I wanted it to be really meaty for our main dish. If you're lucky to have a nice meaty ham bone, you will probably have all the ham you need and won't need to buy any more ham for your split pea soup.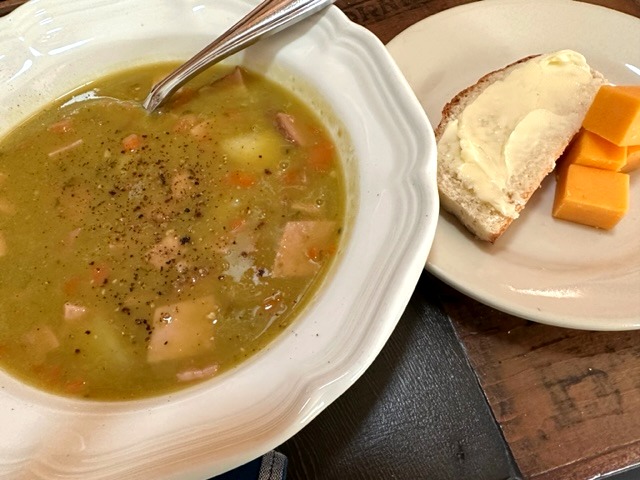 The peas will break down and thicken the soup. You can adjust the thickness by adding more water or broth if you want. I served the soup with a loaf of my crusty sixty-minute French bread and some cheese cubes.
Yield: 10 servings
Split Pea Soup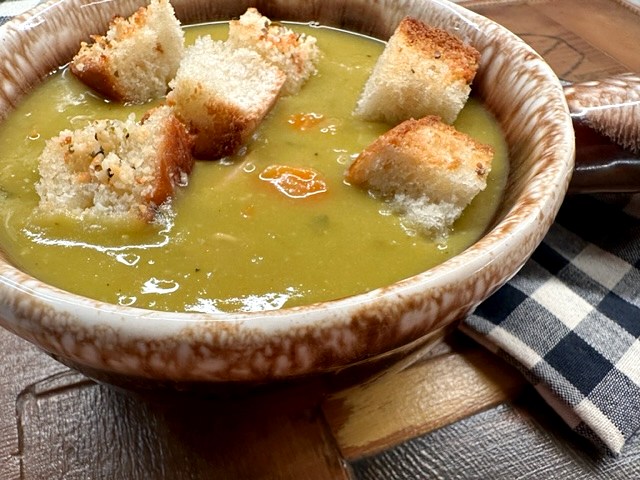 Here is a recipe for a simple and hearty soup that's meaty enough to be a main dish entree. It tastes amazing, and it's loaded with protein and fiber.
Total Time
1 hour
10 minutes
Ingredients
One pound (two cups) of split peas, rinsed and drained
One two to two and one-half pound package of ham hocks
3 Tbsp butter
2 cups finely chopped onion
2 cups finely chopped carrot
2 cups finely chopped celery
I Tbsp minced garlic
2 quarts of cold water
2 bay leaves
Fresh cracked pepper to taste
One heaping Tbsp of Better Than Bouillon Roasted Chicken Base
One heaping Tbsp of Knorr Select Vegetable soup base or cubes to make one quart of broth
2 average Russet potatoes, peeled and diced
2 cups of diced or cubed good ham, or more to taste
Instructions
Rinse the peas and drain them. Put them in a soup pot with one quart of water, the bay leaves, ham hocks, and fresh cracked pepper. Simmer them for about thirty minutes.
Chop the celery, carrots, and onion fine. Saute them in butter with the garlic until they are tender and fragrant. (Mirepoix)
Remove the ham hocks and set them aside.
Combine the vegetables with peas and their broth in one pot and add one quart of water, the bouillon, the soup base, and potatoes. Simmer until the peas and potatoes are tender.
Add the diced ham and meat you can get off the ham hocks, then simmer long enough to heat the ham.
Notes
This soup reheats well and is even better the next day!
Nutrition Information:
Yield:
10
Serving Size:
1
Amount Per Serving:
Calories:

271
Total Fat:

11g
Saturated Fat:

4g
Trans Fat:

0g
Unsaturated Fat:

5g
Cholesterol:

56mg
Sodium:

658mg
Carbohydrates:

24g
Fiber:

5g
Sugar:

7g
Protein:

20g
We shift into soup mode when the nights get cooler and the days get shorter. I love how I can cook once, and we can eat twice when I make soup. Here are some of our most popular soup recipes. Crowd-Pleasing Chili With Beer, Chicken Noodle Soup, Beef Noodle Soup, Ham and Bean Soup, and Baked Potato Soup. What are your favorite soups?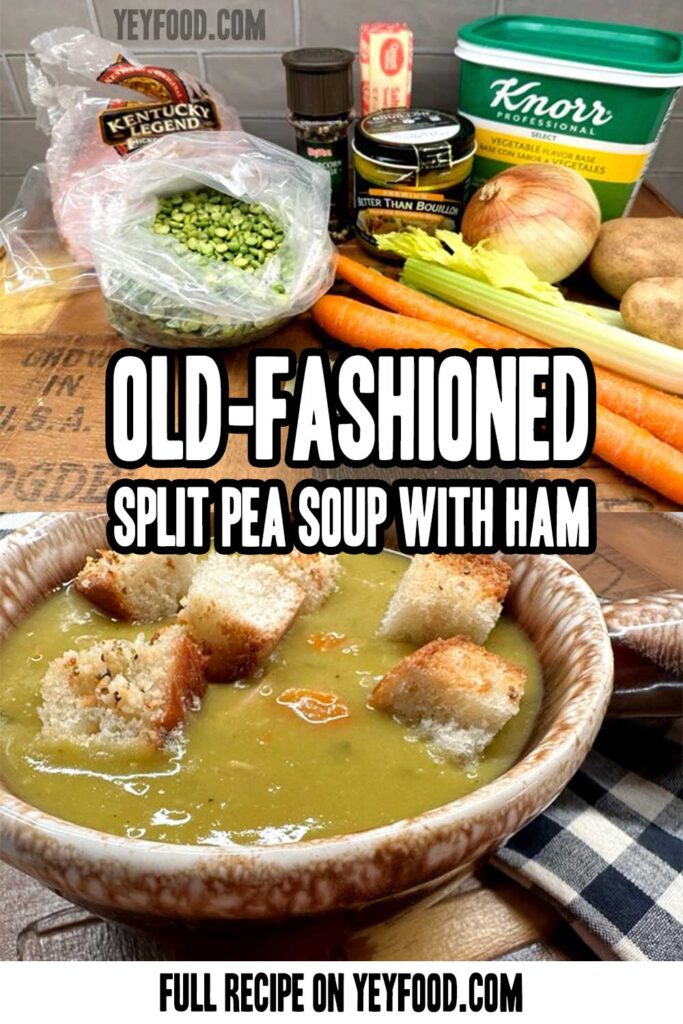 More family-friendly recipes for you: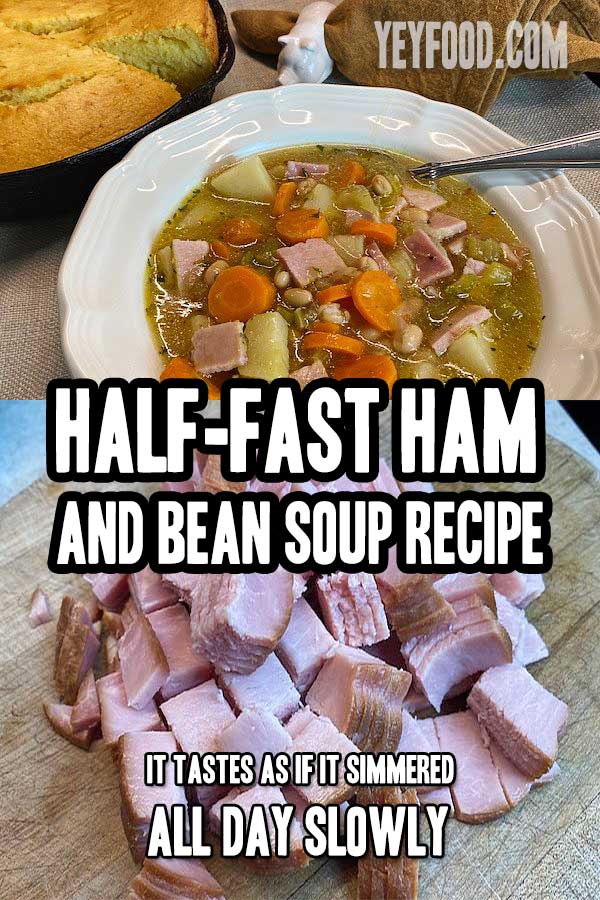 Easy 1 Pan Classic American Goulash
German Sauerkraut Casserole With Bacon And Brown Sugar
If you like these recipes, you are our people! You can check some related articles below or search via categories on the right. But be warned; you will be on here for hours. Enjoy!
So, please share this recipe on your social media accounts like Facebook, Instagram, Twitter, and Pinterest. We would be honored and ever so grateful; thank you!