Quick And Easy Baked Cranberry Chicken Recipe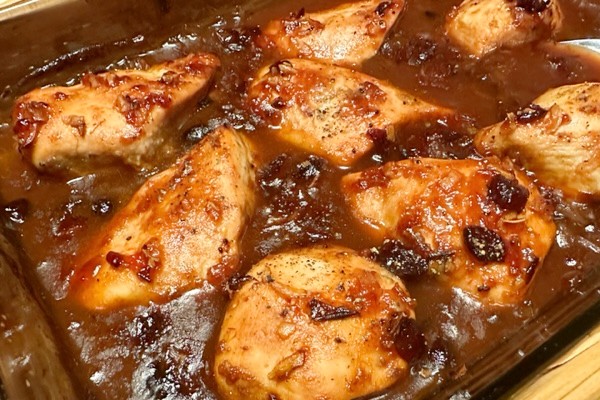 Once in a while, a recipe like cranberry chicken comes along, and suddenly, you have a family favorite. Mom loves it because it goes together in no time flat, and the kids love it because it tastes amazing! The sauce that happens in the oven is everything we love, a little sweet, a little salty, a little tangy.
Our granddaughter is a senior in high school and has earned the privilege to leave campus for lunch. About once a week, she has lunch with us. When I served this, she said, "I'm not a cranberry person, but this is great!" You don't have to love cranberries to love this dish!
It only takes four simple ingredients and about an hour to create this wonderful main dish! I used boneless, skinless chicken breast, but if you're a fan of boneless chicken thighs, I'm sure they would work very well, too!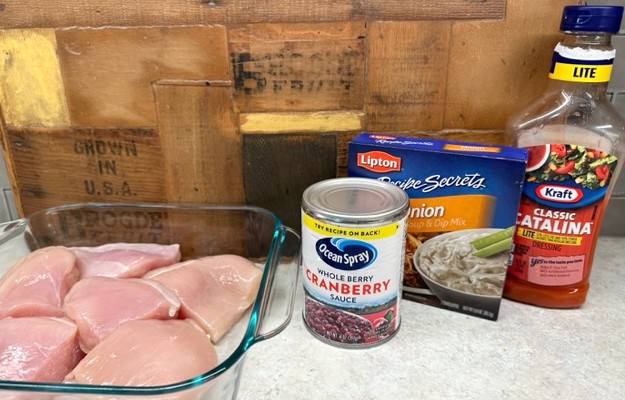 Trim the chicken and cut it into serving-size pieces. Place them in a baking dish you have sprayed or greased lightly. Next, mix a package of onion soup mix with one cup of your favorite French-type dressing and a 15.25-ounce can of whole-berry cranberry sauce in a medium-sized bowl.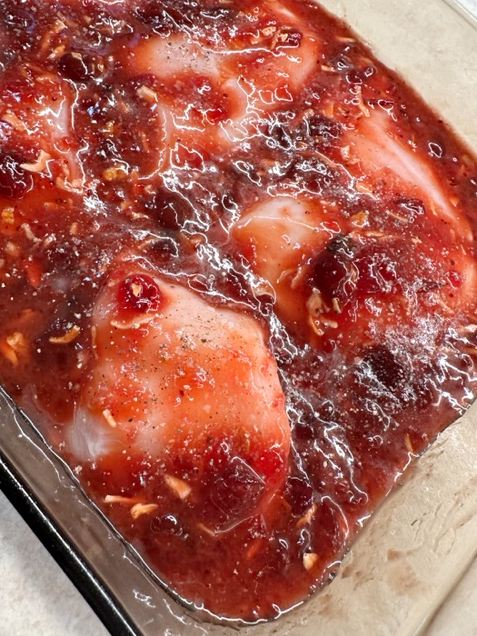 Pour that mixture over the chicken and bake it for about one hour in a 350-degree oven or until the chicken reaches an internal temperature of 165 degrees. The best tool for checking the temperature is an instant-read thermometer. The link takes you to one that's quite budget-friendly.
Undercooked chicken is a hazard, and overcooked chicken, especially chicken breast, can be stringy and dry. With an instant-read thermometer, you take the guesswork out of making sure the chicken is perfectly done. Ask Santa to put one in your stocking!
Yield: 8 servings
Cranberry Chicken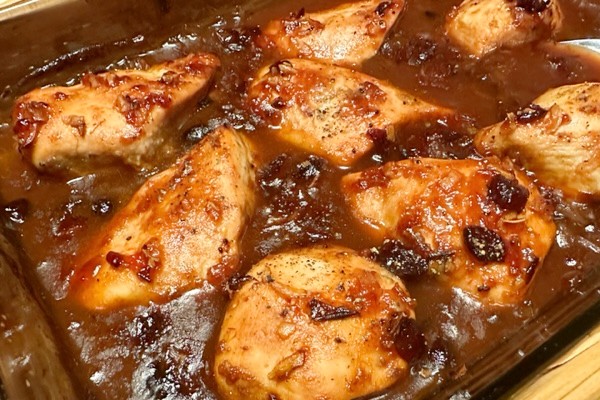 A chicken dish that's quick and easy to make with so many ways to serve it. This recipe will become a family favorite.
Total Time
1 hour
5 minutes
Ingredients
3 pounds of boneless, skinless chicken breast or thighs, cut into serving-size pieces
One cup of French-style salad dressing
One packet of instant onion soup mix
One 15.25-ounce can of whole berry cranberry sauce
Instructions
Preheat the oven to 350 degrees
Mix onion soup, cranberry sauce, and French dressing in a bowl.
Trim chicken as needed, cut it into serving-size pieces, and place it into a lightly greased baking pan.
Pour the sauce mixture over the chicken and bake for about an hour or until the internal temperature of the chicken reaches 165 degrees.
Notes
You can also cook this in a crockpot. Cover and cook on low for 4-5 hours or on high for 2-2.5 hours until the chicken reaches an internal temperature of 165 degrees F. Thicken the sauce as needed with a slurry of cornstarch and water.
Dorothy Lynch Salad Dressing that I mentioned in the post does not contain high fructose corn syrup.
Three Tasty Variations On Cranberry Chicken To Shake Things Up
I've tried them all, and they are all fabulous! For starters, you can change up the type of French Dressing you use. For example, Russian Dressing, Western Dressing, Creamy French, California French, and Catalina dressings will work great. If you are lucky enough to live in Nebraska, Dorothy Lynch's dressing is amazing!
If you don't live in Nebraska, don't panic! Millions of people have grown to love Nebraska's own Dorothy Lynch! It's one of the things people who move away crave (along with Runzas,) and it's not widely available. Fortunately, it is on Amazon; once you taste it, you will never be the same!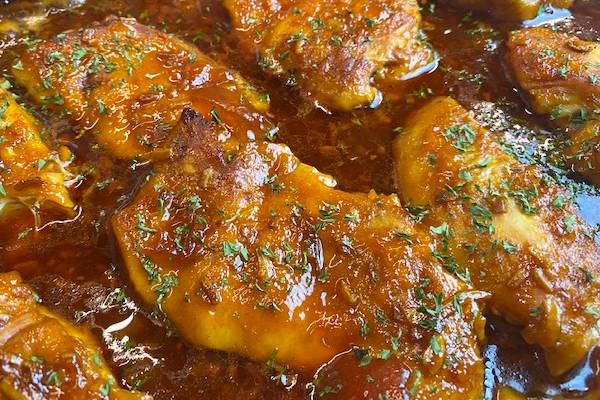 You can also vary the sweet element in this dish! I have also tried orange marmalade, peach preserves, and apricot preserves. I prefer jam or preserves to jelly because they have more fruit.
I plan to try apple pie filling one of these times, and I'll cut the apples into smaller pieces for better distribution. So you see, if you're stumped for a dinner idea one of these days, you'll probably find something in your cupboard that will work great.
You can also make this dish in the crock pot without changing the proportions. Cover and cook on low for 4-5 hours or on high for 2-2.5 hours until the chicken reaches an internal temperature of 165 degrees F. You'll want to thicken the yummy sauce with a little cornstarch and water slurry before serving it. The sauce is one of the greatest parts of the dish!
Four Ideas About What To Serve With Cranberry Chicken
Rice is perfect with this chicken dish, soaking up all that delicious sauce!
Baked Potatoes are a wonderful accompaniment to Cranberry Chicken. I love to split open a steaming spud and pour the sauce into the potato. Who needs butter?
Buns are a great receptacle for this yummy chicken! Just shred the meat, add some sauce, and spoon it into a bun for a yummy sandwich!
Salad Greens topped with thin slices of Cranberry Chicken, warm or cold, make a wonderful lunch! Add some sliced almonds for crunch! This idea works great for using any leftovers, if there are any!
Chicken is such a versatile protein! Here are some of our favorite recipes with chicken: Chicken Fajitas, Chicken Quesadillas, Chicken Salad, Chicken Noodle Soup, and Cheesy Chicken Tater Tot Casserole. What are some of your favorite chicken recipes?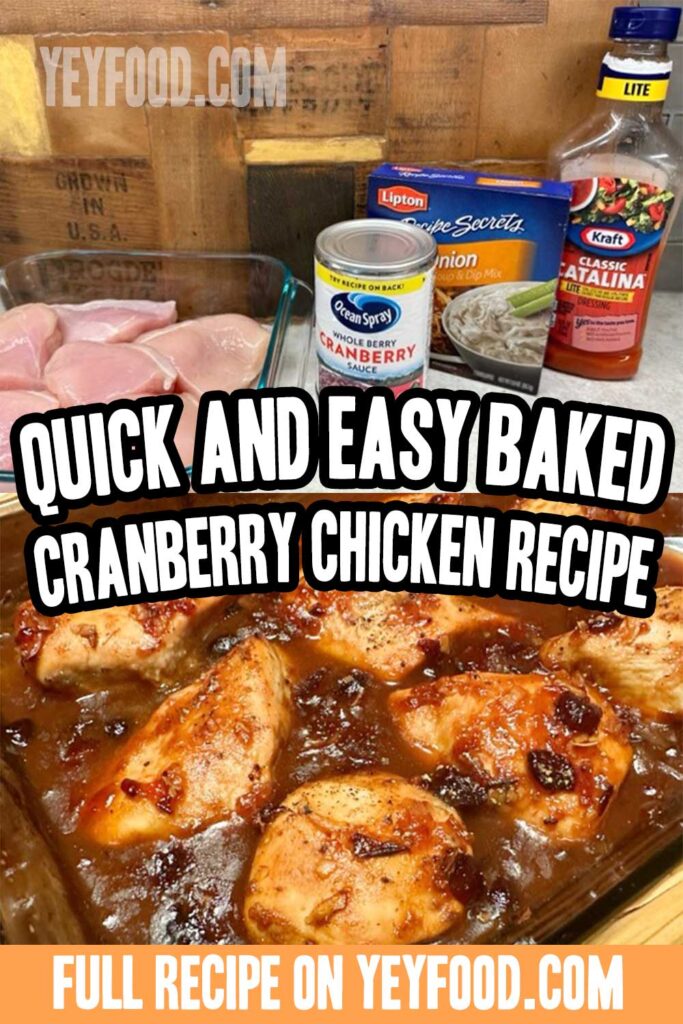 MORE OF OUR QUICK AND EASY FAMILY-STYLE RECIPES: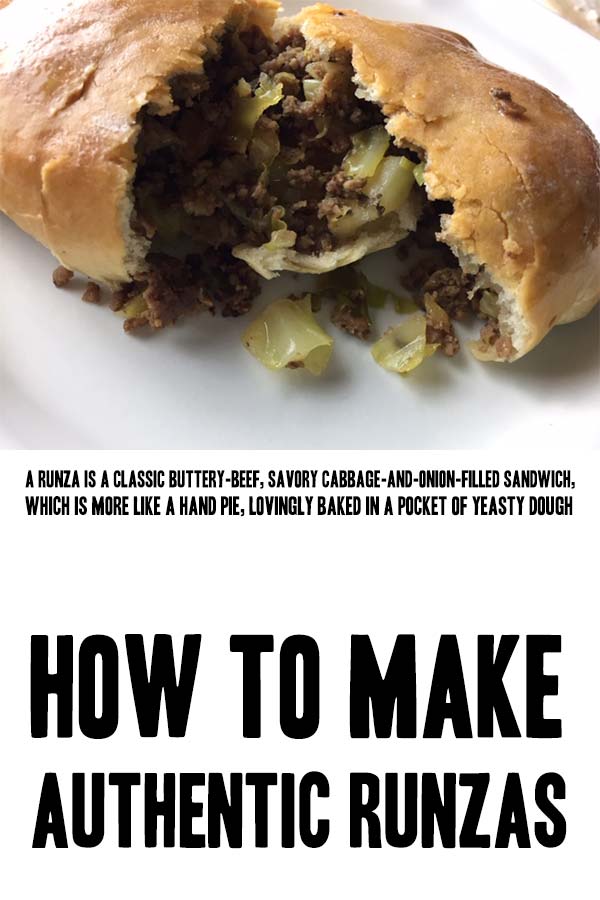 The Ultimate Bread and Butter Pickle Recipe
Oven-Baked Steak With Brown Gravy
If you like these recipes, you are our people! You can check some related articles below or search via categories on the right. But, be warned; you will be on here for hours. Enjoy!