Oven Baked Steak With Brown Gravy Recipe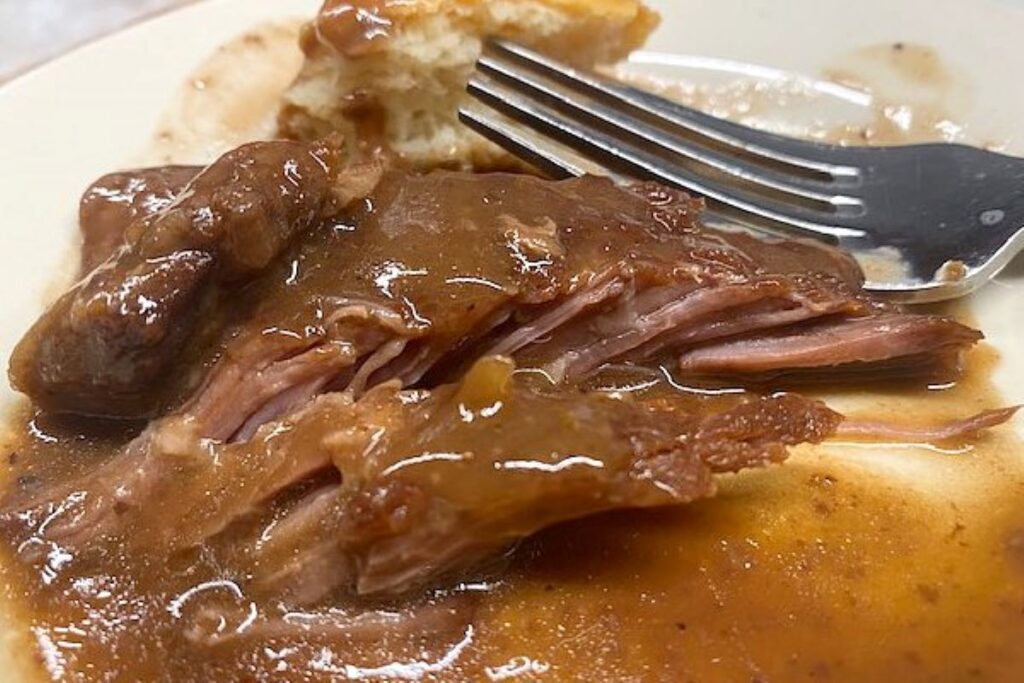 Oven baked steak is easy and makes delicious brown gravy all by itself. The long slow cooking produces fork-tender, succulent beef using an inexpensive cut of beef. It lets you be lazy while it cooks pretty much unattended all afternoon.
Meat prices have certainly gone up over the last several months, so meat, particularly beef, is more expensive than we have seen it in the past. Still, there are good buys out there if you take the time to shop carefully.
I wanted to make oven baked steak for a family birthday, but I needed to keep my budget in mind. I was surprised to see the high cost of round steak I usually use in this recipe, so I looked at other options. That day, I purchased chuck steak on a manager's special for about half the price of round steak. The results were perfect!
I have found smaller grocery stores in our community that have meat counters where you can talk to a knowledgeable meat cutter and ask questions. For example, they can cut a roast for you in a certain size. Amazingly enough, their prices are usually better than huge stores with less personal service.
It pays to watch grocery ads when you are shopping for meat. Most stores have weekly ads you can see online so you can plan ahead. It's also very important to wrap meat properly for the freezer. Here's an excellent article on freezing beef and everything else! So many great tips!!
For me, it's just the two of us for meals most days. When I find great buys, I wrap the meat tightly in high-quality plastic film, then in heavy aluminum foil, and label it. I try to use it within three months, but it's safe to use for much longer than that.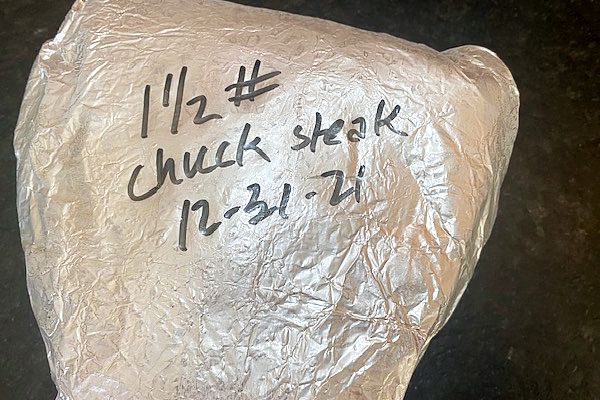 Easy Steps To Get Oven Baked Steak Ready To Cook
Cut the meat into serving-size pieces, about the size of your palm. Beef shrinks as much as 25% when it is cooked. A serving of beef is considered 3 ounces. That's about the size of a deck of cards. For most of us, we are used to eating a larger portion.
When I make this oven baked steak for the family, there are mostly men and teenagers, so I allow eight ounces of raw beef per person. That shrinks to about 6 ounces after cooking, so it is still a pretty generous portion, although I think the big boys might not agree!
I always make sure there are plenty of tasty side dishes like mashed potatoes and vegetables to fill their hollow legs!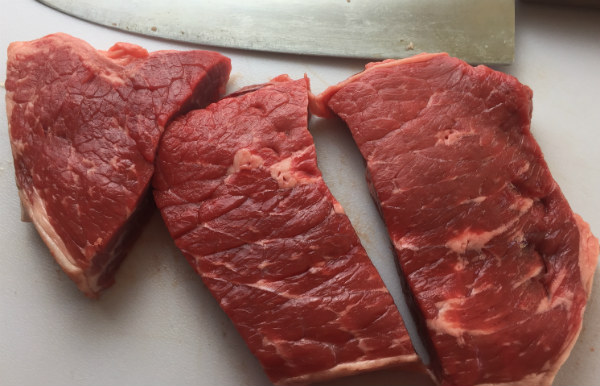 The next step is critical to making the delicious gravy rich and brown in color. Sear each piece on both sides in a hot skillet with olive oil. Don't hurry this process. Don't crowd the meat; you want to sear it, not steam it. You want a nice brown on both sides.
"Shingle" them in a roasting pan as you brown the portions. The term, used in food service, means to arrange them in a pan slightly overlapping each piece with the one next to it, like shingles on a roof. The fit here can be pretty snug. They will shrink as they bake, and they'll begin to swim in gravy!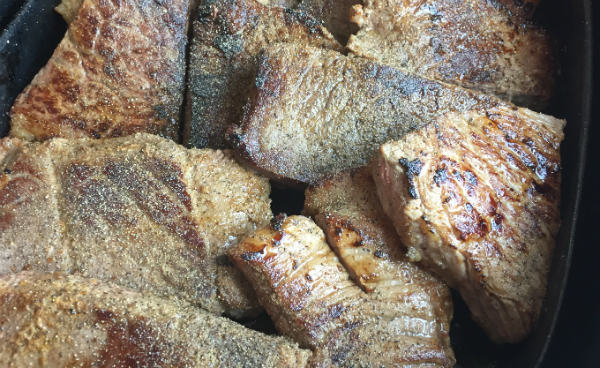 Now, make the sauce in the same pan you used to brown the meat. Better Than Bouillon Roasted Beef Base is my go-to product for this oven baked steak recipe. I think it is by far the best product of its kind on the market! As you whisk the ingredients together, scrape up all the tasty brown bits from the bottom of the skillet and deglaze the pan.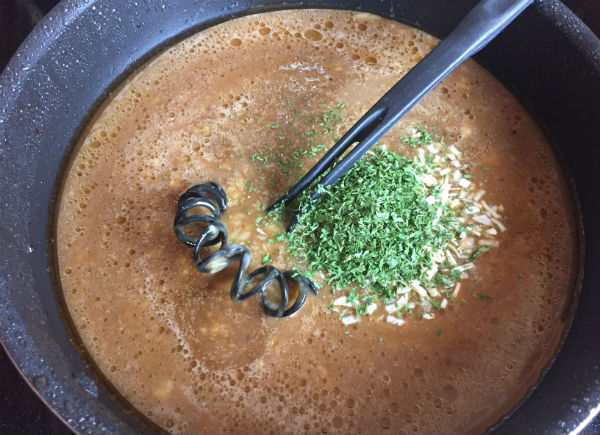 Finally, pour every drop of that yummy mixture evenly over the meat and cover it up tightly. If your roasting pan doesn't have a lid, cover it with heavy aluminum foil and crimp it snugly along the edges of the pan.
Slide the roaster into a low 275-degree oven and do something else while it bakes for 5 hours or so, filling your home with the most amazing aroma! Check it once or twice while it bakes, especially if your cover isn't snug. Make sure the meat is nestled down in the gravy, where it will get increasingly tender and flavorful.
Baking time can vary due to the thickness and quality of the beef. You can lower the temperature to as low as 225 degrees and increase the cooking time. Uncover for the last 30 minutes or so if you want a little more brown on the edges of the meat.
If dinner is delayed, you can let this sit in the oven a little longer. Turn the oven temperature as low as it will go, usually around a food-safe 170 degrees. Keep it tightly covered. As long as the oven baked steak stays moist, it's pretty forgiving.
Yield: 8
Oven Baked Steak With Brown Gravy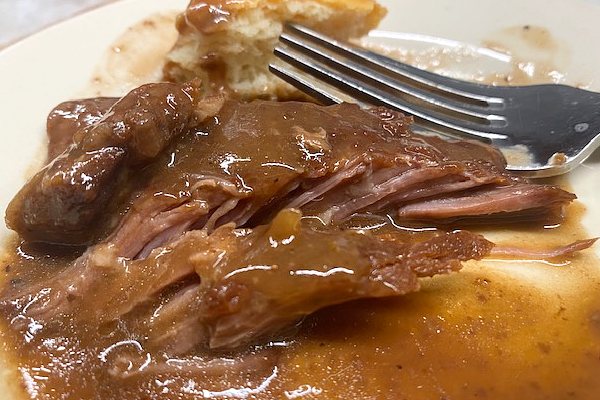 This amazingly fork-tender beef makes its own gravy as it bakes! This recipe uses a less tender, less expensive cut of beef that often has the best flavor when you cook it low and slow.
Total Time
5 hours
20 minutes
Ingredients
4 pounds round steak or chuck steak, cut into serving-size pieces
3 Tbsp olive oil
2 10.5 ounce cans of cream of mushroom soup
3 cups water (or about two soup cans full)
2 Tbsp instant minced onion
4 ounces Better Than Bouillon Beef Base
2 Tbsp parsley
pepper and garlic powder to taste
Instructions
Cut the steak into serving-size pieces about the size of your palm. They will shrink as they bake.
Put olive oil in a non-stick skillet and, on medium-high heat, brown quickly on both sides. You may need to add more olive oil.
Transfer the meat to a roasting pan and "shingle" the pieces. Sprinkle with pepper and garlic powder to taste.
In the same pan you used to brown the meat, combine the soup, water, beef base, parsley, and onion.
Whisk to combine all ingredients and pour over the meat.
Cover tightly and bake at 275 degrees for about 5 hours or until fork-tender. You can uncover for the last 30 minutes or so.
Baking time can vary due to the thickness and quality of meat.
You can also lower the temperature to 225 degrees and increase the cooking time, even overnight.
Check a time or two while baking to nestle each piece of meat into the gravy that's forming. It may be necessary to add a little more water, especially if the lid isn't tight.
If dinnertime is delayed, turn your oven to the lowest setting to keep warm. As long as the meat is kept moist, it's very forgiving.
Oven Baked Steak And Gravy Needs Mashed Potatoes
I thought you might enjoy a quick lesson on mashed potatoes, country-style. Peel and cut up 4 pounds of russet potatoes and put them in a pot with two teaspoons of salt and just enough water to cover the potatoes. Cook on medium heat until tender, then drain them thoroughly.
While they're still hot, put a whole stick of butter and two teaspoons of Better Than Bouillon Roasted Garlic Base in the pot, put the lid back on, and let it all melt. (I'm shameless about how much butter I use in mashed potatoes.) Then, use a hand masher, and don't whip them. Just look at all the yummy gravy-cradling nooks and crannies! This recipe makes about eight servings.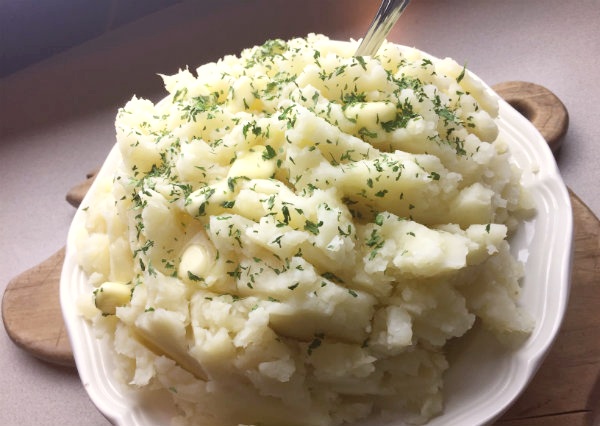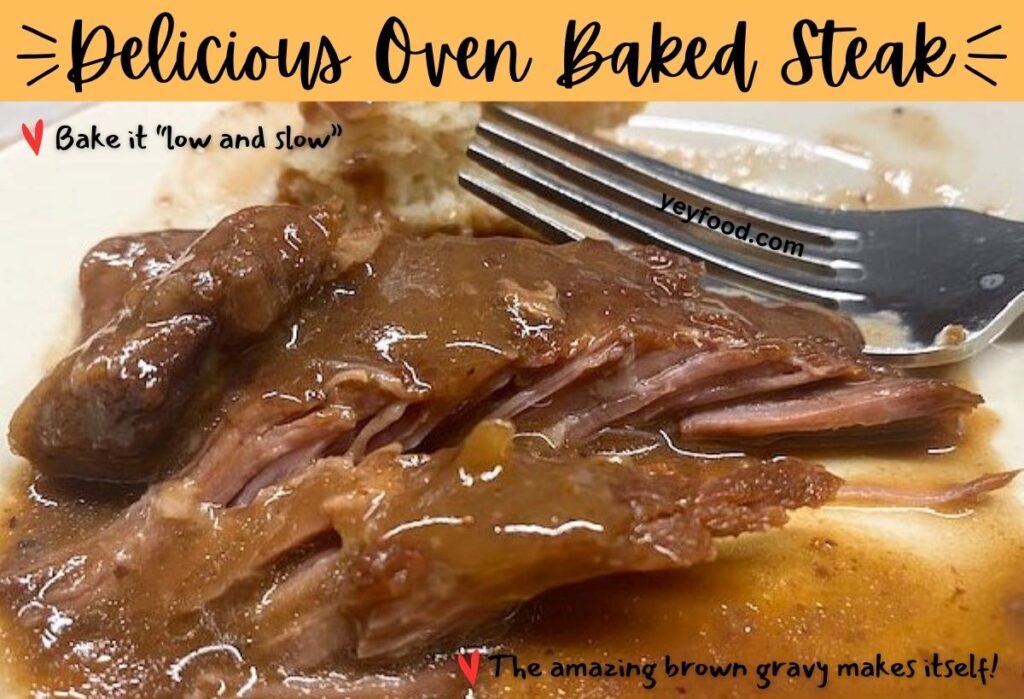 Are you meat-and-potatoes people? We live in Nebraska, so it's a sure thing! What is your absolute favorite way to make and eat beef? We'd love to hear from you!
More tasty recipes from us: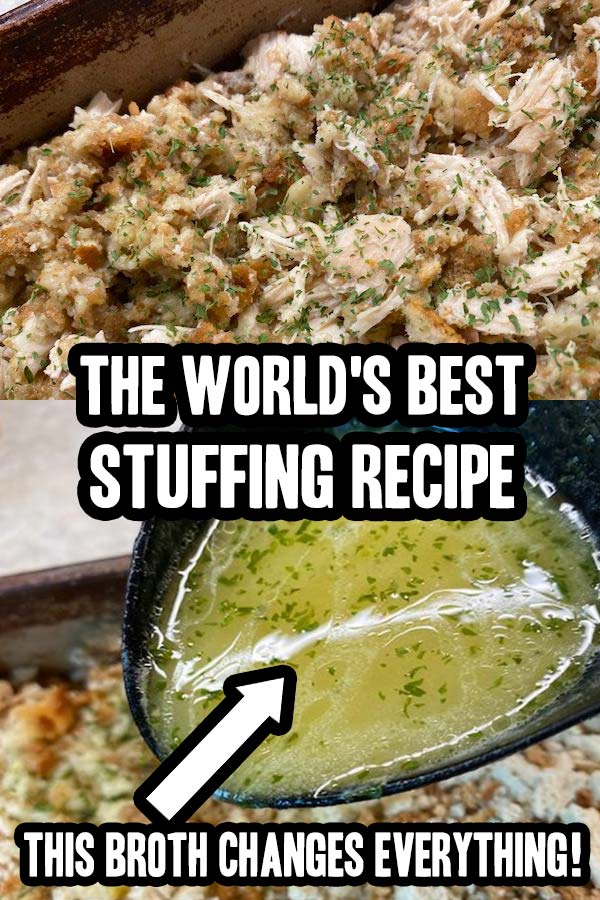 Easy 1 Pan Classic American Goulash
German Sauerkraut Casserole With Bacon And Brown Sugar
If you like these recipes, you are our people! You can check some related articles below or search via categories on the right. But be warned; you will be on here for hours. Enjoy!
So, please share this recipe on your social media accounts like Facebook, Instagram, Twitter, and Pinterest. We would be honored and ever so grateful; thank you!