Busy Day Cake Mix Lemon Bars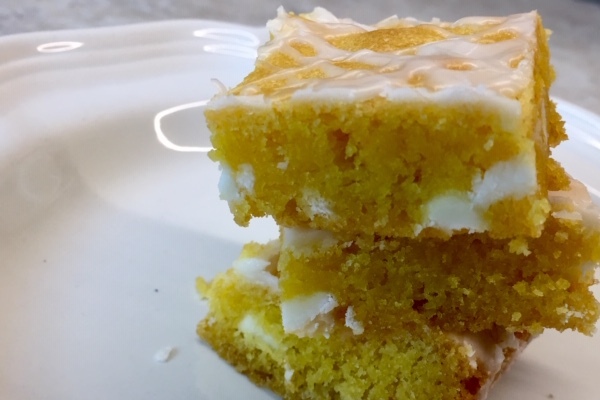 Lemon Bars are a family favorite. We love them, and people ask for the recipe whenever I take them somewhere. The most surprising thing about this recipe is that it starts with a lemon cake mix.
They are so fast and easy that you can satisfy your craving in less than an hour, and that's allowing some time for them to cool off!!
Years ago, I was a half-crazed working mom with two businesses. I commuted 600 miles a week from a hometown without a single fast food option! The only grocery store closed at 6:00 PM. You better believe I had to summon a lot of creativity in the kitchen to feed my family!
I began to embrace semi-homemade recipes, and I employed every shortcut known to man to put yummy food on the table. After all, I have always loved to cook! I did not want to depend on frozen packaged meals or boxed mixes except in a pinch.
Do any of you young'uns remember when there were no air fryers or Instant Pots? I distinctly remember buying my first microwave oven. That, and crockpots (without removable innards) were about all you had to get a meal on the table if you were a working mom.
This Is How The I Hate To Cook Cookbook Came To My Rescue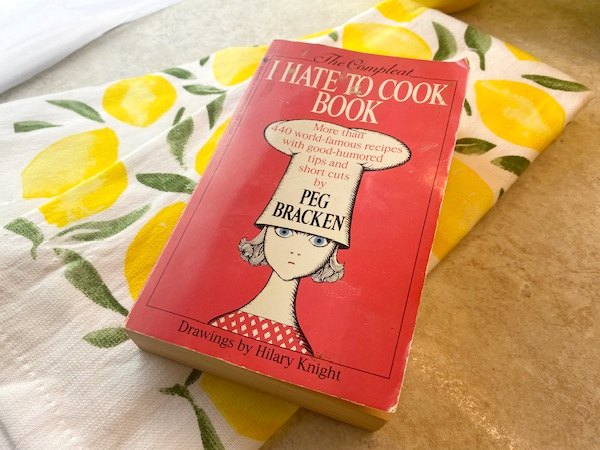 About the time I was losing my mind, I bought a copy of Peg Bracken's cookbook. Right away, I loved her snarky humor. Back in the late 1980s, our girls were in high school. It was a small town with a small school, so there were endless requests to send cookies for their various activities. Endless.
Ms. Bracken was way ahead of her time. Her wit was as remarkable as her recipes. Thanks to Peg, I started baking a lot of what she called "idiot cookies." It was the 80s, remember. It's entirely politically incorrect to use that term today. So, now I call them Desperation Cookies instead!
They start with a cake mix of any flavor. Desperation cookies are fantastic. I've made dozens and dozens to share at potlucks, family dinners, and at our grandkids' ball games.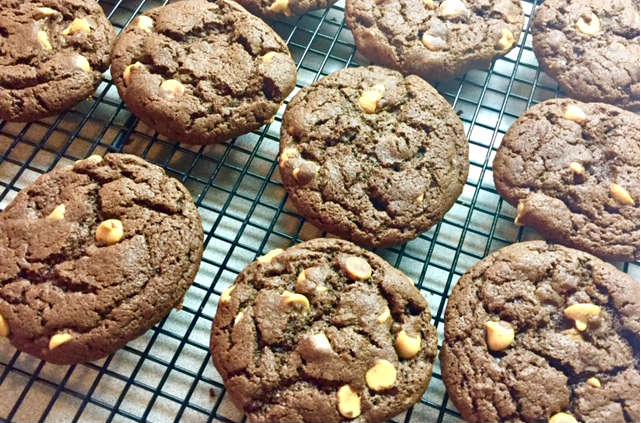 When You're Too Lazy To Make Cookies Make These Yummy Bars Instead
But one night, I was bone weary, wiped out, and done dealing. Even "idiot cookies" were too much for me to face. I couldn't muster enough energy to shape the dough into 36 balls.
Does anyone remember Toll House Bars? Of course, you do because they're amazing! At some point, a "smart cookie" came up with the idea of spreading cookie dough in a bar pan. Voila! A classic was born!
So, I borrowed that idea and patted the dough into a smallish bar pan. I used a glass baking dish that is 11 inches by 7 inches.
Guess what? It worked great! Ever since then, these simple lemon bars made from a cake mix have shot to the top of the chart as a family favorite! Let me tell you, lemon bars this good should not be this easy to make, but they are!!
YOU WILL NEED:
Box of cake mix
Eggs
Vegetable Oil
Chips of your choice
Mixing Bowl
Mixing Spoon
Non-Stick Cooking Spray
Baking Pan 11″ x 7″ or 9″ x 9″
Whatever cake mix/chip combo you choose, the method is the same. What's more, the possibilities are almost endless!!
Combine The Dry Cake Mix With The Eggs And Oil
Stir It Up Then Add The Chips
Pat The Dough In A Sprayed Baking Pan And Bake
These Lemon Bars Are A Lemon Lovers Dream
We all love lemon desserts at our house, so a bit of lemon glaze was a no-brainer! Of all the variations I've tried, this is the only one I glaze because they just cried out for a bit more tang!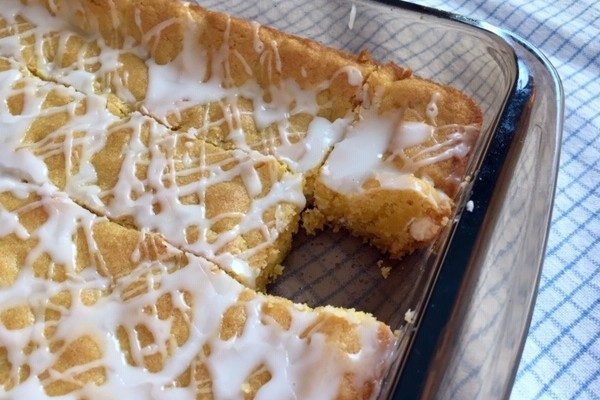 You can skip the glaze; it's up to you! They're delicious either way! But look at that tempting bar with a touch of tangy icing! They are simply irresistible.
Yield: 16 bars
Quick And Easy Lemon Bars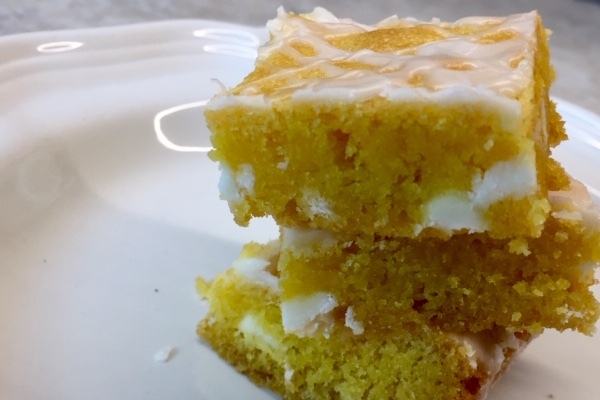 One bowl, one spoon. Easy and fast lemon bars that melt in your mouth.
Ingredients
Bars:
1 box lemon cake mix
1/2 cup oil
1/2 cup white baking chips
2 eggs
Glaze:
2 Tbsp lemon juice
1 cup powdered sugar
1/2 tsp lemon extract
Instructions
Combine the cake mix, oil, and eggs.
Stir until blended.
Stir in baking chips.
Pat into a sprayed 7" x 11" bar pan or 9" x 9" square pan.
Bake at 350 degrees for about 12-15 minutes or until light golden brown.
Cool
Mix powdered sugar and lemon juice to make a glaze.
Drizzle over cooled bars. Cut and serve.
Whatever You Do Don't Stop With Lemon Bars
There are so many yummy possibilities! One of these just might become YOUR family's favorite.
Yellowcake mix + toffee bits! They are our grandson's buddy Brandt's favorite, so now we call them Brandt bars!
Yellowcake mix + cinnamon chips and cinnamon sugar on top! Presto! Busy day Snickerdoodle Bars!
Spice cake mix + butterscotch or caramel chips! A perfect bar for fall!
Chocolate cake mix + peppermint bits or peanut butter chips! So yummy!
Lemon cake mix + cherry chips! The cutest polka-dots!
Strawberry cake mix + white chocolate chips or mini chocolate chips! This one begs for a sweet drizzle of chocolate glaze!
Here's one I tried at Christmas time using a brownie mix! Chocolate Peppermint Hurry Up Bars!
From There On Let Your Imagination Run Wild
After all, has there ever been a BAD bar cookie? What is YOUR favorite bar cookie?
Peg Bracken left this world at the age of 89, way back in 2007. However, her iconic cookbook has been updated many times and is still available on Amazon. The 50th-anniversary edition would be an excellent addition to your cookbook collection or for a bride who's not too sure about this kitchen thing. Here you go!
Please share this post on your social media accounts like Facebook, Instagram, Twitter, and Pinterest if you enjoyed this recipe today. It would sure tickle me, and I'd be ever so grateful; thank you! 
If you haven't already, check out our Facebook page, where we post easy, delicious, and family-friendly recipes every day!
More recipes:
Super Delicious German Dessert Recipes
Amazing Frosted Brownie Cookies