Chicken Pot Pie Bubble Up Casserole Recipe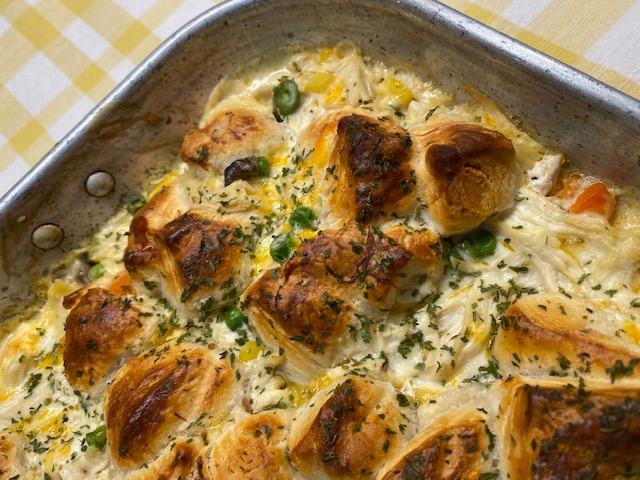 This chicken pot pie bubble up casserole was a hit! No, it knocked it out of the park when I took it to our daughter's family for dinner. Her family of four polished it off in a single setting. They have two active, hungry teenagers, but still, it's safe to say they'll be making it again and again!
My husband ("Papa") isn't a chicken guy, so when I wanted to try this recipe, I thought I'd give it to our daughter's family. But when I started to put it together, I realized no one in their right mind would NOT love this, so I made a second, smaller casserole for us. Well, he loved it too!
This yummy dish is the very definition of comfort food, and it's super easy to make! It's impossible to go wrong with tender white chicken, cheese, colorful veggies, a creamy sauce, and biscuits! You can even make it with rotisserie chicken!
I tried hard to determine who created the first bubble up biscuit-topped casserole, and I could not track it down, but I have a sneaking suspicion it could have been Pillsbury. The rascals might have figured out a way they could sell a whole lot more biscuits! Here are a few more bubble up recipes from them to get you started!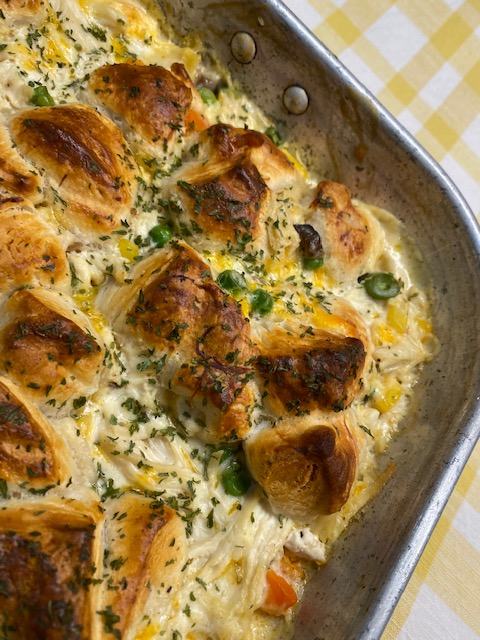 Make It Fast Make It Easy Everyone Lives In The Fast Lane These Days
I thought when I retired, life would slow down a bit, but it shows no signs of that happening yet! Life has a funny way of filling in the blanks we thought we had in our "schedules." I had to make this casserole and quickly!
One of the most awesome things about this dish is it goes together fast with easy-to-find ingredients. I bought skinless, boneless chicken breast and prepared it in my Instant Pot. I dumped the chicken in the Pot along with some water and chicken bouillon cubes, and about 20 minutes later, I had tender, moist, shreddable chicken.
If you haven't added the Instant Pot app to your phone, I highly recommend it! Instant Pot is the innovator in quick-cooking technology and has a great network of devoted users, including an Instant Pot Facebook Community of over three million followers! It's a fantastic place to get information!
Hold on! Is life too crazy even for this? Don't skip this recipe! Just grab one of those tasty rotisserie chickens waiting for you right inside almost any grocery store on your way home! That will be perfect for this casserole!
Let's Build A Quick And Tasty Casserole The Kids Will Love
Once I had shredded the chicken, I put it in a 13-inch by 9-inch baking pan I had treated with non-stick spray. Next, I combined the soup, sour cream, shredded cheese, mixed vegetables, garlic powder, and seasoned salt in a mixing bowl.
Once everything was well combined, I spread the mixture over the shredded chicken. Finally, I cut the refrigerated biscuits from two 6-ounce cans in fourths and scattered the pieces over the entire casserole, pressing them in place as I went along.
This bubble up casserole bakes for about 35-45 minutes in a 375-degree oven, and when you pull it out, you have a complete meal! What more would you need to add? Tender chicken, colorful vegetables, cheesy good sauce, and crisp little biscuit bites on top! What a great meal in one pan!
Yield: 6 servings
Chicken Pot Pie Bubble Up Casserole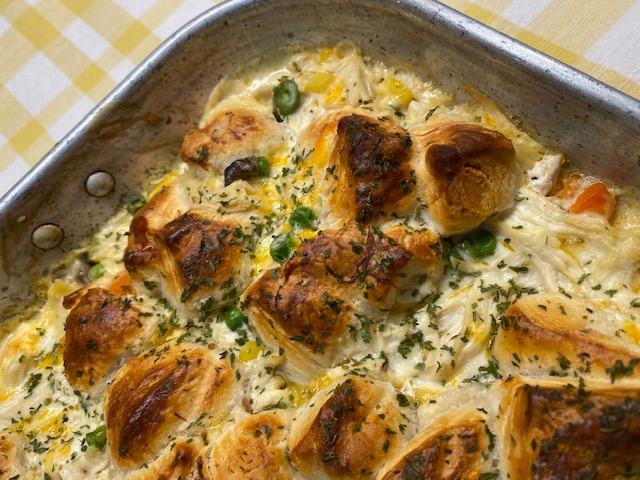 A quick and easy biscuit-topped casserole that's a lot like a chicken pot pie but easier and faster and fewer dishes to wash.
Ingredients
2 cups of cooked, shredded chicken
1 15.25-ounce can cream of chicken soup
1 cup sour cream
1 cup shredded cheddar cheese
1 1/2 cups frozen mixed vegetables
1 tsp garlic powder
1/2 tsp seaoned salt, optional
1/2 tsp pepper, or to taste.
2 6-ounce cans refrigerated biscuits
parsley for garnish, optional
Instructions
Spread the shredded chicken in a greased nine-inch by thirteen-inch casserole dish.
Combine the soup, cheese, sour cream, frozen vegetables, garlic powder, salt, and pepper in a mixing bowl and mix well.
Spoon the soup mixture evenly over the shredded chicken.
Cut the biscuits into four pieces and distribute evenly over the casserole, pressing each piece into the casserole as you go.
Sprinkle with parsley for a pretty garnish.
Bake at 375 degrees for 35 to 45 minutes or until biscuits turn golden brown.
Every Busy Mama Needs A Few One-Pot Wonders Up Her Sleeve
Our lives are busy! After working, running kids around, laundry, and errands, a simple-to-fix dinner with very few dishes to wash looks like a dream come true! You need this bubble up casserole in your go-to recipes and fast! One-pot meals are called "one-pot wonders" with good reason!
This yummy, kid-friendly, man-pleasing casserole comes together fast. Then, you top the whole thing with biscuit dough that's cut into small pieces, and let it bake until the biscuits "bubble up."
When the biscuits are golden brown, you know they are perfectly flaky inside. The biscuits are the best part! Dig them out with your fork or your fingers and pop them in your mouth! Yum!
P.S. While you've got the oven on, stir up a pan of Busy Day Lemon Bars, a perfect ending to a wonderful family meal!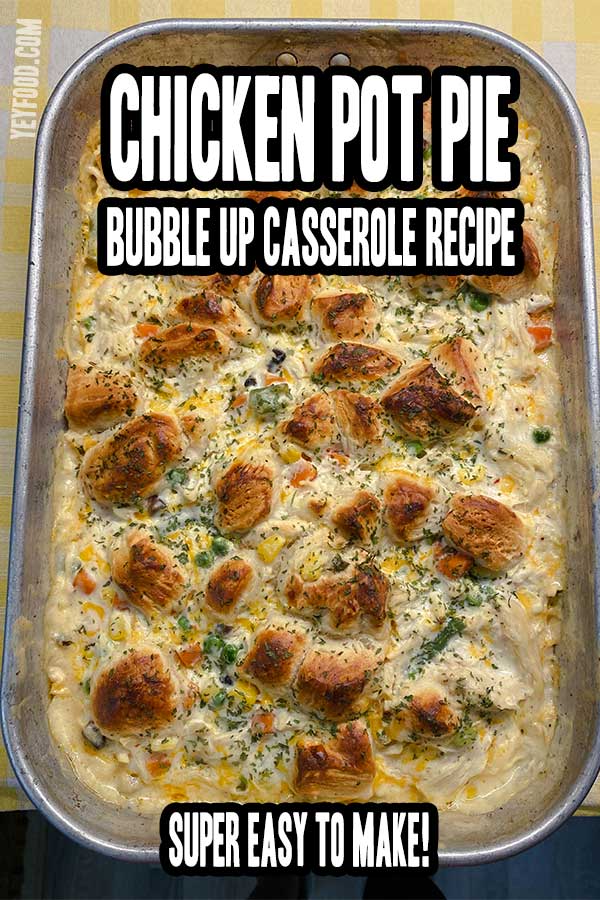 Tell us about your bubble up casseroles! Have you ever made one? Does your family gobble it up? If you make this one, please send us a photo! Be sure to include one of the kids chowing down! We'd be so tickled to hear from you!
More tasty recipes from us:
Easy 1 Pan Classic American Goulash
German Sauerkraut Casserole With Bacon And Brown Sugar
If you like these recipes, you are our people! You can check some related articles below or search via categories on the right. But, be warned; you will be on here for hours. Enjoy!
So, please share this recipe on your social media accounts like Facebook, Instagram, Twitter, and Pinterest. We would be honored and ever so grateful; thank you!