One Pot Classic American Goulash Recipe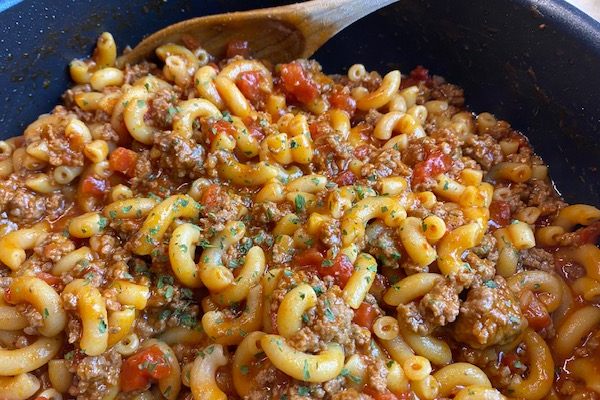 Goulash is an All-American, man-pleasing, kid-friendly, easy-on-the-cook one-pan wonder you can have on the table in under 30 minutes if you remember to defrost the ground beef! That's because it's hearty, simple, full of flavor but uncomplicated. It's been a favorite in our family for three generations, and I'll bet your bunch will love it, too.
For all of you time-starved moms and dads out there, this is for you! The epic discovery is YOU DON'T NEED TO BOIL THE MACARONI and dirty another pot! Hooray, for fewer dishes to wash! Who has time for that? Let's get started!
You Will Need the following:
10″ non-stick skillet with a tight-fitting lid (bigger if you double the batch)
Measuring cup
Measuring Spoons
Wooden spoon or another spoon suitable for non-stick cookware
1 pound ground beef
Petite diced tomatoes
Tomato soup
Worchestershire sauce
Elbow macaroni
Instant minced onions
Salt and pepper
Brown sugar
Water
Garlic powder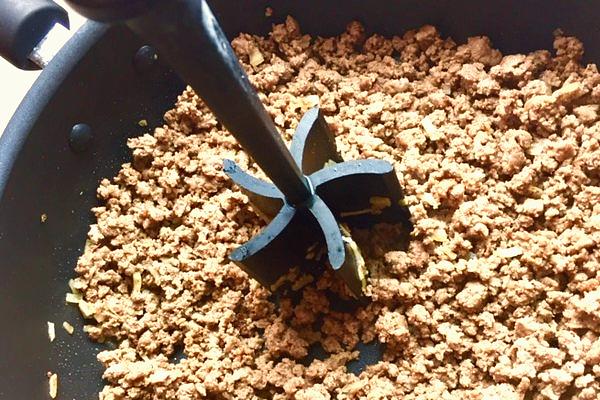 Brown the ground beef and break it up into fairly fine crumbles.
All The Other Steps Are Super Simple To Do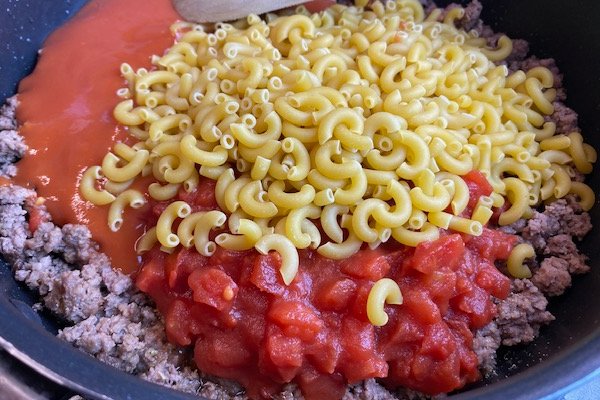 Now just dump-dump-dump in the tomatoes, soup, macaroni, and the rest of the ingredients. (Hint: Can't find or don't have petite tomatoes? Grab your kitchen scissors and snip them into smaller pieces right in the can!!)
Experiment with some of the already seasoned petite diced tomatoes you find in the tomato aisle. You may find a flavor your family will love! Fire-roasted? Basil, garlic, and oregano? Adjust the garlic and onion accordingly. Yum!
Stir it all up and cover it tight. While it's cooking, give it another stir or two. You may need to add a little bit of water. It's ready when the macaroni is nice and tender. It will be done in just 20 minutes, give or take!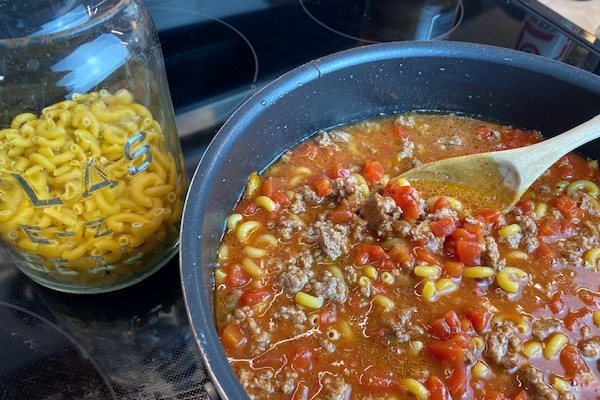 While the goulash is doing its thing, you've got time to set the table, toss a bagged salad in a bowl, and heat a veggie. We like French-cut green beans or peas with it. Frozen garlic or cheese bread slices can be ready in minutes, too, and either one is excellent with goulash! Mmmmmm! Have to love those yummy smells wafting from the kitchen!
Once I was making this goulash and realized I did not have any tomato soup on the shelf. So, I substituted cream of mushroom soup, and it turned out perfectly delicious! I just gave it a slightly different name, "Golden Goulash." Tee-hee! No one caught my mistake!
If you don't want to use mushroom soup, here are some ideas for making your own with tomato soup substitute using simple ingredients! Clever! I'm proud to say the last one is from right here at Nebraska University Lincoln's excellent food service and technology department, a top-notch program!
How To Make A Condensed Tomato Soup Substitute
Copycat Campbell's Tomato Soup
How To Substitute Tomato Sauce For Other Forms Of Tomatoes
Here's another simple pasta dish your family (especially teenage boys) will love. You can't beat beef and pasta, and this one gets an extra kick with pepperoni added! Hungry Boy Three Meat Pasta Bake.
If you like these recipes, you are our people! You can check some related articles below or search via categories on the right. But be warned; you will be on here for hours. Enjoy! 😊
So, please share this recipe on your social media accounts like Facebook, Instagram, Twitter, and Pinterest. We would be honored and ever so grateful; thank you!
Printable Recipe: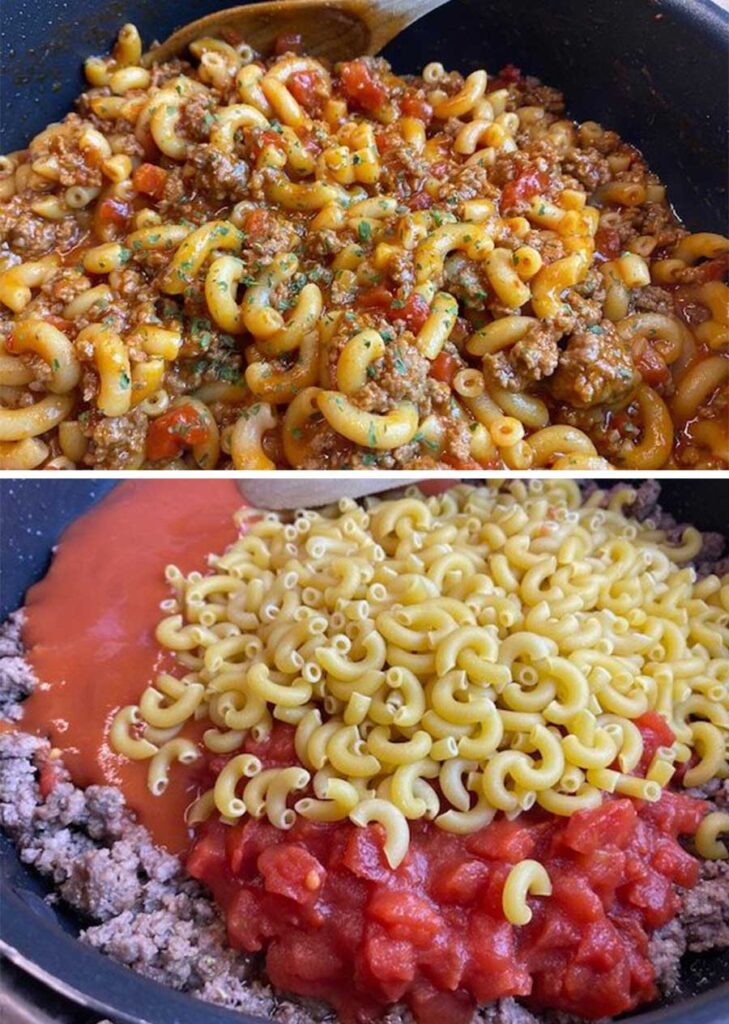 Yield: 4 generous servings
Easy 1 Pan Classic American Goulash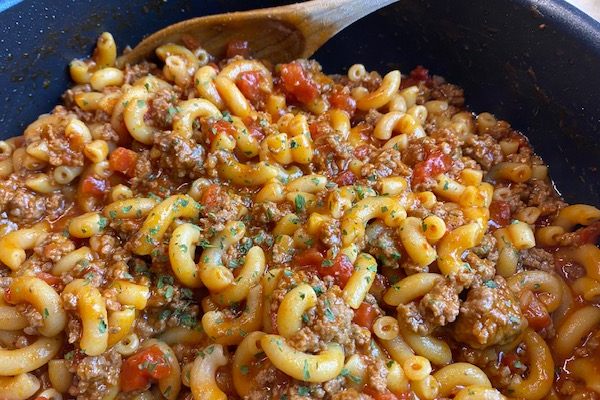 A quick and easy main dish you make in one pan starting with a pound of ground beef. Tasty, kid-friendly comfort food.
Ingredients
1 pound ground beef, lightly browned and crumbled
1 14.5 ounce can petite diced tomatoes
1 10.5 ounce can condensed tomato soup
1 soup can water (about 1 1/4 cup)
1 1/2 cups dry elbow macaroni
1 Tbsp Worcestershire sauce
1 Tbsp brown sugar
1 Tbsp instant minced onion
1 tsp garlic powder
Salt and pepper to taste
Instructions
In a non-stick skillet with a tight-fitting lid, brown the beef and season it to taste.
Add the remaining ingredients and stir it. Bring to a boil.
Reduce heat, put on the cover, and simmer for about 20 minutes or until the macaroni is tender.
Remove the lid and stir a couple of times while cooking to make sure it is not sticking.
You may need to add a little water.
If you enjoyed this recipe, please share it on your social media! I would love for more people to try this delicious and easy-to-make recipe. If you have any questions or feedback, please feel free to leave a comment below. I would love to hear from you! Shhh… Join our secret foodie group on Facebook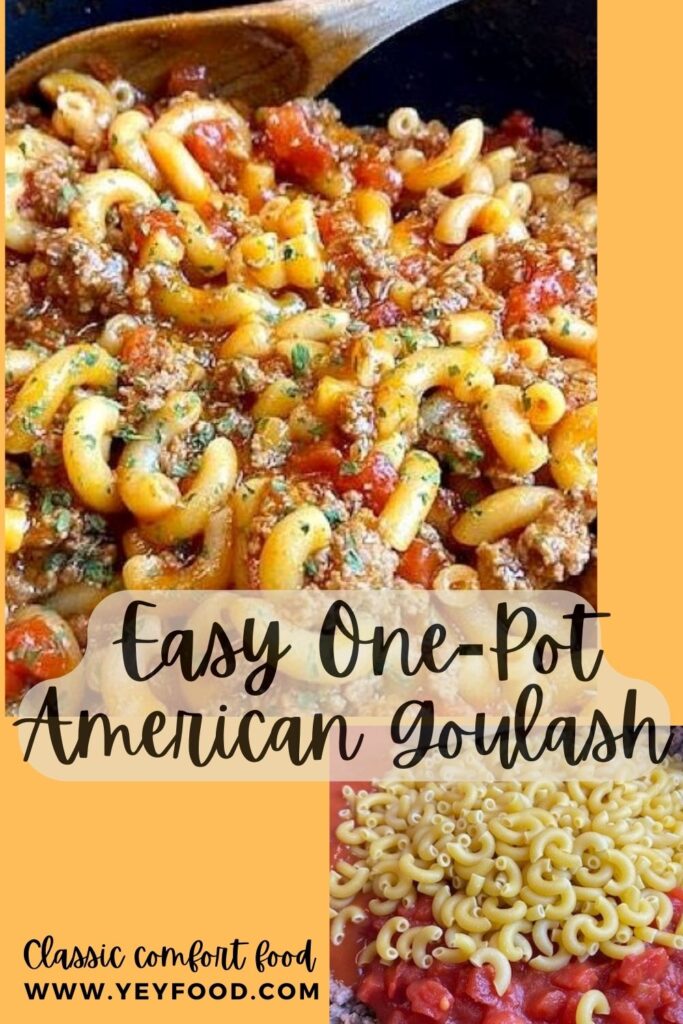 MORE QUICK AND EASY FAMILY-STYLE RECIPES: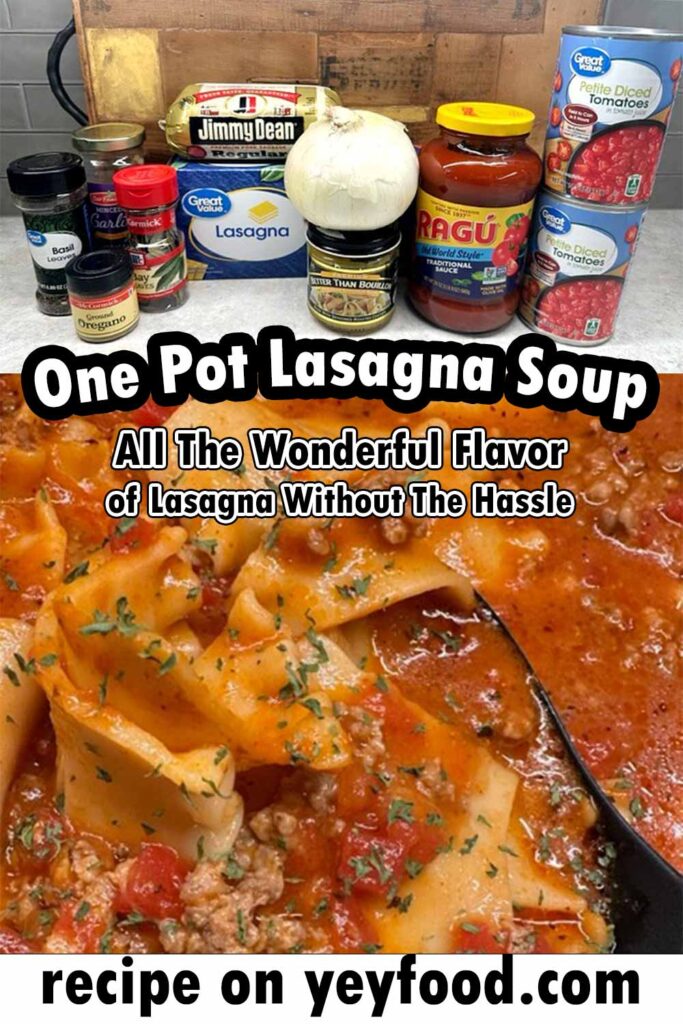 Four Ingredient Desperation Cookies
Newlywed Beef and Bean Skillet
German Sauerkraut Casserole With Bacon And Brown Sugar