Classic Molasses Cookie Recipe
Molasses Cookies are classic. Each crinkly sugar-coated cookie has a soft, tender middle that bends when you bite it and the perfect blend of warm spices. They stay chewy and soft for days, but don't count on finding out because your family will devour them immediately! They are cookie perfection.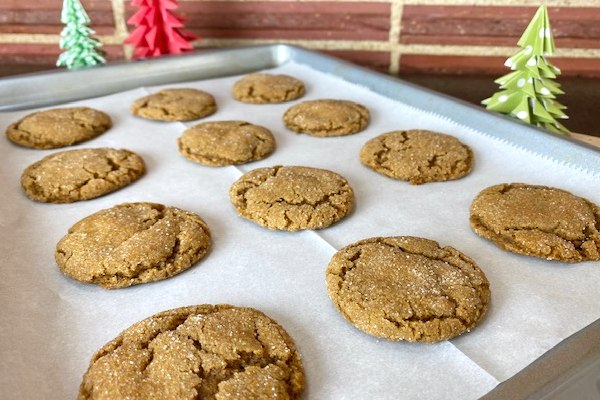 I'm on a one-woman mission to bring back simplicity and the joy of imperfection in the home. The tagline on my website is "where everything is made with love."
I have enormous respect and admiration (and a tinge of envy) for the folks who create cookie masterpieces. It is their expression of happiness and creativity. My husband and I have so much fun watching The Great British Bake Off , where amateur bakers compete in baking show-stopping creations and tackling tricky technical baking challenges.
I am fascinated and amazed at their skills in every episode. However, that is not how I express my creativity in baking or cooking. I love nothing more than feeding people, it's my love language, but I want to do it with minimum fuss and time spent. Anyone?
When we do choose to pour our heart into a project, it should make us happy and content in the process itself. For example, my friend Katie had tons of fun making dozens of beautifully decorated sugar cookies! It brought her joy!
Nothing should ever be done for the sole purpose of measuring up to some impossible Pinterest or glossy magazine image. Everyone else is taken! Be You!!
The Best Recipes Are The Ones That Have Gained Hand-Written Status
Years ago, our oldest daughter took an advanced foods course. Her "favorite recipes" spiral-bound notebook is full of recipes from friends, family, and other favorite sources gathered over the years from high school to the present day.
Here is the molasses cookie recipe she got from her friend Molly, carefully entered in her tidy handwriting. I hope you notice some little stains because that is how you can always spot the best ones! There will be a printable recipe card for you on this post, too!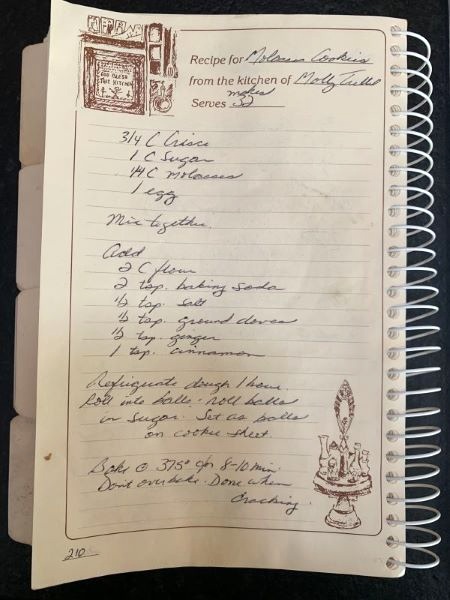 Molasses cookies are one of the most basic, straightforward recipes you can ever bake. The recipe calls for good old-fashioned shortening. You can use buttery-flavored shortening if you want. The kind that comes in stick form is so easy to measure and store!
If you can't bear the thought of not using butter, here is something to consider. Shortening is 100% fat, containing no water or milk solids. That means no steam is created during baking, so molasses cookies made with shortening are softer, taller, and more tender. Shortening also ensures the cookies do not dry out as quickly.
Parchment paper-lined baking sheets are one of the secrets to successful cookie baking. I'm in love with the new perfectly cookie-sheet-sized parchment sheets in the dispenser box by Reynolds Kitchen. If you love cookies with a soft chewy middle, never overbake these cookies. It's always better to take them out a bit too soon than leave them too long. Did I mention I learned the hard way?
These molasses cookies stay soft and chewy if you store them in a tightly covered container. They also freeze well. They are such cozy, homey cookies and so easy to make; we sure hope you'll give them a try and tell us what you think. You might want to take a peek at the recipe for gingersnaps from another friend. Enjoy the holiday season!
Yield: 32 cookies
Classic Molasses Cookies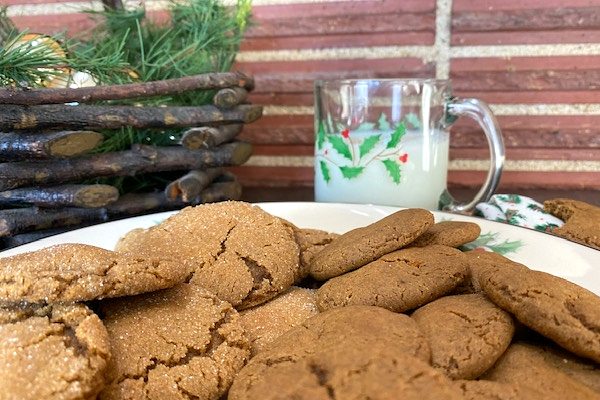 Each crinkly sugar-coated cookie has a soft, tender middle that bends when you bite it and the perfect blend of warm spices.
Ingredients
3/4 cup shortening, we recommend Crisco sticks
1 cup granulated sugar plus extra for rolling
1/4 cup molasses
1 egg
2 cups flour
2 tsp baking soda
1/2 tsp ground cloves
1/2 tsp ginger
1 tsp cinnamon
Instructions
Cream the butter, sugar, molasses, and egg until creamy and fluffy.
Add the dry ingredients and stir well until there are no streaks of flour remaining.
Refrigerate dough for one hour. (or longer)
Roll dough into balls.
Roll dough balls in sugar.
Put cookies on parchment-lined baking sheets about 2 inches apart.
Bake at 375 degrees for 8-10 minutes. Do not overbake. They are fully baked when the tops are crinkled.
Yield will vary by the size of the dough ball you make. Use a cookie scoop to make uniformly sized dough balls because the cookies not only look better, they bake more evenly when they are all the same size.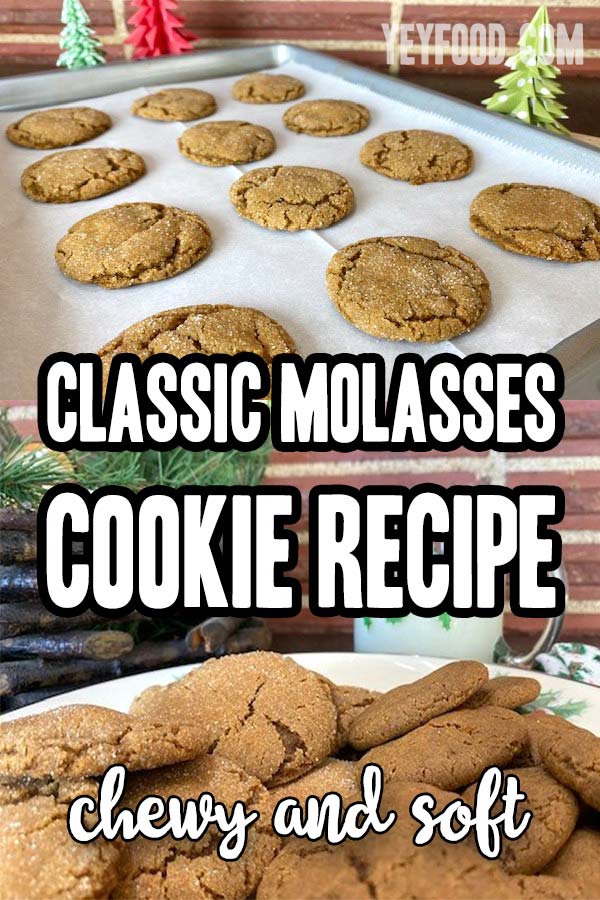 Is there a cookie so important to you that Christmas just isn't Christmas without it? We would break out in a happy dance if you would whisper it in our ear or, better yet, share it along with pictures!!
More tasty recipes from us: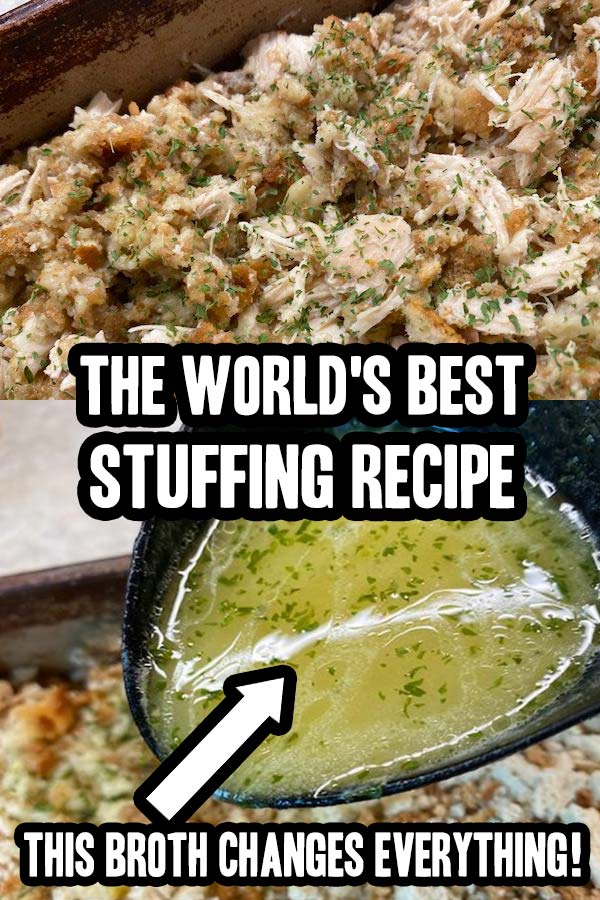 Easy 1 Pan Classic American Goulash
German Sauerkraut Casserole With Bacon And Brown Sugar
If you like these recipes, you are our people! You can check some related articles below or search via categories on the right. But, be warned; you will be on here for hours. Enjoy!
So, please share this recipe on your social media accounts like Facebook, Instagram, Twitter, and Pinterest. We would be honored and ever so grateful; thank you!