Soft Chewy Gingersnaps Cookies Recipe
This recipe makes soft, chewy gingersnaps instead of the hard, crispy "dunkers" you might remember. Dark brown sugar gives them gorgeous color and helps them stay tender and chewy for days! The slightly sweet and peppery flavor of ginger shines through in this delectable treat!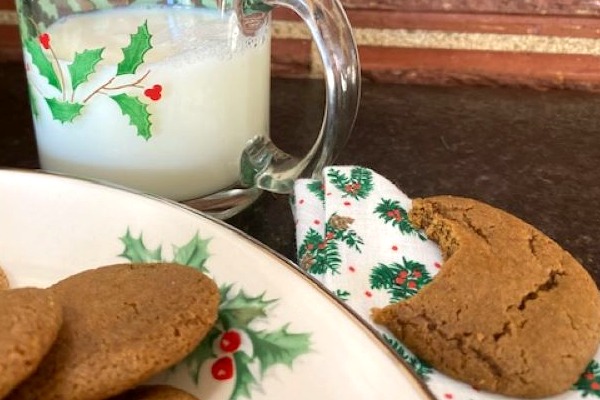 Ever wonder why these old-fashioned cookies are called gingersnaps? Well, I'm a word nerd, so I did a little research. These early ginger cookies originated in Europe and came to America with the German, Dutch, and English settlers. Gingersnaps got their name from the Dutch/German word "snappen," which means to seize quickly.
Our English language is such an interesting combination of words from other countries! My husband is pure German, so I love finding these little nuggets of German in our vocabulary.
Better bake a double batch of these awesome little cookies, or everyone will be "snappen" them up, and you might not get enough!
The Best Recipes Are Always Found On Hand-Written Recipe Cards
In our family, food is a love language. The food itself is secondary to a gathering, but it's a great way to bring people together. Over the years, we have accumulated countless recipes from friends, family members, or people who work with us.
In this digital age of online everything, there is such comfort in a real recipe card, hand-written by someone we actually knew. Here's the recipe card for gingersnaps from our daughter's friend Shana, a Southern belle who says she is famous for her gingersnaps! (You'll see why!) This post will include a printable gingersnap recipe for you!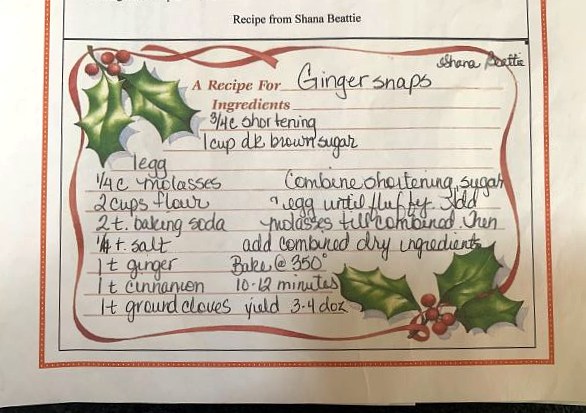 You might notice that gingersnaps contain molasses or black treacle, as the Brits call it. It's made from refined cane sugar. Molasses is what makes brown sugar brown. Molasses adds moisture to baked goods, and it is somewhat acidic. That makes proteins in cookie dough firm up faster, creating a chewier texture. The recipe also calls for dark brown sugar, more molasses!
Gingersnaps are easy to make and do not require the dough to be chilled before rolling them into balls and baking them. However, if you want to make the dough one day and bake the cookies the next day, a night in the refrigerator suits them fine.
Here Are Some Helpful Holiday Hints For More Successful Cookie Baking
Gingersnaps are quick and easy to make; it's one of the most basic and simple recipes you can ever bake. The recipe calls for good old-fashioned shortening. You can use buttery-flavored shortening if you want. The kind that comes in stick form is easy to measure and store!
If you can't bear the thought of not using butter, here is something to consider. Butter contains milk solids and moisture; shortening does not. The milk solids and water in butter change the way the cookies bake. Gingersnaps made with shortening will be softer, taller, and more tender. Shortening also ensures the cookies do not dry out as quickly.
Parchment paper-lined baking sheets are one of the secrets to successful cookie baking. I'm in love with the new perfectly cookie-sheet-sized parchment sheets in the dispenser box by Reynolds Kitchen. If you love cookies with a soft, chewy middle, never overbake these cookies. It's always better to take them out a bit too soon than leave them too long.
News flash: There is yet another crazy shortage this year. Store-bought "hard" gingersnap cookies are sold out in many places. They are popularly used to make tasty crusts for cheesecakes and pies. Shana shared this hint: Bake these very same cookies a little longer until they are crisp, then crush them for the best gingersnap crust ever!
Yield: about 40 cookies
Chewy Gingersnaps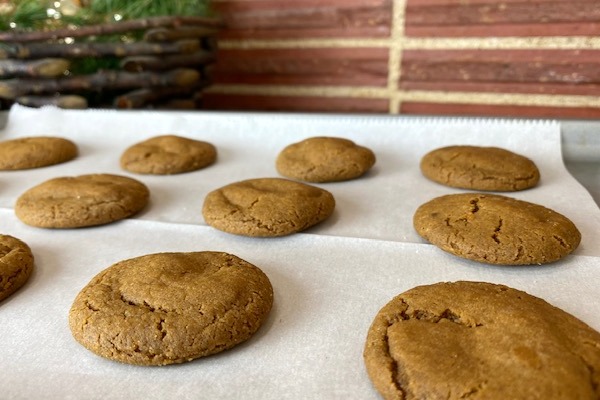 A recipe for soft, chewy gingersnap cookies made with molasses and dark brown sugar. The sweet, peppery taste of ginger shines through in these delightful little treats.
Ingredients
3/4 cup shortening
1 cup dark brown sugar
1/4 cup molasses
1 egg
2 cups flour
2 tsp baking soda
1/2 tsp salt
1 tsp ginger
1 tsp cinnamon
1 tsp ground cloves
Instructions
Cream butter, sugar, and molasses, then add egg and beat until fluffy
Whisk dry ingredients together and add to the butter-sugar-egg-molasses mixture. Sir, until no streaks of flour remain.
Roll into balls and place on parchment-covered baking sheets.
Bake in a 350-degree oven for 8-10 minutes or until just set and tops begin to crack.
Store in a tightly covered container.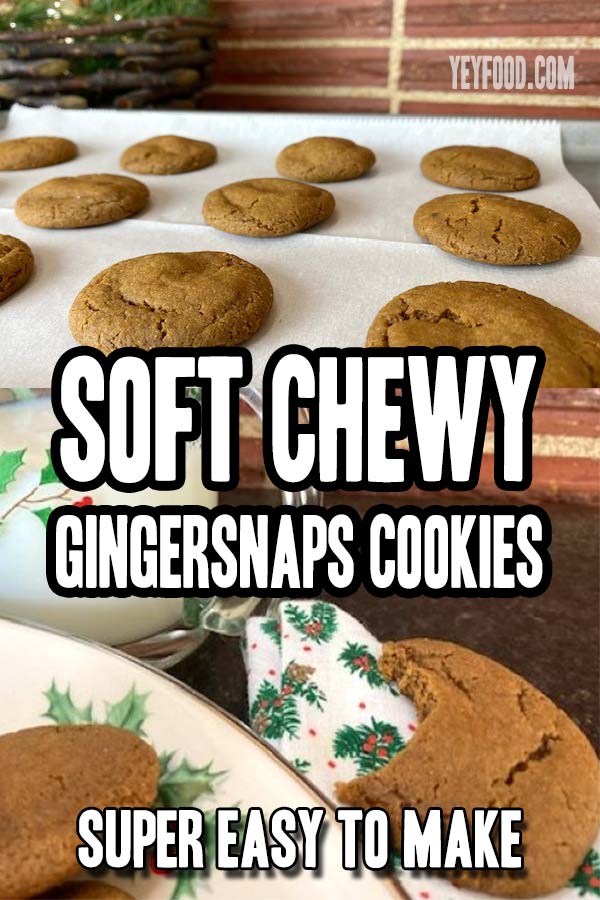 You might take a peek at the molasses cookie recipe from another one of our daughter's friends. It's interesting how similar the recipes are, yet the flavor and color are very different from gingersnaps. Did your mom or grandma make gingersnaps for you? I bet they weren't as soft and chewy as these are, but that's a secret we'll keep!
More tasty recipes from us: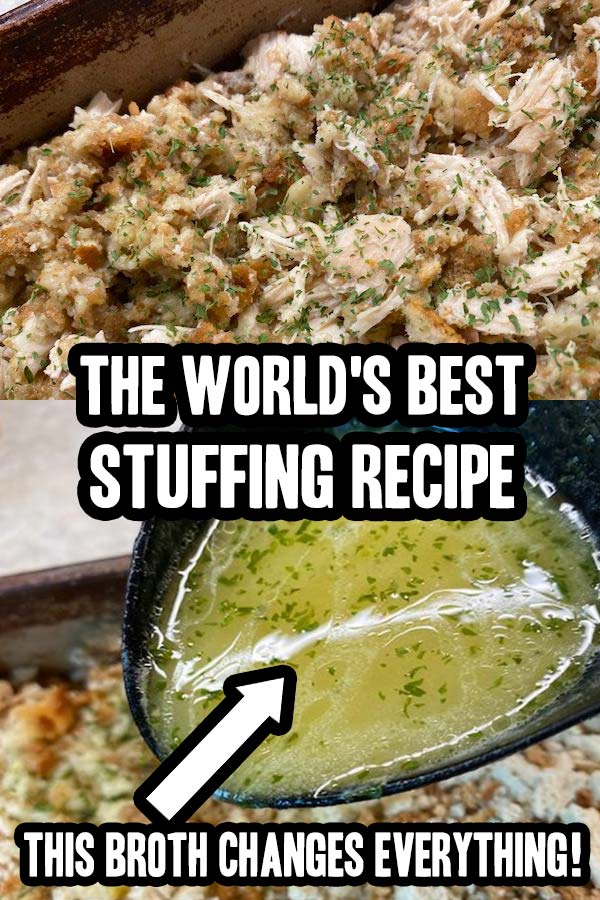 Easy 1 Pan Classic American Goulash
German Sauerkraut Casserole With Bacon And Brown Sugar
If you like these recipes, you are our people! You can check some related articles below or search via categories on the right. But, be warned; you will be on here for hours. Enjoy!
So, please share this recipe on your social media accounts like Facebook, Instagram, Twitter, and Pinterest. We would be honored and ever so grateful; thank you!