German Sauerkraut Casserole Recipe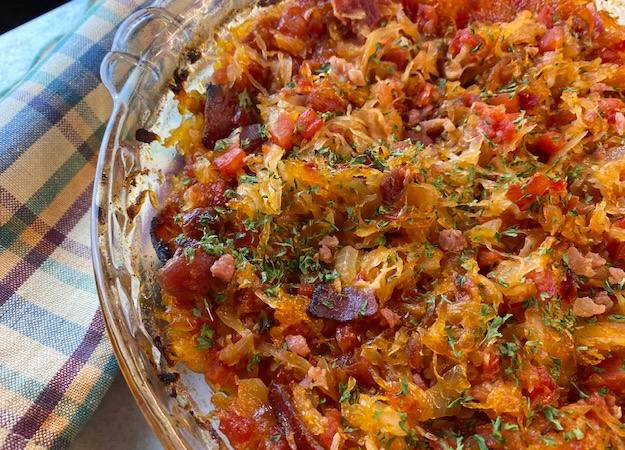 I ran into this amazing sauerkraut casserole at a German buffet dinner in a tucked-away town in Nebraska, hosted by the local senior citizens. You will love this dish! German food is always hearty, flavorful, and unique!
On a cold, drizzly October day, we were on a weekend mini getaway. It was about noon, and we were looking for somewhere fun to eat. The tiny, tidy downtown was inviting, and we noticed a sign that read, "German Dinner served today 11:00-1:00." We were in adventure mode and eager to try something different.
So we thought, why not? I mean, my husband is 100% German. German food is great, and we were both hungry. We bought a ticket and got in line.
The dinner in Eustis, Nebraska, was a buffet. Eustis is very German and famous for the sausage made there, so it's known as "The Sausage Capital" of our dear state. Their annual community celebration is called "Wurst Tag," which literally means Sausage Day!
I'm always game to try a new dish, so I tasted a little dab of this interesting-looking German sauerkraut casserole. The flavor is indescribably sweet, sour, salty, and savory all at the same time! Immediately, I grabbed a larger serving.
Sauerkraut Casserole Das Ist Gut Ja
We all know the marriage of bacon and brown sugar is made in heaven, right? Well, I have to tell you, the angels sang Handel's Hallelujah Chorus after my first bite, and I had to track down the person who brought it!
Sniffing out the person who provided the casserole didn't take long. The tall, lanky lady obligingly wrote it down on a slip of scrap paper and told me it would taste best if I used her homemade sauerkraut! She is justifiably proud of her recipe!
What an entrepreneur! She told us she makes and sells 500 pounds of fermented cabbage annually! I may just look her up and buy some if we're lucky enough to go to Wurst Tag in June!
At first glance, this German sauerkraut casserole recipe might not look like a winner it is. It's sort of like a dress that doesn't look good on a hanger, but once you put it on, it's amazingly flattering. Don't be fooled! It is absolutely delicious.
Check out this simple Sauerkraut meal idea from Instagram
Believe It Or Not The First Sauerkraut Was Made In China Not Germany
You may think sauerkraut originated in Germany. But in fact, it's another invention of the Chinese! Two thousand years ago, they fermented cabbage in rice wine!
When you make this casserole, I highly recommend you use fresh sauerkraut from the refrgerated section. The flavor is much better than canned sauerkraut.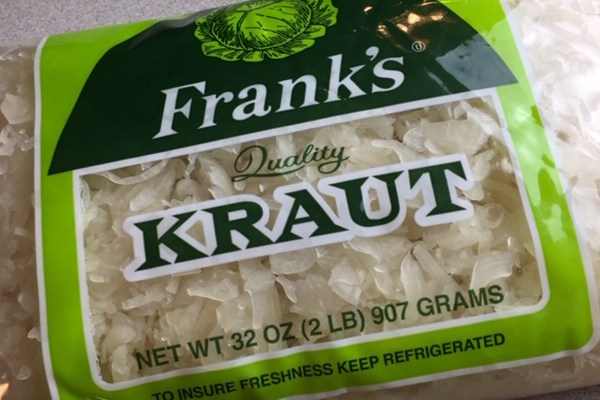 Sauerkraut is finely cut raw fermented cabbage. It has a long shelf life and a distinctive sour flavor, resulting from the lactic acid formed when bacteria ferment the sugars in the cabbage leaves. It is one of the best-known national dishes in Germany.
Here's your language lesson for today! The word sauerkraut comes from the German words "sauer" and "kraut," meaning sour cabbage. The word "sauer" also means acidic in German, so the German term for "cabbage fermented by lactic acid" is perfectly descriptive.
How do you fix sauerkraut? Another unique way to use this tasty cabbage concoction is in Sauerkraut Salad. We sure hope you'll give this delicious casserole a try! If you do, please send pictures! ❤
Yield: 12 servings
German Sauerkraut Casserole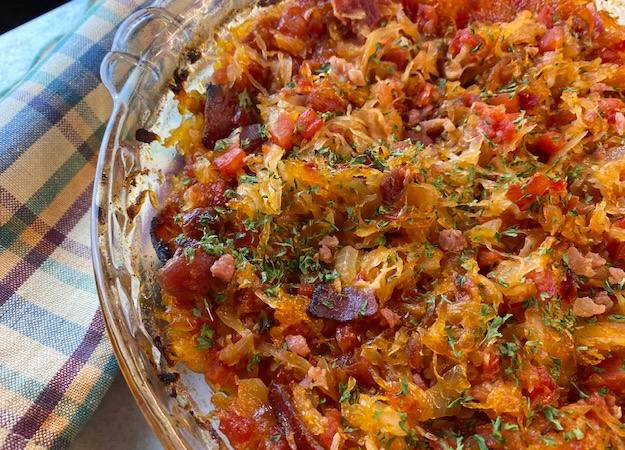 Very fast and easy to throw together. Great flavor and color. Goes extra well with meatloaf or pork roast. I bet it would be great with sausage or even hot dogs!
Course Side Dish
Total Time
1 hour
15 minutes
Ingredients
1-quart fresh sauerkraut from the refrigerated section. Do not drain.
1 cup onion, diced
1 15-ounce can petite diced tomatoes, drained
1/2 pound bacon cut into one-inch pieces, cooked crisp reserve 2-3 Tbsp drippings
1/2 cup sugar
1/2 cup brown sugar
Instructions
Saute onion in bacon drippings until transparent. Combine all ingredients in a shallow casserole dish. (You want some of the liquid to evaporate.) Bake at 350 degrees for one hour.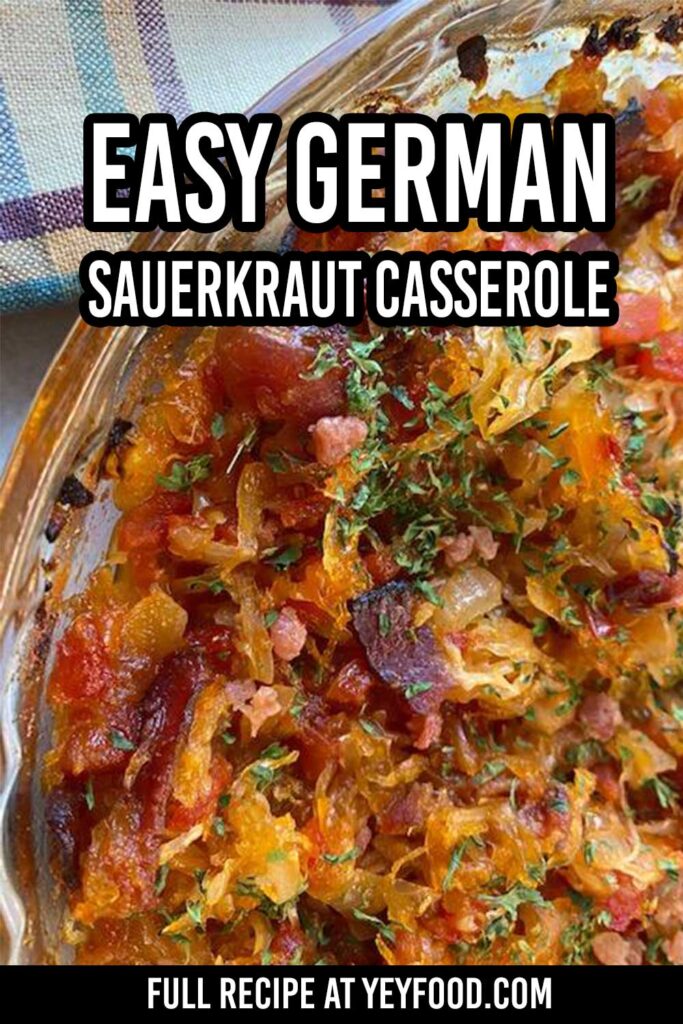 MORE OF OUR YUMMY RECIPES
The Ultimate Bread and Butter Pickle Recipe
The Number 1 Practically Perfect Poppy Seed Bread
World's Best Stuffing No Turkey Required
If you like these recipes, you are our people! You can check some related articles below or search via categories on the right. But, be warned; you will be on here for hours. Enjoy!
So, please share this recipe on your social media accounts like Facebook, Instagram, Twitter, and Pinterest. We would be honored and ever so grateful; thank you!