Danish Style Cucumber Salad Recipe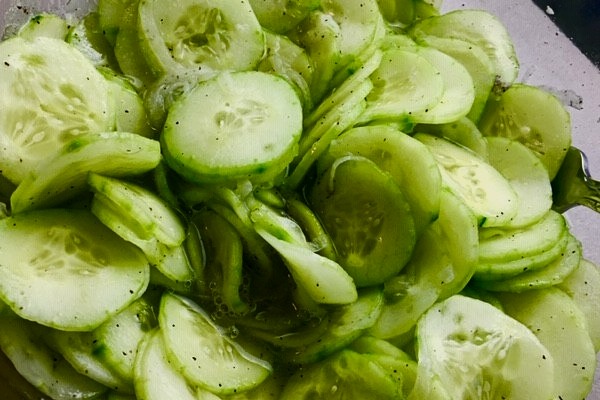 Cucumbers are popular the world over but leave it to the Danes to make them into a dish that's sleek, simple, and delicious.
We will get to the salad recipe, I promise! But first, a little fascinating horticultural history. Cucumbers were cultivated well before Jesus was born! They originated in India about 3000 years ago and quickly spread into Greece and Rome, then into Europe and beyond.
It wasn't long after the Pilgrims arrived in North America they hustled up and began growing cucumbers in their new country.
The most famous cucumber aficionado of all was Emperor Tiberius, who reigned in 14 to 37 AD. He was so crazy about them he insisted on having them on his table daily. That meant during summer and winter as well!
To meet his demands, the Romans reportedly grew them in raised beds on wheels, allowing the plants to be moved all over the place to take full advantage of the sunlight.
In the coldest part of winter, they were wheeled into some of the first primitive greenhouses lined with mirror stone, believed to have been shiny sheet mica, to reflect more sunlight.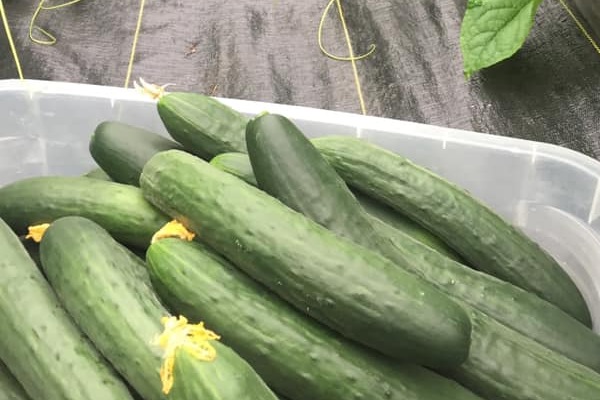 Cucumbers Are So Much More Than Just A Pretty Green Face
Today, the crisp green cylindrical fruit is one of the most popular items in the produce aisle. Yes, you read that right. Cucumbers are classified as fruit.
Cukes, as they are sometimes called, are also a super popular item in the home garden. They are easy to grow and prolific! They like well-drained soil and lots of sunshine and water, but a few plants will reward you with oodles of cucumber! You'll have plenty to share with friends!
Additionally, cukes offer nearly endless health benefits. They are so much more than a crudité or a circular slice of green on the salad bar! They are a great, filling snack with a lot of bang for the calorie buck!
Cucumbers are a wonderfully refreshing way to hydrate because they are 95 percent water. But don't be fooled! They've got lots more going for them that's good for you! Remember, unpeeled cucumbers give us the highest nutritional value.
Take a look at just a few of the benefits!
High in fiber when eaten with the peel
Fat-free and very low in carbs
Contain potassium, magnesium, vitamin C, folate, beta carotene, and vitamin K. They also provide iron, sodium, zinc, riboflavin, and vitamin B -6.

Reduce the risk of cancer and other diseases
How To Make Salty Vinegary Cucumber Salad Like They Do In Denmark
The Danes like sweet and sour dishes like this. It complements their simple meals of fish or pork and potatoes. In Denmark, this dish is called agurkasalat.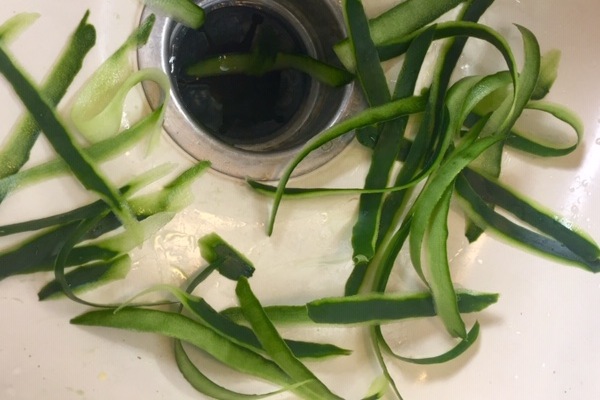 Most of the time, I begin by peeling the cukes. If you select a thin-skinned English one, you can leave it on. Fresh ones are best as always. When I buy grocery store cucumbers, I remove most of the thick, waxy peel.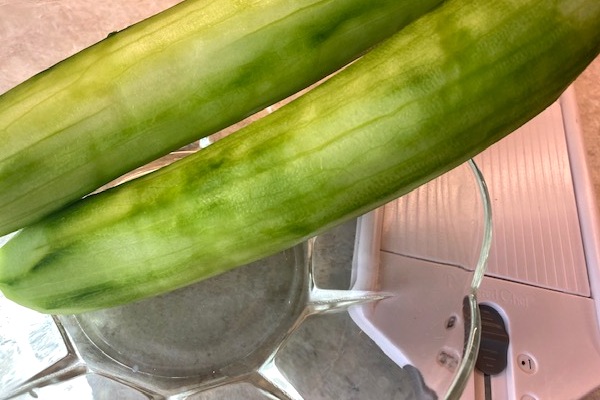 If I make a big family-size batch for summer at the lake, I use a food processor to slice them and the onion super thin in a hurry. I dump them as I go, right into the glass bowl I will use to serve them. Since the salad is acidic, a glass bowl is ideal to use.
For the two of us, I use a little hand slicer. A chef knife works just fine if you want to take the time. I usually don't! Do you?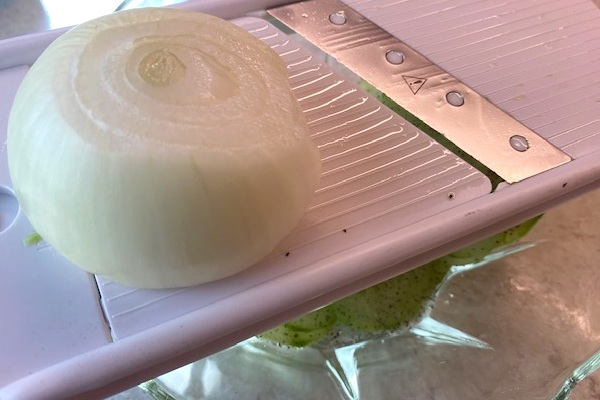 Put a layer of cucumbers in the bowl and add a layer of paper-thin onion slices. Sprinkle salt on them and repeat with another layer, more salt, then another layer, and more salt.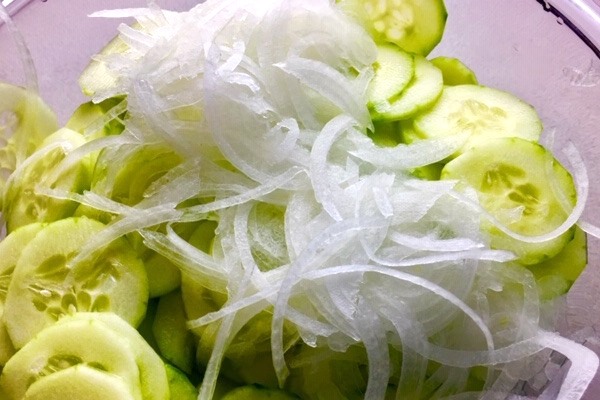 You can certainly use less salt if you prefer. The salt serves to draw moisture out of the cucumbers and forms a brine where the cukes develop their flavor. The Danes do like their salt. You might like a little less than they do.
Once the brine has made everything all juicy, add the sugar and pepper. Adjust the flavors until it suits your palate.
Yield: 8-10 servings
Danish Style Cucumber Salad
A fat-free, crunchy Danish version of cucumber salad with onion, salt, vinegar, and sugar for a slightly sweet and sour flavor.
Total Time
2 hours
15 minutes
Ingredients
3 long slender cucumbers, thin-skinned English cucumbers work well
1 medium sweet onion
1-2 Tbsp coarse salt
2-3 Tbsp sugar
2-3 Tbsp white vinegar
1-2 tsp black pepper, fresh ground, if available
Can add fresh dill if you like.
Instructions
Peel and slice the cucumbers thin. Leave the peel on if you prefer
Peel and slice onion paper-thin.
Layer cucumber and onions in a glass bowl, salting each layer as you go.
Let the cucumber-onion-salt mixture sit while the salt draws the moisture out of the cucumbers. Do not drain.
Add sugar, pepper, and vinegar and stir well. Cover and refrigerate for 2 hours or more.
If needed, add more salt, vinegar, or sugar until you are happy with the way it tastes.
Cover and refrigerate leftovers.
Can add more cucumbers to the brine.
Keeps a week or more in the fridge.

This salad is a cousin to pickles without the hassle of canning. It's a wonderful "keeper" that stays crisp and crunchy in the fridge for a week or more. You can even add more cucumbers to the brine and readjust the sugar, salt, and pepper.
It's perfect for outdoor picnics because it doesn't pose the dangers of mayonnaise-based salads. If you like dill, add it! The Danes often add fresh-snipped dill to the mixture when it's available.
Before we know it, spring and summer will be here. We'll be firing up our grills and eating on the patio. This simple salad will not disappoint you! I predict you'll soon be crunching away happily on agurkasalat like the Danes.
Please share this recipe on your social media accounts like Facebook, Instagram, Twitter, and Pinterest. We would be honored and ever so grateful, thank you!
If you haven't already, check out our Facebook page, where we post easy, delicious, and family-friendly recipes every day!