Hearty and Filling And Perfect For Lent And Meatless Mondays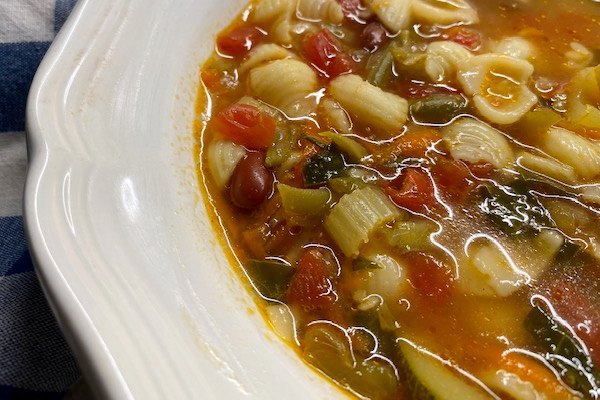 Minestrone has a rich history that dates back hundreds of years. It's the most popular soup at Olive Garden, but it's different in every kitchen when it's homemade. The ingredients vary depending on the cook's preferences and what's available when the mood for minestrone hits.
Even in Italy, minestrone recipes vary because there is no exact "official" recipe. Minestrone means thick vegetable soup. When Rome conquered all of Italy around the second century BC, trade increased, and more people had access to a wider variety of vegetables. That's when minestrone was born. Centuries later, the word minestrone made its way into the English language somewhere around 1871.
Minestrone doesn't take a long time to make. A lovely pot of this tasty soup can be ready in under an hour; it reheats very well and tastes even better the next day. I served minestrone to guests recently, and my nephew showed the soup to his son and said, "Look! It has so many vegetables in it; you can't get everything in a single spoonful!"
Well described! This soup is full of many different vegetables, making a wonderful, hearty soup that's perfect for vegetarians. Idea: Tuck this recipe away for Lent or put it in your Meatless Monday rotation!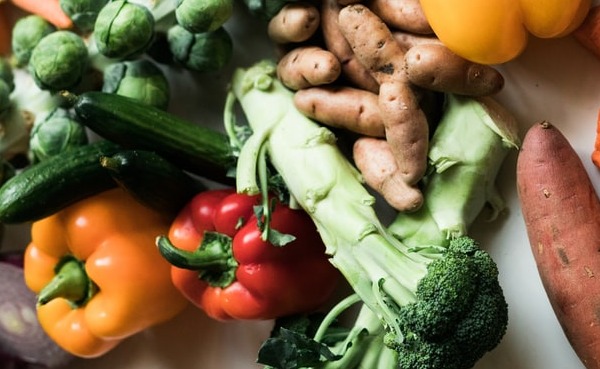 Five Great Reasons Why You Should Eat Minestrone
Soup takes longer to eat than some foods and makes you slow down long enough that you don't overeat like we can do when we wolf down our food quickly. What's more, eating slowly gives us an opportunity to linger and have a real conversation at the table! That's very healthy!
It's packed with vegetables and beans, loaded with antioxidants, and provides great nutrition. The more colorful, the better, and you can add any seasonal vegetables like kale, swiss chard, broccoli, parsnips, eggplant, peppers, potatoes, and more.
Vegetables are low in fat and full of fiber, just what the doctor ordered for a heart-healthy Mediterranean-type diet. It helps you feel full longer because it is digested slowly and is great for intestinal health, too. It slows down the absorption of sugar and gastric emptying.
Orange and yellow vegetables have beta-carotene which is essential for healthy hair, eyes, and skin. A virtual alphabet of vitamins helps to reduce the inflammation that can cause aches and pains.
Potassium and magnesium present in a vegetable-rich soup like this help the body release excess fluid that causes fluid retention and swelling.
Here's How You Make A Delightful Pot Of Minestrone Soup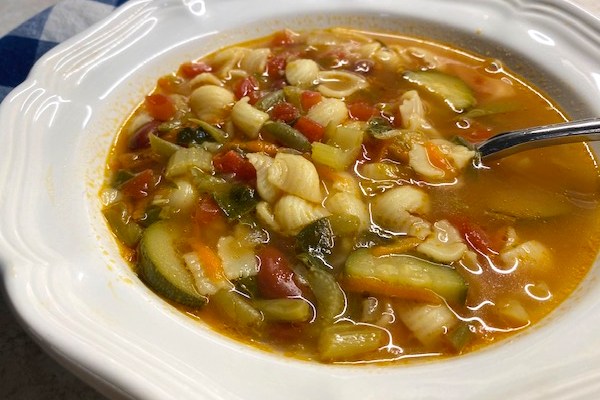 Start by sauteeing onion, garlic, and celery in a little olive oil until everything is tender, fragrant, and a little translucent. Then add water and a vegetable broth base or packaged vegetable bouillon; (more about that in a minute), all the canned vegetables, the shredded carrots, pepper, spices, and kidney beans.
I prefer the Knorr brand vegetable bouillon base. They are not paying me to say so, but it's great. It comes in large cubes, but I buy it in the restaurant-sized tub because it adds so much flavor to so many things I make. It has a long shelf life and makes 11 gallons of broth. Better Than Bouillon also makes a good paste-type vegetable base in a jar. Refer to the label to see how much to use for two quarts.
Let that simmer for a while and give all the ingredients a chance to know each other better. Add the pasta and the zucchini ten or fifteen minutes before serving it, and toss the spinach with 5 minutes to go. It takes no time to cook the spinach.
Minestrone can sit on the stove longer, but if you are trying to get it on the table, this is all the time you need. Toss a handful of shredded or shaved parmesan on top if you like! Serve it with plenty of crusty bread and maybe a big green salad for a wonderful meal perfect for cold days.
Here's a ridiculously easy bread you can make to go with it; start it the night before and bake it the day you make the soup. It looks like it came from a fancy bakery, but it takes no bread-making skills! Bellisimo!!
Yield: 12 servings
Marvelous Meatless Minestrone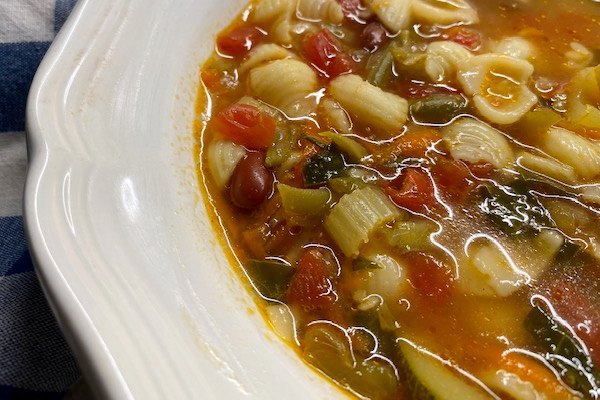 A colorful, healthy, veggie-packed soup with pasta in a delicious vegetable broth.
Ingredients
1 medium onion, chopped
4 cloves of garlic, pressed or crushed
1 cup celery, sliced thin
1/4 cup olive oil
2 quarts water or vegetable bouillon (If you use water, add vegetable broth base to make 2 quarts. I prefer Knorr brand vegetable bouillon cubes or their bulk vegetable base in the restaurant tub. Better Than Bouillon also makes a good paste-type vegetable base.)
1 tsp dry oregano or more to taste
1 tsp dried basil or more to taste
1 tsp pepper or to taste
1 can petite diced tomatoes, approximately 15 ounces, do not drain
1 can French cut green beans, approximately 15 ounces, do not drain
1 can kidney beans, approximately 15 ounces, drained and rinsed
1 cup shredded carrots
1 cup unpeeled zucchini, cut in half if large, and sliced thin
1 cup small shell pasta
1 cup or more fresh spinach, chopped (I remove any large stems)
Grated or shredded fresh parmesan cheese for garnish if desired.
Instructions
Saute onion, garlic, and celery in olive oil until tender and fragrant.
Add water and vegetable broth base or vegetable bouillon cubes to make two quarts of broth. Refer to the label on the product for the amount you need to make the vegetable broth. You can also use packaged vegetable broth or bouillon.
Add the spices.
Add undrained petite diced tomatoes and green beans. Add drained and rinsed kidney beans and shredded carrots. Simmer for about 15 to 20 minutes.
Add pasta and zucchini and cook 8-10 minutes, or until pasta is tender.
Add chopped spinach and simmer for about 5 minutes.
Ladle into bowls and garnish with shredded or grated parmesan cheese if desired.
Nutrition Information:
Yield:
12
Serving Size:
1
Amount Per Serving:
Calories:

114
Total Fat:

5g
Saturated Fat:

1g
Trans Fat:

0g
Unsaturated Fat:

4g
Cholesterol:

0mg
Sodium:

148mg
Carbohydrates:

15g
Fiber:

4g
Sugar:

2g
Protein:

4g
We are well on our way into soup season! I love it for so many reasons but cooking once and eating twice is my favorite reason to make a big pot of soup! We often have crusty bread or crackers, a hunk of cheese, and a sliced apple. What do you eat with soup at your house? What's your favorite soup?
Here are some of our most popular soup recipes and a couple of very fast bread recipes! Chicken Noodle Soup, Chili With Beer, Easy Taco Soup, One Hour French Bread, 30-Minute Dinner Rolls. What is your family's favorite soup?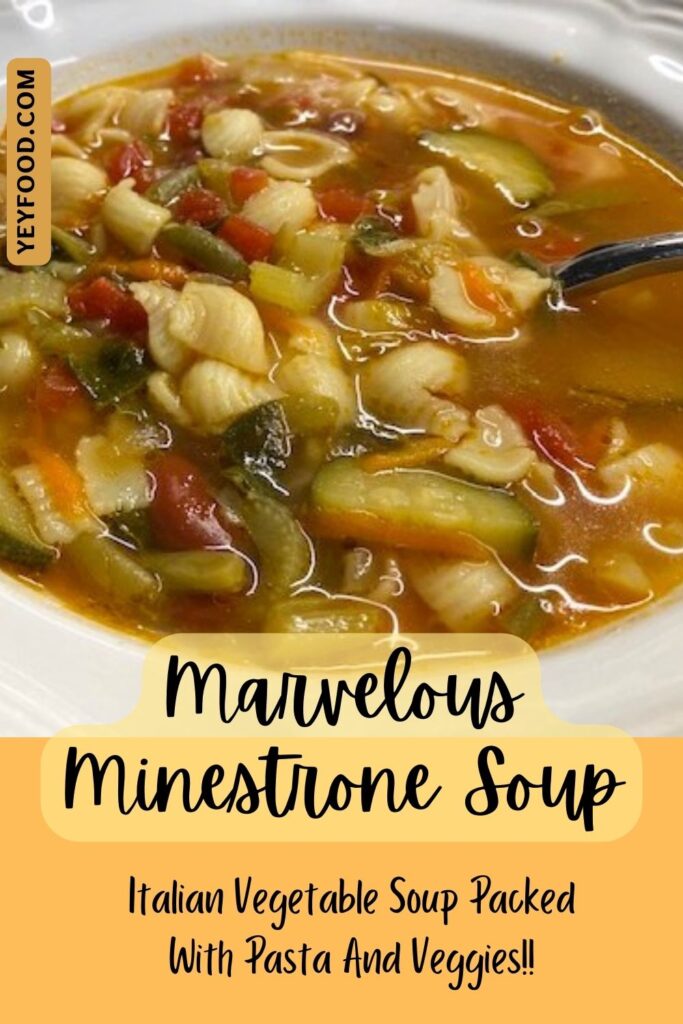 MORE RECIPES FROM US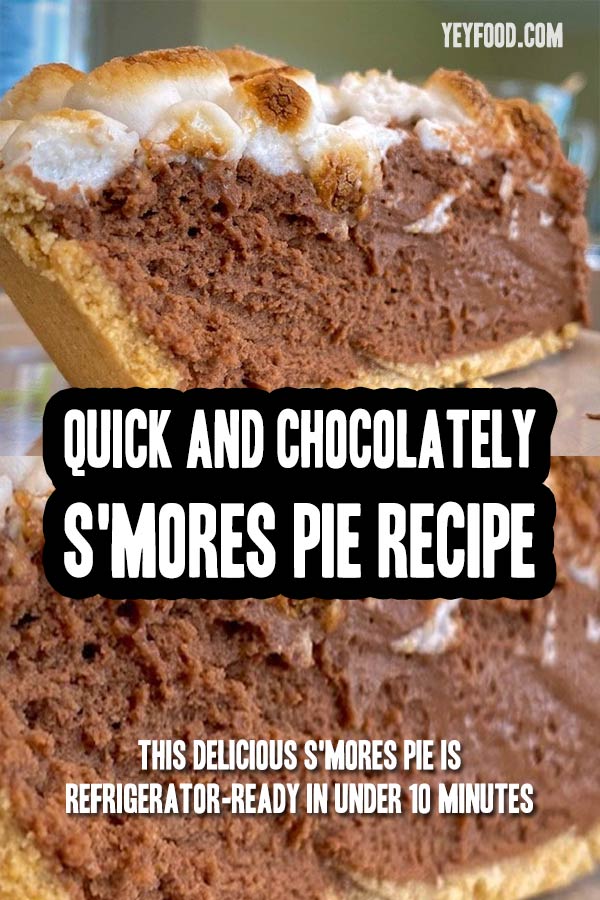 S'mores Bars How To Make Them Super Fast and Super Good
How To Make The White BBQ Sauce That's Fascinated Us Since 1925
German Sauerkraut Casserole With Bacon And Brown Sugar
If you like these recipes, you are our people! You can check some related articles below or search via categories on the right. But, be warned; you will be on here for hours. Enjoy!
So, please share this recipe on your social media accounts like Facebook, Instagram, Twitter, and Pinterest. We would be honored and ever so grateful; thank you!