Everyone's Favorite Chili With Beer Recipe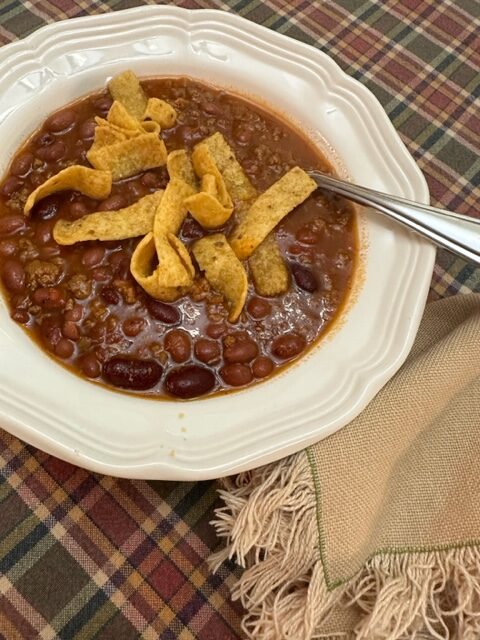 This chili with beer is a crowd-pleaser. Certain recipes, like cornbread and chili, come with strong opinions. Should cornbread be sweet or not? Should chili have beans or just meat? Should it be hot or mild? Should the beef be shredded or ground?
After years of experimenting and the efforts of our daughter Karen, we have settled on a recipe that seems to make everyone happy, family or not! The best things about this chili are that it's really easy to put together and is even tastier on the second or third day! Reheating makes it better and better, and it freezes beautifully!
This recipe starts with two or three pounds of ground beef, depending on how meaty you want it to be. When we're feeding the men and boys, there is no option! More beef, happier guys!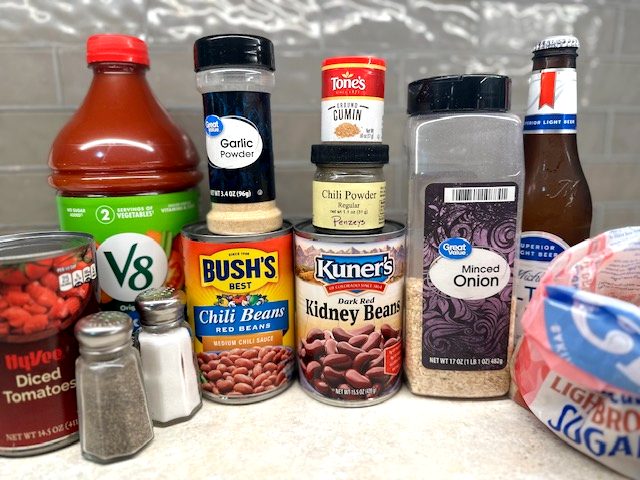 Brown and crumble the hamburger with instant minced onions, garlic powder, salt, and pepper. My Pampered Chef Mix and Chop utensil is the best tool for this process! I can't brown hamburger without it!
I love my big round LeCreuset Dutch oven for this recipe! It holds over six quarts, and many times, I have increased the quantities of this chili with beer recipe and filled it nearly to the brim!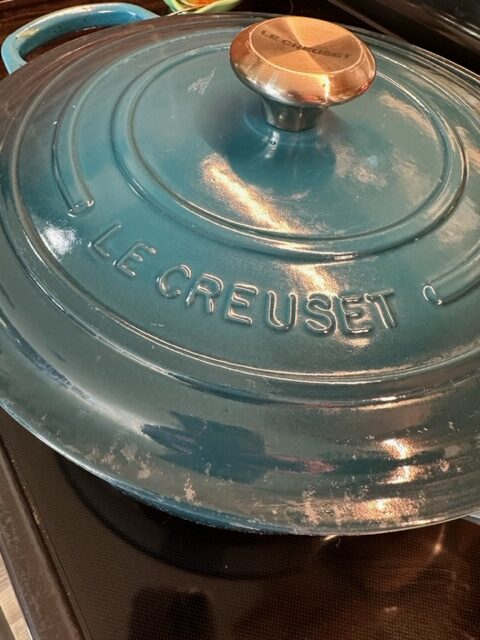 Nothing heats as evenly or retains heat better than this Dutch oven, and nothing cleans up as easily as my LeCreuset; it's so beautiful that I keep it on my stove just for its good looks! It is a cherished gift from an amazingly generous friend, and I use it often!
Once the hamburger is browned and crumbled, add the chili beans, the V8, the drained and rinsed kidney beans, the undrained petite diced tomatoes, the beer, and the brown sugar. Add the chili powder and cumin as listed or to taste.
Stir it all and let it simmer for at least thirty minutes, and longer if you have time! It just gets better and better. Hint: I like to make chili the night before, let the chili with beer simmer, and refrigerate it until I'm ready to reheat it and serve it the next day!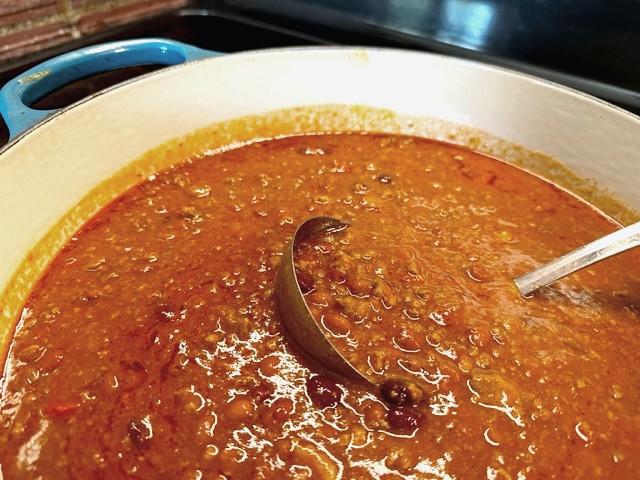 Beer is an essential ingredient in making a good chili. You don't have to be a beer drinker to use it in chili; all the alcohol cooks away. Beer adds a unique flavor to chili; there are sugars and malty flavors in it that you won't find in other ingredients. Use your favorite beer or experiment with different beers. I used a light beer because that was what we had in the fridge!
We have found that V-8 juice adds much more flavor than plain tomato juice because of all the other vegetable juices it contains! It's also a nutritional powerhouse! Every good cook understands that great dishes have many interesting flavor layers. This chili is a great example!
The little bit of brown sugar plays well with the acidic content of the tomatoes and V-8 juice, gently "rounding" and mellowing the sharp taste. Please don't leave it out!
Yield: 18 servings
Chili With Beer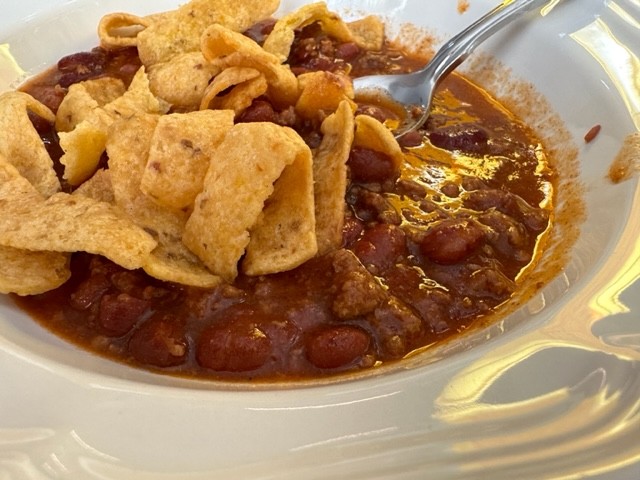 Here's a recipe for a mildly seasoned family-style chili recipe that's easy to make, reheats, and freezes beautifully!
Ingredients
Two to three pounds of ground beef
1 Tbsp instant minced onion or more to taste
Three 15.5-ounce cans of chili beans in mild sauce
Two 15.5 ounce can of dark red kidney beans, drained and rinsed
Two 15.5-ounce cans petite diced tomatoes, undrained
One 46 ounce can or bottle of V-8 juice. You can also use a 64-ounce container but chili will be thinner.
1/4 cup brown sugar
One 12-ounce beer
1 tsp garlic powder
Salt and pepper to taste
1 tsp cumin, or to taste
2 tsp chili powder, or to taste
Instructions
Brown and crumble the ground beef with garlic powder, instant minced onions, salt, and pepper.
Add the chili beans, petite diced tomatoes, drained and rinsed kidney beans, brown sugar, beer, chili powder, and cumin.
Stir all the ingredients well and let it simmer for at least thirty minutes, or longer if you have time.
Nutrition Information:
Yield:
18
Serving Size:
1
Amount Per Serving:
Calories:

386
Total Fat:

21g
Saturated Fat:

7g
Trans Fat:

1g
Unsaturated Fat:

10g
Cholesterol:

89mg
Sodium:

812mg
Carbohydrates:

17g
Fiber:

3g
Sugar:

7g
Protein:

30g
Here Are Four Great Things To Serve Alongside Chili With Beer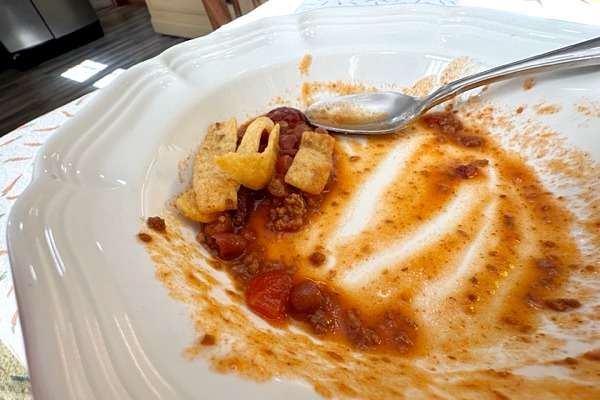 Fritos, either regular or chili cheese! You can limp with crushed saltines or oyster crackers, but a handful of crunchy Fritos is the ultimate topping for a tasty bowl of chili with beer.
Sharp cheddar cheese, whether you shred some on top of your chili or have cheddar cheese cubes or chunks of sharp cheddar cheese, the tanginess of the cheddar with the gently spiced chili is a marriage made in heaven.
Crisp mellow apple wedges, like Fujis, Honeycrisp, Braeburn, or Golden Delicious, are a sweet counterpoint to the cheese AND the chili!
Beer; it goes without saying beer is a natural beverage to serve, especially with this chili.
Cinnamon rolls! The best combination, you've got to try it! It's a Nebraska thing!
One more hint. When you get to the last bit of chili, spoon it over cooked spaghetti, and add chopped onion and shredded cheese for a wonderful meal similar to Cincinnati Chili!! The last bowl can become a meal for two or more! You've got to try it!
Fall is here, and winter isn't far behind! There's nothing better than a comforting bowl of soup or chili when the cool evenings roll around. Get out that big old soup pot and get your favorite soup cookin'! Some of our most popular soup recipes are Comfort Soup, "Half-Fast" Ham and Bean Soup, and Instant Pot Beef Noodle Soup. Hungry for more? Just enter soup in the search bar, and you'll find many more!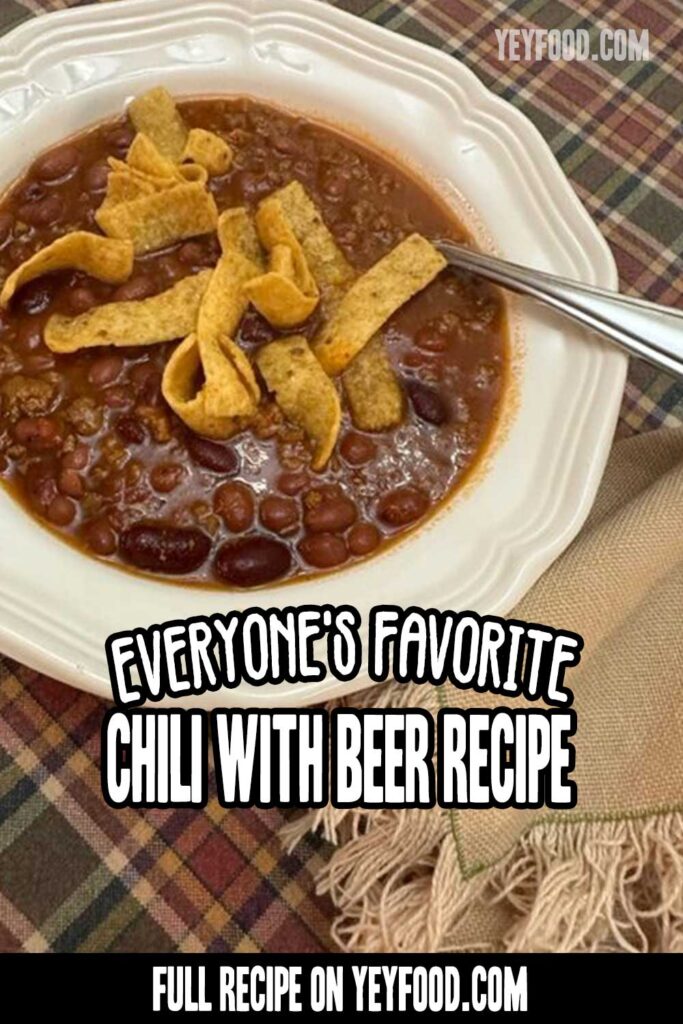 MORE OF OUR QUICK AND EASY FAMILY-STYLE RECIPES: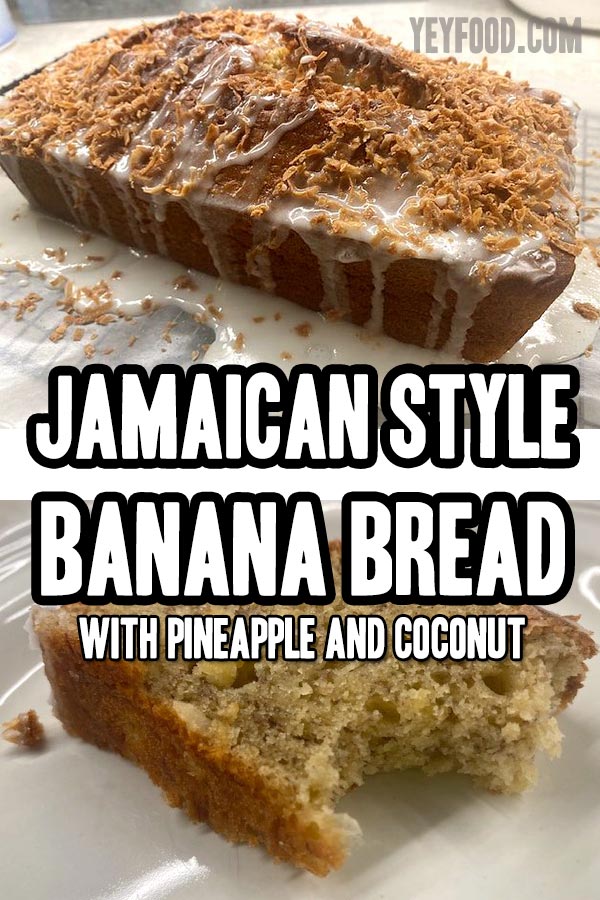 The Ultimate Bread and Butter Pickle Recipe
The Number 1 Practically Perfect Poppy Seed Bread
Oven-Baked Steak With Brown Gravy
Delicious Puff Pastry Appetizer With Cheese And Garlic
If you like these recipes, you are our people! You can check some related articles below or search via categories on the right. But, be warned; you will be on here for hours. Enjoy!