The Number 1 Practically Perfect Poppy Seed Bread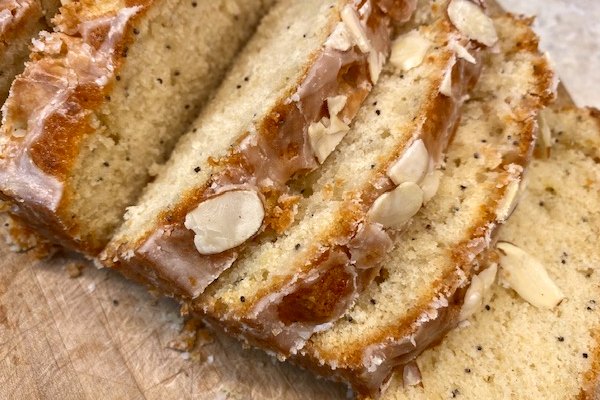 This poppy seed bread recipe has a lot going for it! It's a quick bread which means you can whip up a couple of loaves in a jiffy. It's buttery, moist, and tender, has the perfect amount of poppy seed, and it sports a crunchy, lemony glaze on top! The charming freckled loaves make an excellent addition to any brunch, and they make welcome gifts!
The evolutionary process of bread making is a fascinating study. Since the beginning of time, bread in various forms has been a staple in the human diet. The earliest loaves of bread were unleavened. They were baked quickly in very hot ovens and relied on the steam that developed to puff them up and create their distinctively chewy texture.
As time went by, people developed various methods of leavening. Somewhere around 1500 BC, Egyptians observed when flour and water were left out long enough to ferment, the resulting dough increased in volume and baked into higher loaves. Sourdough bread had been born.
From there, Jewish people took that discovery with them when they fled the region, and it spread throughout Europe and the Middle East, becoming a common and popular way to make bread.
A Brief History Of The "Rise" In The Commercial Yeast Industry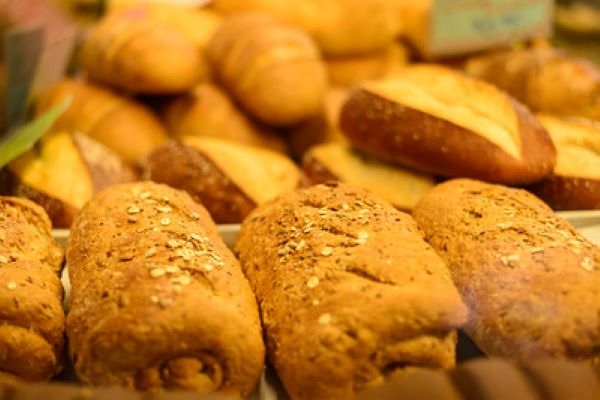 It was not until the microscope's invention, followed by Louis Pasteur's work in the late 1860s, that scientists discovered yeast is a tiny plant responsible for alcoholic fermentation and dough leavening.
Shortly following these discoveries, it became possible to isolate yeast in pure culture form. The newfound knowledge that yeast is a living organism set the stage for the commercial production of baker's yeast that began in the late 20th century.
Yeast bread in every form is still wildly popular. Estimates suggest the average American eats 53 pounds of bread every year!
Thank You Baking Powder For Making Quick And Delicious Baked Goods Easy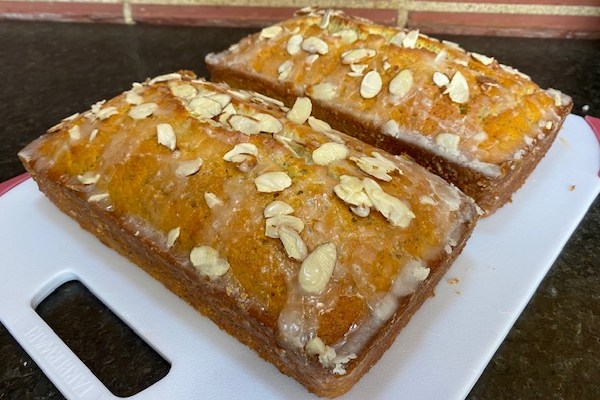 Cooks everywhere enthusiastically embraced quickbreads in all forms after the introduction of baking powder around 1850. Before that, yeast was the only commercially available leavening for bread and cakes. Baking could be a slow and very unpredictable process.
Quickbreads cover a wide range, from biscuits and scones made from dough to muffins and loaves made from a batter. The primary thing that identifies them is they are quick to make.
When the wet and dry ingredients are combined, the mixture forms tiny carbon dioxide bubbles. That's how the dough or batter rises when it's baked. And it is the reason we must bake them almost immediately after being mixed.
The essential ingredients in quickbread recipes vary, making some sweeter and others richer. Their batters and dough lend themselves well to all sorts of yummy add-ins, such as berries, nuts, and fruit.
The Delightful Addition of Poppy Seed In Baking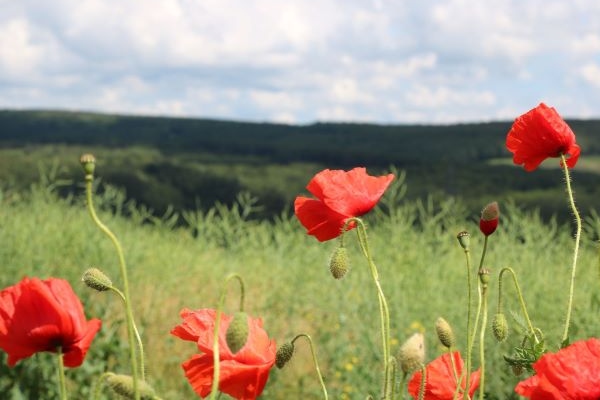 Poppy seeds have a distinctive flavor and an almost irresistible crunch. They have been popular for centuries in countless ways. The tiny seeds are enormously popular in bread, bagels, pastries, salads, and dressings. Even some main dish recipes include them!
Poppy seeds come from the seed pod of the opium poppy. In the Bronze age, approximately 1450 BC to 700 BC, the Minoan civilization used a mixture of milk, opium, and honey to calm crying babies.
Poppy seeds used in baking come from all over, but our two main sources are Turkey and the Netherlands. Poppy seeds for kitchen use go through a thorough cleaning before they are processed for baking and cooking, removing almost all the opiate residue.
However, if poppy seed is eaten in sufficient amounts, it can in rare instances, produce false positive drug tests.
Let's Get Busy And Whip Up Two Loaves Of Delicious Poppy Seed Bread
It all begins by mixing up this golden speckled batter. It tastes buttery, but it also has the most hauntingly intriguing flavor profile created by vanilla and almond extract.
The amount of poppy seed is perfect. If you use too much, poppy seed can draw moisture out of the loaf, leaving it relatively dry.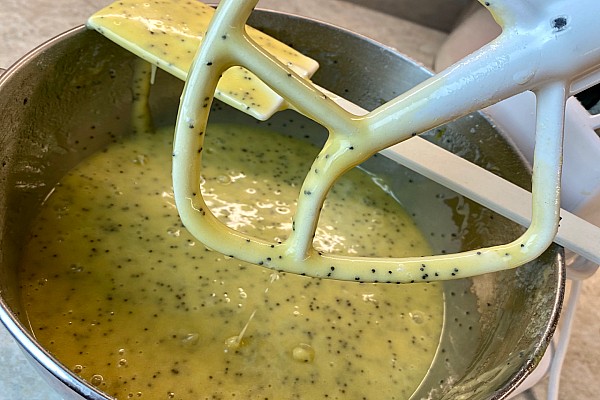 Now, pour that gorgeous mixture into two standard loaf pans, mini loaf pans, or even muffin pans. Grease ONLY the loaf pans' bottom so the bread can climb up the sides and get tall. If you use cupcake liners in your muffin pans, these make a great grab-and-go snack everyone will love.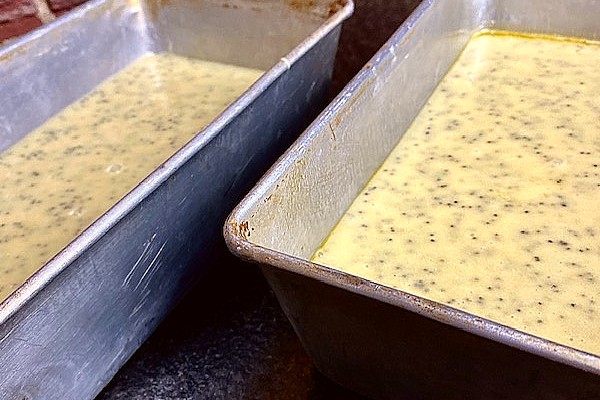 Wash the bowl and the beaters while the oven works its magic. As the loaves bake, the most delightful fragrance will infuse your entire home!!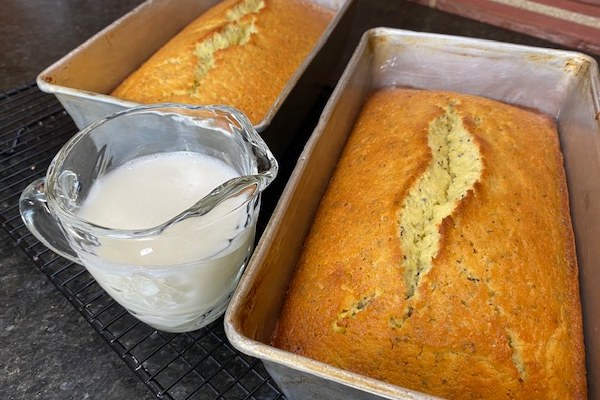 Look what lovely loaves they are, even without the glaze. But please don't skip the topping. That's where the magic begins. The lemon icing and sliced almonds give the loaves their incredible "it factor." I like to make the glaze in a smallish cream pitcher or a little measuring cup with a lip for easy pouring.
Make the glaze while the bread bakes. You want it ready when the loaves come out of the oven because you'll add the topping while the loaves are hot.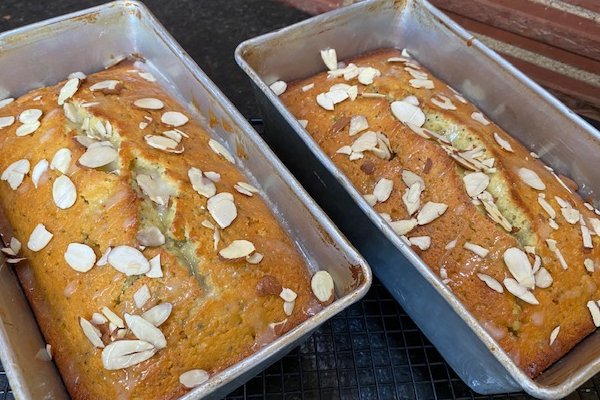 Use a skewer or a fork with skinny tines to poke holes all over the hot bread. Then, pour a thin glaze on top of the warm loaf. Next, top with sliced almonds. Finally, pour on another coat of the icing to make sure the almonds will stay in place!
Let the bread cool to room temperature while it's still in the pan. Make sure the topping is dry. Run a sharp knife all around the edges to loosen the loaf. Then turn the loaf over and tap the bottom of the pan to release it.
Now use a serrated knife to cut each loaf into 16 slices. Look at that incredibly gorgeous interior! When I look at the picture, it makes my mouth water!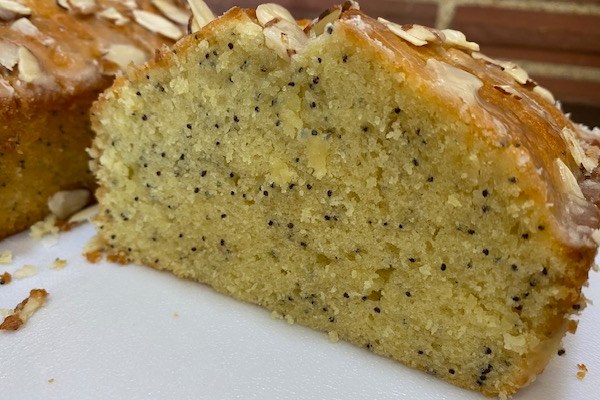 And here you are, folks. You now have the coveted recipe for the best poppy seed bread ever to touch your lips! Right now, when spring is in the air, it's a perfect time to make a couple of loaves and give one away!
HINT: Dollar stores have the CUTEST tea towels. They make gift wrap that's adorbs. Wrap a loaf in a tea towel and tie it with string or jute! You'll be everyone's favorite neighbor, guaranteed!
Banana bread, pumpkin bread, and zucchini bread are all favorite quickbreads. Do you have an old family recipe you'd be willing to share? Oh, come on, please? We'd be so excited to hear about it!
Printable Recipe:
Yield: 32 slices
Poppy Seed Bread With Lemon Glaze And Almonds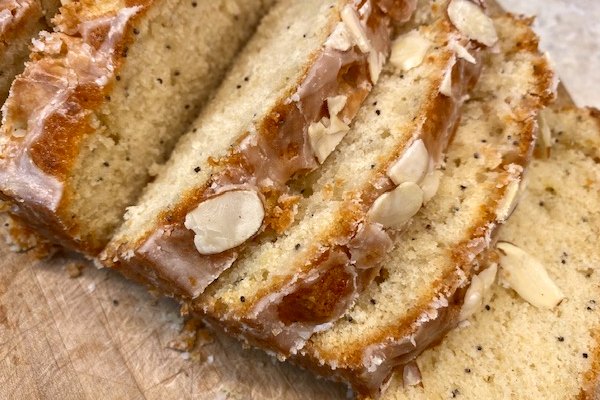 A cake-like loaf with a moist crumb, a tangy lemon glaze with crunchy almonds, and an enticing marriage of flavors.
Total Time
1 hour
10 minutes
Ingredients
POPPY SEED BREAD
3 cups flour
2 1/4 cups sugar
1 1/2 tsp salt
1 1/2 tsp baking powder
3 Tbsp poppy seed
1 1/2 tsp almond extract
1 1/2 tsp butter flavoring
1 1/2 tsp vanilla
3 eggs
1 1/2 cups vegetable oil
1 1/2 cups milk
5-6 drops yellow food coloring (optional)
LEMON GLAZE
2 cups powdered sugar
1/4 cup lemon juice
1/2 tsp butter flavoring
1/2 tsp almond extract
1 tsp vanilla
2-3 Tbsp sliced almonds
Instructions
Pre-heat oven to 350 degrees. Grease bottom only of two standard 9" x 5" loaf pans.
Mix dry ingredients together, then add eggs, extracts, milk, and oil and stir together just until all ingredients are moistened, scraping down the sides of the bowl once or twice. If you use a mixer, use low speed. You do not want to over-mix. The mixture will have the consistency of cake batter.
Pour in loaf pans and bake for approximately one hour until toothpick or cake tester comes out clean.
Make the glaze while the bread is baking because you will put it on the bread while it's still pretty warm. I like to put the glaze in a small pitcher for easy, even pouring.
When the bread comes out of the oven and while still in the pan, let it cool for 5 minutes, then poke holes in it with a skewer or fork with skinny tines and pour glaze over the top. If you want to garnish with sliced almonds, glaze lightly, add almonds and glaze again to make the almonds stick.
Let cool completely in the pan. To remove from pan run knife along edges of the loaf to loosen and turn the pan on side, tap and remove.
Makes 2 nice loaves that can be cut into 16 slices. Freezes well, in fact, freezing seems to enhance the flavors.
If you enjoyed this recipe, please share it on your social media! I would love for more people to try this delicious and easy-to-make dessert. If you have any questions or feedback, please feel free to leave a comment below. I would love to hear from you! Shhh… Join our secret foodie group on Facebook.
More recipes:
Please share this recipe on your social media accounts like Facebook, Instagram, Twitter, and Pinterest. We would be honored and ever so grateful, thank you!
If you haven't already, check out our Facebook page, where we post easy, delicious, and family-friendly recipes every day!