Strawberry Cheesecake Poke Cake Recipe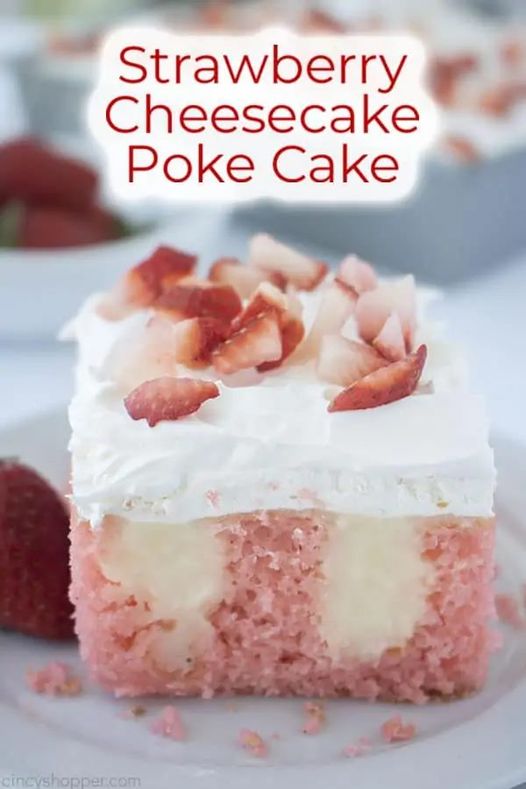 Strawberry. Cheesecake. Poke cake. Those are all sweet words! Who could doubt this recipe's a winner? Fresh strawberries are hitting the peak of their season so let's eat the glorious berries in as many ways as possible! This cake could be the centerfold of a June dessert magazine. It is utterly sweet perfection!
The cake could not be more simple to put together! A cake mix, a box of instant pudding, strawberries, and whipped topping are all it takes to send you to Strawberry Blissville! And cool, creamy, moist, delicious is what you get! So run to the store now, get what you need, and make one tonight!
Here's the recipe, take it with you! Strawberry Cheesecake Poke Cake
More poke cake recipes via Instagram
Coconut Poke Cake
Reese's Poke Cake
MORE RECIPES
The Ultimate Bread and Butter Pickle Recipe
The Number 1 Practically Perfect Poppy Seed Bread
Insanely Crisp and Chewy Peanut Butter Cookies
If you like these recipes, you are our people! You can check some related articles below or search via categories on the right. But, be warned; you will be on here for hours. Enjoy!😊
So, please share this recipe on your social media accounts like Facebook, Instagram, Twitter, and Pinterest. We would be honored and ever so grateful; thank you!