Strawberry Icebox Cake Recipe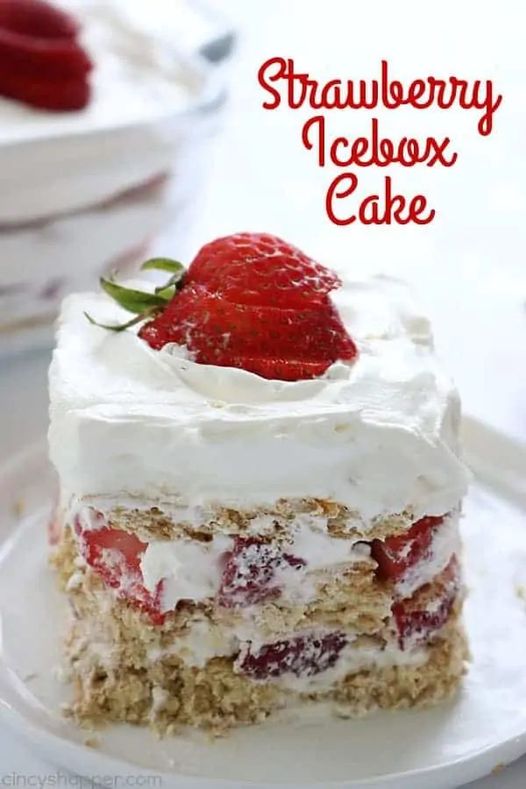 Icebox cakes. The delightful name alone suggests, "this is delicious!" The term icebox cake takes us back to a charming era when most homes had an actual icebox to keep their food cold. Some of us remember when the milkman left icy cold glass bottles of milk and cream on our porches. However, there aren't too many folks around that remember the iceman.
The iceman had a regular route, just like the milkman. He delivered a large, fresh block of ice to replace the melted one on a regular schedule. Usually, the ice blocks were buried in sawdust in his truck to keep them frozen, and he'd use enormous tongs to carry ice into the kitchen. It was during this era that icebox cakes became popular because they require no baking.
In the 1930s, many Americans happily began giving up their iceboxes for newly affordable electric refrigerators. However, folks still refer to the fridge as the icebox once in a while, especially in rural areas. Charming! Thankfully, the adorable name, icebox cakes, stuck around as well.
Icebox cakes are unique because they use the refrigerator instead of an oven to marry all the elements into a new form. As a result, they are quick and easy to put together, and perfect for summer!
The "cake" is made by layering cookies, wafers, or graham crackers with whipped cream, pudding, or custard. The moisture and fat content from the whipped cream or pudding soften the cookies into a cake-like consistency, and all the flavors blend beautifully. This strawberry icebox cake takes just three ingredients and is so simple to make, the kids can help!
Here is the recipe: Strawberry Icebox Cake
Try to pick your own FRESH Strawberries when ever you can
More Strawberry Recipes From Instagram
Strawberry Peach Bars
Strawberry Muffins
MORE OF OUR RECIPES
The Ultimate Bread and Butter Pickle Recipe
The Number 1 Practically Perfect Poppy Seed Bread
How To Make A Chocolate Chip Cookie Pie
If you like these recipes, you are our people! You can check some related articles below or search via categories on the right. But, be warned; you will be on here for hours. Enjoy!😊
So, please share this recipe on your social media accounts like Facebook, Instagram, Twitter, and Pinterest. We would be honored and ever so grateful; thank you!