Chocolate Cupcakes With Raspberry Buttercream Frosting
Chocolate cake is, hands-down, the most popular flavor of any cake. It can be simple or fancy, but it is the most beloved of all cakes. And, when you place a crown of decadent raspberry buttercream frosting on top, it reigns supreme in the all the world of cake. Here's the cake popularity rundown from worst to first!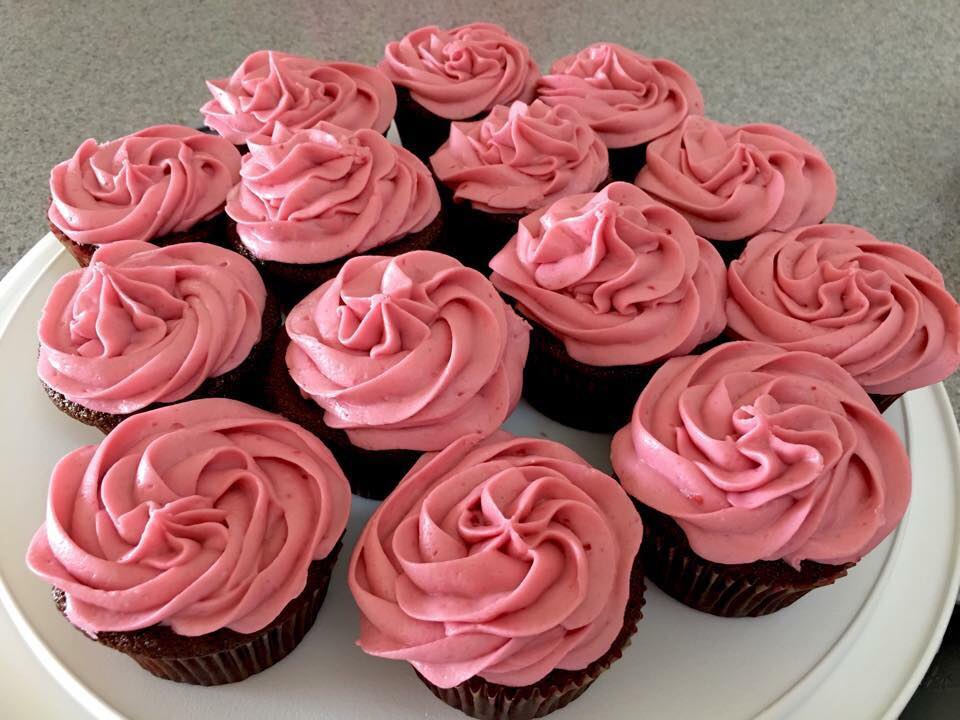 Raspberries play beautifully with chocolate, especially dark chocolate. But, lest you think the cake is the star of the show, raspberries bring their own charisma to the party.
They are not just a pretty face; they are juicy, complex, and slightly tart. Raspberries deliver assertive flavor to the partnership, so much more so than strawberries or even cherries.
Dark chocolate and raspberry buttercream frosting are the Clark Gable and Vivian Leigh, the Fred Astaire and Ginger Rogers of cakedom, the perfect pairing. These gorgeous cupcakes look like full-blown roses on the serving tray and taste like a little glimpse of heaven.
Let's Make The Number 1 World's Best Dark Chocolate Cupcakes
These cupcakes are a chocoholic's dream come true! They are dense, fudgy, moist, and have a lovely crumb. These are baked at 325 degrees, a lower temperature than what you typically find in a cake recipe. This slight variation results in a slightly flatter top that lends itself well to supporting a tall pile of the yummy raspberry buttercream frosting!
Cocoa powder is used in this recipe instead of unsweetened chocolate squares. According to Epicurious, cocoa powder is made from dried and ground cocoa solids. Cocoa powder is the part that is left after most of the cocoa butter (fat) is processed out for other uses.
As a result, it has the highest percentage of solids of any chocolate product. That's why cocoa powder is a great choice for giving baked goods rich, fudgy flavor. Cocoa is available in regular and dark chocolate.
It also calls for buttermilk, an ingredient that combines with baking powder and baking soda makes a cake with a wonderful texture. We will include substitutions for buttermilk because it's not always something you keep in your fridge!
Do you recall making volcanoes in science class with baking soda and vinegar? If you are a little bit of a science nerd like me, you remember the bubbling eruption that happened in the classroom.
Buttermilk works so well to make a cake rise beautifully because it is acidic. Baking powder and baking soda are both alkalis. When you combine the two, carbon dioxide bubbles are formed. (Like they did in the volcano.) The bubbles are trapped within the gluten strands created by the flour, and the chocolate cupcakes expand and rise to new heights.
Here is what you'll need for this incredible cake:
all-purpose flour
granulated sugar
unsweetened cocoa powder
baking soda
baking powder
salt
buttermilk (or substitute)
eggs
water
vegetable oil
vanilla
Yield: 24 cupcakes
Chocolate Cupcakes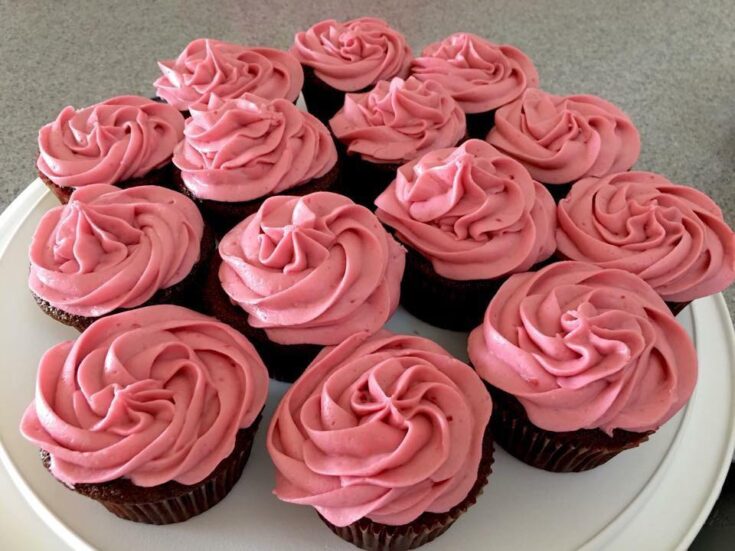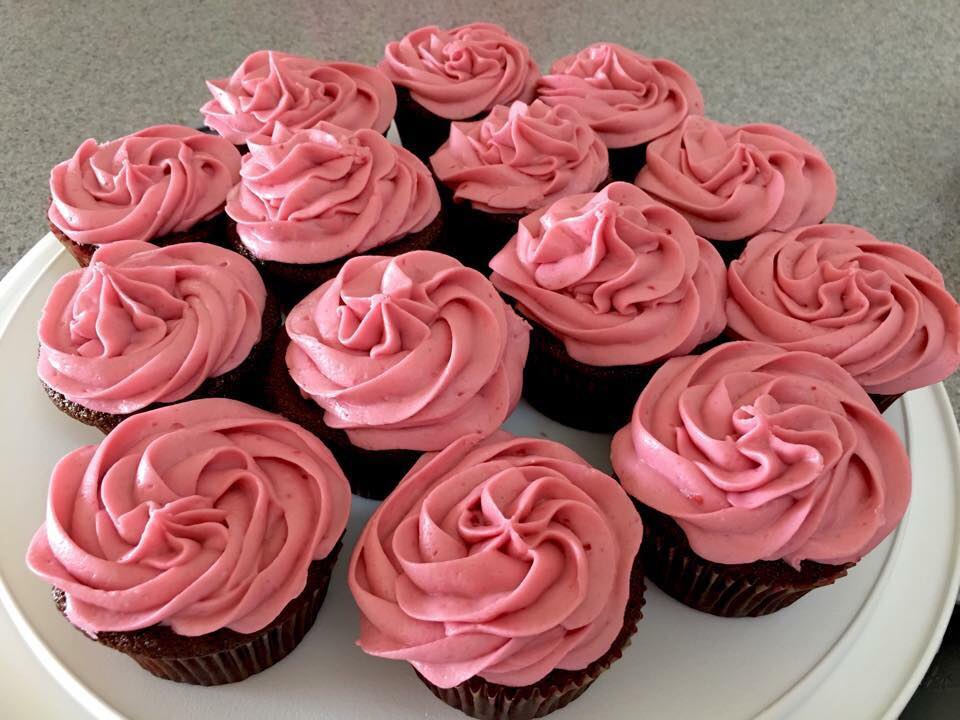 Rich, dense, moist, chocolatey cupcakes with a perfect texture.
Ingredients
1 1/2 cups all-purpose flour
1 1/2 cups granulated sugar
3/4 cup unsweetened cocoa powder
1 1/2 teaspoons baking soda
3/4 teaspoon baking powder
3/4 teaspoon salt
2 large eggs
3/4 cup buttermilk* (substitutions in instructions)
3/4 cup cups warm water
1/4 cup vegetable oil
1 tsp vanilla extract
Instructions
Preheat oven to 325 degrees.
Line a muffin tin with cupcake liners.
Mix flour, sugar, cocoa, baking soda, baking powder, and salt until combined. You can use a mixer on low speed to do this.
Add eggs, buttermilk*, warm water, oil, and vanilla.
*You can use powdered buttermilk mixed with water to make 3/4 of a cup. You can also put 2 tsp. of lemon or lime juice or white vinegar in a measuring cup and add milk to make 3/4 cup. Allow the milk to thicken before you use it. Don't use apple cider vinegar or any other kind of vinegar.
Beat on a medium speed until smooth. Stop and scrape down the sides of the bowl a couple of times to make sure all the dry ingredients have been incorporated.
Fill each cupcake liner 2/3 full.
Bake for 20-22 minutes until a toothpick or cake tester comes out clean.
Remove the cupcakes from the muffin tin and put them on a rack. Allow them to cool completely before frosting.
Nutrition Information:
Yield:
24
Serving Size:
1
Amount Per Serving:
Calories:

117
Total Fat:

3g
Saturated Fat:

0g
Trans Fat:

0g
Unsaturated Fat:

2g
Cholesterol:

16mg
Sodium:

181mg
Carbohydrates:

20g
Fiber:

1g
Sugar:

13g
Protein:

2g
The World's Best Raspberry Buttercream Frosting Uses Just 3 Ingredients
Archeological evidence proves humans were eating raspberries as far back as the Paleolithic age, about 9,000 years ago! Raspberries are part of the rose family and can grow anywhere from the tropics to the arctic circle. Washington state leads the country is raspberry production because the cool climate is ideal for raspberries to flourish.
Simplicity is a beautiful thing, and this recipe is both lovely and simple! Just three ingredients, that's all you need to make this creamy, decadent frosting that's sweet and buttery but has a tease of tartness from the fresh raspberries! It is the most amazing thing you can put on top of chocolate cupcakes! It's truly a marriage made in heaven!
Here's all you need for this gorgeous rose-colored frosting.:
powdered sugar
sweet salted butter
fresh raspberries
Yield: enough for 24 cupcakes
Raspberry Buttercream Frosting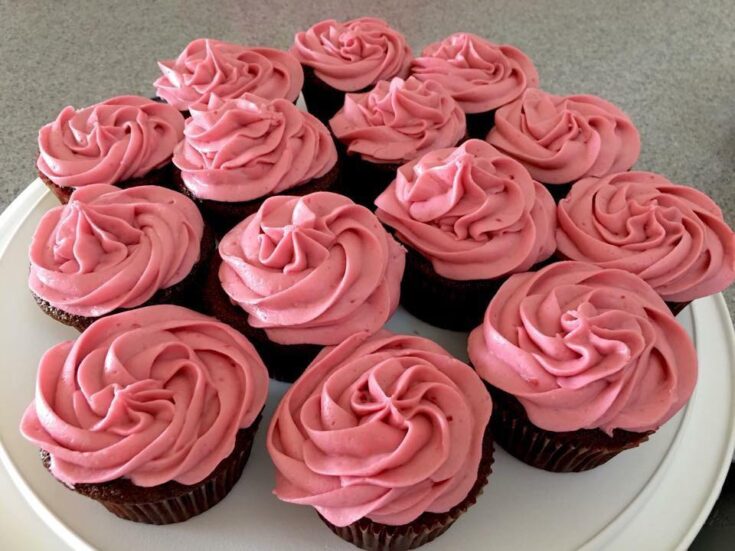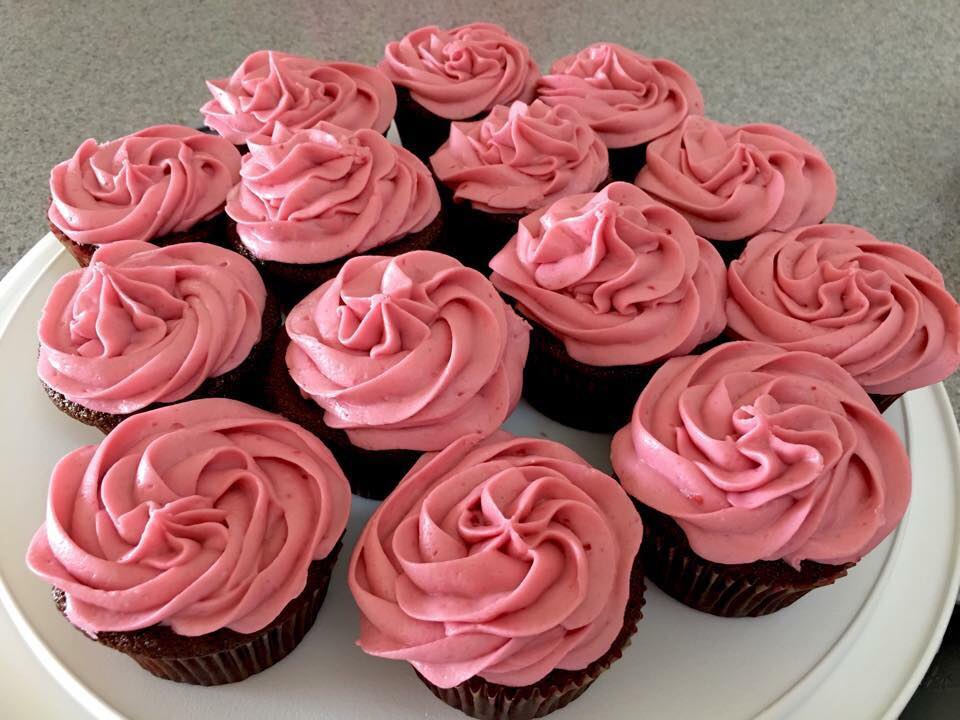 Simply elegant and elegantly simple buttercream frosting using fresh raspberries, butter, and powdered sugar.
Ingredients
One 6-ounce clamshell of fresh raspberries
1 cup (2 sticks) of salted butter, softened to room temperature
5 cups powdered sugar (may need a little more or a little less)
Instructions
Puree the raspberries in a blender and pour them through a strainer to remove the seeds. You should end up with about 1/2 cup of raspberry puree.
Beat the butter until it is soft and fluffy.
Add the raspberry puree to the butter and beat until well blended.
Put about 4 cups powdered sugar in the butter mixture and beat until it's fluffy and creamy. If it is too thin, add powdered sugar in 1/2 cup increments until it reaches spreading consistency. If it is too thick, add a teeny bit of water at a time until it is the right consistency.
Put frosting into a piping bag and pipe icing onto the cupcakes.
You can also use a spatula to spread the frosting on each cupcake.
If There's No Time For Cupcakes Then Make A 9 By 13 inch Cake Instead
No time to make 24 chocolate cupcakes? This recipe makes the perfect amount of batter for a 9″ x 13″ cake too. It is rich and dense enough it should easily serve sixteen.
The amount of frosting in a batch of raspberry buttercream would make a generous layer on a cake that size, but who would complain? One fresh raspberry on top of each piece of cake would make a beautiful garnish and a lovely presentation!
Are you hosting a bridal shower or birthday party for a special young lady? These lovely cupcakes would be just the thing to make for a special occasion and would look especially beautiful on tiered serving plates at various heights! You might even consider adding a single berry or a chocolate curl garnish on each one for an unforgettable presentation!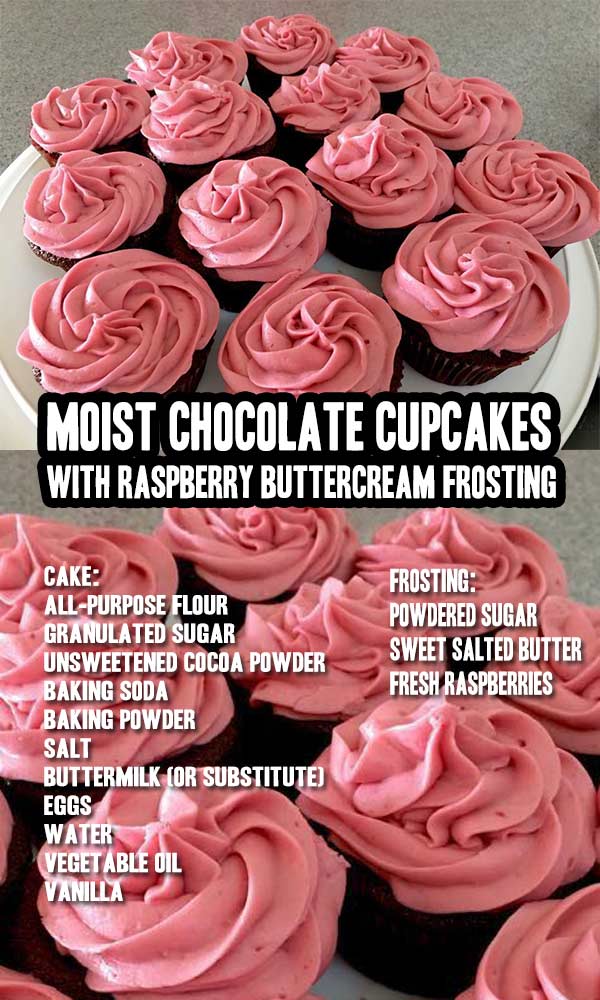 MORE OF OUR RECIPES

The Ultimate Bread and Butter Pickle Recipe
The Number 1 Practically Perfect Poppy Seed Bread
How To Make A Chocolate Chip Cookie Pie
If you like these recipes, you are our people! You can check some related articles below or search via categories on the right. But, be warned; you will be on here for hours. Enjoy! 😊
So, please share this recipe on your social media accounts like Facebook, Instagram, Twitter, and Pinterest. We would be honored and ever so grateful; thank you!