The 3 BEST Pickled Eggs Recipes
Pickled eggs have been around way longer than you might think. Centuries before refrigeration, canning and pickling were used to preserve fruits and vegetables for longer-term storage. Today, people play with pickling simply because the results are delicious!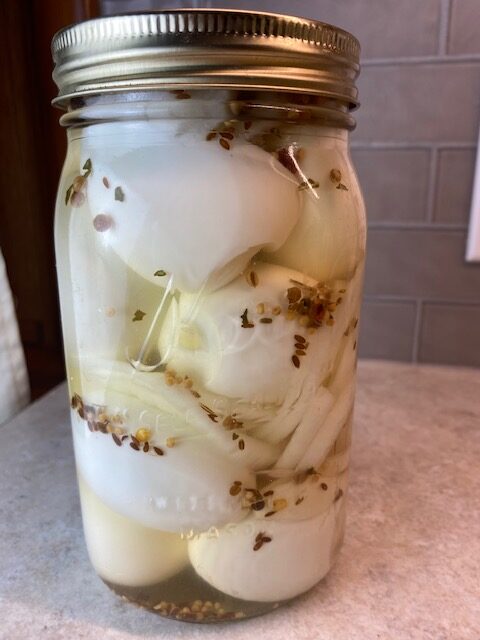 When the Mayflower sailed into the harbor on the Massachusetts shore near Plymouth Rock in 1620, the Pilgrims brought barrels of water, biscuits, cod, sacks of smoked beef, beer, and tubs full of pickled eggs. It sounds as if they were optimistic about fun times.
Pickled eggs were popular with the Germans as early as the mid-1700s. In addition, they were a popular food with the Hessian mercenary soldiers who fought against the Colonists during the Revolutionary War.
Many early recipes for pickled eggs come from the Pennsylvania Dutch. They are descendants of the early German-speaking immigrants who fled Germany in the 1700s and 1800s to avoid religious persecution.
The Pennsylvania Dutch created the pickled beet egg, a variant where whole beets, onions, vinegar, sugar, salt, cloves, and a cinnamon stick were used in the brine. These eggs take on a pink or even purple color from the beets and have a sweet and sour taste.
German-run bars in early America introduced pickled eggs as a homey comfort for European ex-pats. The salty eggs allowed their customers to drink more but help them stay somewhat sober when they ate them. No self-respecting pub owner would be caught dead without a jar of pickled eggs on the bar at one point in history.
In 1830s England, the delicacy was first found in a pub appropriately named the Pickled Egg, located on Pickled Egg Lane. Fun fact I did not know: The word "pub" is short for public house.
The English philosophy was simple; throw the eggs in vinegar and let them sit forever. The longer they sat, the more rubbery they became, and hard-core pickled egg aficionados liked them that way.
Perhaps the most extreme example of a pickled egg fanatic is the bridegroom depicted in this newspaper article. He certainly got himself in a pickle for ignoring his new bride.
Great News Pickled Eggs Are A Healthy Vegetarian Snack And Keto-Friendly
Pickled eggs have many health benefits, and they are well-suited for a keto diet. One pickled egg contains 0g total carbs, 0g net carbs, 5g fat, 6g protein, and 80 calories. Actually, eggs have a lot going for them nutritionally. Here are just a few of the benefits:
Eggs contain small levels of "bad" LDL cholesterol, but regular egg consumption has been found to have little or no effect on LDL cholesterol levels in most people. However, eating eggs does help increase healthy HDL cholesterol, which helps lower the risk of developing cardiovascular disease.
Egg yolks are an excellent source of heme iron, the easiest iron for the body to absorb and use.
Egg yolks are a great source of vitamin D, which the body requires to absorb dietary calcium, vital for bone health. It also helps promote healthy teeth and muscles.
Eggs also contain a wide variety of nutrients known to contribute to healthy hair and nail growth, including zinc, vitamin B12, and vitamin A.
One egg provides about 100 mg of choline, a vital nutrient for healthy neurological function, nerve function, and control of the muscles.
Read more about the benefits of eggs here.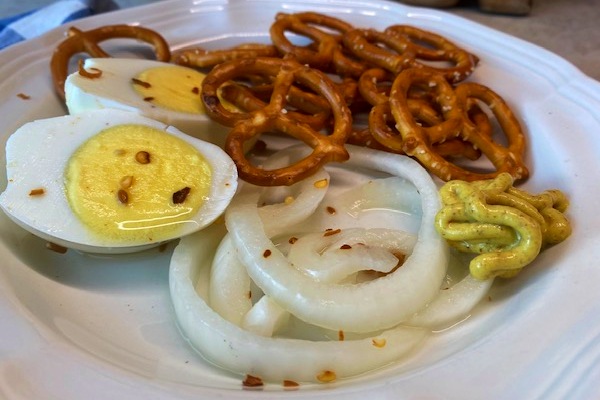 There is More Than 1 Way To Pickle An Egg
There are nearly endless opinions on what makes the very best pickled egg! Many recipes call for no sugar at all. And, the "extras" folks put in them vary widely. Some folks include onions, garlic, red peppers, jalapenos, fresh dill, or even curry in the brine. "Store-bought" pickling spices are found in some recipes, and other egg picklers choose their herbs individually to create the desired flavor.
In England, most pickled egg recipes contain some sugar to "soften" the sharp taste of vinegar. The Pennsylvania Dutch are famous for their pickled eggs with beets. The red color of beets imbues the eggs with a pink to deep red color, depending on how long the eggs are kept in the brine.
Use The 5-5-5 Method For Making Perfect Hard-Cooked Eggs
Regardless of the recipe you choose, the hardest part might be achieving a perfect hard-cooked egg without the telltale green ring around the yolk from cooking them too long. The next hardest thing is peeling them without making pockmarks all over them when you do.
If you are fortunate enough to have an Instant Pot, success is assured with the "5-5-5" method of making perfect eggs. Put one dozen eggs in the Instant Pot using the trivet or special egg rack. Pressure cook on high for 5 minutes.
Let the pressure drop naturally for 5 minutes. It's important to set a timer for this, so you have to find something to do while hanging around in the kitchen because this specific period is critical to success. When the timer goes off, release the remaining pressure manually.
Take the eggs out and put them in a bath of very cold water for at least 5 minutes. The shells will practically fall off.
If you do not have an Instant Pot, you can still make perfect eggs on the stove, and here's a great article explaining how to do it. The trick to getting the shells off more easily when you cook them conventionally is to use eggs two weeks or older. Fresh eggs can be a beast to peel.
Here are three recipes for you to play with, and then you're off and running! Find your favorite, tweak it, and make it your own!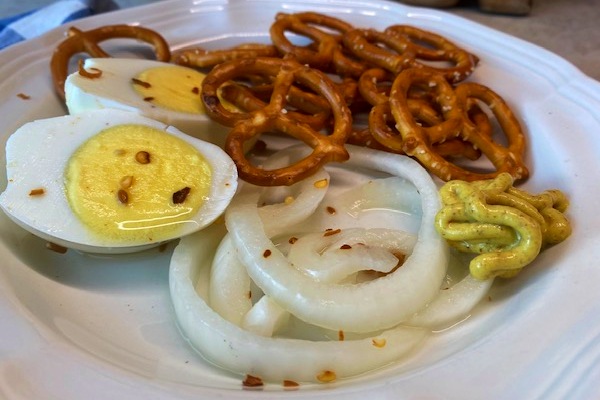 Pickled eggs with an interesting blend of spices. A little bit of heat and loads of flavor.
Total Time
2 days
23 minutes
Ingredients
12 hard-boiled eggs (peeled and cooled)
3 cups white vinegar
1 cup water
⅓ cup sugar
2 teaspoons kosher salt
2 cloves of garlic (minced)
2 teaspoons coriander seeds 
 1 teaspoon mustard seeds
1 ½ teaspoon black peppercorns
 1 teaspoon allspice berries 
 2 bay leaves (crumbled) 
 1-inch cinnamon sticks (crushed or broken into pieces) 
¼ teaspoon crushed red pepper flakes 
¼ teaspoon ground ginger
Instructions
Combine the vinegar, water, sugar, salt, garlic, and pickling spices in a medium saucepan set over medium heat.
Bring to a simmer and cook until the sugar and salt are completely dissolved, approximately 5 minutes.
Cool the brine in the refrigerator.
Add eggs to quart jars or a non-metal container of your choice, and add the brine, including the pickling spices and garlic, to each container until the eggs are completely covered.
Cover the jar securely.
Discard any extra brine.
Store in the refrigerator for at least a week before enjoying.
Always keep the contents refrigerated.
See the recipe post for tips on making perfect hard-boiled eggs.
Looking for a recipe that doesn't have such a long list of ingredients? Here you go!
Yield: 12 eggs
Easy Pickled Eggs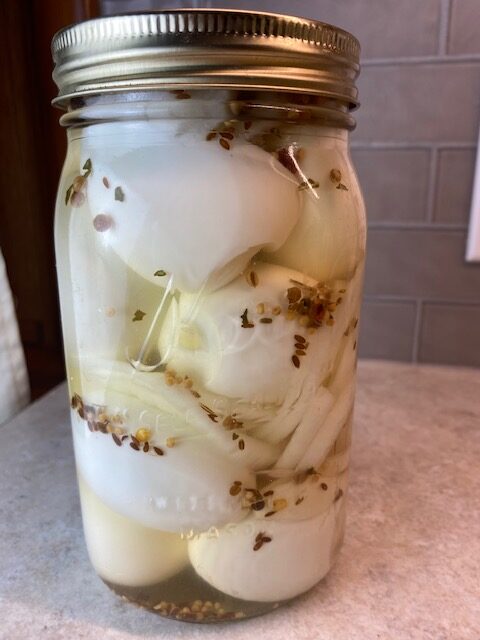 A quick and easy way to make a dozen pickled eggs.
Total Time
7 days
25 minutes
Ingredients
12 hard boiled eggs peeled and cooled
2-3 sprigs fresh dill
1 clove garlic
3 cups white vinegar
1 cup water
1 teaspoon coarse salt
1 large onion thinly sliced
1 bay leaf
⅓ cup sugar
4 teaspoons pickling spices
Instructions
Place all ingredients except eggs, garlic, and dill in a saucepan.
Bring to a boil, then reduce heat and simmer for 5 minutes. Cool slightly.
Add a garlic clove to a quart-size wide-mouth glass jar.
Place three eggs in the jar.
Top with some of the cooked onion slices and a sprig of dill.
Repeat until the jar is full.
Pour the liquid over the eggs and seal the jar.
Refrigerate at least 3-4 days before eating; one week is best!
Always keep the contents refrigerated. The eggs keep at least a month if refrigerated.
See the recipe post for tips on making perfect hard-boiled eggs.
Nutrition Information:
Yield:
6
Serving Size:
1
Amount Per Serving:
Calories:

232
Total Fat:

11g
Saturated Fat:

3g
Trans Fat:

0g
Unsaturated Fat:

6g
Cholesterol:

373mg
Sodium:

482mg
Carbohydrates:

15g
Fiber:

1g
Sugar:

13g
Protein:

13g
Are you feeling adventurous and want to make something unique? You'll be tempted to put on your lederhosen and dance when you taste these! Does your community or church celebrate Oktoberfest? These pickled beet eggs would be a huge hit!
Yield: 8 servings
Pickled Beet Eggs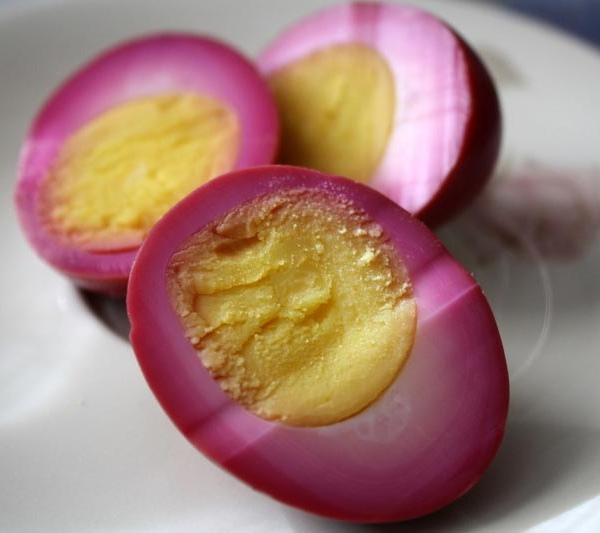 A traditional Pennsylvania-Dutch recipe for pickled eggs with a surprisingly red egg white. Beautiful on a relish plate.
Image credit:rockYOface via Flikr (CC BY-ND 2.0)
Ingredients
8 hard-boiled eggs with shells removed
2 (15-ounce) cans of whole pickled beets, juice reserved
1 medium onion, chopped
1 cup white sugar
¾ cup cider vinegar
½ teaspoon salt
1 pinch ground black pepper
2 bay leaves
12 whole cloves
Instructions
Place the beets, onion, and peeled eggs in a non-reactive glass or plastic container. A wide-mouth glass quart jar works well. Set aside.
In a medium saucepan, combine the sugar, 1 cup of the reserved beet juice, vinegar, salt, pepper, bay leaves, and cloves. Bring to a boil, lower heat, and simmer for 5 minutes.
Pour hot liquid over beets and eggs.
Cover, and refrigerate 48 hours before using.
Always keep the container refrigerated.
See the recipe post for tips on making perfect hard-boiled eggs.
Nutrition Information:
Yield:
8
Serving Size:
1
Amount Per Serving:
Calories:

240
Total Fat:

6g
Saturated Fat:

2g
Trans Fat:

0g
Unsaturated Fat:

3g
Cholesterol:

187mg
Sodium:

257mg
Carbohydrates:

40g
Fiber:

1g
Sugar:

33g
Protein:

8g
Image credit: rockYOface via Flikr (CC BY-ND 2.0)
We hope this will whet your appetite for more pickling adventures! Canning and pickling was nearly a lost art, but now it's making a comeback by storm! It's so rewarding!
MORE RECIPES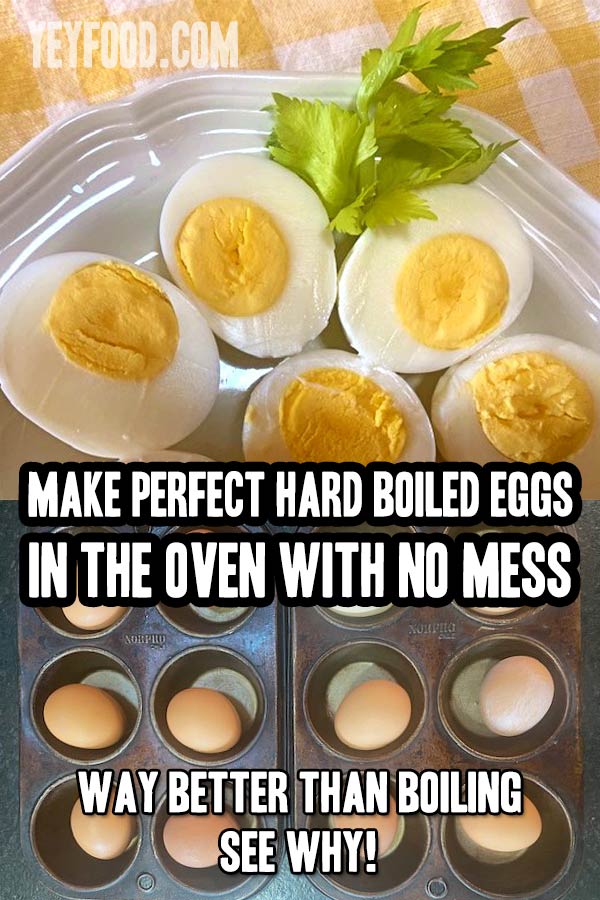 The Ultimate Bread and Butter Pickle Recipe
The Number 1 Practically Perfect Poppy Seed Bread
Insanely Crisp and Chewy Peanut Butter Cookies
If you like these recipes, you are our people! You can check some related articles below or search via categories on the right. But be warned; you will be on here for hours. Enjoy!😊
So, please share this recipe on your social media accounts like Facebook, Instagram, Twitter, and Pinterest. We would be honored and ever so grateful; thank you!