Tasty Buttermilk Pancakes Recipe With King Arthur Flour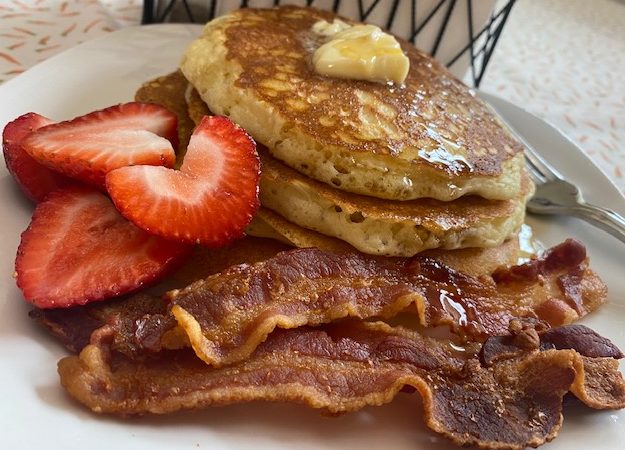 We've been making pancakes with our grandkids since they were big enough to sit in a highchair. Over the years, we have made little dollar-sized pancakes and some that look like teddy bears, snowmen, or the first letter in their name.
The smell of pancakes on the griddle evokes the sweetest memories. Nothing could be simpler, cozier, or have built better bonds than eating pancakes with our grandkids in our little kitchen.
Our youngest granddaughter came to our house for brunch after church one day last summer. She is a senior in high school; we've been at this for a while. That day, we got festive.
Two Good Reasons You Should Always Make Pancakes With Kids
When it comes to pancakes, they're good, even from a mix. But deep down, we make pancakes to create memories and learn how to work together. When they're little, the magic is in the process more than the product.
Back in my crazy busy young mom days, I would add some milk and an egg to a blueberry muffin mix and make decent pancakes. The important thing is to make pancakes with the kids.
Then, before we knew it, we were making pancakes for the grandkids. All six had their unbreakable mug for chocolate or strawberry milk. I cannot part with them; all the scratches make them even more precious to me.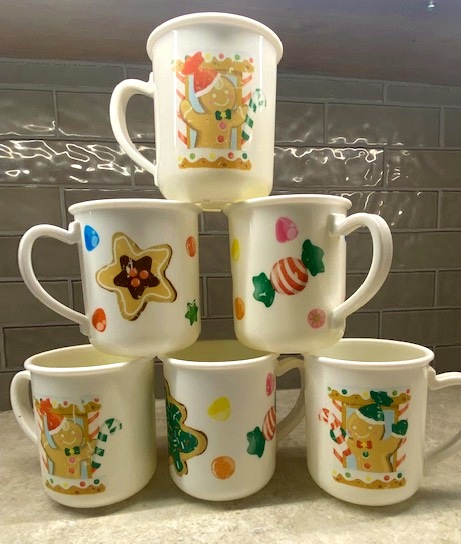 Pancakes From Good To Great By Using This One Ingredient
Half of our "six-pack" of grandkids are in their twenties, and the other three are teens. Their palates are more sophisticated now, so we're upping our game, and I'm taking our pancakes from good to great.
I've fallen in love with King Arthur Flour, and now it's all I buy. Their flour is superior to anything I have used in my fifty-some years of baking. And the one secret ingredient to the fluffiest, loftiest, tenderest pancake is buttermilk! Pancakes made with buttermilk are better in three ways.
Taller and fluffier
Moister and more tender
Subtle tangy flavor
It's all because buttermilk is acidic. Why does that matter? It supercharges the baking soda in your pancake batter. Buttermilk and soda create lift when you cook the pancakes so that they turn out extra thick and fluffy.
In addition, the acidity in buttermilk breaks down the gluten in the flour, making pancakes with a fine and tender crumb.
Buttermilk is a fermented product that adds a characteristic but subtle tang to the pancake that plays nicely with the syrup's sweetness and the saltiness of the bacon or ham served with them. Once you make pancakes with buttermilk, there is no turning back. 😉
You can enhance the quality of pancakes further by combining the wet and dry ingredients just to the point of being incorporated, with no streaks of flour that show, but the batter is still a little lumpy.
If you overmix, the gluten in the flour will develop strands that make the pancakes chewy, not tender. You don't need a mixer. If the batter seems too thick, add a little more buttermilk.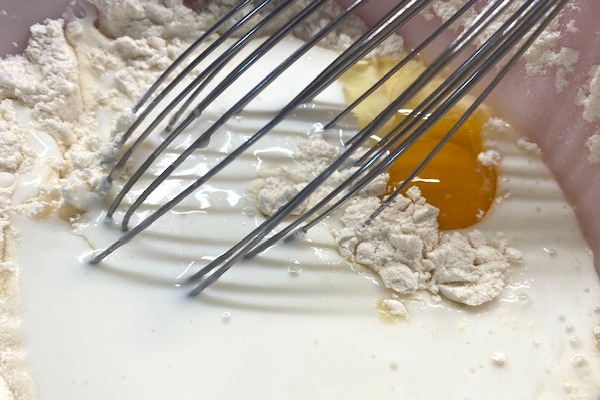 Finally, make sure you have a nice hot griddle. The key to making a perfect pancake is the right temperature. Electric griddles or skillets make this easy. The perfect temperature? It's about 375 degrees.
An overheated griddle will burn pancakes on the outside and leave a doughy undercooked middle. No temperature gauge? No problem. Shake a few droplets of water on the griddle. They should "dance" before they disappear.
Oil or spray the griddle or skillet lightly, then pour the batter on the griddle. I use a big ice cream scoop to keep the size uniform. A good size for pancakes is four to six inches across. That size is easy to flip when they are ready.
As the oldest kid in my family, I can share this joke. Like the firstborn child, the first pancake serves as a test and doesn't always turn out perfect. 🤣
Pay close attention while the pancakes cook. Watch for bubbles to come to the top and pop.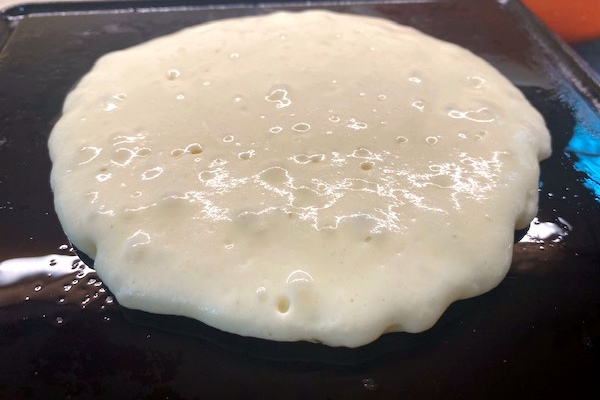 When they start to dry around the edges, use a spatula to flip them over. I always love seeing that lacy golden-brown underside! Silly, but a little thrill every time.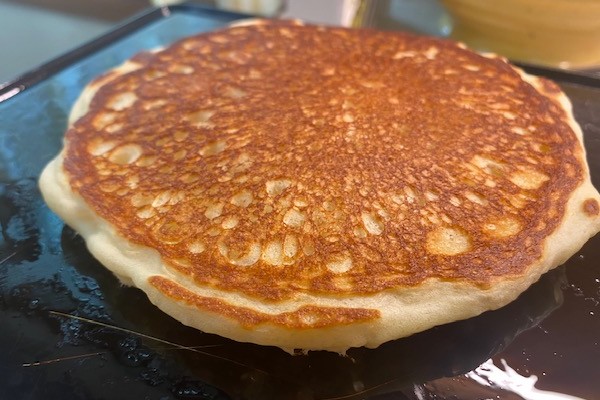 Keep cooking for about one or two minutes more. You can peek to see if the underside looks as good as the top! You may need to add more spray or oil as you make more pancakes.
If you are concerned about keeping the pancakes warm so everyone can sit down at once, you can keep them warm in a low oven on a baking sheet with a rack. Us? It was always friendly chaos and eating in shifts- that's the way we rolled! Oh, and make sure if they are granddogs around, share a little. ❤
Here Are Two Or Three Good Things That Go Great With Pancake
Real maple syrup and butter are the best for topping a stack of tasty buttermilk pancakes. Still, when you want more, bacon is the perfect accompaniment because it provides a natural sweet/salty flavor combination we seem to crave. Here is a baking-cooking technique I learned when I worked in food service years ago; it's the best way to make perfect crisp, flat strips of bacon every time!
Strawberries are wonderful on top of a stack of pancakes. I came up with this little trick accidentally. It's a slick way to make cute strawberry hearts!
Wash whole fresh strawberries and pat dry. Remove the hull by cutting a v-shape on the top of the berry.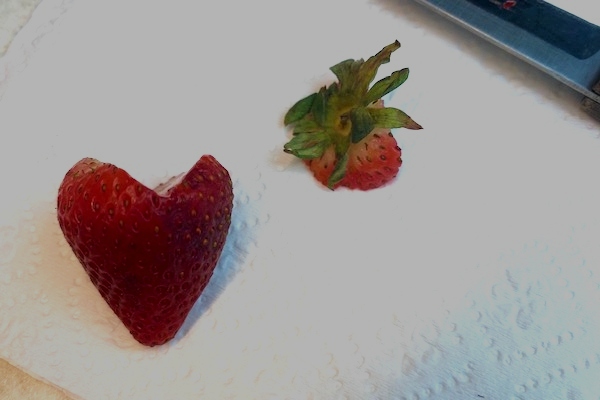 Now cut it in half lengthwise across the "v," and tada!" You have sweet heart-shaped berries! These are so cute on buttermilk pancakes, sundaes, or shortcakes!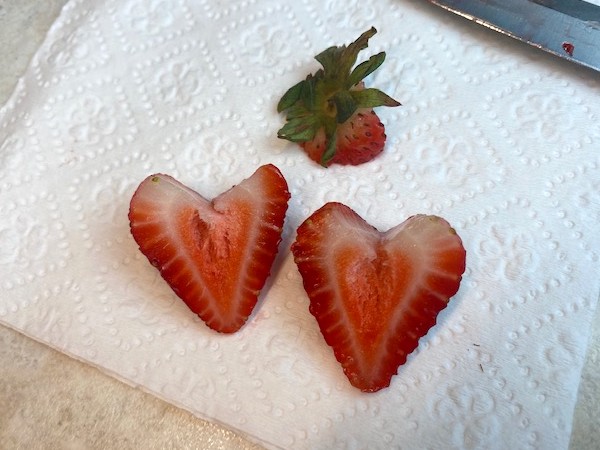 Doesn't this look amazing? Tasty buttermilk pancakes, all covered with butter and maple syrup, yum!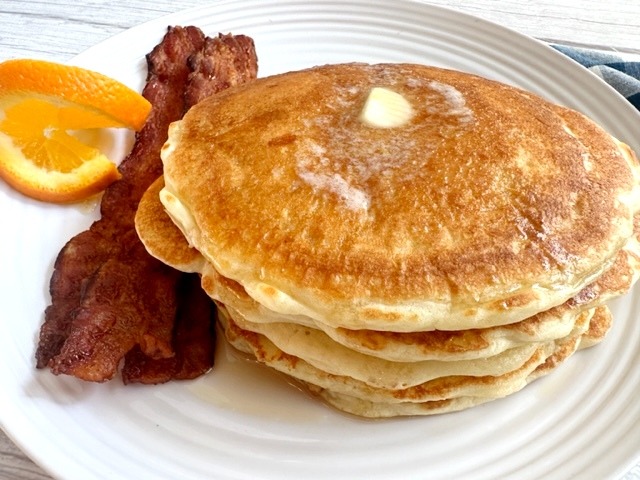 Yield: 8 4" to 5" pancakes
Tasty Buttermilk Pancakes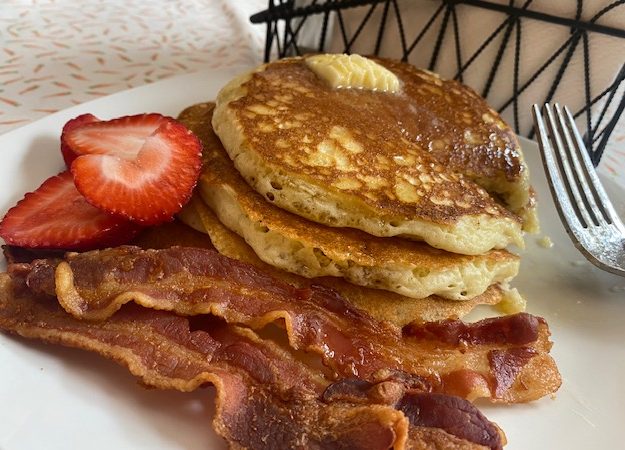 Make these tender, fluffy, moist, and delicious pancakes with buttermilk! One taste, and you'll never make them any other way again!
Ingredients
1 1/4 cups all-purpose flour
1/2 tsp baking soda
2 tsp baking powder
1/2 tsp salt
1 Tbsp sugar
1 egg
2 Tbsp vegetable oil
1 cup buttermilk, or more if the batter seems too thick
Instructions
Whisk the dry ingredients in a medium-sized bowl.
Add the oil, egg, and buttermilk and whisk JUST until any streaks of flour are gone, and some lumps remain.
Spray the griddle with non-stick spray or brush lightly with vegetable oil.
Spoon the batter onto a hot griddle at 375 degrees, and cook until bubbles rise to the top and burst.
Flip once and continue baking the second side until it is golden brown.
Finally, our sweet granddaughter loves whipped cream on everything, so on that summer day, we added a nice big blob of cream from a can to top it all. Since the Fourth of July was right around the corner, we couldn't resist planting a couple of small American flags on the mountain of buttermilk pancakes to finish our masterpiece and celebrate!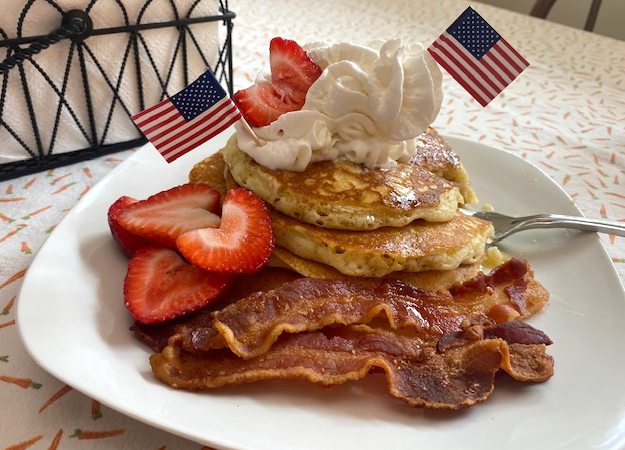 What are some of your happiest memories of cooking with kids? What did you make with them? Here's another fun thing you can do some weekend with them. It's so quick and easy to do, air fryer donuts.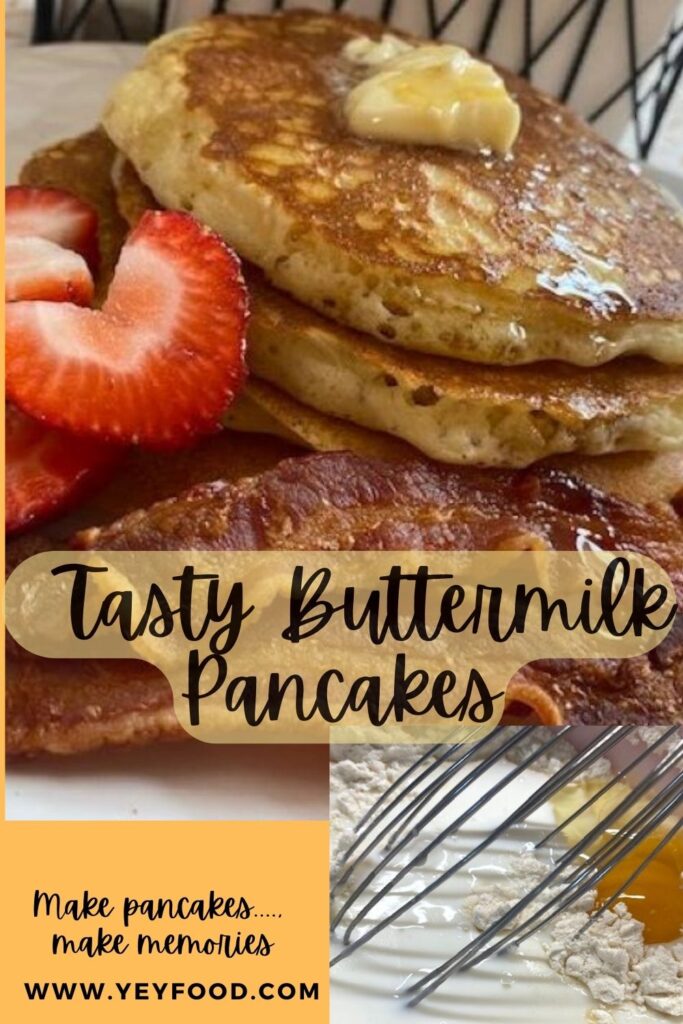 MORE OF OUR QUICK AND EASY FAMILY-STYLE RECIPES: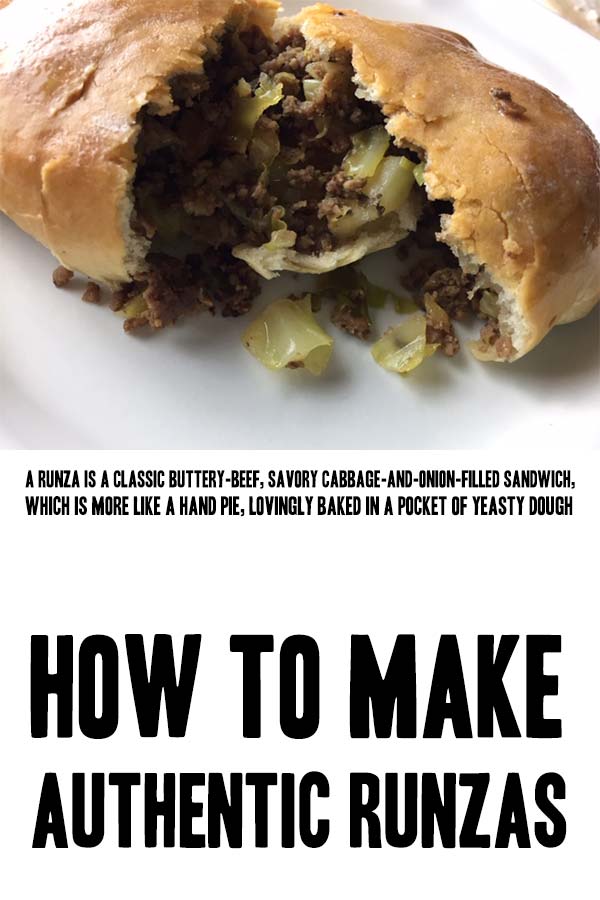 The Ultimate Bread and Butter Pickle Recipe
The Number 1 Practically Perfect Poppy Seed Bread
If you like these recipes, you are our people! You can check some related articles below or search via categories on the right. But be warned; you will be on here for hours. Enjoy!