Quick Pickled Vidalia Onions Recipe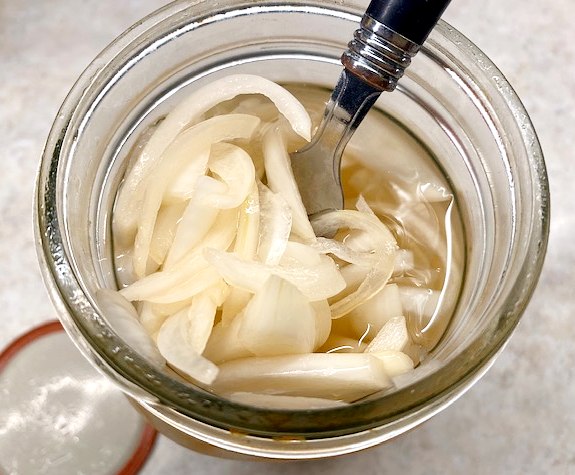 Vidalia onions have a short season; they're only available from April until August. Make the most of the season! Pickle a couple of jars of Vidalia onions while you're making dinner tonight or while you tidy up the kitchen after supper.
This recipe is for quick pickles, sometimes called refrigerator pickles. A jar of pickled Vidalia onions will stay fresh in the fridge for about a month. That is plenty of time to enjoy the sweet, crunchy pickles on burgers, hotdogs, pulled pork, or sandwiches.
Nothing could be less complicated or add so much pizzazz to many things! Sweet, crunchy pickled onions send sandwiches, brats, tacos, and salads to a new level of yumminess! Once you've made some easy pickles, you'll wonder why you waited so long!
With a little more effort, you can process the pickles in a boiling water bath, and the canned pickles will be shelf-stable until the next onion crop; we'll explain how.
The Three Things That Make Vidalia Onions So Unique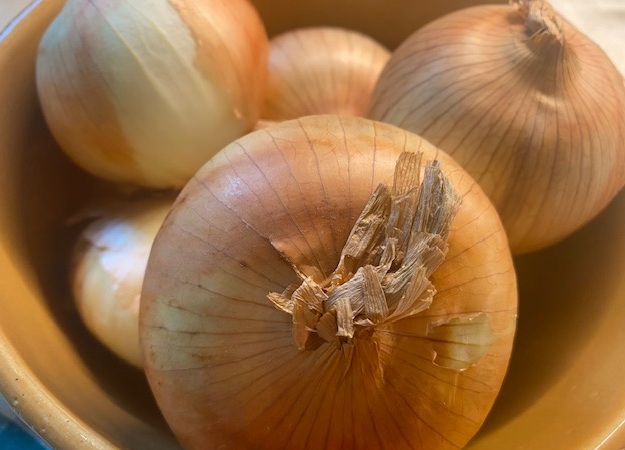 Vidalia Onions can only be grown in a specific twenty-county area in Georgia, where the soil, with its low sulfur content, is ideal for growing the flattish, extra sweet onions with far less acidity than typical sweet yellow onions. No other onion from any different locale can bear the name Vidalia. "Vidalia onion" is a name protected by law since 1986.
Vidalia onions are only available from April to August every year, and no onion shipped before the official pack date can be labeled "Vidalia."
Vidalia onions are so sweet, have such distinctive flavor, and have such low acidity; they are ideal for eating raw on sandwiches, salads, salad dressing, or pickled in a vinaigrette.
As you can see, the folks in Georgia are pretty proud and protective of their onions! About 200 million pounds of Vidalia onions are distributed annually across the US and Canada. If you're curious to know more, read all about Vidalia onions here. here are two other delicious things you can make with Vidalia onions; Beer battered Vidalia onion rings, and Vidalia onion potato salad.
Make A Jar Of Pickled Vidalia Onions Easy As 1-2-3
Remove the papery outer layer of two average-sized Vidalia onions and make them into slivers. Slivers are a perfect size for garnishing and topping!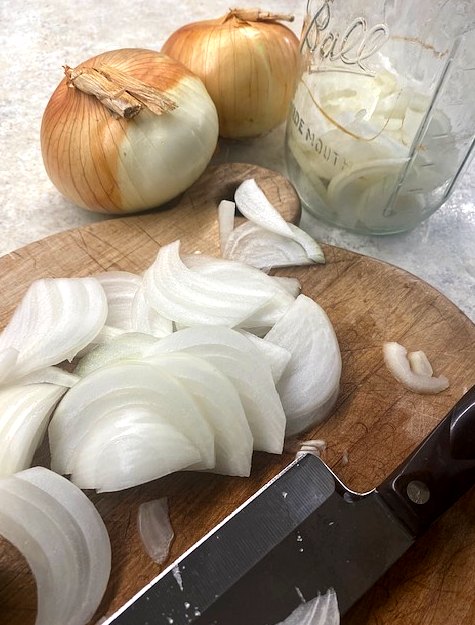 Now pack them into a jar. Keep packing and pressing down; you will be amazed how much you can stuff in a quart!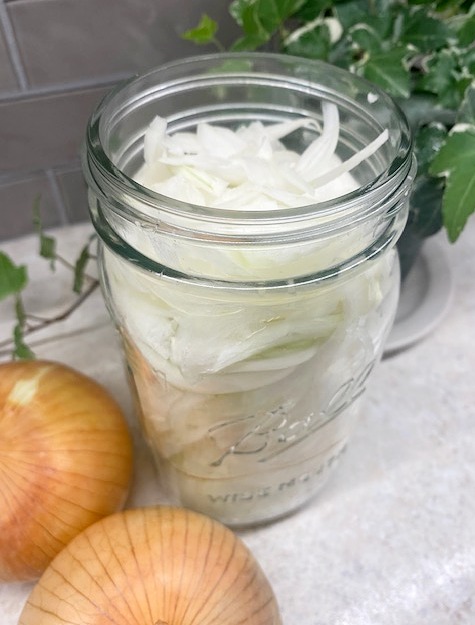 Mix the vinegar, sugar, salt, and water in a small saucepan. Heat and simmer until the sugar and salt completely dissolve. Now, pour the hot liquid over the onions. Tap the side of the jar or use a table knife to release any air bubbles and add more liquid if needed until the onions are submerged completely.
Put a tight-fitting lid on the jar and let it sit until it has cooled to room temperature. Store in the refrigerator for up to a month if your pickled Vidalia onions last that long!
If you want to make the pickled Vidalia onions shelf-stable, place the filled jars carefully into a hot water bath in a deep pot ensuring at least an inch of water above the lid. Bring to a boil and keep the water boiling for 15 minutes.
Slowly lift each jar out of the boiling water with a jar lifting tool. Set each jar gently onto a cooling rack or thickly folded towel to cool completely, undisturbed! No touching!
The lids will each make a satisfying "ping" sound as they seal. If any jars do not seal, keep them in the refrigerator and eat them first! See how easy that is?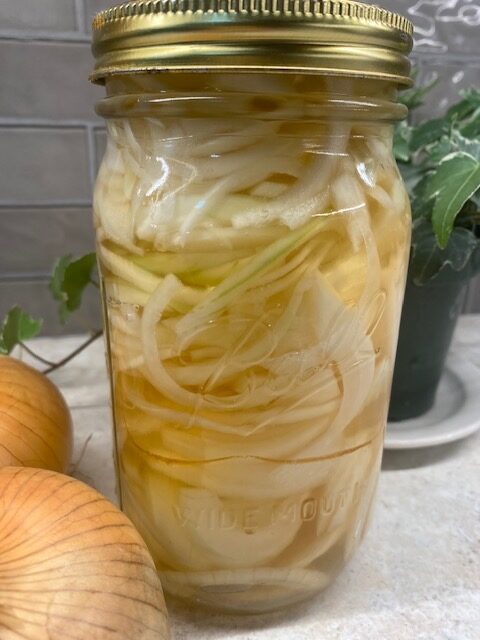 Now that you know how easy it is think about making some quick pickles this summer as your garden flourishes or the neighbors start giving you their excess produce! Need any ideas for things you can pickle beyond pickled Vidalia onions? Well, here you go! Anything goes pickles, Dilly pickled green beans, Pickled beets, Pickled eggs. Remember, pickles make welcome gifts!
Yield: One quart
Quick Pickled Vidalia Onions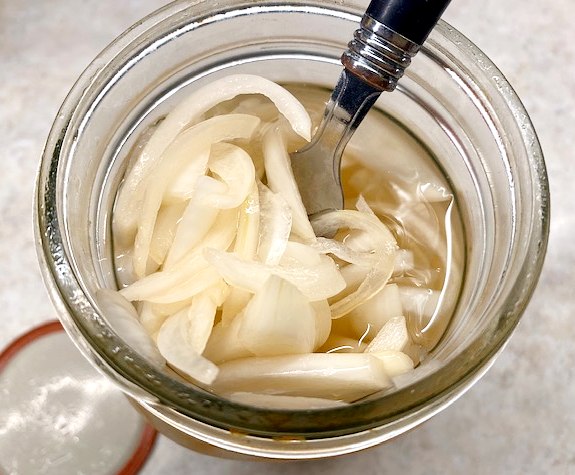 Easy to make pickled onions are sweet, crisp, and delicious! They add so much pizzaz to burgers, dogs, sandwiches, and even pizza!
Ingredients
Two average Vidalia onions, sliced into slivers
1 1/2 cups apple cider vinegar
3/4 cup water
2 teaspoons salt
2 Tbsp sugar
Instructions
Pack the onions tightly in a quart jar. You will be surprised at how much will fit as you press them down.
Combine vinegar, sugar, salt, and water in a saucepan and heat until the sugar and salt dissolve completely.
Pour the hot brine over the onions until the onions are completely submerged.
Tap the jar to remove air bubbles and add liquid if needed.
Cover tightly and allow the jar to cool to room temperature.
Refrigerate for up to a month.
Do you make pickles? What kind of pickles do you like? Do you have memories of pickles you'd like to share? Did you ever eat pickled okra or watermelon pickles? Tell us all about it! We'd LOVE to hear from you!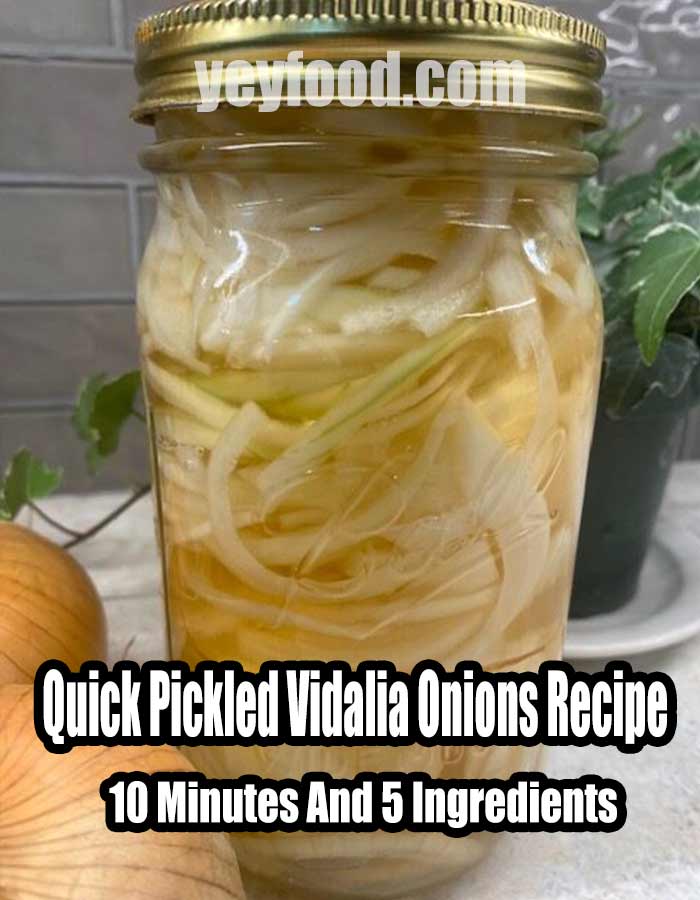 MORE OF OUR FAMILY-FRIENDLY RECIPES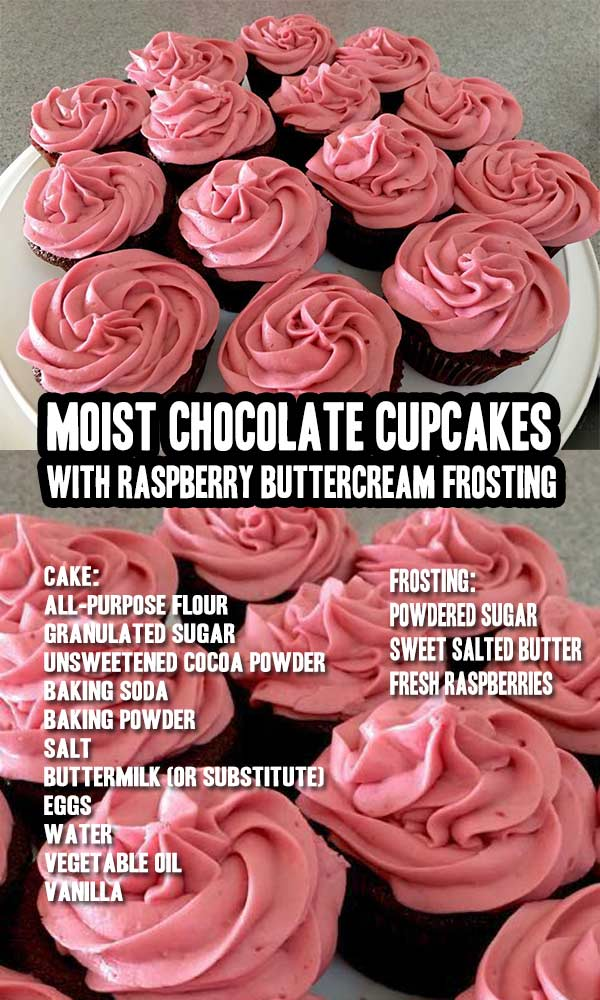 The Ultimate Bread and Butter Pickle Recipe
The Number 1 Practically Perfect Poppy Seed Bread
German Sauerkraut Casserole With Bacon And Brown Sugar
If you like these recipes, you are our people! You can check some related articles below or search via categories on the right. But, be warned; you will be on here for hours. Enjoy!
So, please share this recipe on your social media accounts like Facebook, Instagram, Twitter, and Pinterest. We would be honored and ever so grateful; thank you!