Vidalia Onion Potato Salad With Ranch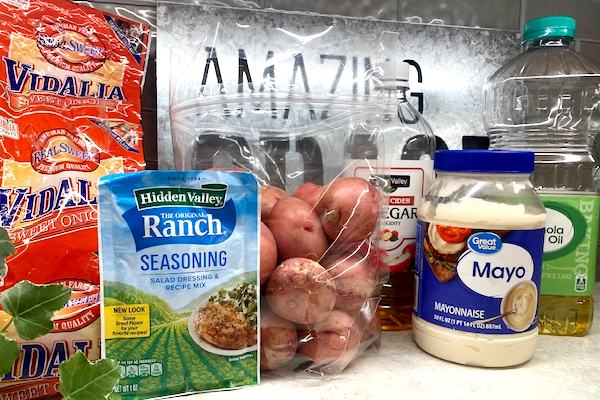 When I saw a recipe for layered Vidalia onion potato salad in a cookbook filled with old Southern recipes, I was intrigued! I don't normally like raw onions, but Vidalia onions are an exception! I bought a bag of them recently, so I was happy to have a new recipe!
My husband likes to go to garage sales, and one morning, he spotted an old cookbook for one dollar! The two of us are a great pair because he loves to eat as much as I love to cook! He KNOWS my fondness for Southern recipes, so he brought Beyond Grits And Gravy home to me!
That "little ole" cookbook is so chock full of interesting recipes; you can be sure I'll share lots of them in the coming months!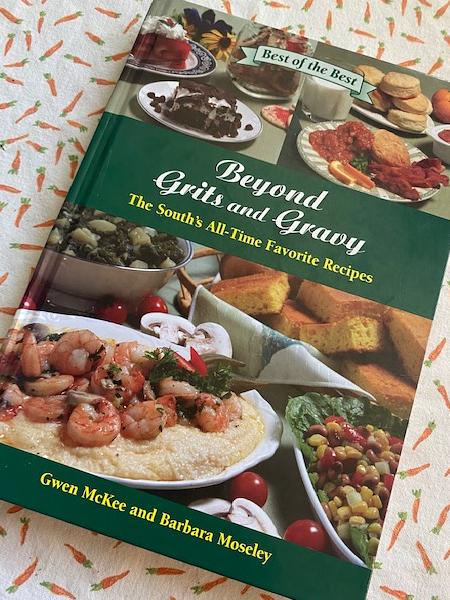 Three Unique Things About Vidalia Onions And Why We Love Them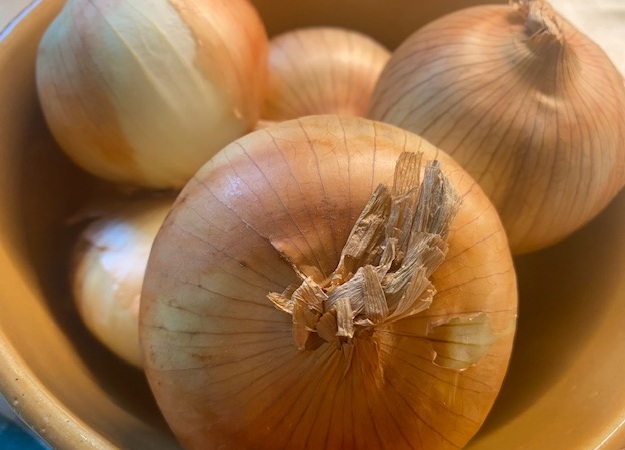 Vidalia Onions can only be grown in a specific twenty-county area in Georgia, where the soil, with its low sulfur content, is ideal for growing the flattish, extra sweet onions with far less acidity than typical sweet yellow onions. No other onion from any different locale can bear the name Vidalia. "Vidalia onion" is a name protected by law since 1986.
Vidalia onions are only available from April to August every year, and no onion shipped before the official pack date can be labeled Vidalia.
Vidalia onions are so sweet, have such distinctive flavor, and have such low acidity; they are ideal for eating raw on sandwiches, salads, salad dressing, or pickled in a vinaigrette.
As you can see, the folks in Georgia are pretty proud and protective of their onions! About 200 million pounds of Vidalia onions are distributed annually across the US and Canada. If you're curious to know more, read all about Vidalia onions here.
When I Added One Unique Ingredient To Vidalia Onion Potato Salad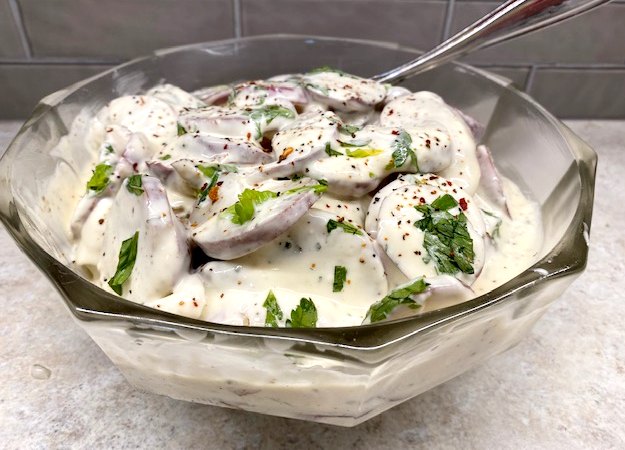 The potato salad recipe in my "new" cookbook is unique and entirely different from any other variation I have ever seen. The main ingredients are new potatoes, "cooked in the jacket" with the skin left on, then sliced, and thinly sliced Vidalia onions. There is no sugar, eggs, pickles, or mustard.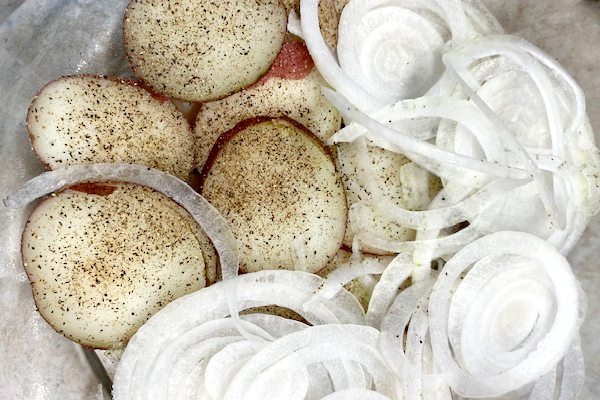 Begin by layering the sliced potatoes and onions alternately, sprinkling each layer with salt and pepper.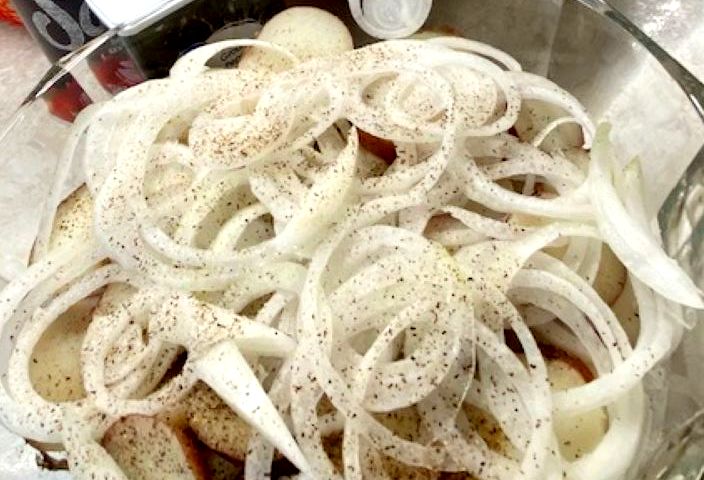 I used a simple glass bowl to show off the layers, and I chose to end with a layer of potatoes.
Next, I made the dressing by whisking together the ingredients listed. The recipe in my cookbook listed three ingredients; mayonnaise, salad oil, and apple cider vinegar. I thought it sounded interesting.
When I tasted it, I decided it needed a little more kick, so I added a packet of dry Ranch dressing mix. Yes! Eureka! All those yummy herbs and spices were just what the dressing needed to give this interesting mixture some oomph!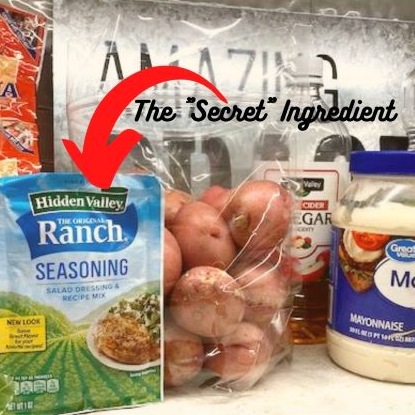 Ranch dressing is by far the most popular salad dressing in America, with a nearly cult-like following. What's in it? Buttermilk, dill, salt, pepper, garlic, onion, chives, and parsley. Recently. I learned about Ranch dressing's humble beginnings, and I was excited and proud!
Nebraska native Steve Henson, a plumber by trade, was from the tiny village of Thayer, Nebraska. About 1950, he was working construction in Anchorage, Alaska. Henson was a part-time cook for the crew and created the recipe for them while working there. Do you want to know more about how his place in California became Hidden Valley Ranch? Well, here you go.
I poured the dressing evenly over the potatoes and onions and covered the bowl with plastic film. The original recipe tells us to let it sit in the refrigerator for several hours or overnight to let the flavors marry and mingle.
The next day, the dressing had infused the Vidalia onion potato salad with incredible flavor! I gently tossed everything together with a silicone spatula and added a garnish of chopped celery leaves and seasoned pepper. Boom! The addition of the ranch dressing mix took this recipe over the top! It's simply delicious!
Yield: 10 servings
Vidalia Onion Potato Salad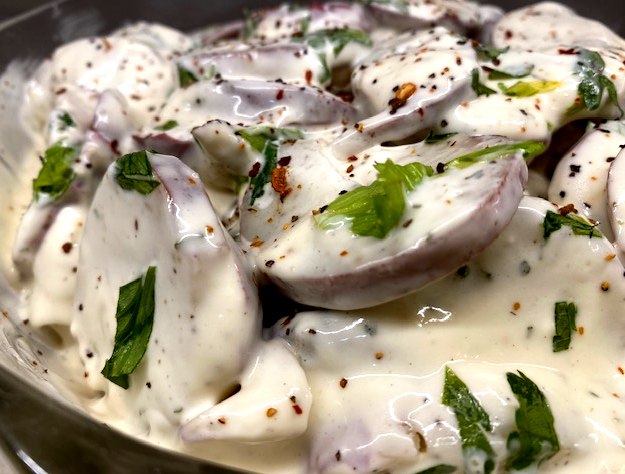 This is a very unusual potato salad recipe from the old South with a kick from dry Ranch dressing mix.
Total Time
8 hours
30 minutes
Ingredients
3 pounds of small new potatoes, boiled in their jackets. I used red potatoes
2 or 3 smallish Vidalia onions
Salt and pepper to taste
1 1/2 cups of mayonnaise
1/2 cup vegetable oil
1/4 cup apple cider vinegar
1 packet dry Hidden Valley Ranch dressing mix
Fresh parsley or celery tops, and seasoned pepper for garnish, if desired.
Instructions
Boil potatoes with skin on in salted water until you can easily pierce them with a knife, but still firm. Cool.
Remove the outer husk of the onion and slice very thin.
Slice potatoes about 1/4" thick.
Layer sliced potatoes and onions alternately in a medium-size bowl. Sprinkle each layer with salt and pepper as you go.
WMixthe mayonnaise, salad oil, apple cider vinegar, and dry Ranch dressing
Pour dressing evenly over the potatoes and onions.
Cover the bowl with plastic film and refrigerate for several hours or overnight.
Gently toss the potatoes and onions with a rubber spatula so you do not break up the potato slices.
Garnish as desired.
Refrigerate leftovers. This salad will keep in the refrigerator for about 3 or 4 days.

Notes
I recommend Lawry's seasoned pepper.
Nutrition Information:
Yield:
10
Serving Size:
1
Amount Per Serving:
Calories:

515
Total Fat:

37g
Saturated Fat:

5g
Trans Fat:

0g
Unsaturated Fat:

31g
Cholesterol:

14mg
Sodium:

282mg
Carbohydrates:

43g
Fiber:

5g
Sugar:

7g
Protein:

5g
Potato salad is a dish that spurs some strong opinions! What do YOU think makes the best potato salad? Pickles or no pickles? Sugar or none? Mustard, yes, or mustard, no? Mayonnaise or Miracle Whip? How do you like your potato salad?
Here's one very old-fashioned potato salad recipe that would be right at home at a Sunday school picnic and another old favorite, Hot German potato salad.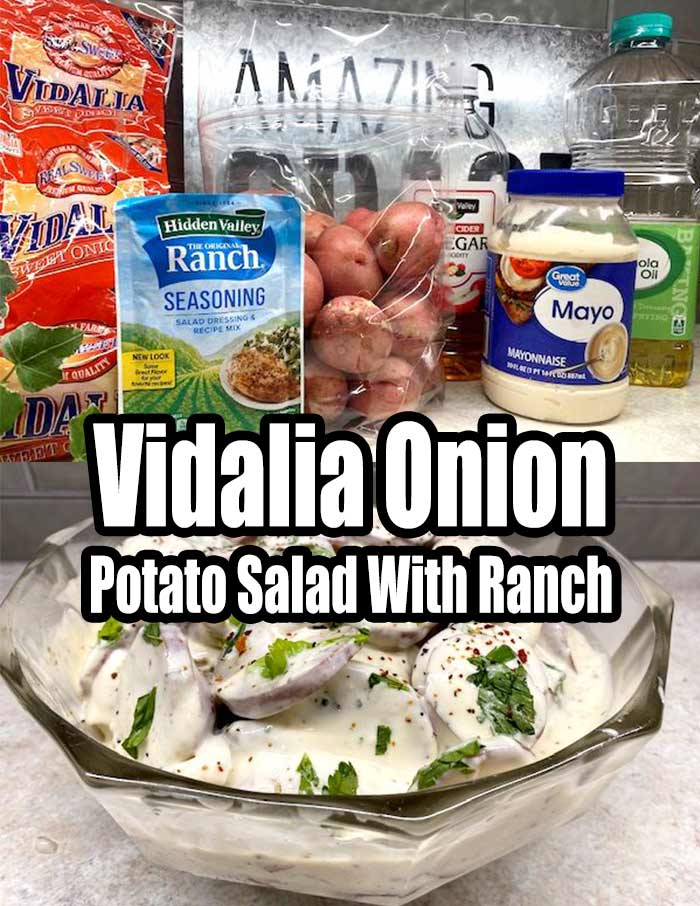 MORE OF OUR QUICK AND TASTY FAMILY-FRIENDLY RECIPES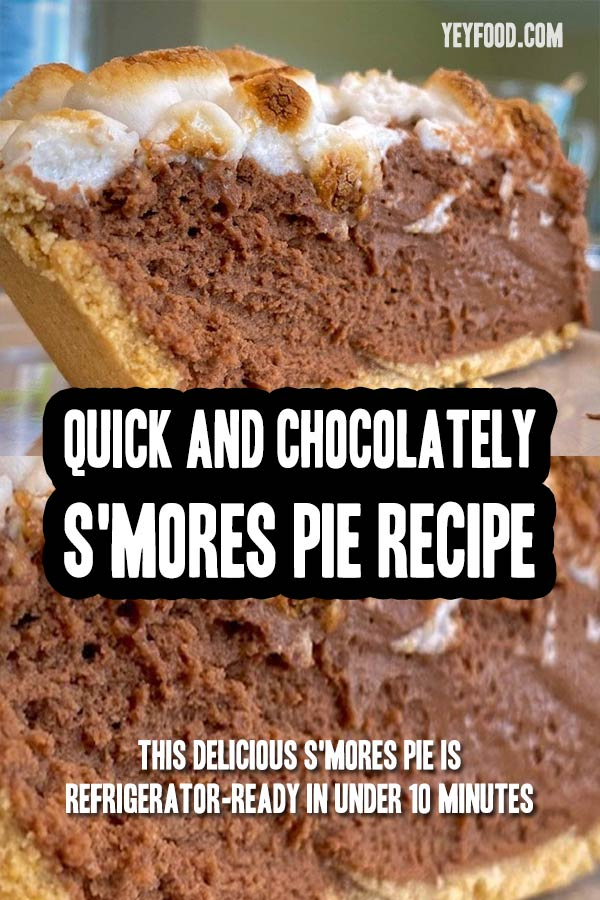 S'mores Bars How To Make Them Super Fast and Super Good
How To Make The White BBQ Sauce That's Fascinated Us Since 1925
So, please share this recipe on your social media accounts like Facebook, Instagram, Twitter, and Pinterest. We would be honored and ever so grateful; thank you!