Beer Battered Vidalia Onion Rings Recipe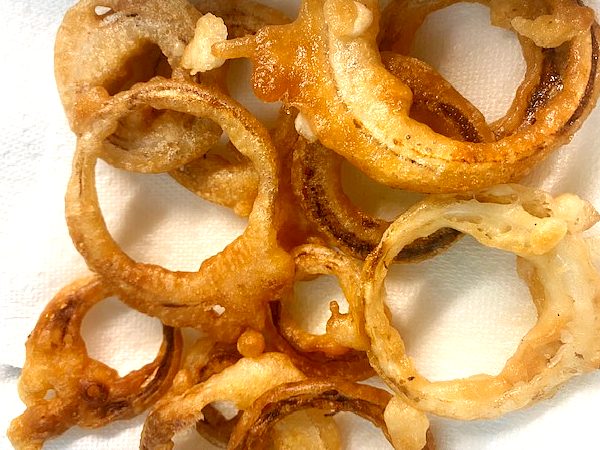 Vidalia onion rings are a treat! Here, sweet Vidalia onions get a dip in a light, crispy beer batter, then are quickly fried in a skillet; no need to drag out the deep fryer!
Nothing could be easier! It only takes three ingredients to make the batter! Mix equal amounts of beer and flour, add some salt and stir or whisk until the batter is nice and smooth. One medium onion made a heaping plate loaded with crispy rings. It was MORE than enough for my husband and me to eat in one sitting!
I must thank my friend Cathy for sharing her easy recipe because we LOVE onion rings, especially when they are light and crisp like these!
But I did not want to think about getting my deep fryer out of the cupboard where things go when I seldom use them! Do you have one of "those" cupboards?
And the thought of messing with disposing of the oil made me hesitate to try them!
Hooray! I was sold on the idea when she told me she makes them in a skillet using only about a half-inch of oil!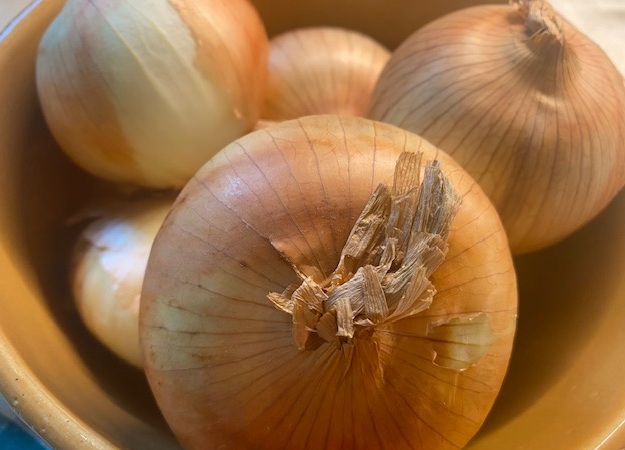 I used Vidalia onions because they are crisp, sweet, and very low in the typical acidity you find in onions. Slice them thin and separate the rings so they cook quickly.
Make The Simple Batter With Just 3 Pantry Ingredients
Ok, maybe you don't keep beer in the pantry, but most of us have flour and salt on hand. As for the beer, choose one that has a flavor that pleases you; usually, a pilsner or lager will work best. Yes, you can use a non-alcoholic beer if you prefer, although any alcohol in the beer disappears during cooking.
The biggest contribution beer makes to the cause of light, and crispy onion rings is carbonization, not flavor. The bubbles in the beer enhance the crispiness as they escape from the batter during frying. The carbonization in beer also makes the batter slightly more acidic, retarding the formation of gluten, and that helps keeps the batter from becoming tough.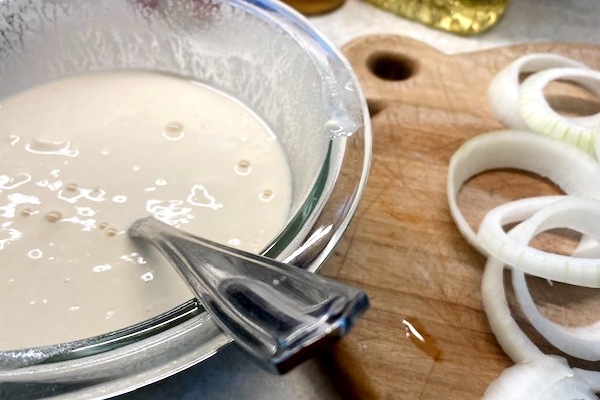 Whisk the beer, flour, and salt in a small bowl. I started with a cup of flour and beer and had batter left over. However, I needed enough batter to immerse each ring, so I don't think I could have made any less.
One medium-sized onion made a heaping plate of Vidalia onion rings; depending on the audience, I would estimate it made four servings. We couldn't finish them all as much as we would have loved to have polished off the entire batch!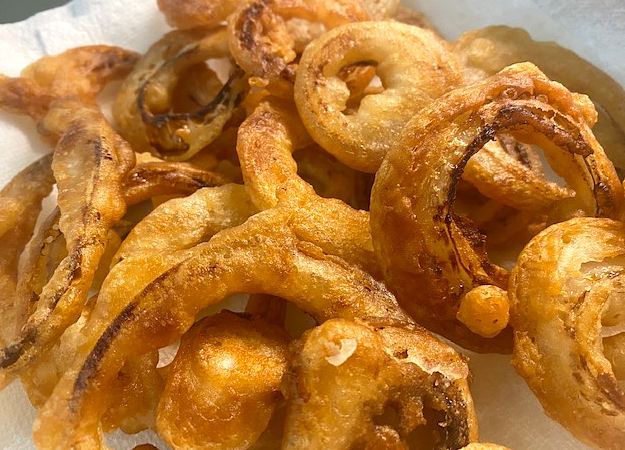 Dip each onion ring into the batter, shake off any excess, and then put them into the hot oil.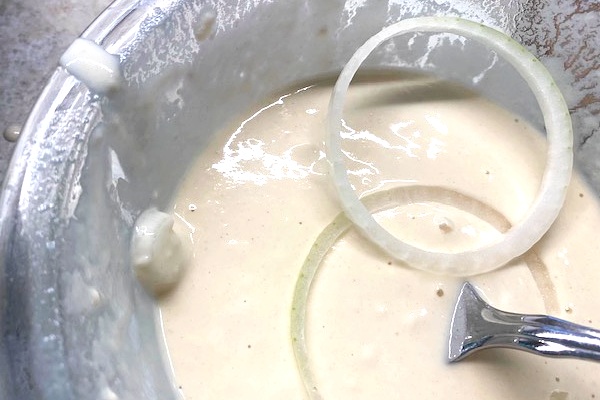 I used an electric skillet with about 1/2 inch of vegetable oil set at 375 degrees. If you use a pan on the stove, use a medium-high setting and turn it down if the rings are browning too quickly. Here's a handy guide for temps on an electric stove.
Don't crowd the rings; turn them when the bottom side looks brown. Give them plenty of room to brown on all sides.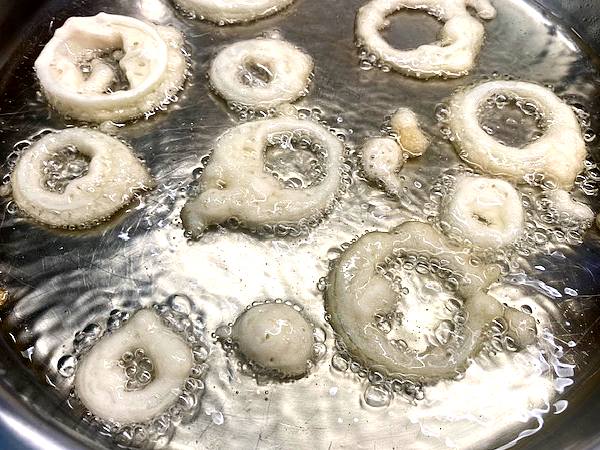 These rings are nearly perfect! Look how the light batter puffs up all crispy and golden brown!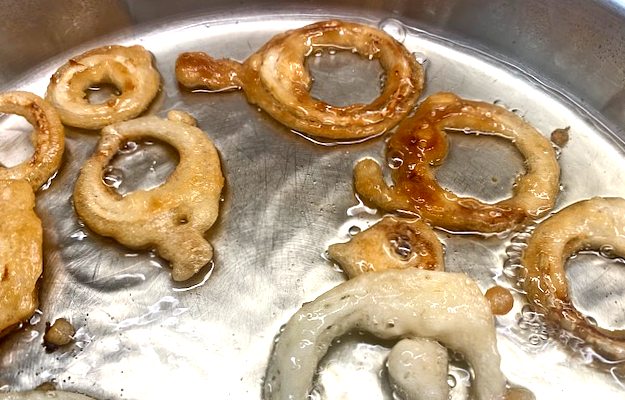 Remove the rings when nicely browned and drain them on paper towels. Eat them while they are hot! If you are like us and make too many, here is an article that explains three ways you can reheat them!
Yield: 4 servings
Easy Beer Battered Vidalia Onion Rings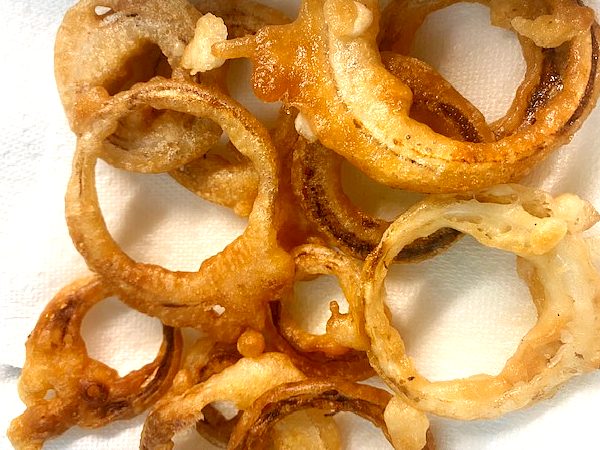 Here is an easy recipe for light crispy onion rings made with a three-ingredient beer batter and fried in a skillet with oil.
Ingredients
One medium to large Vidalia onion cut into thin rings. You can use any sweet onion in the off-season!
One cup all-purpose flour
One cup beer
1 1/2 tsp salt
Vegetable oil for frying
Instructions
Heat about 1/2 inch of vegetable oil in a skillet. Set electric skillet at 375 degrees. If using a skillet on the stove, use a medium-high setting.
In a small bowl, whisk beer, flour, and salt into a smooth batter.
Separate rings of sliced onion.
Dip rings into batter and remove. Shake off excess.
Put rings into oil and fry until the bottom side is golden brown. Do not crowd.
Turn and fry until golden brown.
Remove and drain on paper towels.
Do you love onion rings as much as we do? What do you dip them in? How do you like your onion rings? Thick or thin? Do you like them breaded or beer-battered? We'd love to hear what kinds are your favorite and what you want to eat with them! If you have extra Vidalia onions, we think you'd love these onion burgers or this Vidalia onion potato salad!!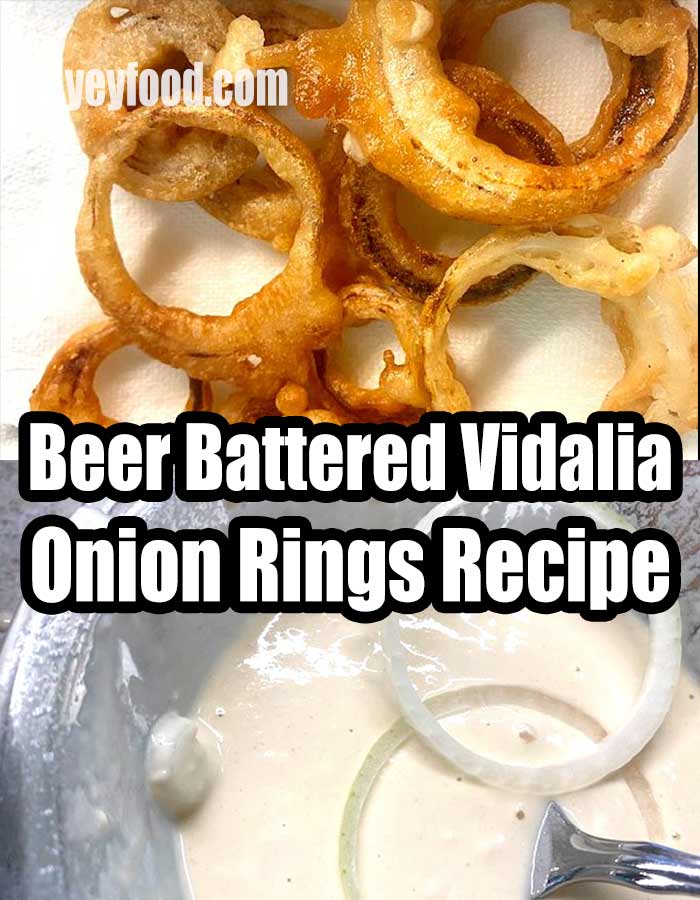 MORE OF OUR QUICK AND EASY FAMILY-STYLE RECIPES: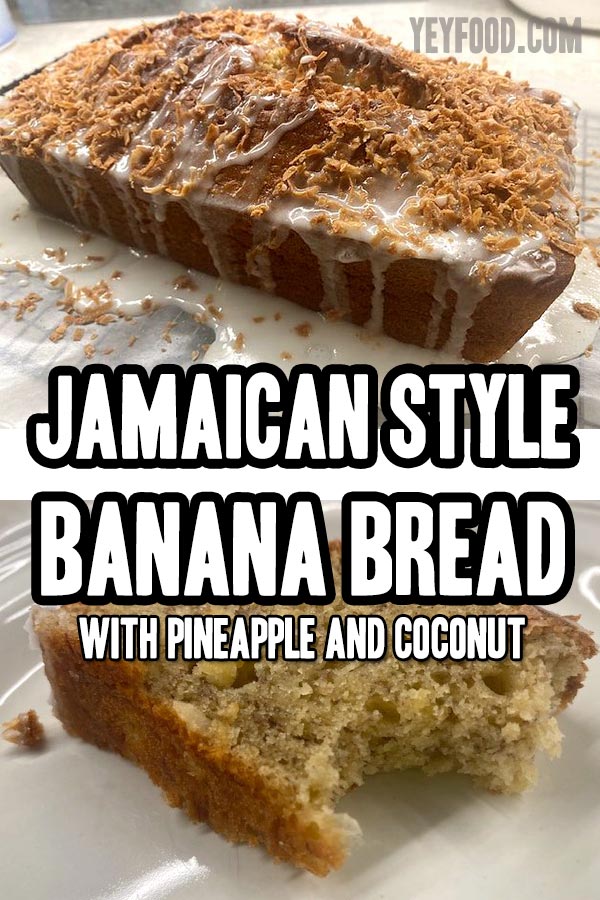 The Ultimate Bread and Butter Pickle Recipe
The Number 1 Practically Perfect Poppy Seed Bread
Oven-Baked Steak With Brown Gravy
If you like these recipes, you are our people! You can check some related articles below or search via categories on the right. But, be warned; you will be on here for hours. Enjoy!