How to make Alabama White Sauce A.K.A White BBQ Sauce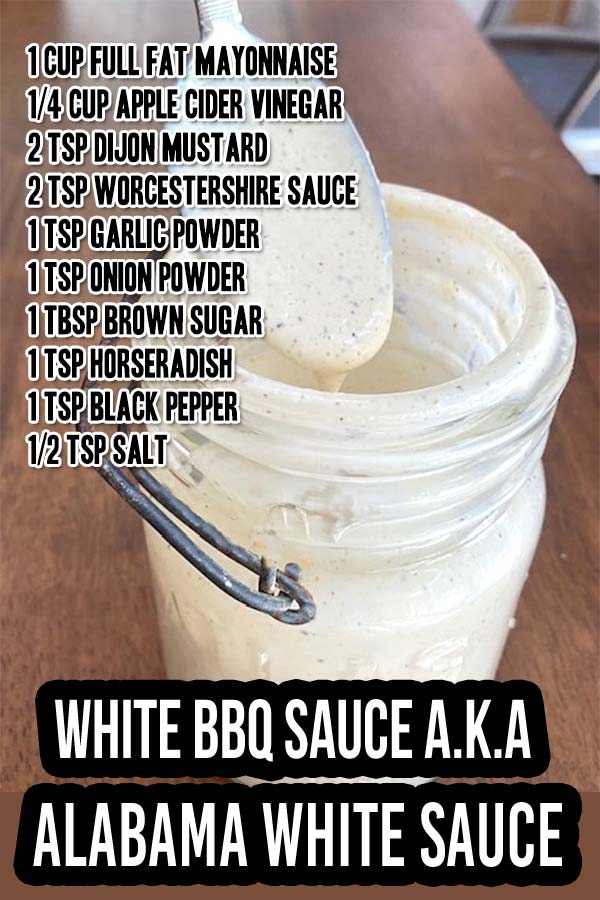 White BBQ sauce? For most of us, that idea is a stretch. Throughout the Midwest and south into Texas, BBQ sauce is red because it's tomato-based. The usual elements added are sweeteners like brown sugar or molasses, spices like cumin, chili powder, mustard, or pepper, and liquid smoke.
But as you head east, the sauces used in barbecuing change. You see more vinegar-based, light-colored concoctions. There is usually some sugar in all barbecue sauces because it helps form the meat's tasty crust. That crust also keeps the juices inside!
Once upon a time in Alabama, a very large guy named Big Bob Gibson invented a new sauce that took the South by storm and is still popular today. Why? Because it simply does amazing things for food! Bob started out cooking for friends and family. He dished out his now-famous sauce on smoked chicken and served it on an oak plank table nailed to a sycamore tree in his back yard. He began doing that in about 1925.
Over time, a restaurant still bears his name and has immortalized the magic white barbecue sauce he dreamed up almost a hundred years ago.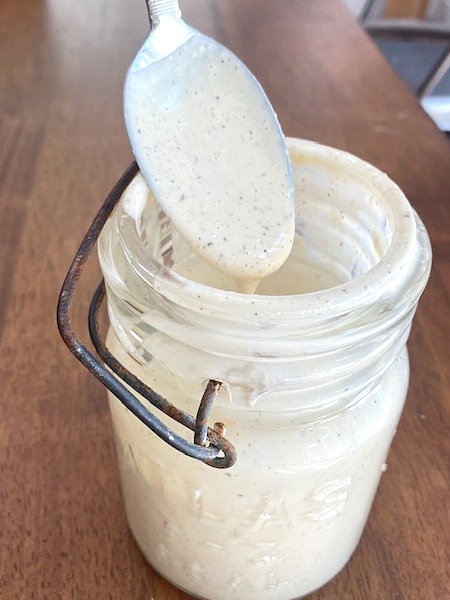 Why Does This White Barbecue Sauce Taste So Delicious
No one left today worked directly with Big Bob, so the original secret recipe has almost become a legend. However, the basic ingredients have not varied for nearly a century. Bob liked to slow-roast and smoke whole chickens for more than three hours in a barbecue pit.
He knew they needed more fat to keep them juicy and moist. That's what inspired his novel creamy white sauce that combined full-fat mayonnaise with vinegar, salt, pepper, and a touch of lemon juice. It's smooth and creamy with a pleasant bit of tang and tastes great on many foods! Those five ingredients alone changed Alabaman's taste buds!
Over decades of experimentation, other ingredients have been added, and it seems each cook has a unique twist on what makes this incredible white sauce their signature white sauce.
Interestingly, this white BBQ sauce has exploded onto the food scene this summer. It's a hot ticket these days, and you don't want to miss out!
This is Everything You Need To Make White BBQ Sauce In 10 Minutes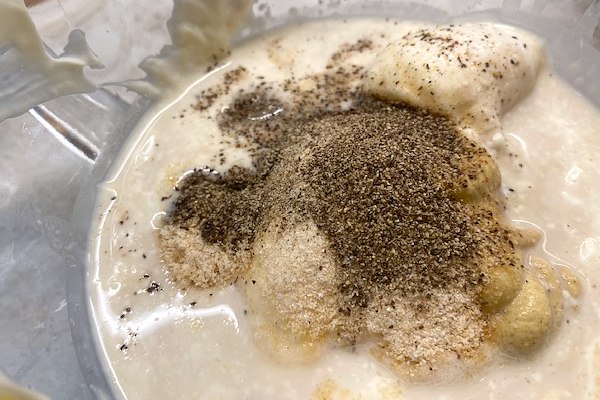 You will need full-fat mayonnaise, not salad dressing! This recipe also calls for apple cider vinegar, dijon mustard, Worcestershire sauce, garlic powder, onion powder, salt, and pepper. I added a spoonful of brown sugar to smooth it out and a teaspoon of horseradish for a little kick.
There's nothing to making this delightful concoction! All you need is a bowl and a whisk. Please don't wait to make it!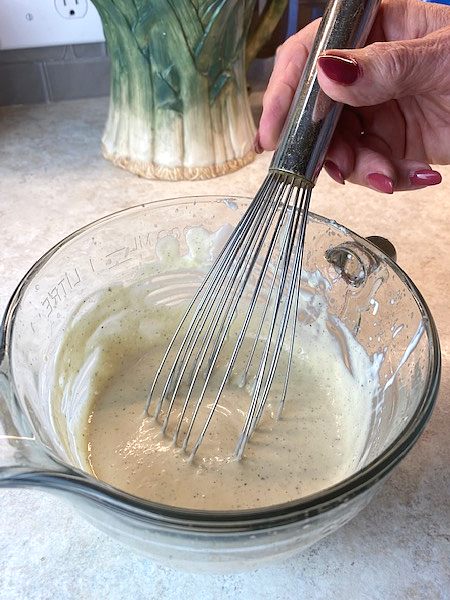 I test drove it the first afternoon on two granddaughters who declared it "amazing!" They gobbled it down on woven wheat crackers and chips. I wouldn't get to the grilled chicken until a couple of days later!
Grilled Chicken And White Alabama BBQ Sauce Is A Marriage Made In Heaven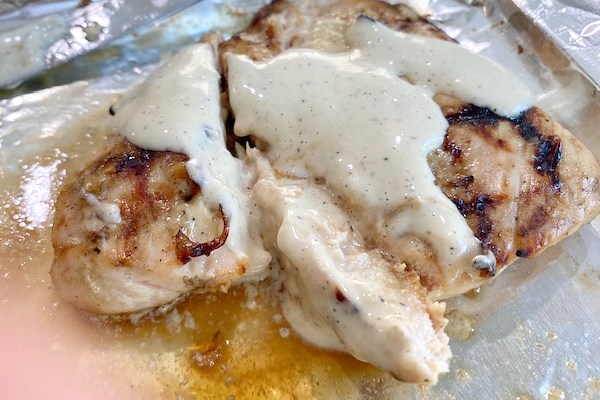 I'm here to tell you Big Bob was right! Over the holiday weekend, I grilled some boneless, skinless chicken breast. I had marinated it for a couple of hours and pounded it out pretty thin. You know how dry a skinny cut of chicken like that can get.
But the white sauce was magic! I basted a little on each piece as I grilled it. Incredibly, it stayed tender and moist. When we served it, we drizzled a little more sauce on top for good measure. It was fabulous! The teenagers all wolfed it down!
Here's A Delicious Idea For What I Call Next Day Planovers
At our house, we never call them leftovers! I call them "plan-overs" or "bonus meals" on tip-the-refrigerator nights! I have to give credit to our daughter for making this spectacular lunch from the last pieces of grilled chicken, lettuce, berries, and the remaining sauce. Isn't this gorgeous?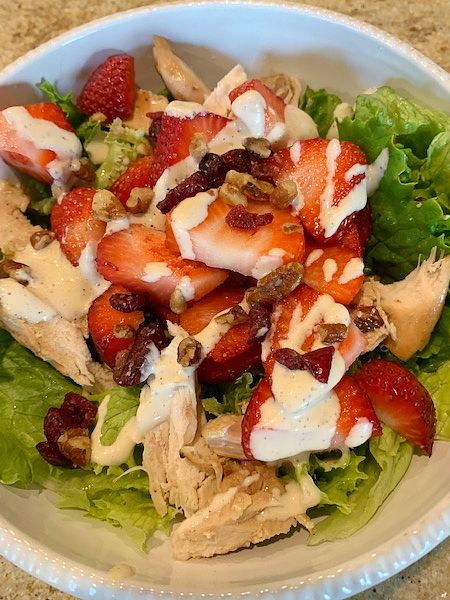 All she added was some packaged cranberry and walnut salad topping. Absolutely genius and so very delish! The white BBQ sauce became the dressing on an Insta-worthy salad the next day! Here's a closer look.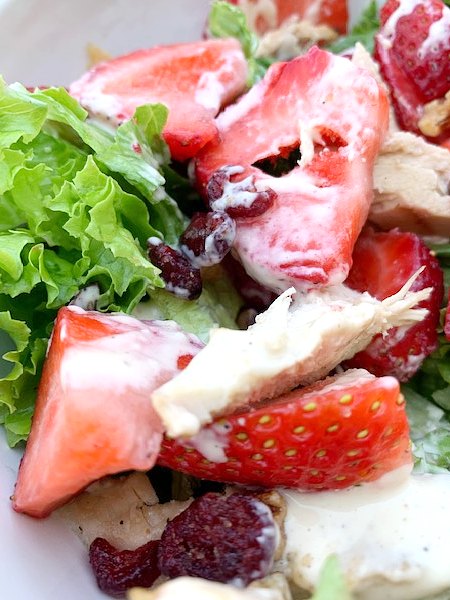 Yield: 12 servings
White BBQ Sauce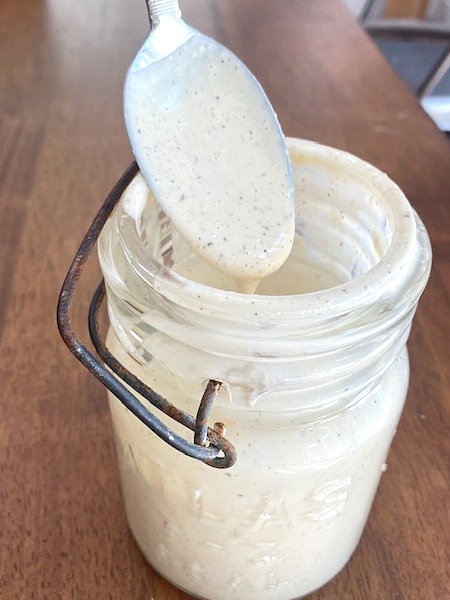 A unique mayonnaise-based sauce that's perfect for chicken and great on raw veggies, chips, even sweet corn!
Ingredients
1 cup full fat mayonnaise
1/4 cup apple cider vinegar
2 tsp Dijon mustard
2 tsp Worcestershire sauce
1 tsp garlic powder
1 tsp onion powder
1 Tbsp brown sugar
1 tsp horseradish
1 tsp black pepper
1/2 tsp salt
Notes
Whisk together all ingredients in a medium-size bowl until everything is well-blended. Transfer to a jar with a tight lid and refrigerate for up to a week.
I bet you'll come up with some very creative ways to use Alabama white BBQ Sauce, and when you do, we sure hope you will share!!
MORE OF OUR RECIPES
The Ultimate Bread and Butter Pickle Recipe
The Number 1 Practically Perfect Poppy Seed Bread
German Sauerkraut Casserole With Bacon And Brown Sugar
If you like these recipes, you are our people! You can check some related articles below or search via categories on the right. But, be warned; you will be on here for hours. Enjoy!
So, please share this recipe on your social media accounts like Facebook, Instagram, Twitter, and Pinterest. We would be honored and ever so grateful; thank you!