Traditional Danish Frikadeller Recipe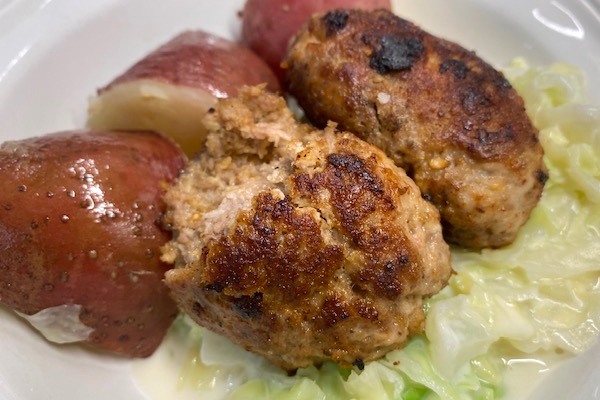 Frikadeller is an odd word for a super tasty oval meatball and is considered a national dish in Denmark. Seriously! Only about five percent of Americans report having Danish ancestry, and while few, we are all fiercely proud of our heritage.
Frikadeller are typically served with boiled potatoes and creamed or sweet and sour cabbage, pretty much as you see in the picture. Frikadeller was a favorite meal at our house when I was growing up. My dad was born in Aalborg, Denmark, and later immigrated to Iowa, surrounded by many other Danes.
Mom always made extra so the leftovers could be sliced the next day and put on open-face sandwiches made on rye bread with pickles and a schmear of some kind. The Danes always eat their sandwiches open-faced with a knife and fork. These Danish-style salt and vinegar cucumbers would be amazing on a frikadeller sandwich!
A shot or two of bone-dry Aquavit often accompanies the sandwiches as part of a social tradition at the typical Scandinavian table. When the host raises his glass, guests make eye contact with each other and take a sip. Glasses are returned to the table, not to be lifted again until the host motions to do so—a custom that epitomizes Scandinavian etiquette.
The Best Frikadeller Are Crispy On The Outside And Juicy On The Inside
Typically, frikadeller begin with a mixture of ground beef and ground pork for the best flavor and juiciness. I'm sure that my mom made them using only ground beef at times, but the ground pork adds lots of flavor, juiciness, and tenderness.
There are as many versions of frikadeller as there are cooks, some use oatmeal, and others use flour as a binder, but I used simple dry homemade bread crumbs. My Danish whisk turned out to be the perfect tool for combining the meats and bread crumbs! Ask Kris Kringle to put one in your stocking!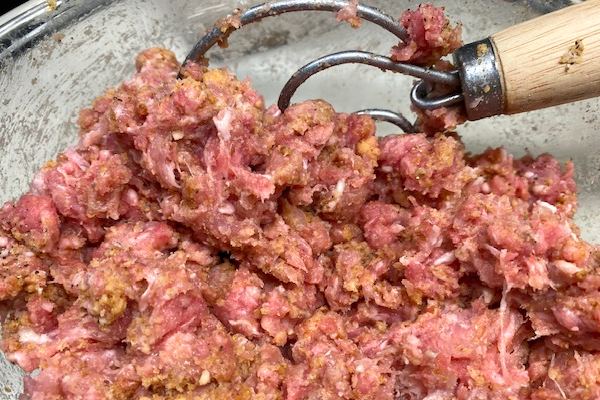 Next, I added onion, eggs, a bit of milk, salt, and pepper and mixed them all thoroughly. It seemed a bit dry, so I added a couple of tablespoons of cream I had on hand. (Many old recipes call for added milk.)
The mixture should be soft enough to handle easily, and it will be a bit sticky, but that's part of achieving the desirable crispy crust. My Danish friend Mary told me her dad always wanted the outside of his frikadeller to be very dark brown and crisp. My dad did, too, but it's a preference developed over time! I stopped at what I thought was a nice brown crust!
Classic frikadeller are oval-shaped and not very big. They are pan-fried in butter on medium-high heat and should be well-browned on all sides. Since frikadeller are fairly small, only about 3 ounces each, they don't take long to cook. They should be done all the way through once they are brown on all sides. Check to be sure, but don't overcook them because you want the inside to be nice and juicy.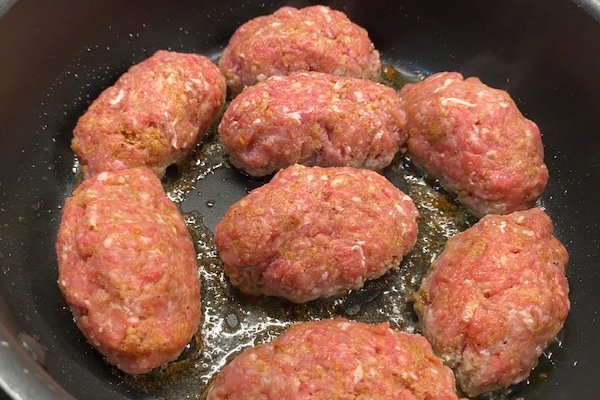 I should have flattened the frikadeller a little more as they cooked if I had been in true Danish form. That also helps to cook the yummy meatballs slightly faster!
I turned them over several times as they fried in the skillet to ensure the outside was all nicely browned on all sides. The smell was wonderful, familiar, and brought back lots of fond memories. In this picture, the meatballs weren't quite brown all over, but they were getting close! Just a few more turns to get all sides!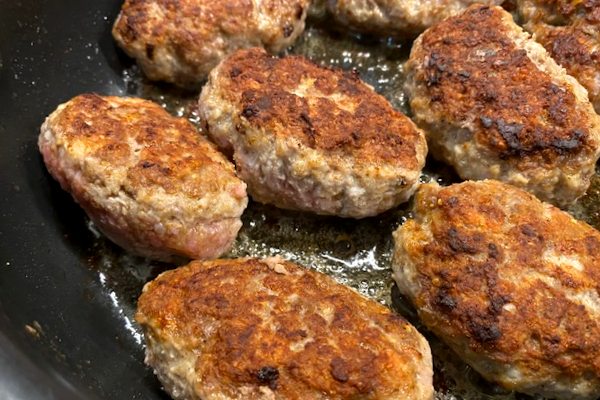 frikadeller
Here Are 2 Easy Sides To Serve With Your Danish Frikadeller
Few things taste as wonderful with frikadeller as boiled new potatoes, and few things are easier to do! These days small "baby" potatoes are available all year round in the grocery store. They have thin, delicate skin, a creamy texture, and a wonderful flavor. There is no need to peel them, and in fact, their color enhances the look of your plate!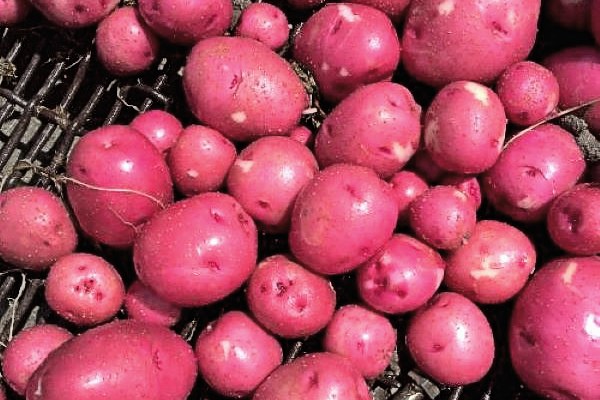 There is no "recipe." A pound of baby potatoes will make about three servings. In a saucepan with a lid, place the baby potatoes with just enough water to cover them. Add some salt. Cover and cook the potatoes on medium-high heat for about 20 minutes or until the tip of a knife or cake tester can easily pierce them. Drain and drizzle them with butter to bring out their color and shine.
Creamed cabbage may have gotten a bad rap at some point in your life, and what you remember was probably cooked to a mush and coated with a bland white sauce. Forget that!
The trick to excellent creamed cabbage is to cut it into coarse shreds and cook it with a small amount of water until it is crisp-tender. Add a little salt to the cooking water. There should be a bit of crunch in the cooked cabbage!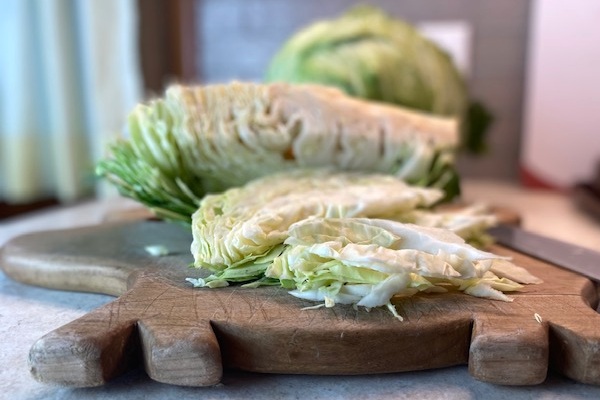 Now, drain the cabbage and put it into the serving bowl. Cover it to keep it warm while you make the cream sauce in the same pan. Melt butter (real butter, please) in the pan and whisk in the flour.
Cook the butter and flour, continually whisking until the mixture is bubbly and you have blended in every bit of flour. Don't hurry this process, and this step is the key to an excellent roux.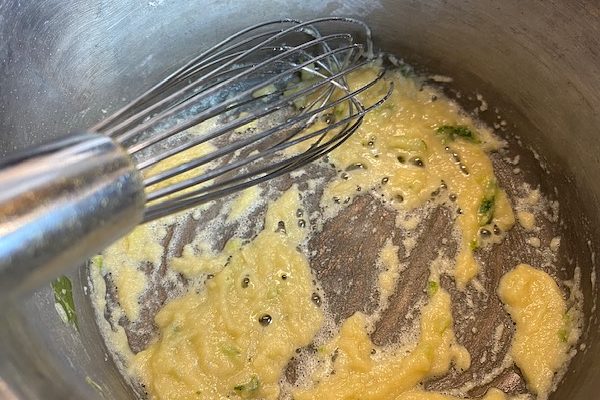 Now add the milk (whole milk, please, or even use some cream), continually whisking until the mixture is as thick as you prefer, but if the sauce gets too thick, thin with a bit of milk or cream. Fold the cooked cabbage into the cream sauce and keep the mixture warm until you serve it.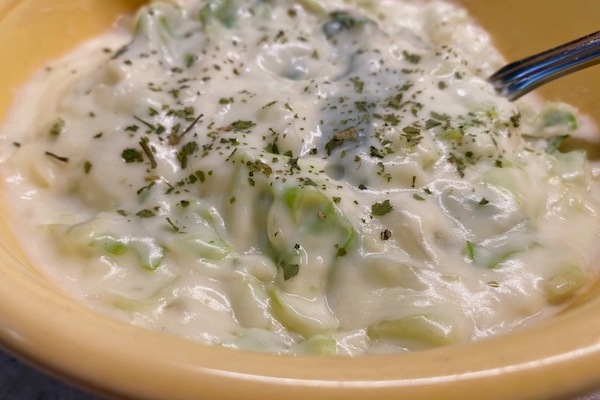 Some cooks add a bit of chicken bouillon to the cream sauce, and others add a dash of nutmeg. I prefer salt and pepper only myself.
Yield: 4 servings
Creamed Cabbage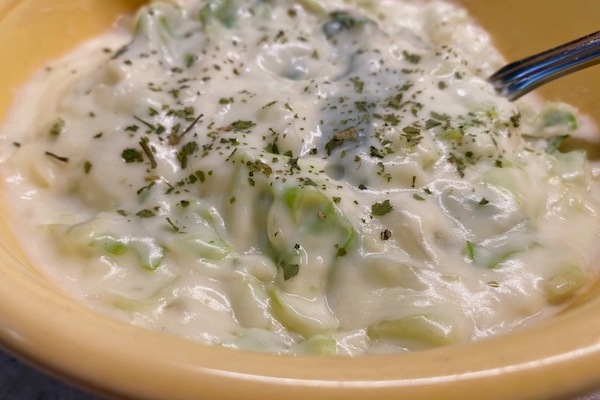 Coarsely shredded cabbage is cooked to crisp-tender then cloaked in a creamy white sauce.
Ingredients
About 1/4 of an average head of cabbage, approximately 3 cups
1 tsp salt
2 Tbsp butter
2 Tbsp flour
1 cup whole milk or light cream
1 tsp paste-type chicken bouillon, optional
Pinch of nutmeg, optional
Salt and pepper to taste
Instructions
Cook the cabbage in a small amount of salted water until crisp-tender.
Drain the cabbage and place it into a serving dish. Keep warm.
Melt butter in the same pot, add flour and whisk until bubbly and all flour is mixed in thoroughly.
Add milk and whisk until cream sauce reaches the desired consistency.
Fold cooked cabbage into the cream sauce, return to the serving dish and keep warm until served.
Danes do love their cabbage! Sweet and sour red cabbage is another popular side dish with frikadeller, and the Danish term for it is Sursøt Rødkål. Red cabbage is loved all over Scandinavia and northern Europe. For the prettiest plate, use baby Yukon Gold potatoes if you choose this option! It is a great combination, too!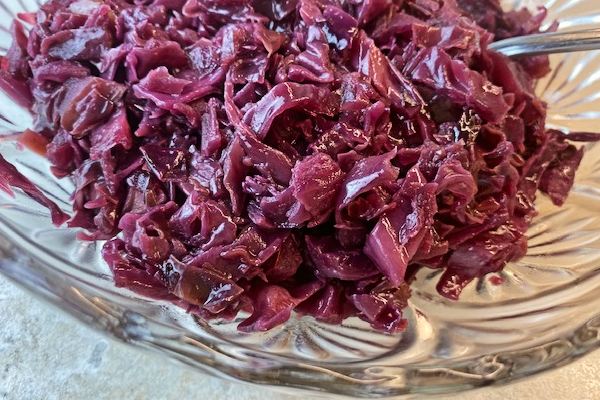 Here is a basic recipe for frikadeller. It's a good place to begin because every Danish kitchen has its particular version.
Yield: 6 servings
Frikadeller Danish Meatballs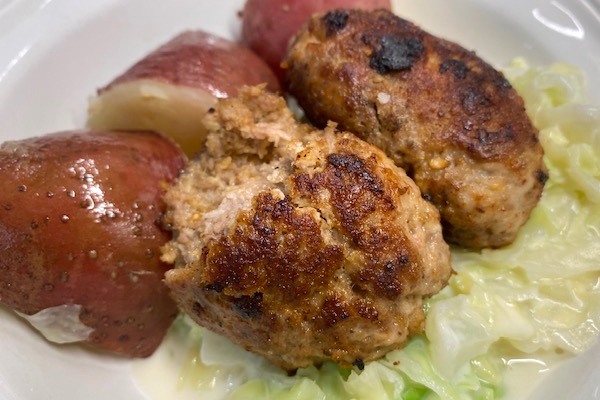 Classic oval meatballs are considered a national dish in Denmark. Serve hot or refrigerate and slice for open-faced sandwiches.
Ingredients
3/4 pound ground beef
3/4 pound ground pork (not sausage)
1 egg
1/2 cup grated onion or 1 Tbsp instant minced onion
3/4 cup plain dry bread crumbs
Scant amount of milk
Salt and pepper to taste
About 3 Tbsp of butter for frying frikadeller
Instructions
Combine all ingredients and mix well.
Add a small amount of milk if the mixture seems dry. The mixture will be a bit sticky.
Form the meat mixture into eight oval meatballs, about 3 ounces each. Flatten slightly.
Fry in butter on medium to medium-high heat, turning as needed until all sides are nicely browned. Add butter if needed.
Since the meatballs are small, they should be fully cooked once they are brown on all sides. Check to be sure but do not overcook. The meatballs should be crisp on the outside and juicy on the outside.
Nutrition Information:
Yield:
6
Serving Size:
1
Amount Per Serving:
Calories:

480
Total Fat:

31g
Saturated Fat:

13g
Trans Fat:

1g
Unsaturated Fat:

14g
Cholesterol:

157mg
Sodium:

335mg
Carbohydrates:

14g
Fiber:

1g
Sugar:

4g
Protein:

35g
Some folks like more onion, some prefer less onion, and every Dane likes his cherished meatballs browned a certain way. We hope you make them soon and make them often until you find how you love them best.
Do you have a little bit of Danish in your heritage? Are there Dansk dishes you grew up with that you still love? If you make a panful of frikadeller, we'd love it if you'd snap a picture and send it to us!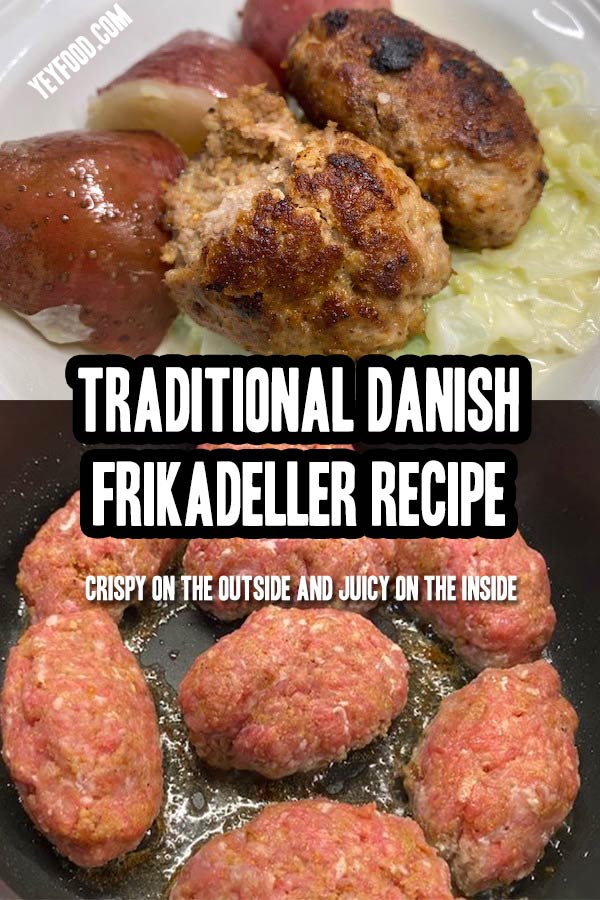 More recipes from us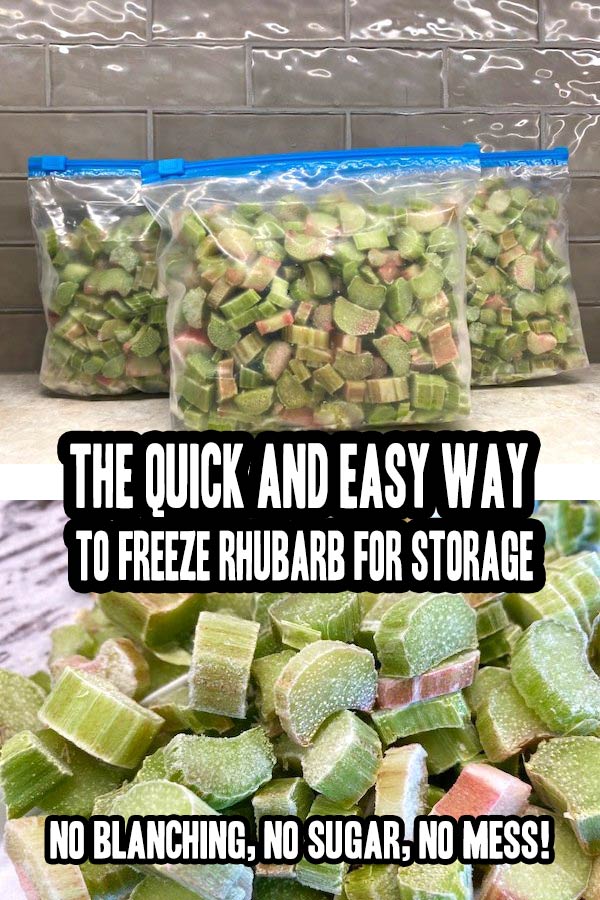 S'mores Bars How To Make Them Super Fast and Super Good
How To Make The White BBQ Sauce That's Fascinated Us Since 1925
German Sauerkraut Casserole With Bacon And Brown Sugar
If you like these recipes, you are our people! You can check some related articles below or search via categories on the right. But, be warned; you will be on here for hours. Enjoy!
So, please share this recipe on your social media accounts like Facebook, Instagram, Twitter, and Pinterest. We would be honored and ever so grateful; thank you!