Quick And Cozy Corn Chowder Recipe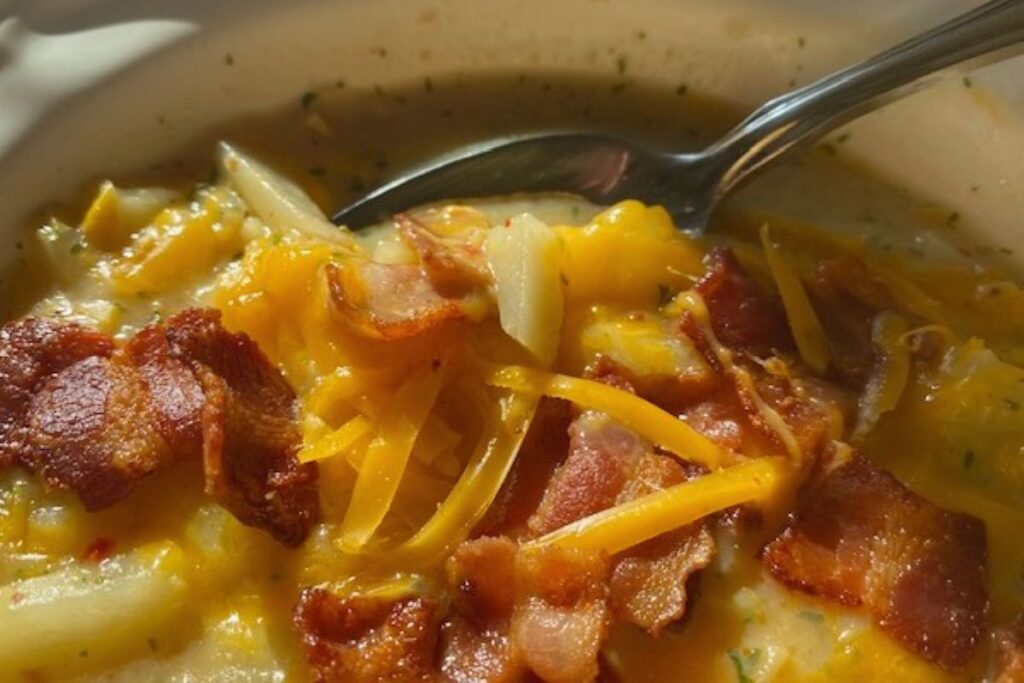 Mom's homemade corn chowder was a treat for me when I was a child. I'm sure our mom made it when the grocery budget got skinny, but we sure didn't know that, and we loved it.
When I walked into the house and smelled bacon and onions in the skillet, I knew what would be on the supper table. Mom always managed to have a fresh-baked loaf of her dense old-world-style homemade bread to go with it. Sometimes it was still warm from the oven! Pure bliss!
As summer gives way to fall, we change our eating habits a bit. Most of us look forward to "soup season." Corn chowder might be the best dish to welcome autumn to the dinner table. It goes together quickly and is inexpensive to make.
When is It Soup When Is It Stew When Is It Chowder
In general, soup is thinner than stew. Furthermore, a stew is usually cooked longer at a lower heat and with less liquid than soup. It gets its name from the cooking method used, and stewing helps to tenderize tougher cuts of meat.
Chowders are thicker than soups and usually have a milk or cream base. The exception that always comes up is Manhattan-style clam chowder, the red one! The ingredients in chowder are chunky and hearty. The thickness in chowders usually begins with some form of a roux, but in this case, it's the potatoes that give this chowder its glorious rich body.
Corn chowder recipes started showing up in American cookbooks about twenty years after the Civil War ended, and many versions are out there. I think this small-batch recipe has outstanding flavor but feel free to make it your own! (as in, add celery, more bacon, and some red pepper flakes.)
Corn Chowder Begins With Crispy Bacon And Fragrant Onions
When I was a kid, my favorite part of corn chowder was the little bits of crispy bacon. Who am I kidding? It still is! That's how this cozy chowder begins. Cut bacon into small pieces, fry until it's crispy, and reserve the drippings.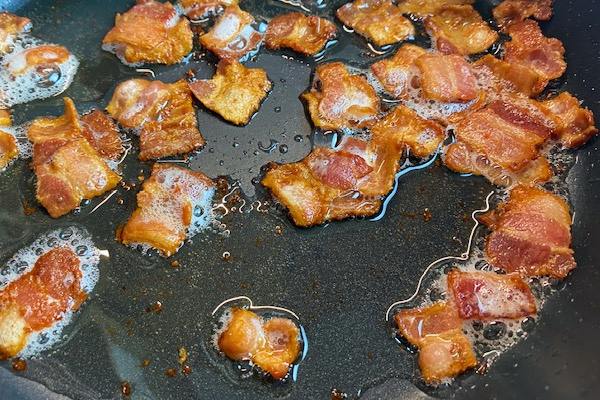 It's nearly impossible to resist snitching those tasty bits!!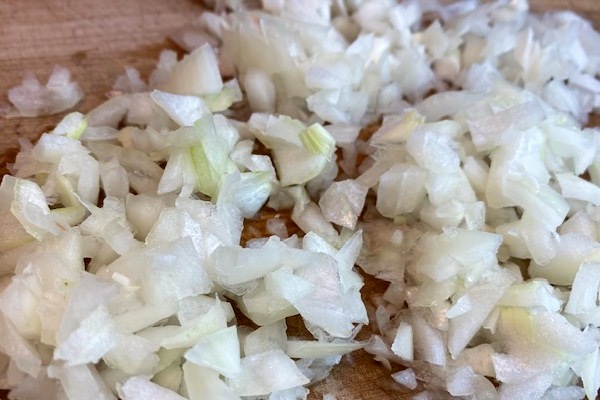 Chop the onion and saute them in the drippings until they get soft and transparent.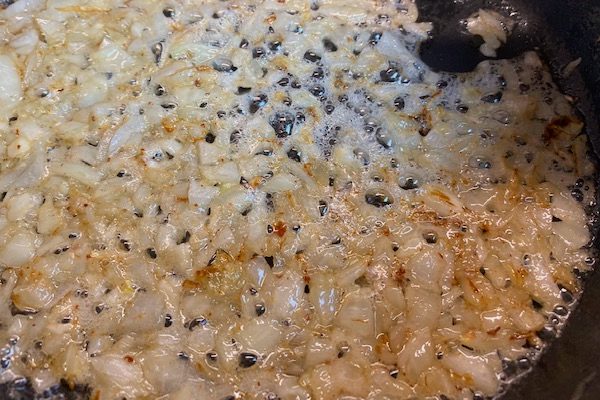 Next, peel and chop some russet potatoes into smallish cubes and saute them for a bit with the onions. Russet potatoes are the best because of their high starch content; they help thicken the chowder and cook into tender, tasty bites.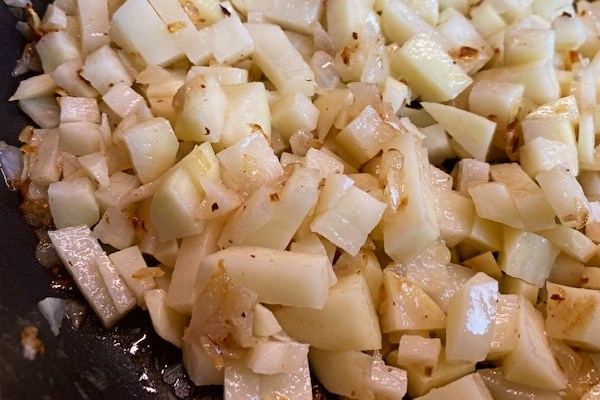 Add some seasoned pepper and parsley. Then pour in about a cup of chicken broth and cover the skillet tightly. Cook on medium-low heat until the potatoes are very tender.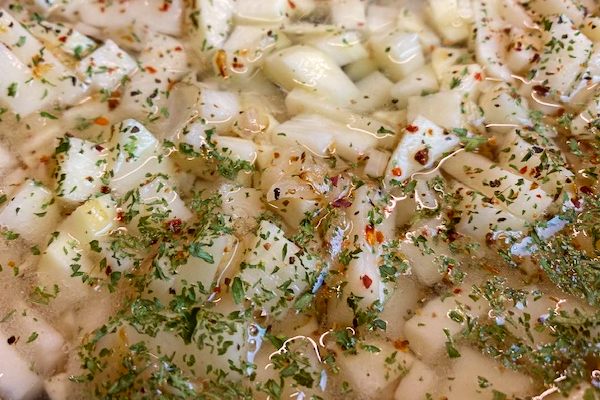 Finally, add a can of cream-style corn and just enough whole milk or light cream to make it the consistency you like. Simmer until everything is evenly heated. You want this chowder to be nice and thick.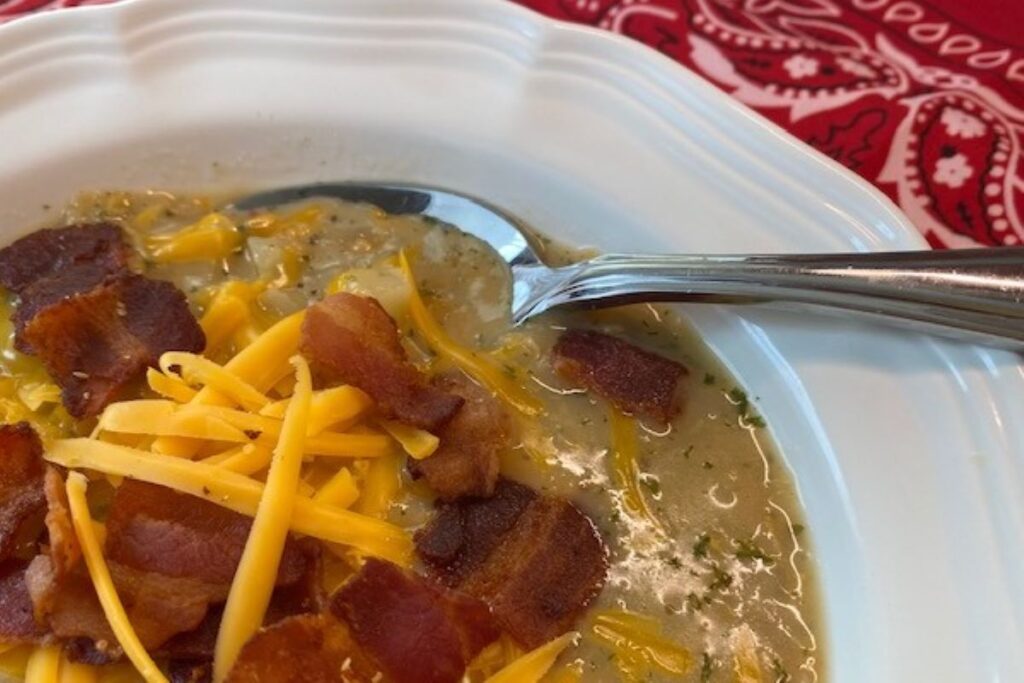 Spoon it into a bowl and garnish with grated sharp cheddar cheese and the crispy bits of bacon you have set aside. Some chopped green onion on top is very good, too!! Add salt and pepper to taste and enjoy!
This chowder is awesome served with a tender wedge of skillet cornbread or a slice of crispy, chewy Dutch Oven bread you bake yourself!! Both recipes are so easy to make!
Yield: 4 servings
Comforting Corn Chowder With Russet Potatoes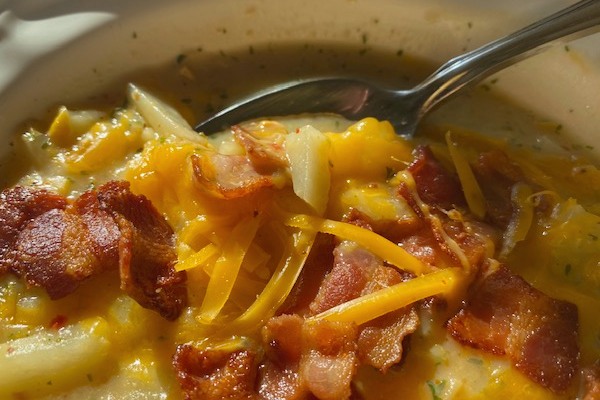 Tender russet potatoes and cream-style corn in a savory broth with bacon, onion, chicken broth, and milk.
Ingredients
Six strips of high-quality bacon, cut in 1" pieces.
1/2 medium onion, chopped fine.
3 medium russet potatoes, peeled and chopped.
1 cup water
2 heaping teaspoons paste-type chicken bouillon. I use Better Than Bouillon.
1 15-ounce can cream-style corn.
About 1 1/2 cups of whole milk or light cream.
1 tsp seasoned pepper. I use Lawry's brand.
1 Tbsp dried parsley.
Grated sharp cheddar cheese for garnish, optional.
Chopped green onion for garnish, optional
Instructions
In a non-stick skillet with a tight-fitting lid, fry bacon pieces uncovered until crisp. Set the bacon aside on paper towels, retain the drippings.
Saute chopped onion in the bacon drippings until it's tender and transparent.
Add the chopped potatoes to the onion and saute lightly.
Combine bouillon paste with water and pour over the potatoes.
Cover tightly with the lid and cook until the potatoes are very tender.
Pour the cream-style corn into the pan with potatoes and add just enough milk or cream to make a thick broth. Heat through.
Spoon into a bowl and garnish with reserved bacon and grated sharp cheddar cheese and chopped green onions, if desired.
What did your mom cook for you when you were little? Did she ever make corn chowder for you? Is there anything that sparks an especially happy memory? Food is a love language of its own, and it sure is one of mine! How about you?
Hey, if you make this corn chowder, how about snapping a picture of it (and you!) We'd sure get a kick out of it!!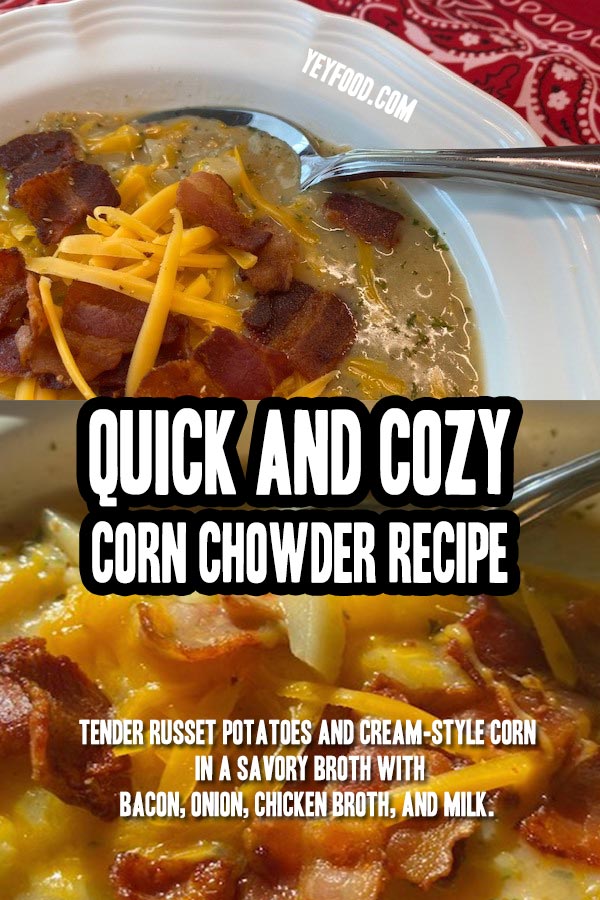 MORE RECIPES FROM US
S'mores Bars How To Make Them Super Fast and Super Good
How To Make The White BBQ Sauce That's Fascinated Us Since 1925
German Sauerkraut Casserole With Bacon And Brown Sugar
Best Old-Fashioned Coconut Cream Pie
If you like these recipes, you are our people! You can check some related articles below or search via categories on the right. But, be warned; you will be on here for hours. Enjoy!
So, please share this recipe on your social media accounts like Facebook, Instagram, Twitter, and Pinterest. We would be honored and ever so grateful; thank you!