Fasolakia Recipe For Greek-Inspired Green Beans in Olive Oil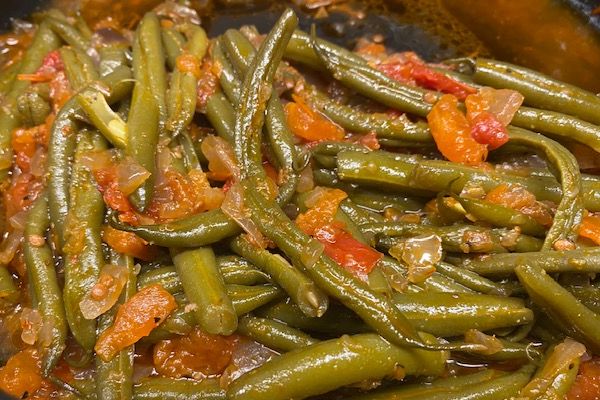 Green beans are a vegetable commonly used in Greek recipes. This delightful dish is perfect right now when green beans are a little more mature and a bit thicker. I'm so grateful to my foodie brother Stan for sharing this recipe with me!
Unlike the slender bright green crisp-tender green beans of early summer, these are succulent, velvety, tender but not mushy, and loaded with flavor! It's an entirely different flavor profile and incredibly delicious! Garden tomatoes and onions are abundant, and slow cooking seems to fit the season.
The Greek name for this dish is Fasolakia Ladera. The literal translation is "green beans bathed in oil." The beans are braised slowly with tomatoes and onion in heart-healthy olive oil.
Quite often, olive oil is the only fat used in the largely plant-based Mediterranean diet. There are many health benefits of a Mediterranean-style diet. It's a smart choice for many well-documented reasons.
In Greece, Fasolakia becomes a vegan main dish with the addition of potatoes. I had some tiny new Yukon Gold potatoes, so I included them in this batch of Greek green beans. Yummy!
Let's Put Together A Tasty Batch Of Fasolakia With Just Eight Ingredients
This dish needs to cook slowly over a fairly long time, so a heavy pot like Le Creuset works great. I used my RockCrok Dutch Oven from Pampered Chef this time, and it worked beautifully. Any heavy pot will work.
The mixture needs to come to a boil first. Once it has come to a boil, reduce the heat and continue cooking it slowly to the degree of tender perfection you want. Like Goldilocks, you want it to be "just right!"
Begin with fresh green beans. Leave them whole but remove the stem end.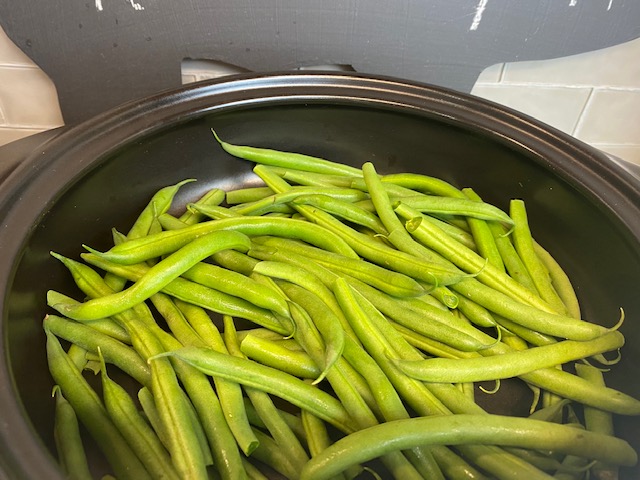 Add chopped tomatoes. I always look for ways to add color, so I used both red and yellow tomatoes.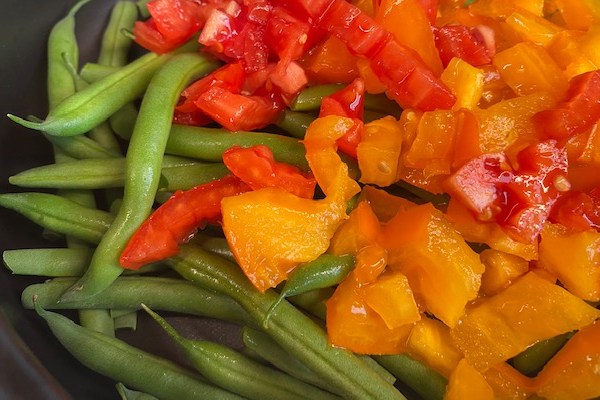 Then add chopped onions. Again, in my quest for color, I chose both red onion and some sweet yellow onion to go in the pot with the beans.
Finally, I poured in a little water, some extra-virgin olive oil, and lemon juice. I seasoned it to taste with some kosher salt and seasoned pepper, for starters.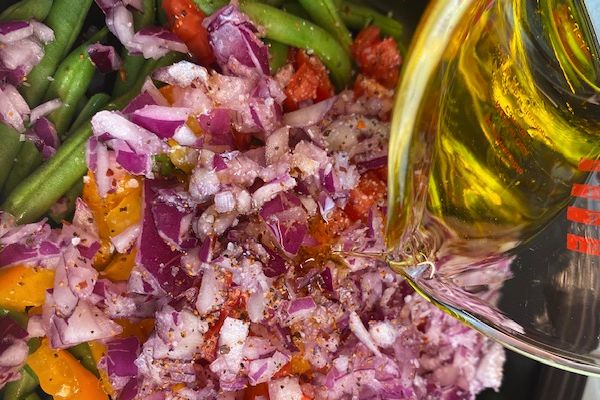 This time, I added some shooter marble-size new Yukon Gold potatoes to give the dish a different twist. I added the teeny little spuds right at the start of cooking.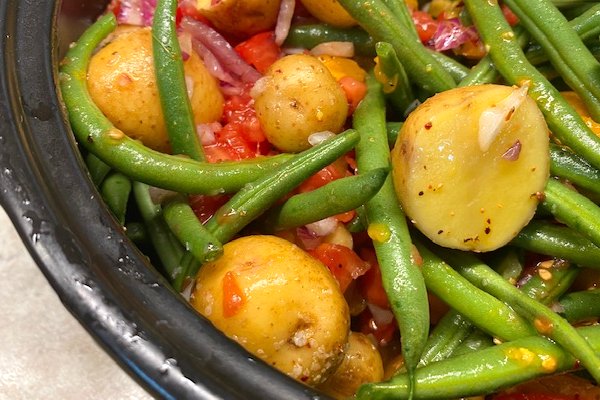 Once the mixture came to a boil, I turned the heat way down, put a lid on it, and took a little nap! Over the next hour, I stirred the pot a few times and watched hungrily while the most amazing tomato broth formed. The dish is done when the beans and potatoes are tender.
That's when I wished I had made a loaf of rustic bread to soak up all that goodness! Next time, you can be sure I will because it is ridiculously easy to make bread this way!
Other Things You Can Add To Make Them The Perfect Beans For You
I asked my brother if he ever added any garlic, basil, or oregano often found in Greek dishes, and his answer was, "No, simple is often best."
He's right, of course. I did cruise around online and checked out several other recipes for Fasolakia. Some of them do include garlic, basil, oregano, and even mint. Other recipes included red pepper flakes.
You might begin with this simple recipe and experiment; after all, they are your beans! I'm confident you will find the perfect blend of flavors for you! You may like to sprinkle on a little more lemon juice, olive oil, or Greek seasoning to taste! Enjoy! This dish can be served hot or at room temperature.
I did like one suggestion I found. "Crumble on some salty feta cheese and serve with a nice chunk of bread for a lovely main dish." Sounds good to me! I'm going to try it next time because "everything's betta with feta," right?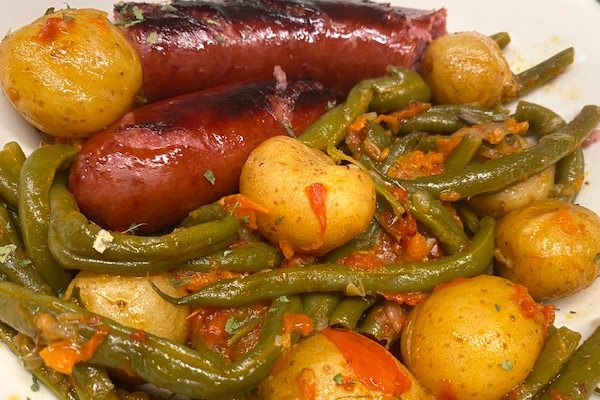 We live in Nebraska, on the other side of the world from Greece, and meat is part of our diet although we don't eat large quantities. I served a small amount of sausage with our beans last night, and it tasted great! I cut the remaining sausage into thin slices and added it to the leftovers, which we will enjoy for lunch today!
Yield: 4 servings
Fasolakia - Greek Green Beans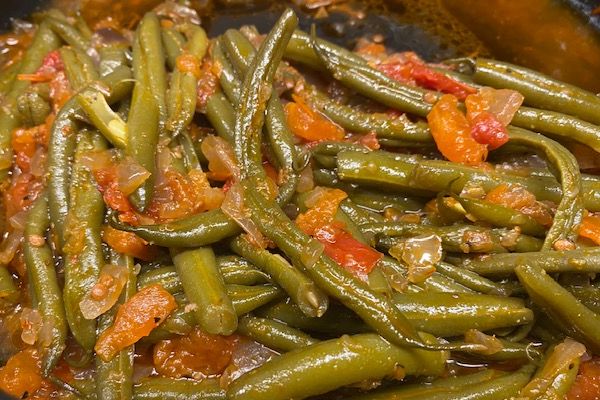 Tender, velvety, Greek-inspired succulent green beans slowly braised in tomatoes, onions, and olive oil. Serve as a side dish or add potatoes for a vegan main dish.
Total Time
1 hour
15 minutes
Ingredients
One pound fresh green beans washed and stem ends removed.
1 to 2 cups of diced tomatoes
1 cup chopped onion
1/4 cup extra-virgin olive oil
1/2 cup water
Freshly squeezed lemon juice to taste, about 2 Tablespoons
Kosher salt and fresh ground or seasoned pepper to taste
Instructions
Combine all the ingredients in a heavy pot.
Bring mixture to a boil and reduce heat to medium-low.
Cook for about one hour, check and stir every 15 minutes.
This dish is done when the beans are tender.
Serve hot or at room temperature.
Sprinkle with additional olive oil and lemon juice to taste.
Serve with feta cheese and rustic bread if desired.
The full name for this dish is Fasolakia Lathera. Lathera translates to "the ones with oil" or "bathed in oil." While green beans are a vegetable commonly cooked this way, you can also cook zucchini, cauliflower, peppers, mushrooms, beets, and carrots in this manner with delicious results.
We hope this inspires you to experiment and try some new combinations! Please send us a picture! We'd love to hear what you're up to in your kitchen!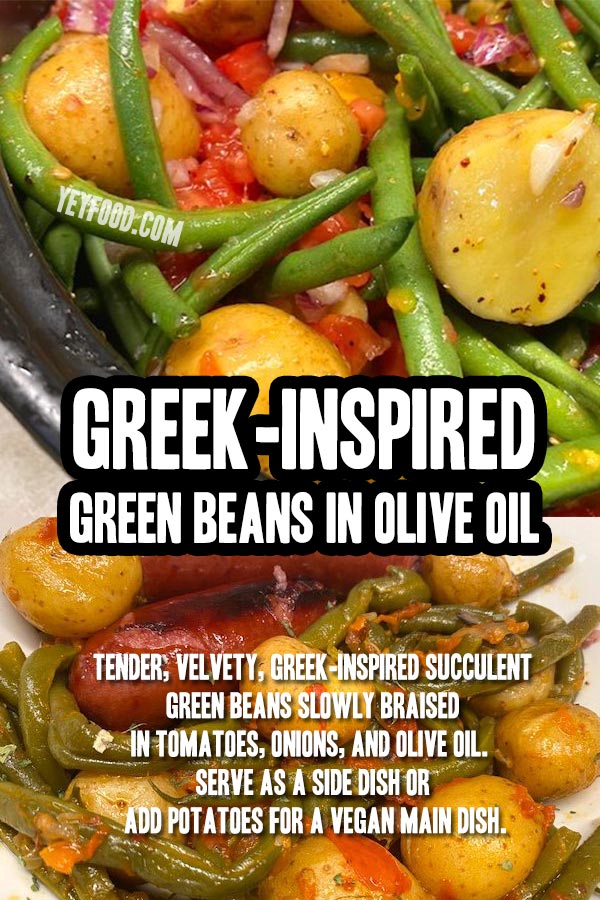 More recipes from us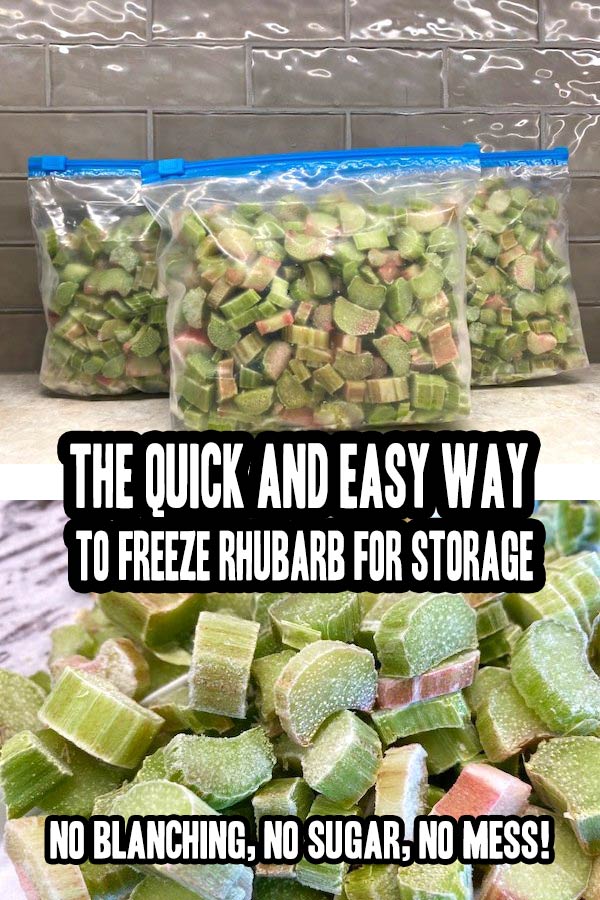 S'mores Bars How To Make Them Super Fast and Super Good
How To Make The White BBQ Sauce That's Fascinated Us Since 1925
German Sauerkraut Casserole With Bacon And Brown Sugar
If you like these recipes, you are our people! You can check some related articles below or search via categories on the right. But, be warned; you will be on here for hours. Enjoy!
So, please share this recipe on your social media accounts like Facebook, Instagram, Twitter, and Pinterest. We would be honored and ever so grateful; thank you!