How To Freeze Rhubarb For Storage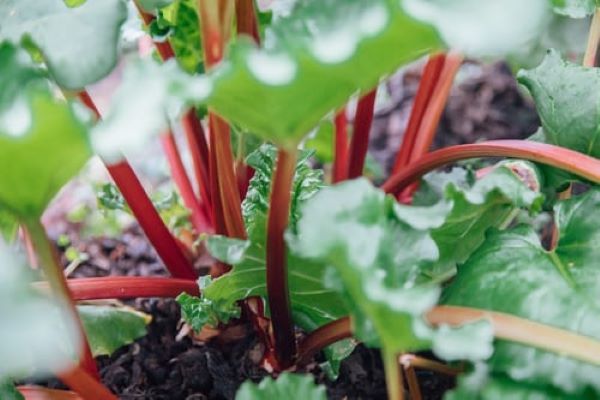 Rhubarb is an all-or-nothing crop. It is one of the first things to push up out of the ground in the spring. For a while, it grows like mad, and it seems there will be no end in sight! During this stage, it is important to remove any seed heads promptly so the plant will direct its energy to produce new stalks and leaves.
Rhubarb recipes pop up all over every spring, and the tall stalks are used for everything from martinis, to ice cream, to crisps, cobblers, and puddings. Rhubarb can range in color from green to pink to red. The color is no indication of ripeness or sweetness like it is with other fruits. The stalks are the only edible part of the plant; in fact, the leaves are extremely poisonous due to high levels of oxalic acid. Never eat them.
Sometimes Rhubarb Has A Second Season
The heat of summer slows down the growth of rhubarb, and it can look very droopy. Cooler weather brings on a second season with abundant new growth. My old plants have perked up a lot. They look vigorous and healthy again since the weather has cooled off.
Rhubarb is an extremely hardy perennial plant that can live for 50 years or more. When plants get too old, and the roots get crowded, they need to be divided and replanted to maintain good production. One of my rhubarb plants is from a clump that first grew over one hundred years ago on a farm in South Central Nebraska. In the spring, I will divide the clumps and enlarge my rhubarb patch.
But today, I pulled some rhubarb for the freezer. You will be shocked just how easy it is to do! I left plenty of healthy stalks to grow and feed the plant's roots until a killing frost occurs. The batch I froze today will make keep my grandson supplied with his favorite strawberry rhubarb jam for his PBJs. The same jam makes coveted Christmas gifts for friends!
The One Thing You Need To Freeze Rhubarb Is Rhubarb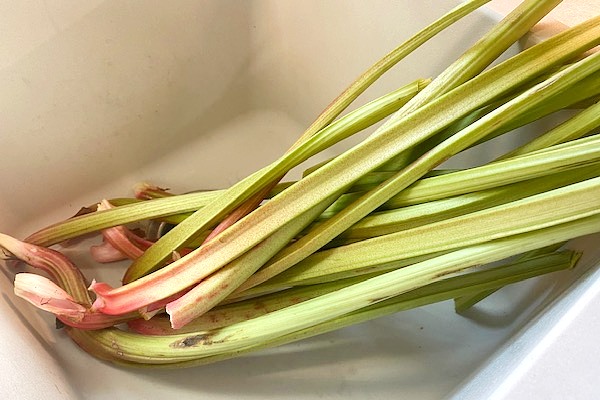 Rhubarb is the only ingredient you need! You will also need a cutting board, a sharp knife, some rimmed baking pans, and a place to freeze flat in a single layer. I do like to line the baking pans with parchment paper, but it isn't necessary.
Once frozen solid, you will scoop it into freezer bags for storage. In the food business, this method of freezing is sometimes called IQF or individually quick frozen. Instead of a lump of rhubarb, you end up with manageable chopped rhubarb you can use just like fresh!
No blanching, no sugar, no mess!
Discard the leaves, then wash the rhubarb in plain cold water and trim off any raggedy ends. Lay the rhubarb on a towel to dry, or you can dry it with clean dish towels. The dry rhubarb will freeze better without sticking together.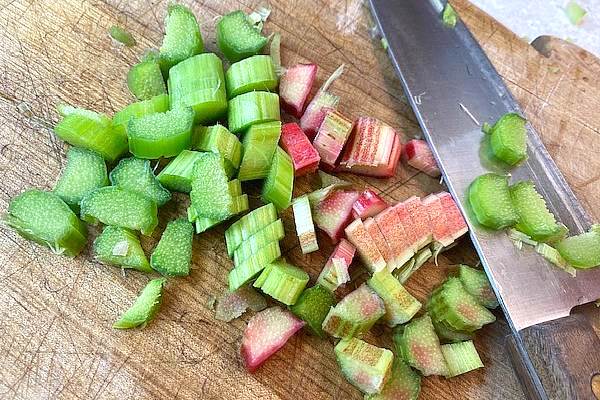 A sharp chef's knife is perfect for this step. Cut the rhubarb into pieces about 1/2″ long. Then spread it in a single layer on rimmed baking pans you have covered with parchment paper and freeze flat until completely solid. This process can take a few hours, and it's fine to leave it uncovered in the freezer overnight.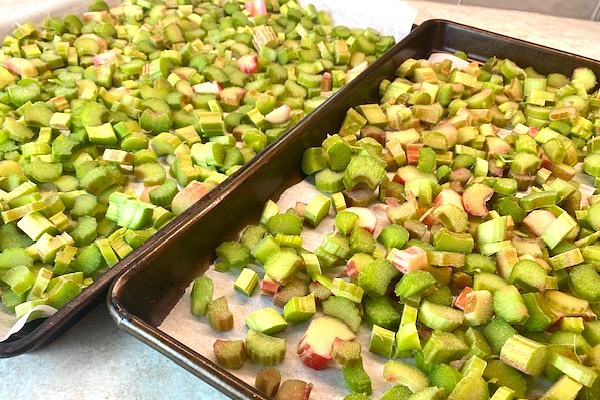 All that's left to do is scoop the rhubarb into freezer bags. Lay the bag flat and squeeze as much air you can. Label and date each bag. I did not bother to measure what I put in each bag. Look at that fresh color and texture!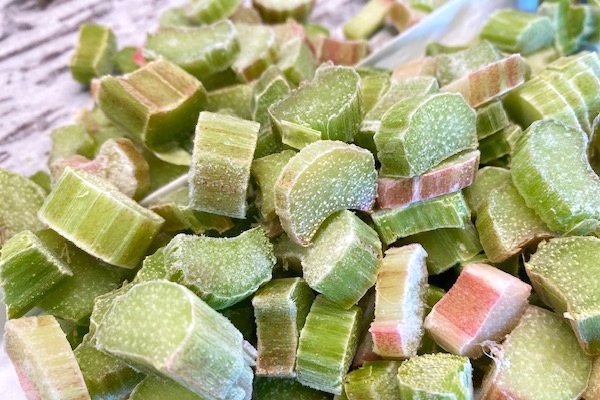 It's very easy to pour from the bag into a measuring cup when I am ready to use it! Once frozen, the packs can stand in the freezer like slices of bread.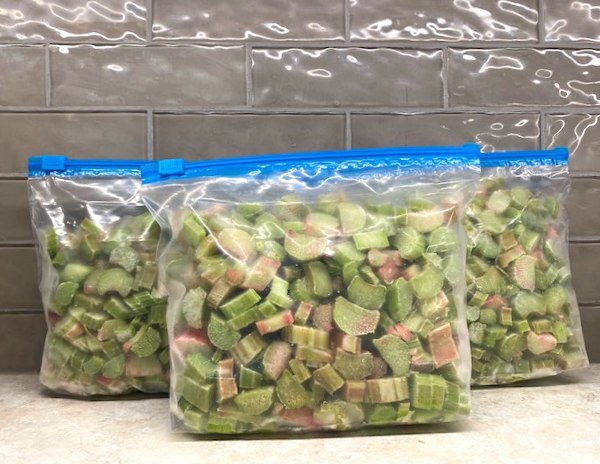 Yield: any amount
How To Freeze Rhubarb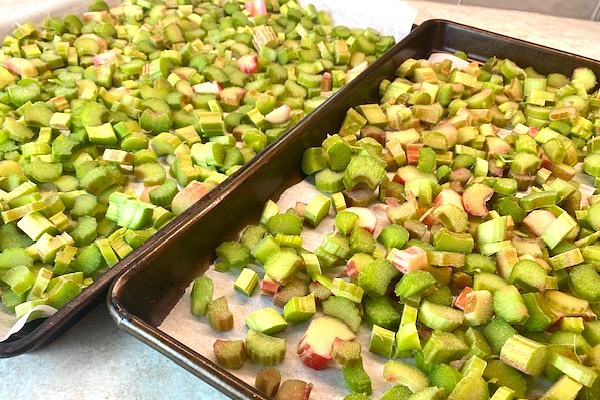 A quick and simple method for freezing rhubarb for storage. No mess, not sugar, no blanching.
Total Time
8 hours
20 minutes
Instructions
Wash the rhubarb in cold water and dry it, or let it sit on a towel to dry. This helps to prevent freezer burn.
Trim off any damaged or brown areas.
If rhubarb is very stringy, you can use a vegetable peeler to remove excess, but it is not necessary.
Cut rhubarb into pieces about 1/2 inch long.
Lay in a single layer on rimmed baking sheets you have covered with parchment paper.
Freeze flat for 8 hours or overnight.
Scoop into freezer bags, squeeze out as much air as to can.
Store in deep freeze for 6 to 8 months.
Notes
Freezing flat in a single layer keeps the pieces separated so you can scoop out any amount you need.
You can use rhubarb straight from frozen to make jam, rhubarb sauce, or rhubarb pudding. Most recipes for cakes, pies, or bread made with frozen rhubarb suggest that the rhubarb should be defrosted in a strainer or sieve to allow the excess juice to drain off.
Allow the rhubarb to defrost without stirring or mashing to keep the lovely texture and little jammy pockets that form in the baked goods. You can even let it defrost overnight in the fridge or on the counter. You may need to defrost a bit more than the recipe calls for because it does shrink a bit, but most recipes do not require precision in the amount of rhubarb used. Whew, lucky me! Precision has never been my gift!
What is your favorite way to eat rhubarb? Here are some of our favorite rhubarb recipes. (If you love rhubarb as much as we do, and you don't have your own rhubarb to freeze, look for unsweetened frozen rhubarb in the freezer section of your favorite grocery store and give any one of these recipes are spin! They are all winners!)
Delightfully Sweet And Tangy Rhubarb Crumble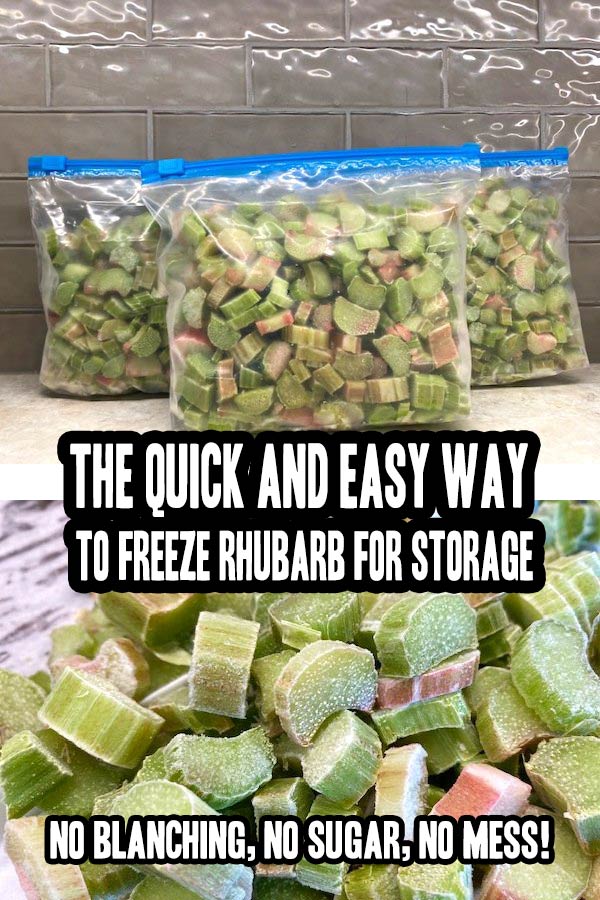 More recipes from us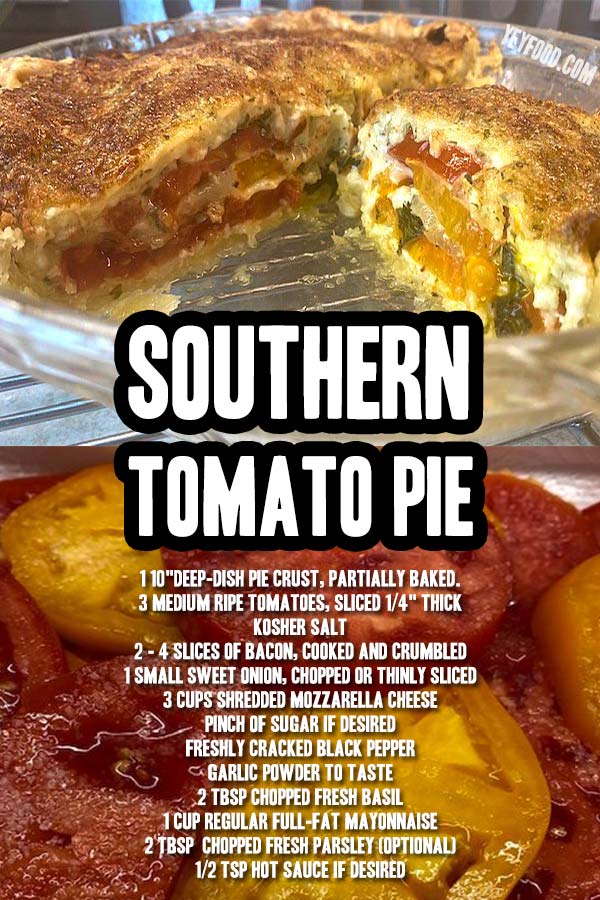 S'mores Bars How To Make Them Super Fast and Super Good
How To Make The White BBQ Sauce That's Fascinated Us Since 1925
German Sauerkraut Casserole With Bacon And Brown Sugar
If you like these recipes, you are our people! You can check some related articles below or search via categories on the right. But, be warned; you will be on here for hours. Enjoy!
So, please share this recipe on your social media accounts like Facebook, Instagram, Twitter, and Pinterest. We would be honored and ever so grateful; thank you!