Magic Rhubarb Pudding Cake Recipe
It's rhubarb time! All across the country, rhubarb beds are at their peak of production. Here in Nebraska, it appears to be a bumper crop! It's a beautiful thing because adding a few pantry ingredients can turn the tart stalks into fabulous loaves of bread and yummy desserts!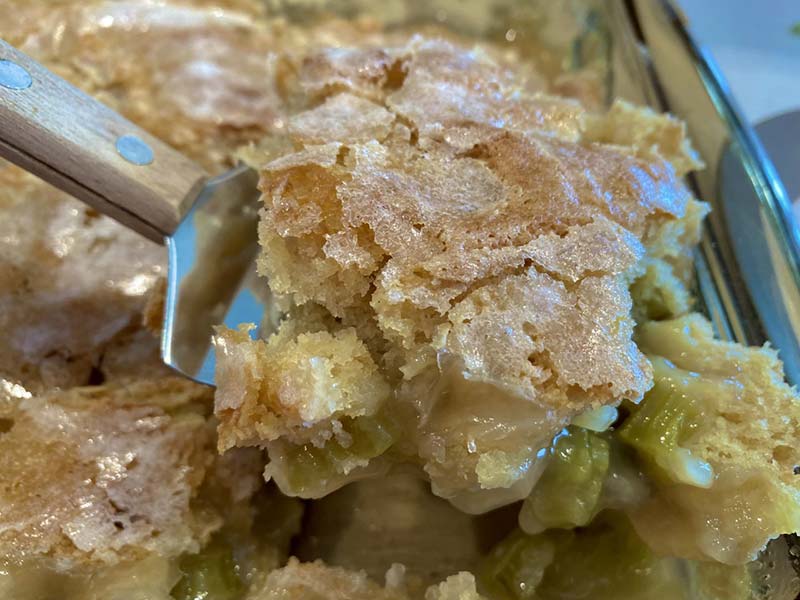 This recipe is an oldie but a goodie! It's inexpensive and so easy to make. There's a unique trick you do when you make it! It's like magic!
Who could ever guess that pouring boiling water all over it before it's baked could create such a fabulous pudding-like sauce on the bottom? Not only that, but it also makes the most amazingly crisp, sugary crust happen on the top!
Rhubarb And Its Uses Have Been Fascinating Us For Centuries
We can trace rhubarb back to China, in the frigid climates of Mongolia, the Himalayas, and Siberia. The roots of this hardy plant could survive the most solidly frozen ground. Ancient records demonstrate the medicinal use of the plant's roots. In fact, centuries before Jesus was born, Asia was exporting rhubarb root.
Rhubarb is technically a vegetable, but legally, it's considered a fruit. In 1947, a New York court declared rhubarb a fruit. That's because it is most often cooked as fruit and becomes dessert. However, some say the ruling also provided a way for businesses to save money on taxes. (Whichever it is, it's still delicious!)
Early settlers called rhubarb "pie plant." It's a great name for it! The tart flavor bakes beautifully into pies, crumbles, bread, and cakes. But, it can also add a tangy flavor to savory dishes.
Rhubarb is considered a "superfood" because of its ratio of health benefits to calories. It contains only seven calories per 100 grams. Well-informed dieters are aware it actually can speed up the metabolism. Furthermore, rhubarb has high levels of calcium, making it a fat-free alternative to dairy products. It can also help to lower cholesterol.
Five Good Things To Know About Rhubarb
Rhubarb is sold at farmers' markets and grocery stores by the pound or by the stalk, like celery. Frozen rhubarb is available year-round in most grocery stores.
It's harvested in the spring, with a brief season that spans only from April to June. Good news, though. Rhubarb is easy to freeze and does not require blanching.
Rhubarb is an extremely hardy perennial plant that can live for 50 years or more. As a result, rhubarb beds often thrive even on abandoned farm property. However, when the plants get too old and the roots get crowded, they need to be divided and replanted to maintain good production.
The tart stalks are famous for their bright pink color, but they can also be light pink and even pale green. Interestingly, color is no indication of ripeness or sweetness like it is with other fruits.
The stalks are the only edible part of the plant; in fact, the leaves are extremely poisonous due to high levels of oxalic acid. Never eat them.
Here's How To Make Magic Rhubarb Pudding Cake Right In Your Own Kitchen
This delicious cake is a vegetarian delight! Make it with a milk alternative and it becomes a vegan's dream dessert!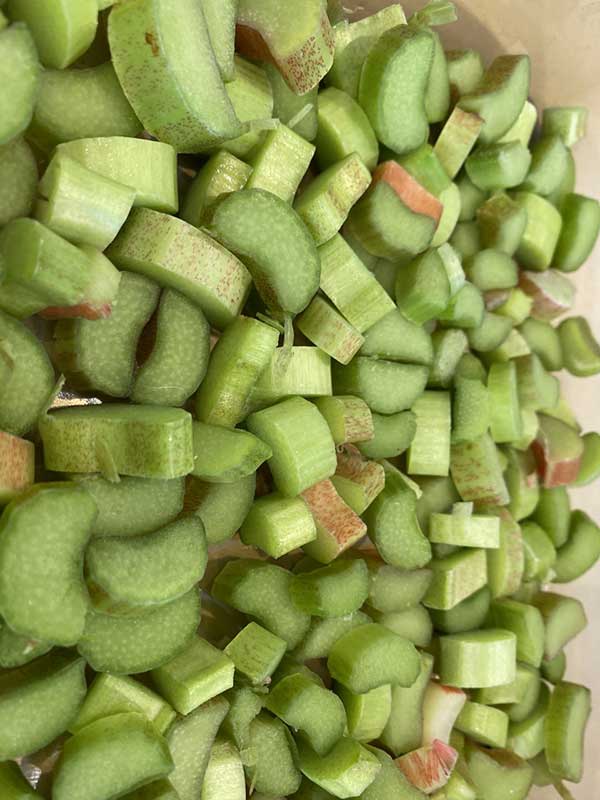 Start by chopping two cups of raw rhubarb. Put it in a greased eight or nine inch square baking pan.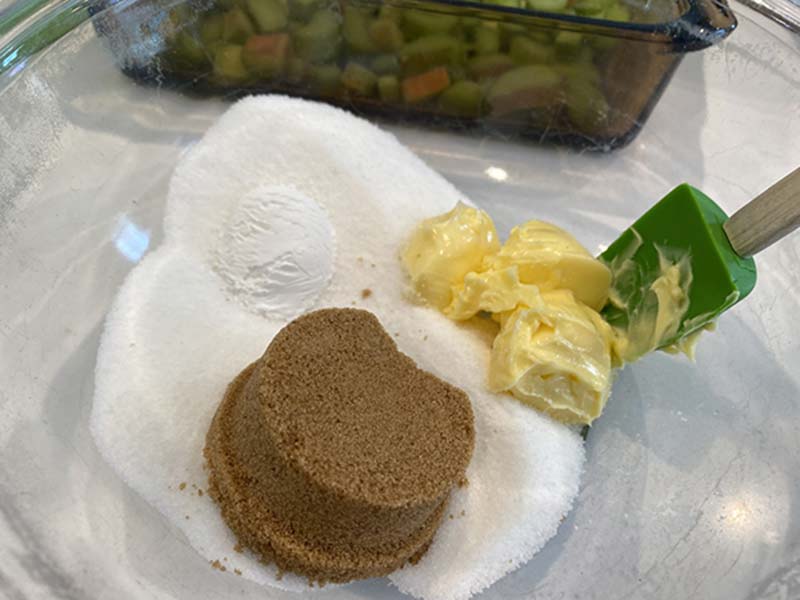 Stir up a simple batter to pour over the top.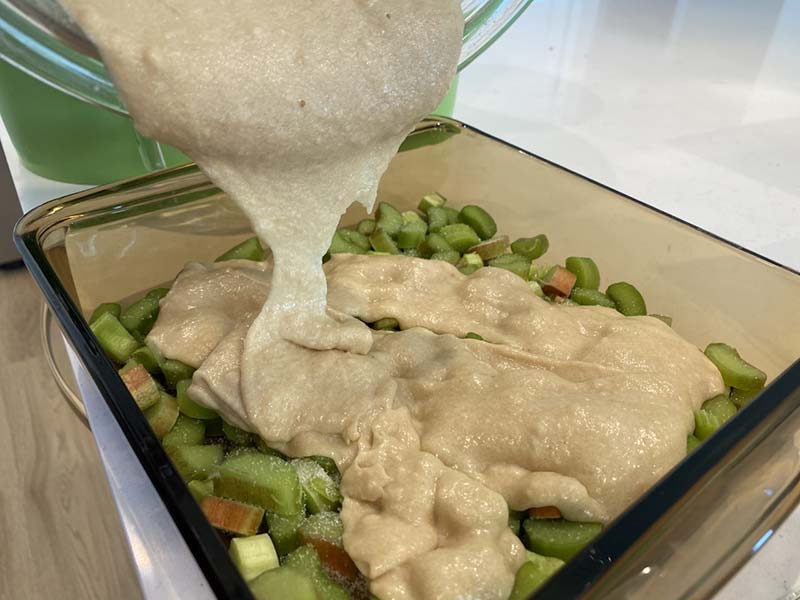 If it's too thick, you can thin it with a little more milk. Make sure you spread the batter clear to the edges of the pan.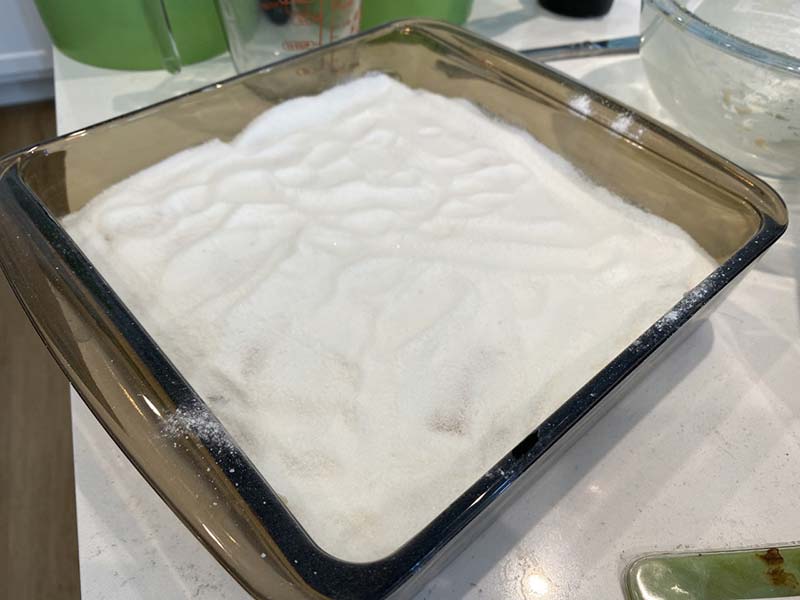 Now sprinkle it with a mixture of cornstarch and sugar.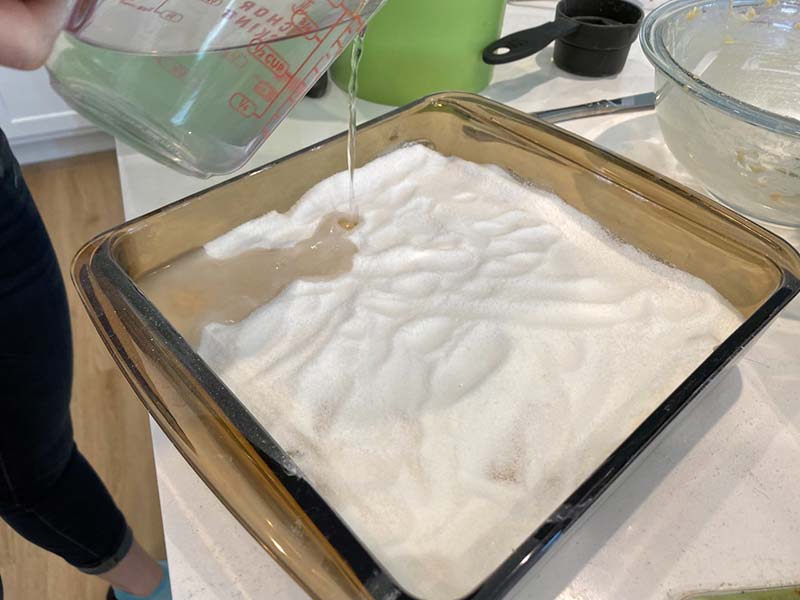 Here's the magic part. Carefully pour boiling water over everything. It may seem scary, but it will amaze you!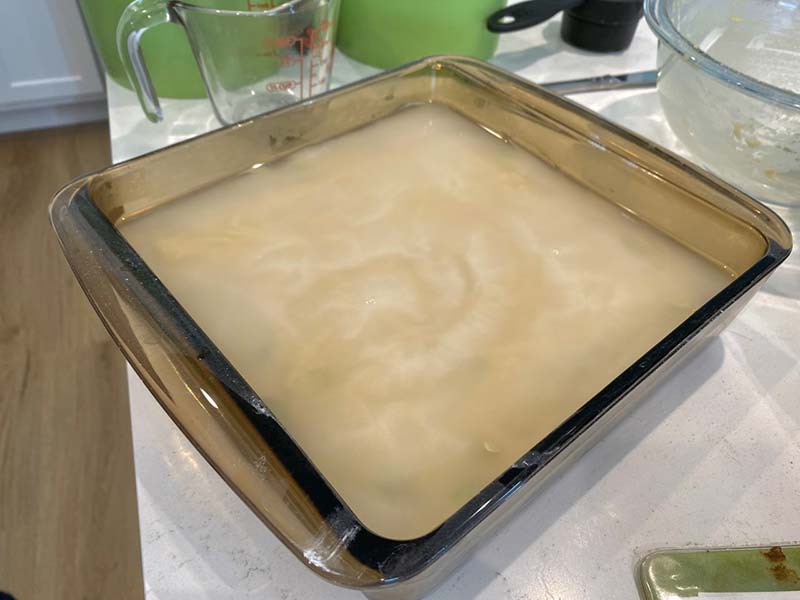 Looks like a soggy mess, doesn't it? Never fear, you won't be disappointed!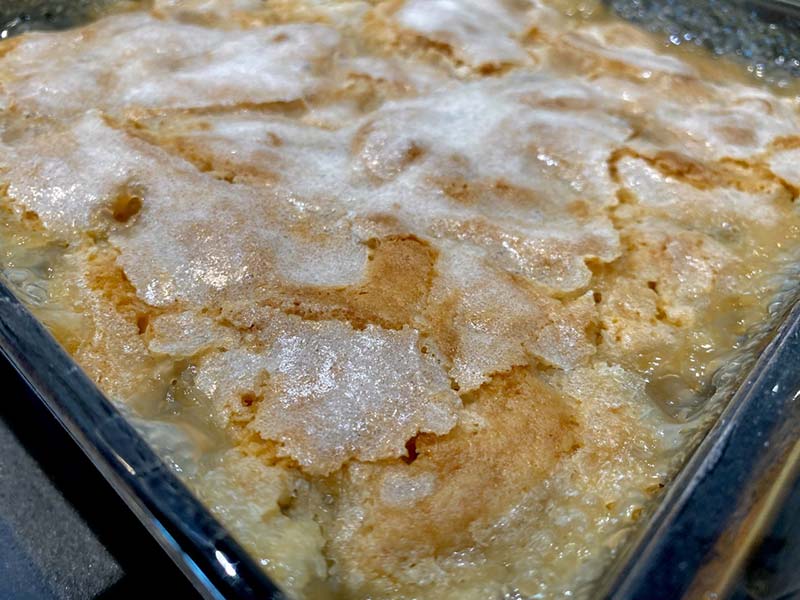 Just look at that gorgeous, crispy, sugary golden crust!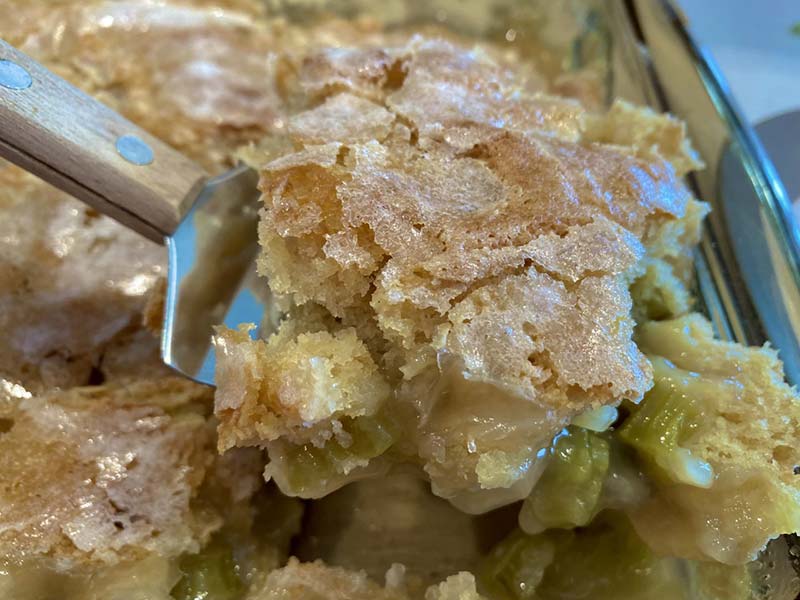 Pure deliciousness! One of my favorite recipes ever!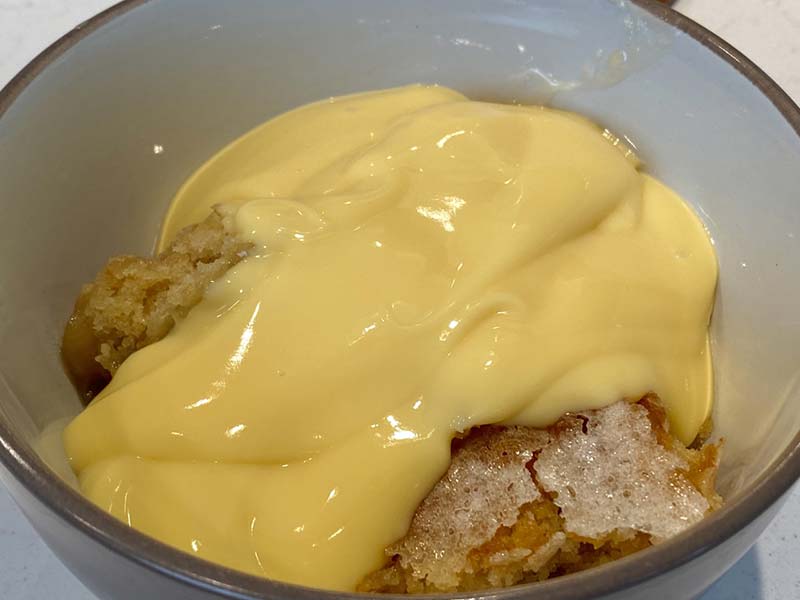 Top it with warm vanilla custard if you like, or your favorite ice cream! I ate mine with a dab of heavy whipping cream, and it was simply heavenly! It's great cold, too, unadorned. Perfect with a hot cup of coffee!
Written Recipe:
Yield: 9 servings. Cook Time: 45 mins
Ingredients
2 cups of rhubarb, chopped
1/2 cup white sugar, 1 cup white sugar (for topping)
1/4 cup brown sugar
3 tablespoons butter, softened
1 teaspoon baking powder
1/4 teaspoon salt
1/2 cup milk
1/2 teaspoon vanilla extract
1/2 teaspoon almond extract
1 cup sifted flour
1 tablespoon cornstarch
2/3 cup boiling water
Directions
Cover the bottom of an 8 or 9 inch square baking pan with fruit.
Mix 1/2 white sugar, brown sugar, butter, baking powder, salt, extracts, milk and flour together. Add a little more milk if it is too thick to pour; pour over fruit.
Mix 1 cup white sugar sugar and cornstarch in a small bowl; sprinkle over mixture in pan. Pour boiling water over the top.
Bake at 375°F for 45 minutes or until golden and crusted glazed on top.
Serve with warm hot custard or your favorite icecream. Or alternatively just let it cool a little and enjoy as a snacking cake with a cup of coffee!
What is your favorite way to eat rhubarb? Do you have a "secret" recipe you'd be willing to share? We would love it if you would!
Yield: 9 servings
Magic Rhubarb Pudding Cake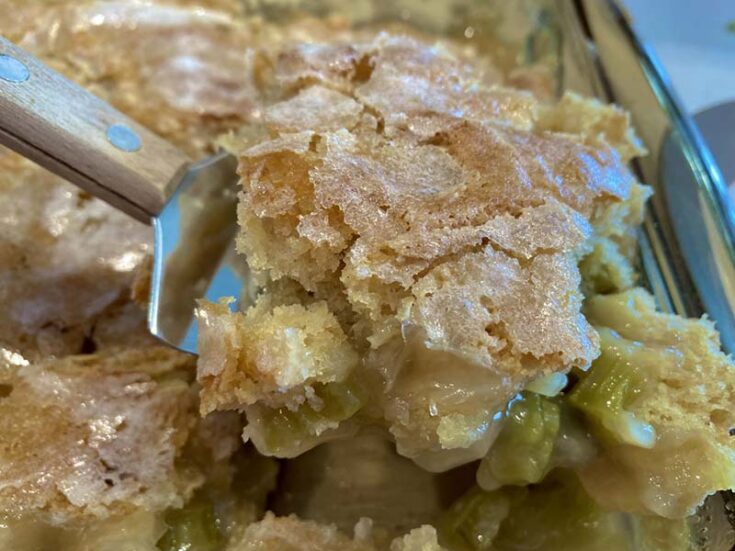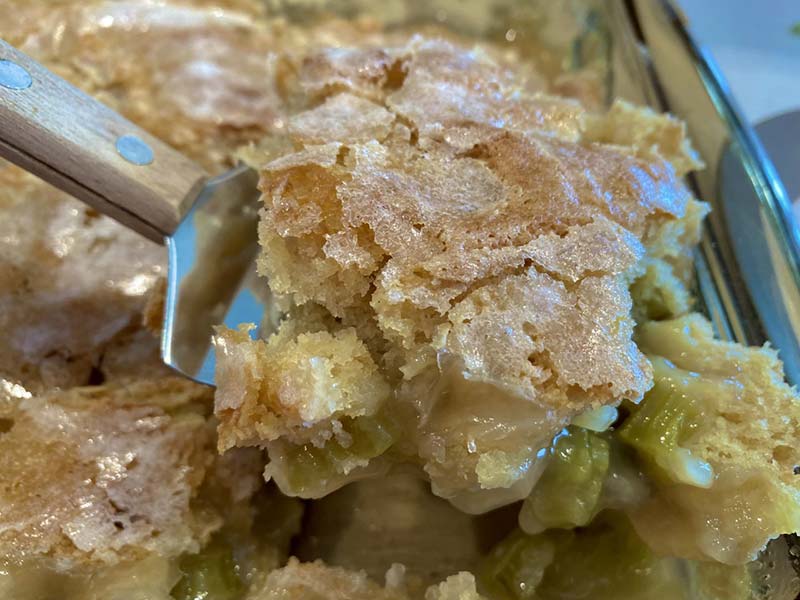 You can make this old-fashioned cake with fresh or frozen rhubarb. A surprising step with boiling water makes the cake form its own yummy pudding-like sauce.
Ingredients
2 cups rhubarb, chopped
1/2 cup white sugar, 1 cup white sugar for topping
1/4 cup brown sugar
3 Tbsp butter, softened
1 tsp baking powder
1/4 tsp salt
1/2 cup milk
1/2 tsp vanilla
1 cup flour, sifted
1/2 tsp almond extract
1 Tbsp cornstarch
2/3 cup boiling water
Instructions
Grease or spray an 8-inch or 9-inch square baking dish
Put the chopped rhubarb evenly in the baking dish.
Mix 1/2 cup of white sugar, brown sugar, butter, baking powder, vanilla, almond extract, milk, and flour. If batter seems too thick to pour over the fruit, thin it with a little more milk.
Pour the batter over the rhubarb. Make sure the batter reaches clear to the edges of the pan.
Mix the remaining 1 cup of sugar with the cornstarch. Stir well, so it's thoroughly combined.
Sprinkle the sugar/cornstarch mixture evenly over the batter.
Gently pour the boiling water over the sugar mixture.
Bake at 375 degrees for about 45 minutes. The top will be crinkled and crackled.
More Recipes:
The Ultimate Bread and Butter Pickle Recipe
Busy Day Lemon Bars Are # 1 Easy And Crazy Good
The Number 1 Practically Perfect Poppy Seed Bread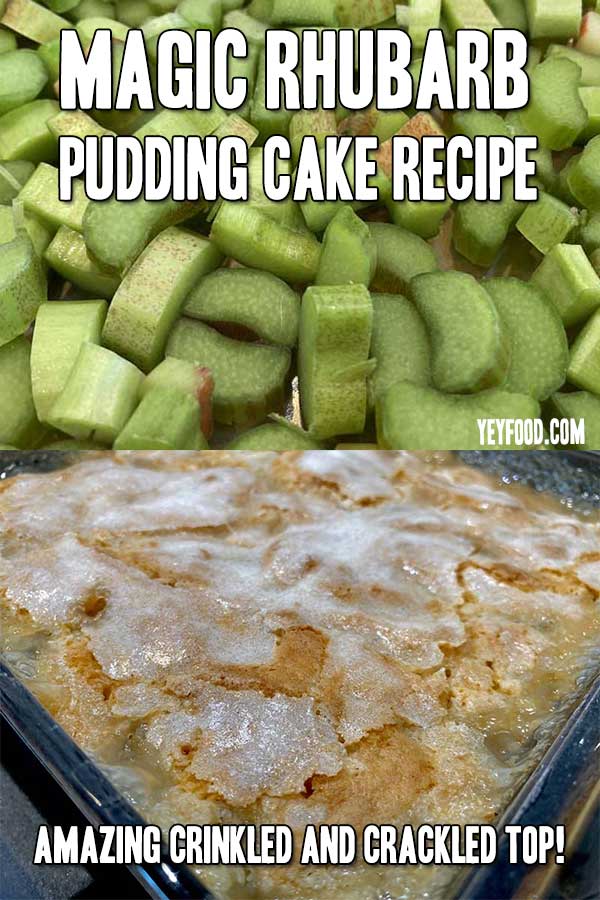 Please share this recipe on your social media accounts like Facebook, Instagram, Twitter, and Pinterest. We would be honored and ever so grateful, thank you!
If you haven't already, check out our Facebook page, where we post easy, delicious, and family-friendly recipes every day!