Whipped Cream Corn Salad Recipe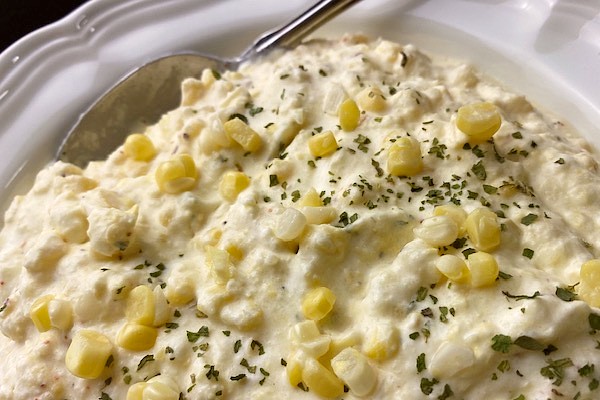 Whipped Cream Corn Salad? Wait. Isn't whipped cream the sweet stuff we serve on top of a pie? Well, yes, it is when you add sugar!
However, plain heavy whipping cream is mere seconds away from turning into butter if we beat the cream a wee bit too long! In other words, whipped cream is just one short step away from becoming butter! May I ask what could be better on sweet corn than butter?
Just when I thought I had seen every imaginable recipe for corn salads, I ran into this intriguing recipe using raw corn! The sweet corn season is nearly over where we live, so I knew I must try it before summer is gone!
Sweet corn and whipped cream are two of my very favorite foods! What's more, this salad is a Southern thing, which almost guarantees it will be fabulous!
You may find this unique salad will become a family favorite!
Yes Rest Assured It's Perfectly OK To Eat Raw Corn
If you grew up in the city, it might never have crossed your mind to eat raw corn. However, if you were lucky enough to grow up on a farm, especially in the Midwest, you know how tasty fresh corn tastes straight from the cob!
Sweet corn can be eaten raw, and many people enjoy it, especially when the corn is young and just getting ripe. It is tender, almost milky, and surprisingly sweet.
Since you probably don't live near a field of sweet corn, pay a visit to the farmer's market. That way, you know the source, and you can see the vendor picked the vegetables very recently!
Chances are, the folks who sell produce at the farmer's market limit the use of chemicals, but to be safe, always wash the corn thoroughly before you begin. Young corn is best for this recipe.
Whipped Cream Corn Salad Is As Easy As One Two Three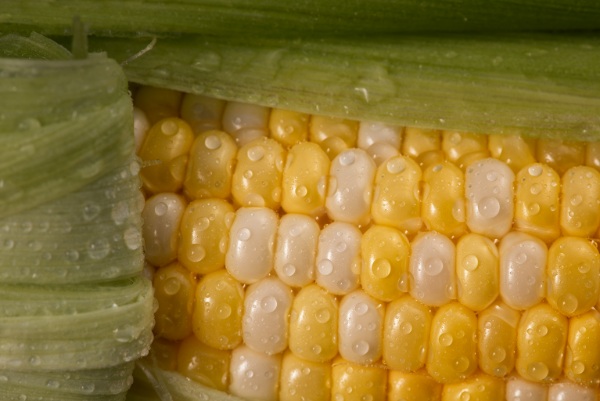 Remove the husks and silk from about four average-sized ears of sweet corn. Do not cook. Cut the kernels off the cob using a sharp knife. I find a serrated knife works well, too. You should have about 2 1/4 cups of corn kernels.
Measure 1 1/4 cups of corn kernels into a food processor or blender and process for thirty to sixty seconds until it's smooth and creamy. Set aside.
Whip 1/2 cup of heavy whipping cream until it holds peaks (but before it turns into butter, haha!)
Fold the pureed corn gently into the whipped cream, then fold in one cup (or a bit more) of whole kernels and season with kosher salt and fresh cracked pepper. That's it! If you would like to add some color, garnish with parsley or chopped fresh chives.
Yield: 4 servings
Whipped Cream Corn Salad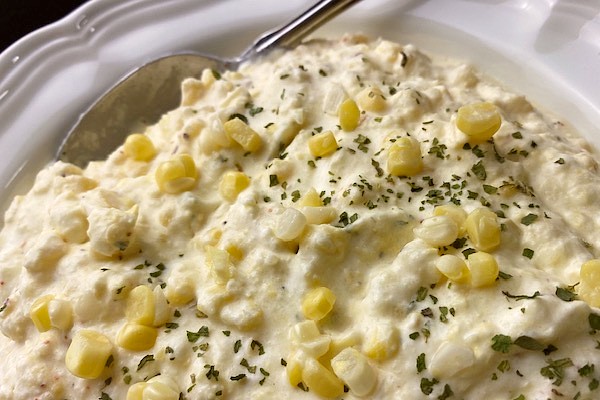 A unique salad using fresh raw corn, heavy whipping cream, salt, and pepper.
Ingredients
2 1/4  cups of fresh raw corn kernels, divided. (About four average-sized ears of corn)
1/2 cup heavy whipping cream
1/2 tp kosher salt, or to taste
1/2 tsp fresh cracked pepper, or to taste
Chopped parsley or chives for garnish, optional
Instructions
Husk and wash corn, removing as much of the silks as you can. Pat dry.
Cut kernels off the cob with a sharp knife.
Measure 1 1/4 cups of corn kernels into a blender or a food processor and pulse until smooth and creamy. Set aside.
Whip cream until medium peaks are formed.
Gently fold pureed corn into whipped cream.
Gently fold whole kernels of corn into cream and corn mixture.
Season to taste with kosher salt and fresh ground pepper.
Garnish with parsley or chives if desired.
Here's Why Crispy Chicken Strips Would Be Perfect With Whipped Cream Corn Salad
This salad is naturally light and a little sweet from the corn itself, so a crunchy, slightly salty entree will pair beautifully with it. Luckily, the best chicken strips in town are sold a few minutes from home, so tonight it's take-out!
Another time when things aren't so hectic, tender, succulent fall-of-the-bones ribs would be another great main dish to serve, as would grilled bratwurst, fried fish, or barbecue pork chops.
For added color, why not steam a fast batch of fresh green beans? While you're at it, whip up some crisp, skinny French fries in the air fryer to make the meal a feast!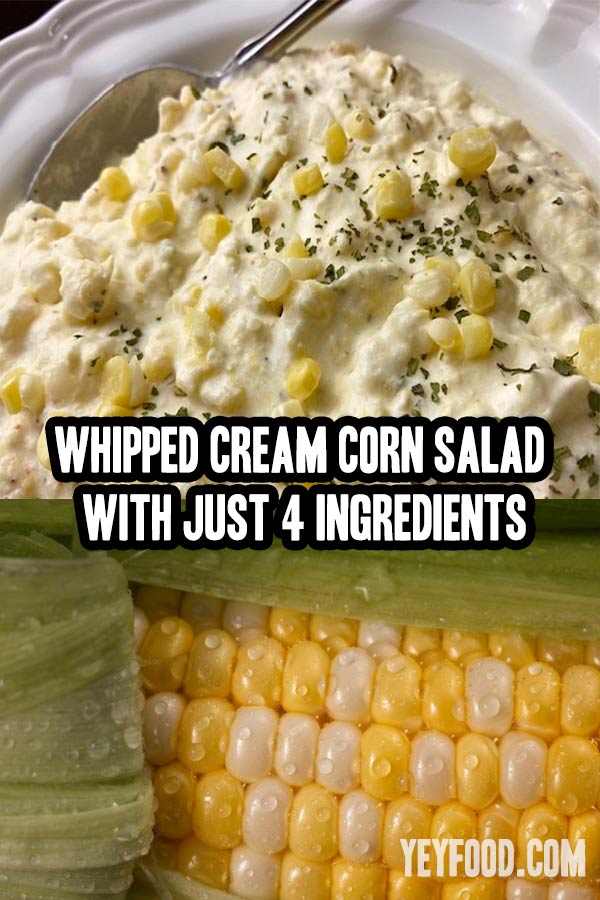 More recipes from us
S'mores Bars How To Make Them Super Fast and Super Good
How To Make The White BBQ Sauce That's Fascinated Us Since 1925
German Sauerkraut Casserole With Bacon And Brown Sugar
If you like these recipes, you are our people! You can check some related articles below or search via categories on the right. But, be warned; you will be on here for hours. Enjoy!
So, please share this recipe on your social media accounts like Facebook, Instagram, Twitter, and Pinterest. We would be honored and ever so grateful; thank you!