Creamy 5 Ingredient Hazelnut S'mores Pie Recipe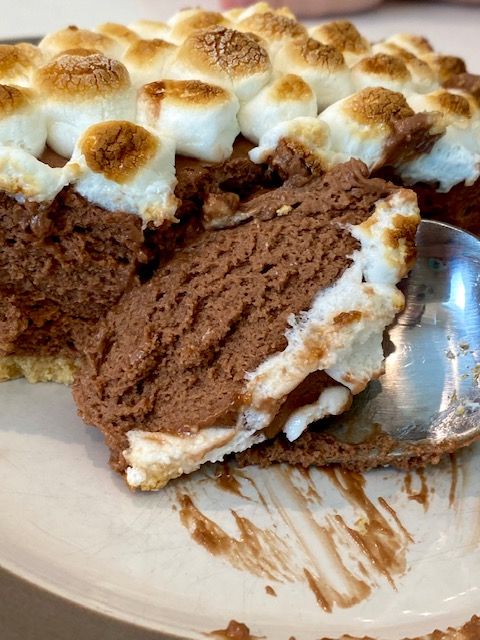 Hazelnut S'mores Pie is a bit more indulgent, sophisticated, and richer than the s'mores we made around the campfire. It delivers all the flavors we know and love with another decadent layer of flavor for our adult palate, hazelnut.❤ Look at that smooth, gorgeous texture!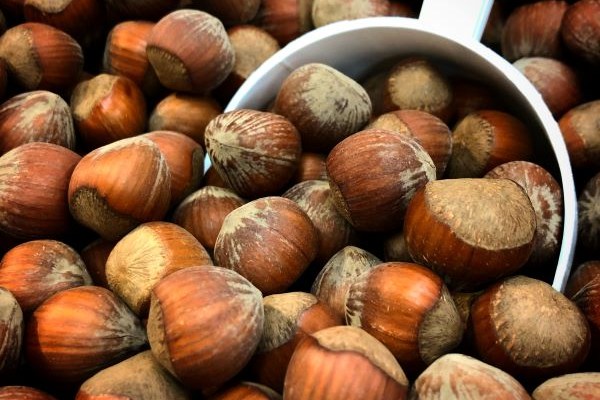 Hazelnuts, sometimes called filberts, are widely used in baking, desserts, and candy-making. Hazelnuts are a popular ingredient in truffles, and Frangelico is a hazelnut-flavored liqueur. Various brands of chocolate hazelnut spreads are sold in the peanut butter aisle of grocery stores and are extremely popular with both kids and adults.
This pie is embarrassingly easy to make. So easy, in fact, that right off the bat, I made a double batch, so I had one to give and one to keep. I'm not sorry I did! The pie was a hit with my husband and the adorable young family who got the second pie!
It was a mighty good decision to make two because I quickly learned to keep a very close eye on the marshmallows under the broiler! Oops! Luckily, my husband is one of those guys who likes to toast a marshmallow by letting it burst into flames and then blowing it out. He loved the beta test pie with its burnt sugar flavor profile!
This Delicious Pie Is Ready For The Refrigerator Under 10 Minutes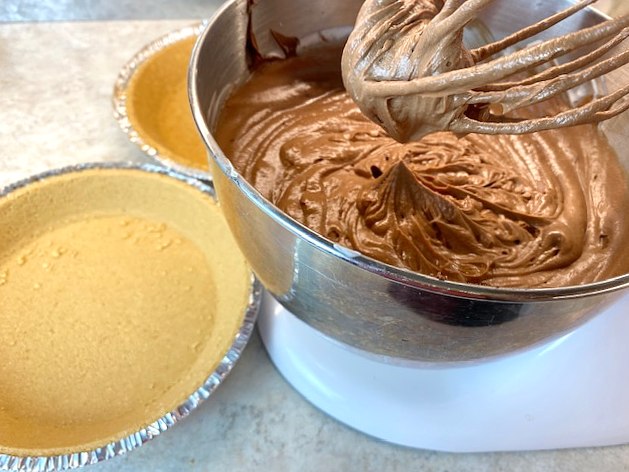 If you remember to set the cream cheese out to soften, you can have it in the store-bought graham cracker pie shell in a snap!
First, beat the cream cheese until it is light and fluffy, then add the whipping cream. Start slow when blending the whipping cream into the cream cheese so it doesn't splash, then continue beating until the mixture is smooth and creamy. Then beat in a 13-ounce jar of chocolate-hazelnut spread until everything looks all chocolately and yummy, then spread the mixture into a 9-inch graham cracker shell.
Next, chill it in the fridge for at least three hours or longer until it's set up and very, very cold for the next step.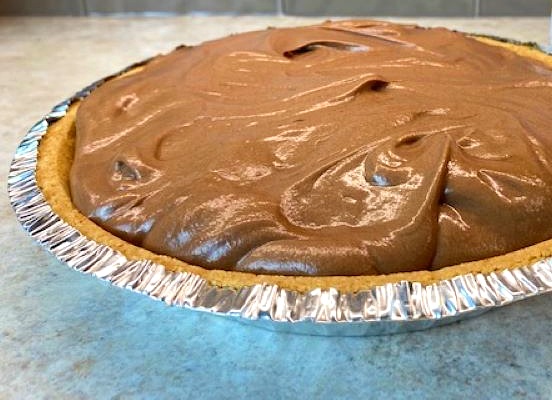 All that's left to do is press about half a bag of miniature marshmallows lightly into the cold filling. (That's about 3 cups or what you can snugly fit on the pie!)
Then, broil about 6 inches from the heat for just one or two minutes until the marshmallows are lightly toasted! After my first flaming fiasco, I sat on a chair right in front of the broiler and watched closely as it magically browned before my very eyes!
I ran the knife under hot water before I cut it, and it made tall, beautiful slices. The hazelnut s'mores pie refrigerated beautifully, and it was every bit as delicious today! This pie is quite rich and easily serves 8. (Or ten people with a modicum of self-control! 😉)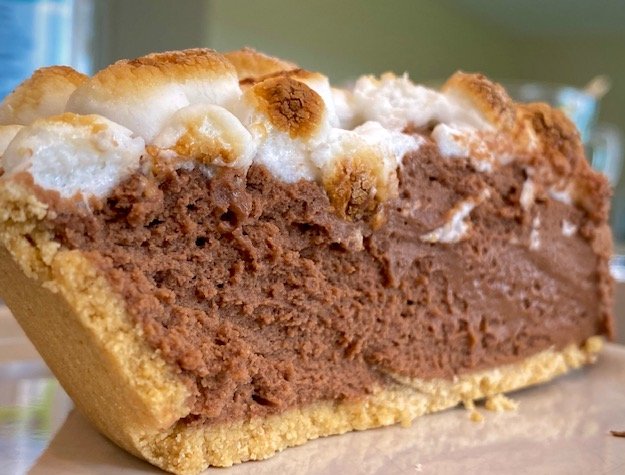 This is truly a "special occasion" dessert! For me, I'd much rather have a birthday pie than a birthday cake! What's your favorite birthday treat? Pie or cake?
Yield: 8 servings
Creamy 5 Ingredient Hazelnut S'mores Pie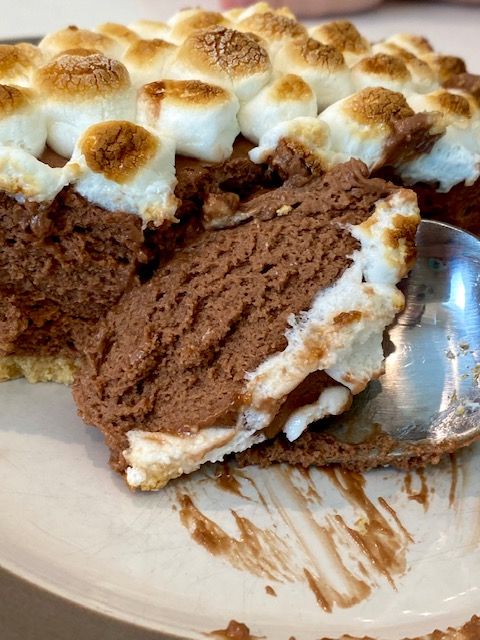 A rich and creamy pie that goes together quickly in a purchased graham cracker shell. It has all the taste of s'mores with the added flavor of hazelnut.
Total Time
3 hours
12 minutes
Ingredients
1  purchased graham cracker pie shell 9 inch size
1  package of cream cheese 8-ounces softened to room temperature
1 1/4 cups heavy whipping cream
1 jar of chocolate hazelnut spread 13-ounces
3 cups miniature marshmallows
Instructions
In a large bowl, beat the cream cheese until fluffy and smooth.
Add whipping cream and beat until completely blended.
Add the chocolate hazelnut spread and beat until well combined, with no streaks.
Pile the filling into the pie shell and refrigerate for three hours or longer.
Press miniature marshmallows lightly into the filling.
Broil 6 inches from heat for one or two minutes, watching closely, until the marshmallows are lightly toasted.
Cover and refrigerate leftovers.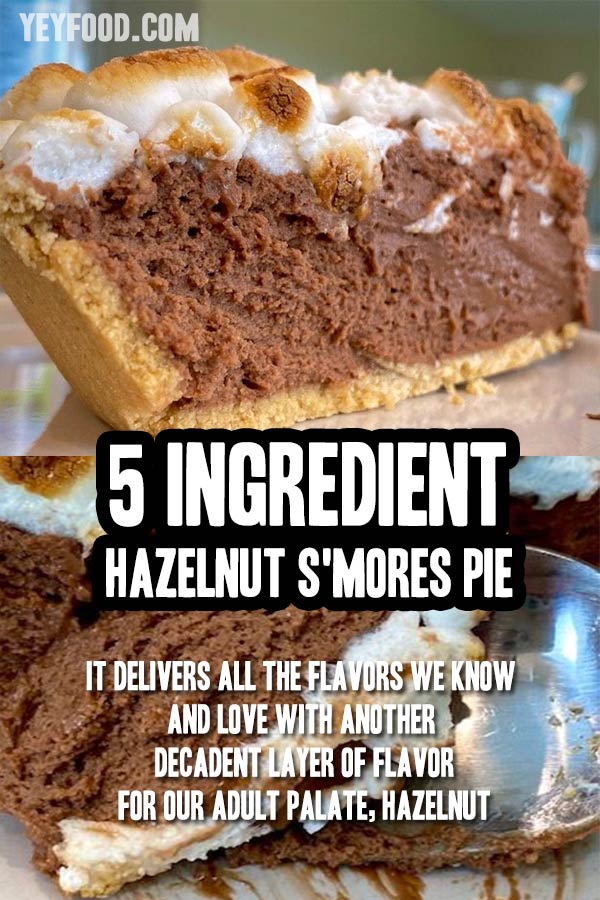 More recipes from us
S'mores Bars How To Make Them Super Fast and Super Good
How To Make The White BBQ Sauce That's Fascinated Us Since 1925
German Sauerkraut Casserole With Bacon And Brown Sugar
If you like these recipes, you are our people! You can check some related articles below or search via categories on the right. But, be warned; you will be on here for hours. Enjoy!
So, please share this recipe on your social media accounts like Facebook, Instagram, Twitter, and Pinterest. We would be honored and ever so grateful; thank you!