Caramel Apple Donuts Recipe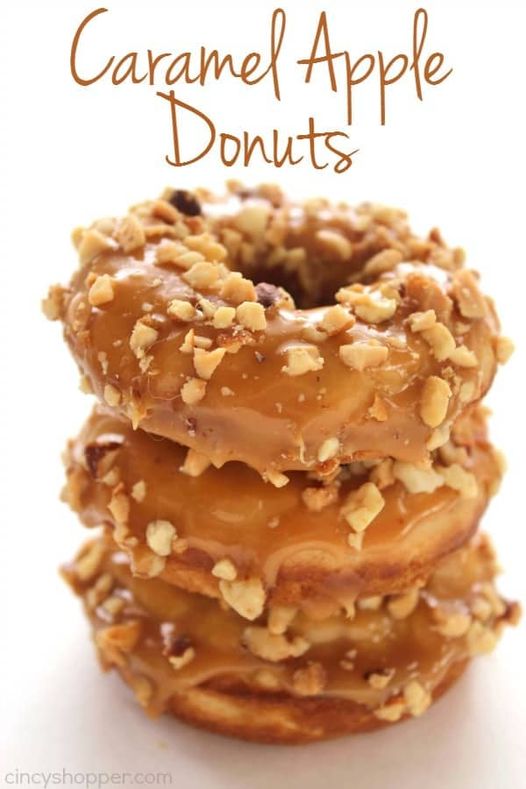 Each Caramel Apple Donut is chock-full of the classic flavors of fall! Caramel, nuts, apples, nutmeg, and cinnamon burst through every delicious bite! These donuts are baked, so they are lighter and leaner than their fried cousins!
You will need to have a donut pan to bake them. You can find them online or in the kitchen section of your favorite retailer. Once you have one, you'll probably find oodles of fun donut recipes and other things to make in it! Your kids will be so excited!
You probably have everything you need in your cupboard to make the basic doughnut batter. Make sure you add some individually wrapped caramels, apples, and some nut topping (like you'd use on a sundae) to your grocery list so you can make them soon!
The icing is simply caramels you melt with some milk. You might be the lucky one who gets to unwrap them! The benefit of that task is you get to pop one in your mouth from time to time while you go! We would gladly volunteer!
Here's that recipe! Caramel Apple Donuts
MORE OF OUR RECIPES
The Ultimate Bread and Butter Pickle Recipe
The Number 1 Practically Perfect Poppy Seed Bread
Make This Easy Tiramisu At Home
If you like these recipes, you are our people! You can check some related articles below or search via categories on the right. But, be warned; you will be on here for hours. Enjoy!
So, please share this recipe on your social media accounts like Facebook, Instagram, Twitter, and Pinterest. We would be honored and ever so grateful; thank you!