Easy Cinnamon Bread Recipe Is In The Oven In 5 Minutes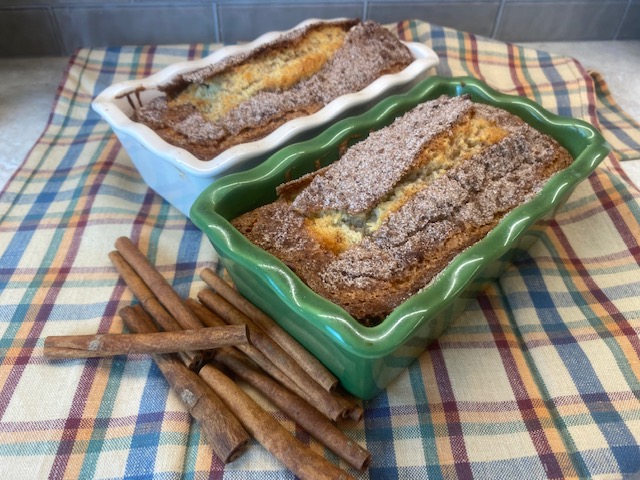 Cinnamon bread is the perfect way to introduce the scent of autumn into your home. As it bakes, your kitchen and every room in the house will be infused with the tantalizing aroma of cinnamon, one of the coziest and welcoming of all fragrances.
This bread is so easy to make, and you probably have everything you need in your kitchen cupboards. Make two full-size or smaller loaves for sharing, or make the batter into muffins! The bread freezes well, so you can stash some away to give a friend or treat your grandkids when they pop in!
This cinnamon bread is a "quickbread," which means it uses baking powder, not yeast, to make it rise. That's what makes it so fast and easy to do! If you like, bake it in two standard loaf pans.
I enjoy using my smaller pans, the "minis," which measure about three inches by five and one-half inches, or my "midis," which are about three and one-half inches by seven and one-half inches. Here are four little loaves ready for the oven.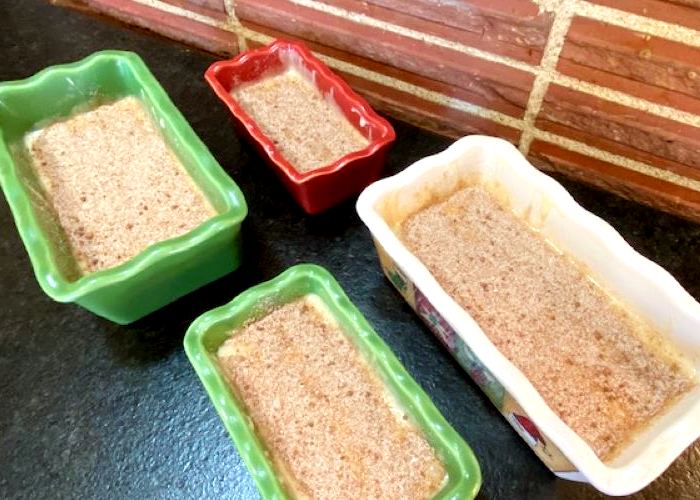 My good friend gave me these little ceramic pans many years ago, and I love how they bake and how easily they clean up. I can even pop them in the dishwasher! I hope Santa puts a set of these under the Christmas tree for me this year so I can bake lots of little loaves at once! I've been very good, I promise!
Why Is The Scent Of Warm Cinnamon The Fragrance Of Fall And Winter
Certain smells always remind us of the onset of autumn with shorter days, cooler nights, and more time spent inside. We just turned the calendar to September, and while it's still hot where we live, soon we'll turn on our heater to chase the morning chill and put on a sweater for our evening walk.
When the fall weather comes, the scent of cinnamon, the warm spices of a bowl of chili, or a cup of spiced cider are smells we associate with the changing weather. We like to get cozy and begin to change how we eat, and suddenly, some comforting soup sounds amazing. That's why cinnamon bread seemed like such a good idea today, even though it is ninety degrees in Nebraska!
Fall is the favorite season for thirty-three percent of Americans! There are lots of fun statistics about our favorite things about fall in this article from 2020.
When I turned the calendar to September today, I realized how quickly "the holidays" will be here, and we'll be scratching our heads about what to give for gifts. 😊 Give people cinnamon bread, people! They will love you, and Pinterest can help you find endless ideas about how to wrap and present it! Just search for "how to wrap quickbreads for gift giving."
Loads of cute disposable loaf pans are available so you can wrap the little bread loaves, pan, and all for gifting! Hint: Attach a plastic knife, so they don't need to waste time slicing their goodies!
Let's Bake Some Cinnamon Bread Right Now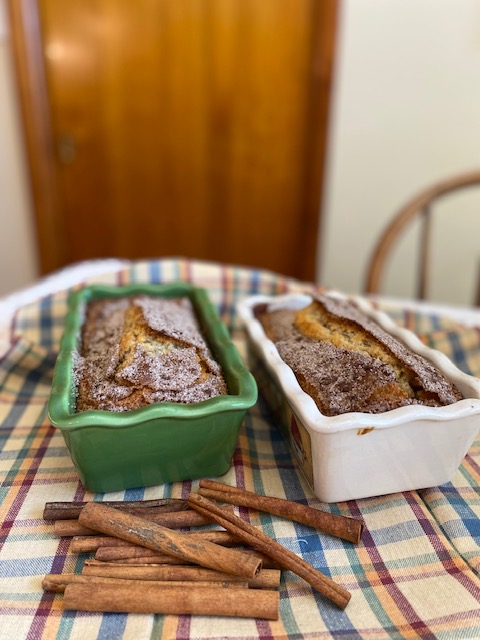 You probably have everything you need right on your shelf to make a batch right now! Turn your oven to 350 degrees and grease your loaf pans. Mix the cinnamon and sugar in a little bowl and set it aside.
First, combine the dry ingredients, flour, sugar, salt, and baking powder, in a bowl and whisk it until everything is well-combined. Now beat the eggs, milk, butter, oil, vanilla, and butter flavoring together in another bowl until everything is blended nicely.
Gradually spoon the dry ingredients into the milk/egg mixture and beat just enough that everything is blended, do not overbeat.
Pour batter into the greased loaf pans, filling two standard loaf pans about two-thirds full. Sprinkle half the cinnamon sugar over each loaf and use a knife to gently swirl it into the batter, leaving most of it on top. Bake the bread for about 50 minutes, or until a cake tester comes out clean and the loaves are a gorgeous golden brown.
Cool the loaves on a rack before removing them for the pans. When the loaves are cool, slice and enjoy!! It's great with a steaming mug of cocoa or coffee!
Yield: 32 servings
Easy Cinnamon Bread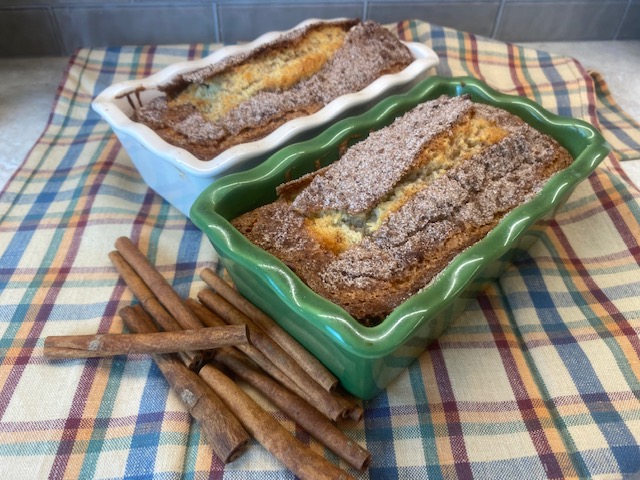 Here is a recipe for an easy cinnamon quickbread you can have in the oven in just five minutes! The small loaves make wonderful Christmas gifts!
Ingredients
2 cups granulated sugar
4 cups all-purpose flour
6 tsp baking powder
1 tsp salt
2 large eggs
2 cups milk
⅔ cup vegetable oil
1 tsp butter flavoring
1 tsp vanilla
Cinnamon Sugar Topping
3/4 cup granulated sugar
4 tsp cinnamon, or more to taste
Instructions
Preheat the oven to 350 degrees.
Grease or spray the loaf pans.
Whisk the dry ingredients; 2 cups of sugar, 4 cups of flour, plus salt and baking powder in a bowl and set aside.
Combine the sugar and cinnamon for the topping and set aside.
Combine the milk, eggs, oil, vanilla, and butter flavoring in a large mixing bowl and beat until well-blended.
Gradually add the dry ingredients to the egg/milk mixture and beat just until everything is evenly moist, do not overbeat.
Fill two standard loaf pans about 2/3 full of batter.
Sprinkle half of the cinnamon sugar over each loaf and use a knife to swirl the cinnamon sugar partially into the batter, but leave most of it on top.
Bake for 50 minutes or until golden brown. A cake tester should come out clean when inserted near the center of the loaf.
Cool the loaves before removing them from the pans.
Wrap tightly in heavy-duty aluminum foil for freezing.
Notes
This batter makes six mini loaves which will only take about 40 minutes to bake.
Nutrition Information:
Yield:
32
Serving Size:
1
Amount Per Serving:
Calories:

179
Total Fat:

5g
Saturated Fat:

1g
Trans Fat:

0g
Unsaturated Fat:

4g
Cholesterol:

13mg
Sodium:

177mg
Carbohydrates:

30g
Fiber:

1g
Sugar:

18g
Protein:

3g
Do you like to make quick bread? Do you ever give them as gifts? If not, start now and see how popular you will become with friends and family! Here are some other wonderful quickbread recipes; these are some of our most popular posts: Poppyseed Bread, Pumpkin Bread, Zucchini Bread, Jamaican Style Banana Bread. If you would rather make six mini loaves, refer to the recipe for baking time.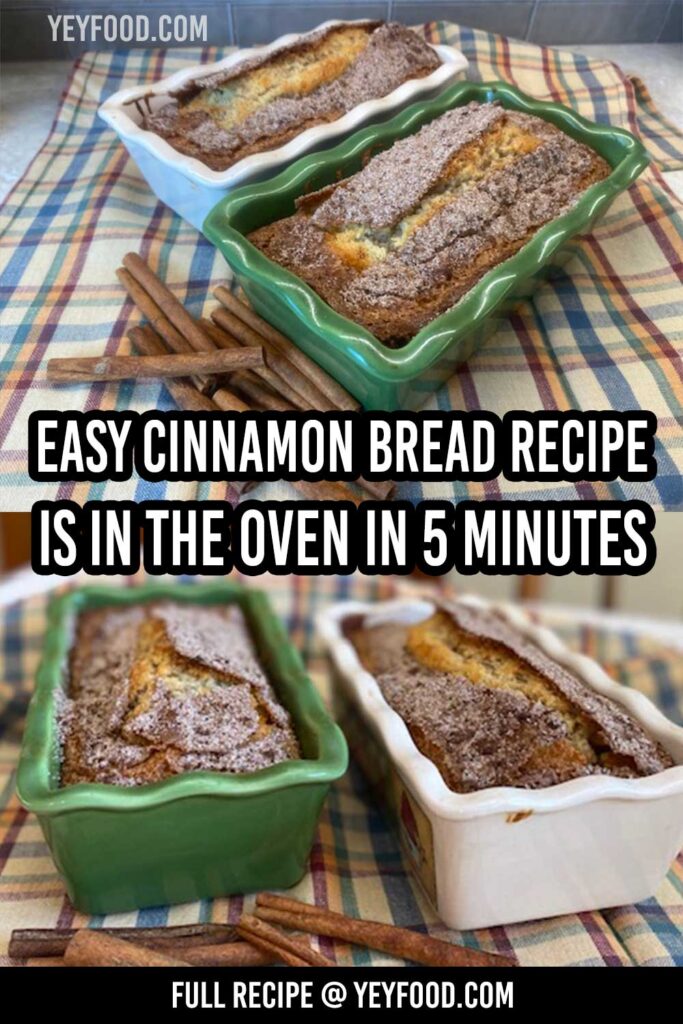 MORE OF OUR QUICK AND EASY FAMILY-STYLE RECIPES: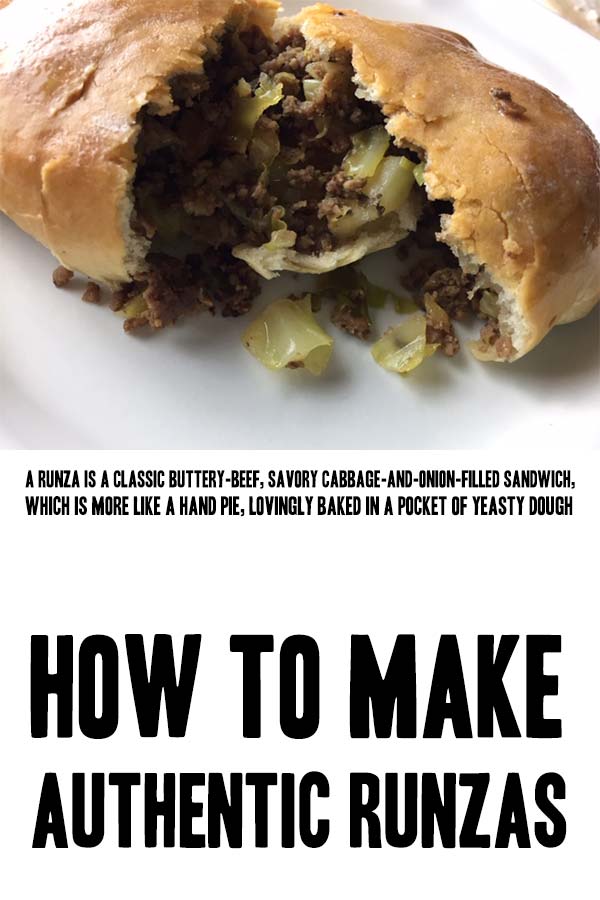 The Ultimate Bread and Butter Pickle Recipe
Oven-Baked Steak With Brown Gravy
If you like these recipes, you are our people! You can check some related articles below or search via categories on the right. But, be warned; you will be on here for hours. Enjoy!