Big Batch Pumpkin Bread Recipe Makes 3 Loaves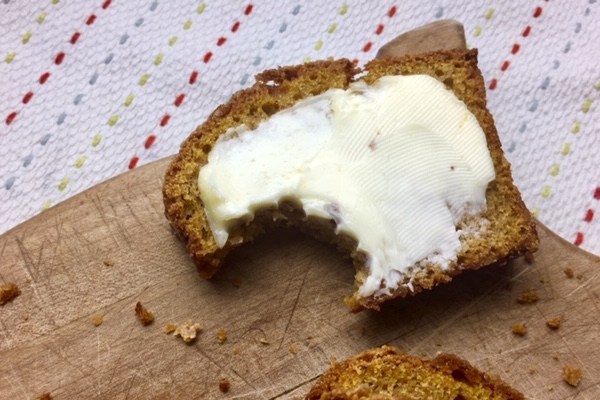 This big batch pumpkin bread recipe is a dandy for two reasons. One, it has a perfect blend of spices, and two, it makes a huge batch! It makes three full-size loaves or several mini and medium loaves and even muffins!
That means there's plenty to share or to have tucked in the freezer to pull out when I'm lucky enough to have grandkids around! It also makes a great little gift for a friend that needs a hug she can eat!!
Celebrate Pumpkin Everything In October And November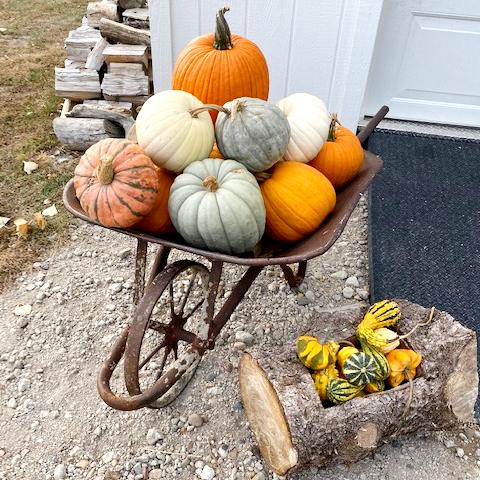 I've got to confess I'm crazy about pumpkins! To be honest, I have a major obsession with pumpkins, so our home is decorated with reckless abandon indoors and outdoors with pumpkins in every size, shape, and color every fall. I can't get enough pumpkins!!
I love the shape, color, and taste so naturally, it's also is one of my favorite things to eat! There is an endless number of yummy things to make with pumpkin!
People have been eating pumpkins for centuries! Archaeologists discovered the oldest domesticated pumpkin seeds in the Oaxaca Highlands of Mexico. Pumpkins originated in Central America over 7,500 years ago.
Pumpkins were also among the first crops grown for human consumption in North America. Thanks to their solid, thick flesh, pumpkins proved ideal for storing during cold weather and in times of scarcity. During the 17th century, women began experimenting with tasty new ways to serve pumpkin, and we have never stopped!
Someone You Love Wants Pumpkin Bread Right This Minute
And why not make them some? After all, pumpkin is available 365 days a year!! And this recipe is so simple to make! Pumpkin bread is only good in the fall, said no one ever. Pumpkin bread is fantastic no matter what the temperature. And this recipe might be the pinnacle of pumpkin bread nirvana.
This recipe uses canned pumpkin puree, but go for it if you prefer to roast fresh pumpkin!
Here's How To Make Three Beautiful Loaves Of Big Batch Pumpkin Bread
Beat the sugar, eggs, and oil together until light and fluffy. Notice the amazingly deep yellow that happens when I use local "farm" eggs. Gorgeous!! This recipe calls for oil instead of butter, and that's what makes it so moist and tender and keeps it that way.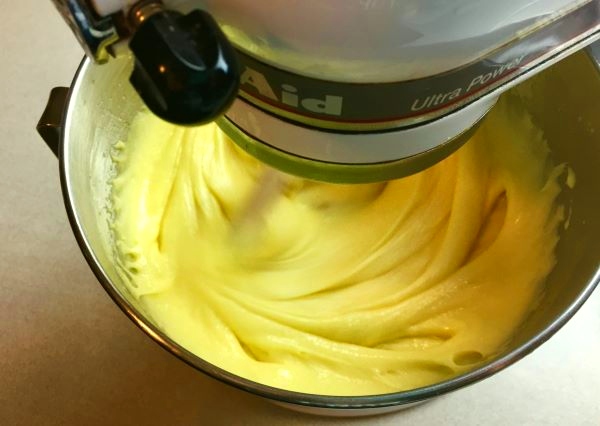 Next, blend in the spices, salt, soda, and baking powder. It looks like artwork! The spicy swirls smell amazing! Finally, add pumpkin alternating with flour, mixing until everything is well blended, but don't overdo it.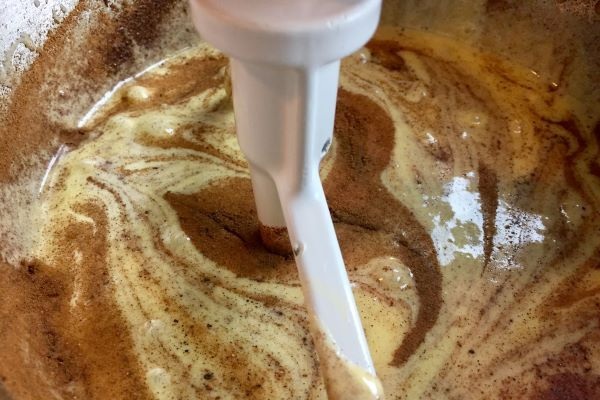 Now you can pour the big batch pumpkin bread batter into three greased standard-sized loaf pans or divide it into medium or mini-sized loaf pans. My small loaf pans are about 7 1/2″ by 3 1/2," and the mini pans are about 5 1/2″ x 2 3/4″. You can purchase disposable baking pans in small sizes, and they are perfect for gift giving!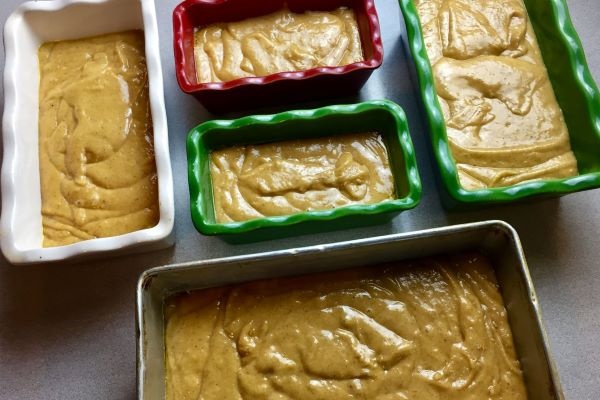 I like to sprinkle some cinnamon sugar on each little loaf before I bake them for a bit of extra sweetness, sparkle, and crunch! Looks so pretty! While my big batch pumpkin bread bakes, the fragrance fills my little house with an aroma no scented candle could ever come close to matching!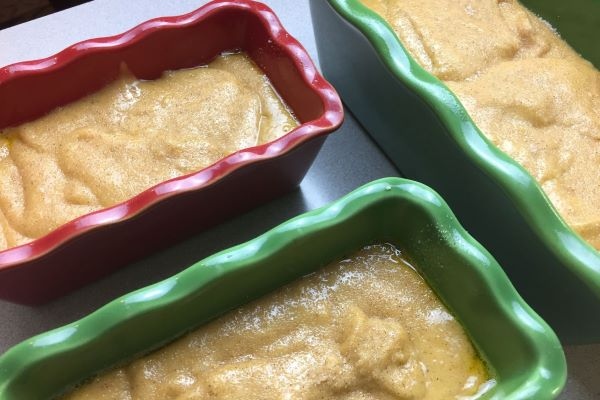 Here are some adorable ideas for wrapping up these little loaves as gifts! The presentation is as awesome as the contents! Pinterest also has dozens of fun and festive ways to wrap bread for gifting!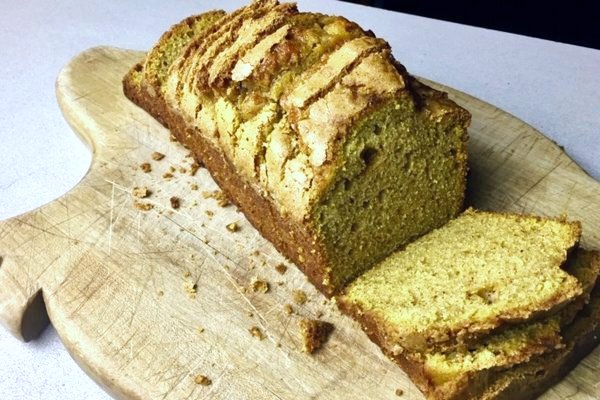 When the pumpkin bread comes out of the oven, I let it cool before taking it out of the pan. Then all that's left is to slice it up on my old wooden piggy cutting board, and slather it with butter (or softened cream cheese!) And then, with eyes closed and sniffing eagerly, I take a huge bite. Heaven!
Yield: 48 slices
Big Batch Pumpkin Bread Recipe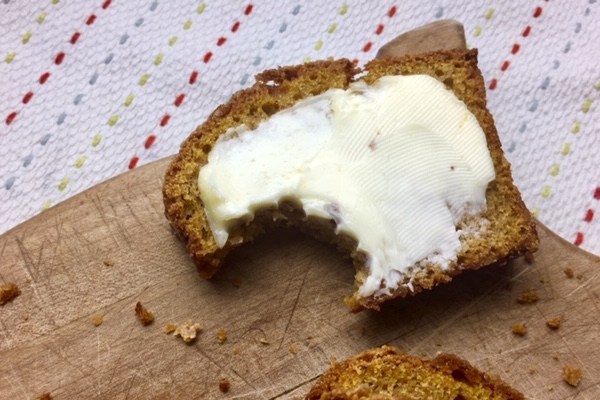 A recipe for moist and tender, beautifully spiced pumpkin bread. Makes 3 full-sized loaves, enough to share or freeze!
Total Time
1 hour
5 minutes
Ingredients
3 cups pumpkin puree, canned or homemade
1 1/2 cups vegetable oil
6 eggs
4 cups sugar
4 3/4 cups flour
1  1/2 tsp baking soda
1  1/2 tsp baking powder
1  1/2 tsp salt
1  1/2 tsp cinnamon
1  1/2 tsp nutmeg
1 tsp ground cloves
Topping
3 Tbsp sugar
1 tsp cinnamon
Instructions
Preheat the oven to 350 degrees.
Spray or grease loaf pans on the bottom only.
Cream oil, sugar, and eggs together until light and fluffy.
Add salt, soda, baking powder, and spices until everything is well combined.
Alternately add pumpkin and flour. Beat until just blended. Don't over mix.
Pour into greased loaf pans, filling about 1/2 full.
Bake in a 350-degree oven for about 55 minutes or until a skewer or a cake tester comes out clean.
This recipe makes three standard-size loaves, or you can make mid-size loaves, mini loaves, or muffins. Adjust baking time for smaller items.
Pumpkin pie still ranks number one in America, but there is no limit to the imagination of the cooks and bakers who make pumpkin desserts! What is your favorite way to eat pumpkin?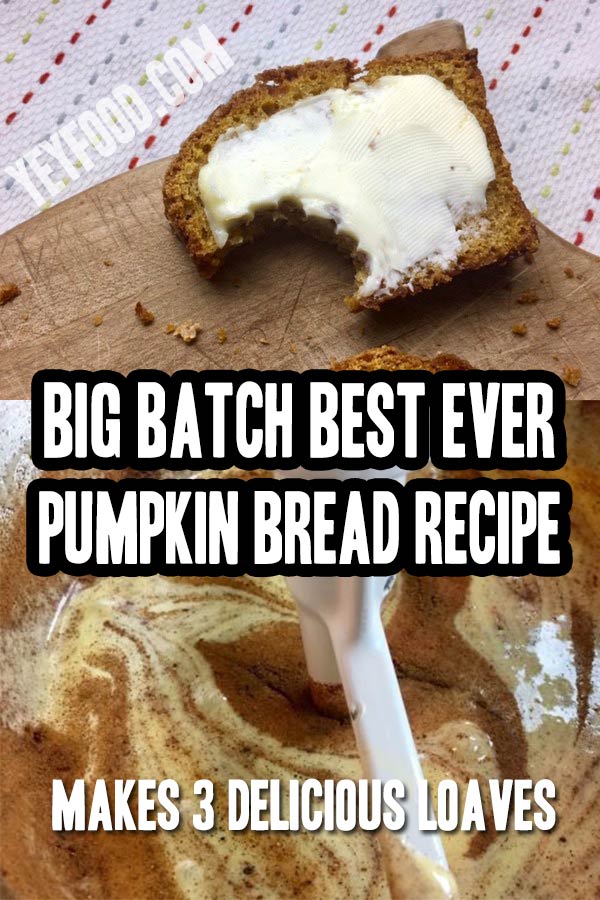 MORE RECIPES FROM US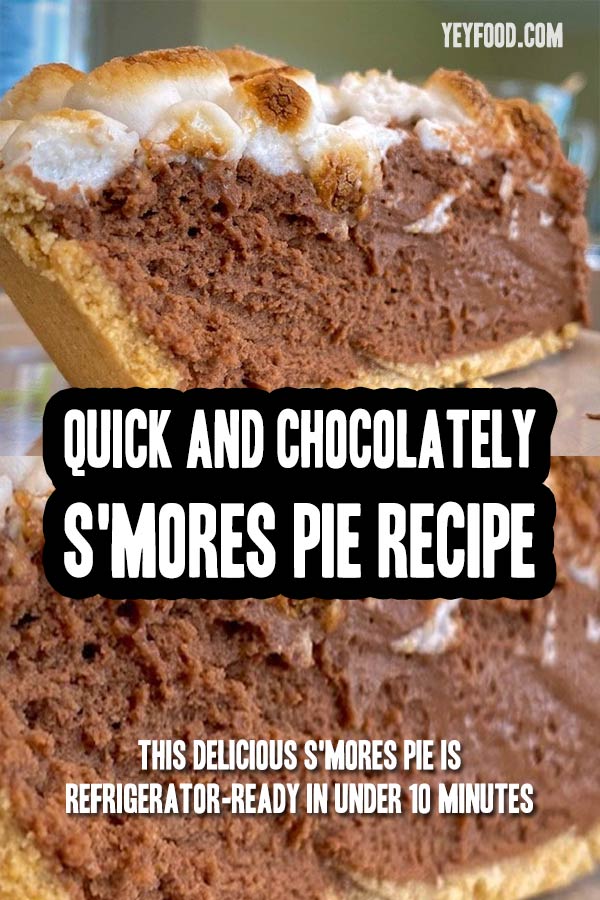 S'mores Bars How To Make Them Super Fast and Super Good
How To Make The White BBQ Sauce That's Fascinated Us Since 1925
German Sauerkraut Casserole With Bacon And Brown Sugar
If you like these recipes, you are our people! 😊 You can check some related articles below or search via categories on the right. But, be warned; you will be on here for hours. Enjoy!
So, please share this recipe on your social media accounts like Facebook, Instagram, Twitter, and Pinterest. We would be honored and ever so grateful; thank you!