Crunchy 5 Minute 5 Ingredient Broccoli Salad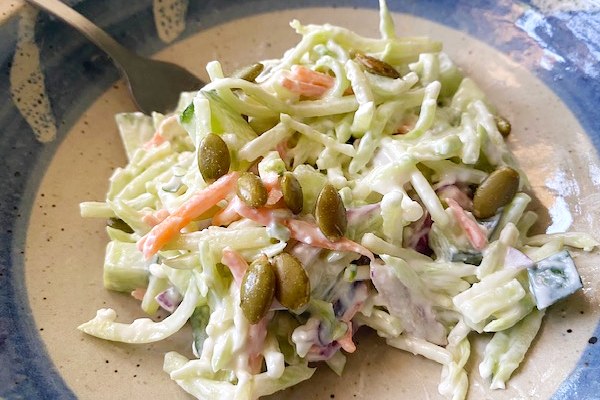 This broccoli salad is a snap to make using pre-packaged broccoli slaw from the produce section. My dear friend Mary whipped it up for lunch when I visited her, and I could not stop eating it! I'm embarrassed to admit it, but I had never, ever noticed ready-to-eat broccoli slaw. What a mistake! I am so happy I finally found it!!
I'm an old-school scratch cook, so I usually bypass the "convenience" section of the produce department. You know, where everything is all washed, cut, and ready to go. I always grate my carrots and shred my cabbage by hand. But, seriously, I am finally realizing there are times when that's unnecessary! (Slow learner!)
I need to learn some tricks from my friends who love to eat but do not share my love of spending time in the kitchen! Sometimes, there's an easier way to do things! Shortcuts are wonderful, especially when something tastes this good! See? You CAN teach an old dog new tricks, and my tail is wagging!!
Pre-packaged broccoli slaw is simply amazing! It's all washed and ready to use, and it contains some shredded carrots and red cabbage for added color, flavor, and nutrition. I call it magic! There's no waste, no mess, and it's a very versatile little bag of goodies! What's more, it keeps well in the refrigerator.
Here's All You Need To Make Incredible Broccoli Salad In Just 10 Minutes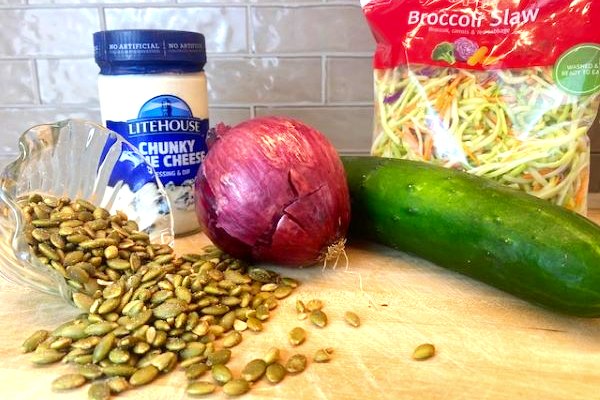 Peel and chop about 1/2 cup of cucumber and 1/2 cup of red onion. Chop both the onion and the cucumbers into small dice.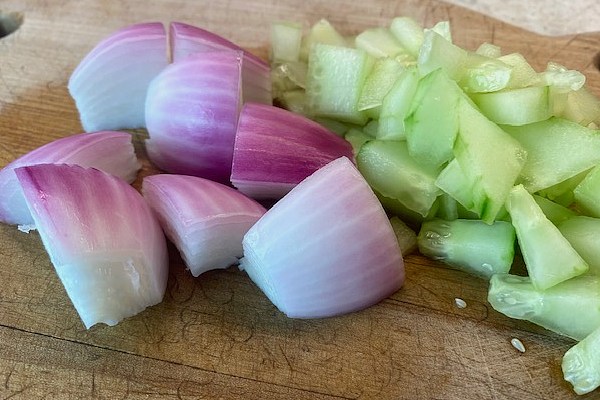 Dump the whole bag of slaw, the onion, and the cucumber in a bowl. Mix it all up. Pour a jar of chunky bleu cheese dressing from the refrigerated section over everything and toss it together.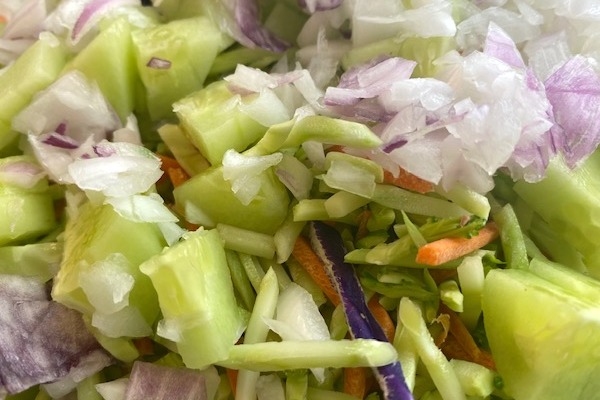 You can serve this salad immediately, but it's even better the next day when all the flavors get to know each other better. Garnish with roasted salted pepitas! The crunchy, salty bits kick everything up a notch, and the result is pure broccoli bliss. Pepitas are a nutritional powerhouse, too, so add them lavishly and enjoy them in this incredibly yummy combination!
A heartier salad works well with many of our favorite cool-weather menus when fall and winter roll around. Cabbage, kale, and broccoli are abundant, and the quality is great this time of year. All three are superfoods, wonderfully nutritious and tasty, too!
This combo would be a perfect topping for pulled pork sandwiches. Use your imagination and think of other things you might have on hand for add-ins! How about some dried cranberries or cherries? Sweet, crunchy red grapes would also taste amazing! How could you possibly go wrong by adding some crisp bacon bits?
Bleu cheese is terrific with this broccoli salad, but I hope you will feel free to try other dressings like poppy seed or ranch. Even if you are unsure about bleu cheese, please try it! The flavors were born to be together!
More Things You Can Do With A Bag Of Broccoli Slaw
Use it in tacos or pitas instead of lettuce. It's crunchier and much more nutritious than iceberg lettuce.
Mix it in with other salad greens. It adds bulk, fiber, and nutrition and because it holds up better under heavy salad dressing.
Stir fry it with leftover bits of beef or chicken. Add soy or teriyaki sauce and sesame seeds for a quick, light supper.
Make broccoli soup!
Yield: 6 servings
5 Ingredient Broccoli Salad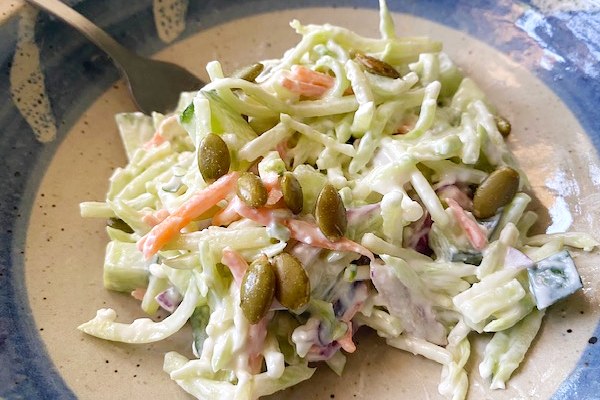 Hearty, crunchy, and flavorful, this salad is quick and easy to put together using a bag of pre-packaged broccoli slaw and refrigerated bleu cheese dressing from the produce section.
Ingredients
1 12-ounce bag of packaged broccoli slaw
1/2 cup cucumber, peeled and chopped
1/2 cup red onion, chopped
1 13-ounce jar bleu cheese dip and dressing from the refrigerated section
Roasted, salted pepitas for garnishing generously
Instructions
Peel and chop the cucumber. Chopped fine.
Chop the red onion. Chopped fine.
Combine the slaw mix, red onion, and cucumber in a bowl and toss together.
Pour the whole jar of dressing over all the ingredients and mix thoroughly.
Garnish generously with pepitas.
Notes
You may wish to add crisply fried bacon bits, celery, more shredded carrot, dried cherries, cranberries, or crunchy red grapes. Try it and make it your own!
If you make this broccoli salad, we'd be so excited to see a picture of it, especially with your smiling face in the photo! Have you ever used pre-packaged broccoli slaw in a recipe? What did you do with yours? We'd love to hear about it because we're all excited to have discovered it!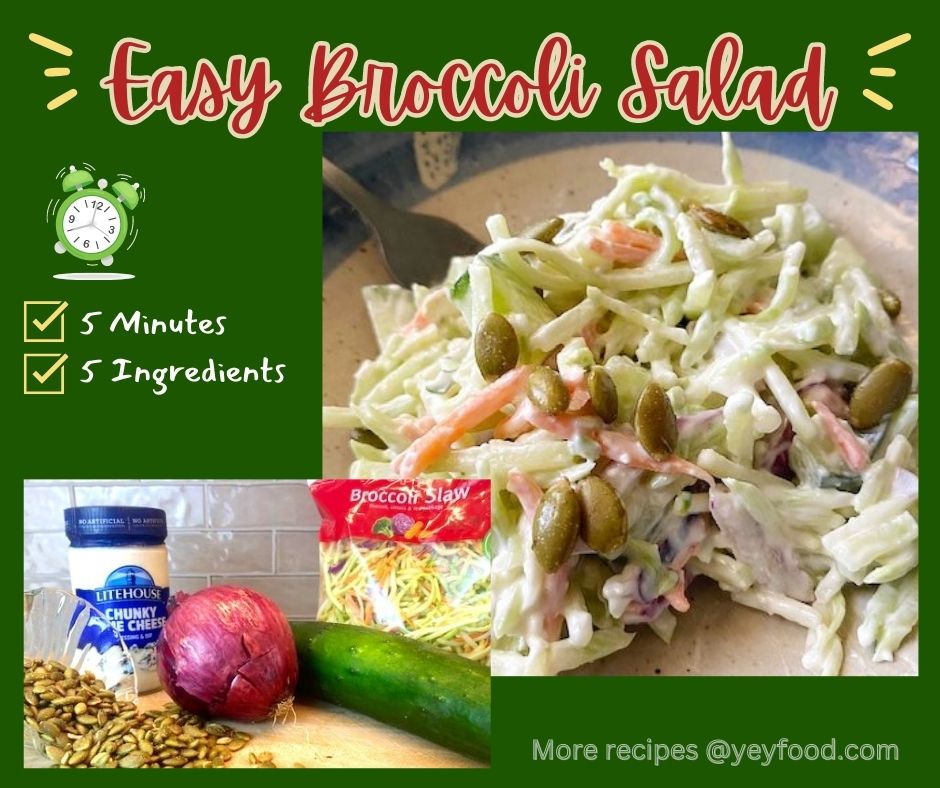 More recipes from us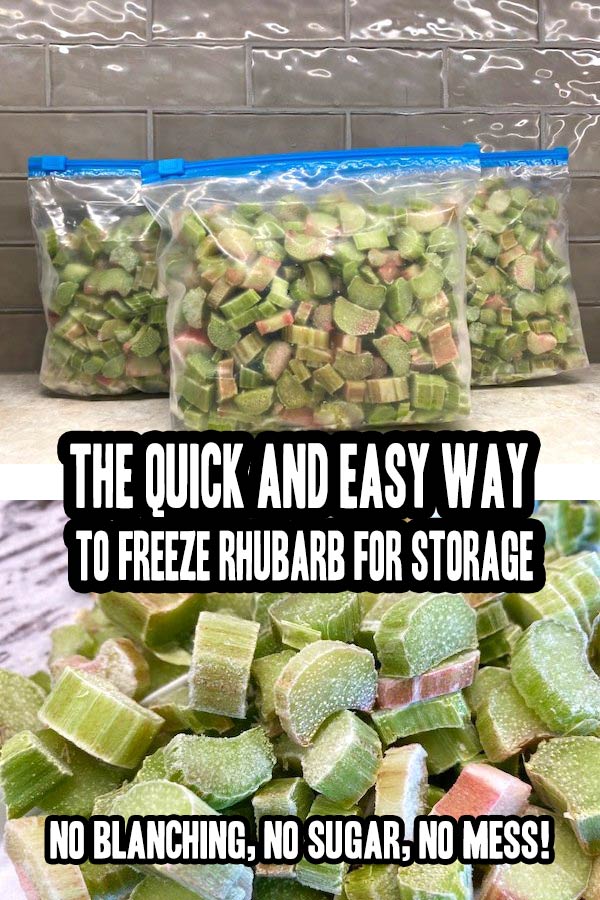 S'mores Bars: How To Make Them Super Fast and Super Good
How To Make The White BBQ Sauce That's Fascinated Us Since 1925
German Sauerkraut Casserole With Bacon And Brown Sugar
If you like these recipes, you are our people! You can check some related articles below or search via categories on the right. But be warned; you will be on here for hours. Enjoy!
So, please share this recipe on your social media accounts like Facebook, Instagram, Twitter, and Pinterest. We would be honored and ever so grateful; thank you!