Pumpkin Scooter Pies For Grownups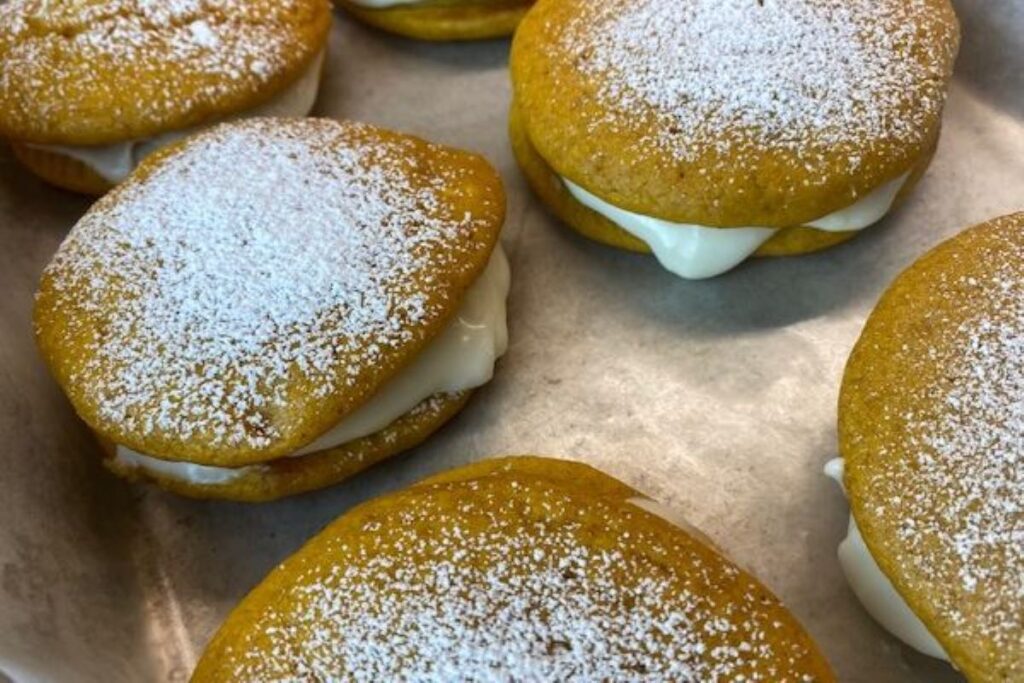 Why not make a batch of Boozy Pumpkin Scooter Pies when you're whipping up Halloween goodies for the kids? These would be great to serve at a grownups-only Halloween party! The youngsters shouldn't get all the treats, should they?
We're about to reach the peak of everything-pumpkin-flavored-frenzy, so why not pumpkin scooter pies? This filling is more sophisticated and adult than the marshmallow filling of our childhood, but how can you go wrong with cream cheese frosting? Could the addition of bourbon possibly be a bad thing? I think not.
Scooter Pies With Bourbon Cream Cheese Filling
These are super quick and easy because they start with a cake mix! Greek yogurt adds a creaminess that helps keep the cake moist, and the tangy flavor gives the cake an awesome old-fashioned flavor that's frighteningly craveable! Not only that, but the acidity of yogurt makes the batter rise better and fluffier!
Mix all the cake ingredients, and lick the beaters because they taste amazing. Even though the batter contained raw eggs, I couldn't help myself.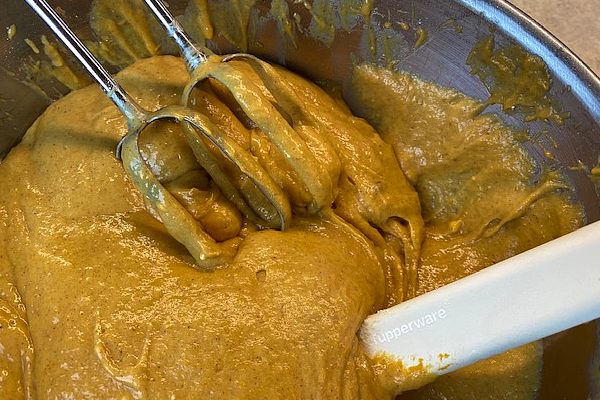 Precision has never been my gift! I used an ice cream scoop to divvy out the batter. My scoop is a number twelve (scoops have a numbering system, and it's usually stamped on them somewhere), and it made circles of batter about 3 1/2 inches across, a perfect treat-size cake.
I use my ice cream scoop when I make muffins or cupcakes, too; it helps make things more uniform in size. Here's a good little article on scoop sizes and what it means.
Of course, you could make these scooter pies smaller and more dainty by making tinier circles of batter. The choice is yours! Around here, we are not dainty and have hearty appetites, so I made them about the size of a donut.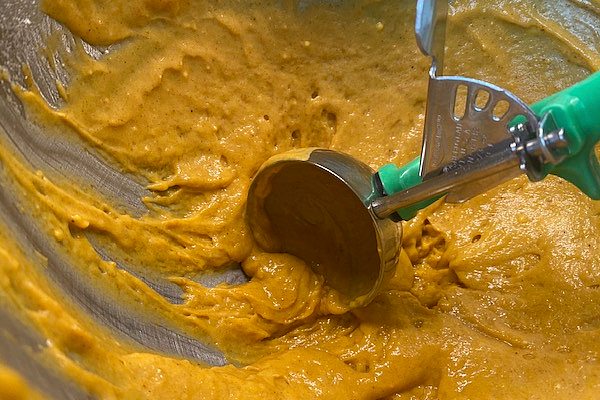 I scooped the batter onto parchment-paper-lined cookie sheets and popped them in the oven for about 18 minutes until the tops sprung back a little when I touched them. Be sure to lick the beaters again because that's your birthright as the dishwasher and cleanup crew! The hard part is hanging around for them to bake and cool, so while you're waiting, whip up the yummy filling!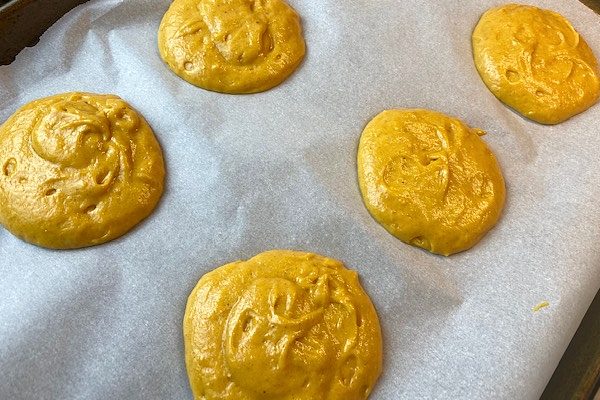 This frosting is soft and spreadable, so it is important not to rush and spread it on a still-hot cake. That is unless you want to tear into one immediately, and if you do, I don't blame you a bit!
If you want a more pronounced bourbon flavor, add more, but you'll also need to add more powdered sugar to keep the consistency spreadable. The result will be thicker filling in each pie; what a shame, right?
Put the frosting/filling on half of the little cakes. Don't spread it to the edge because it will naturally squish out a little when you put the other cake on top.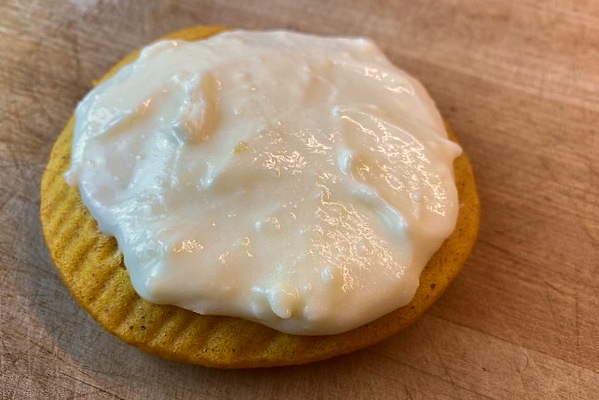 There you have it, a tray of good-looking, delicious Boozy Pumpkin Scooter Pies! Now put the tops on all the scooter pies. Sprinkle them with powdered sugar tapped on through a sieve for a pretty finishing touch. It's easy to double the recipe for a bigger crowd.
A yellow or golden butter or a spice cake mix are all great choices. You might also experiment with different kinds of alcohol in the filling. Fireball, amaretto, or rum might also make delicious scooter pies!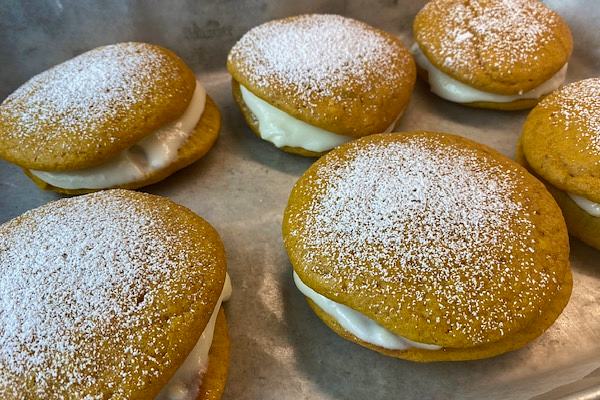 We do not eat scooter pies with a fork!! No! Scooter pies are made for nibbling bite by bite, starting from the edges, while licking your sticky fingers like this. So. Darn. Tasty.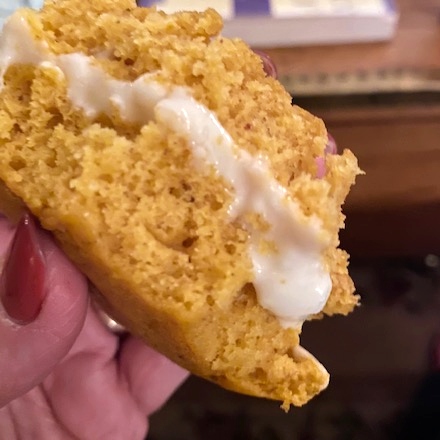 Halloween is back, and more adults are celebrating along with the kids. Many parties and activities are adult-only, and the budget for Halloween spending is exploding now that there are fewer restrictions in most areas of the country. These adult treats are the perfect sweet for trick-or-treat night.
According to the National Retail Federation, consumers spent a record $10.14 billion on Halloween this year. That's up from $8.05 billion in 2020 when the pandemic put a damper on holiday celebrations.
Yield: 10 pies
Pumpkin Scooter Pies For Grownups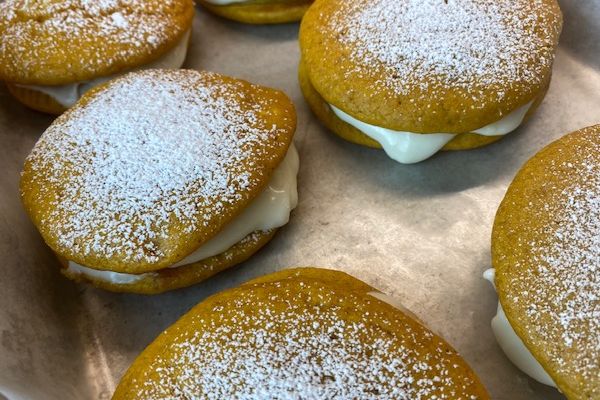 Two flat spongy cakes filled with bourbon cream cheese frosting and dusted with powdered sugar.
Additional Time
10 minutes
Ingredients
CAKE
One yellow, golden butter, or spice cake mix
1 15 ounce can pumpkin puree, not pumpkin pie filling 
3 large eggs 
1/2 cup plain Greek yogurt  
1/2 cup vegetable oil 
1 tsp cinnamon (if using a yellow or butter cake mix)
1/2 tsp nutmeg (if using a yellow or butter cake mix)
1/4 tsp ground cloves (if using a yellow or butter cake mix)
FROSTING/FILLING
4 ounces cream cheese, softened to room temperature
1/4 cup butter, softened to room temperature
1 tsp vanilla
1-2 Tbsp bourbon
3 to 4 cups powdered sugar
Instructions
Preheat oven to 350 degrees.
Cover cookie sheets with parchment paper.
Combine cake mix, pumpkin, yogurt, eggs, oil, and spices. Beat well at medium speed until well blended.
For uniform size pies, use an ice cream scoop to place about 3 1/2" of batter on the baking pan. They do not spread too much.
Bake for about 18 minutes or until they spring back when lightly touched and are slightly dry around the edges.
Allow cakes to cool completely before adding the filling.
Spread the frosting almost to the edge of one cake, top with another cake, and dust lightly with powdered sugar if desired.
FROSTING
Beat cream cheese, butter, 1 or 2 Tbsp bourbon, and vanilla together until light and fluffy.
Add powdered sugar gradually, beating well. You may need to add some powdered sugar until the desired spreading consistency is achieved.
If you want a more pronounced bourbon flavor, add bourbon and powdered sugar gradually, alternating until you have achieved the desired spreading consistency.
How do you celebrate Halloween? Why not join the fun? This year, invite some adult friends for a fun night of pumpkin carving, games, scary movies, and snacking. These Boozy Pumpkin Scooter Pies would be perfect on the snack table!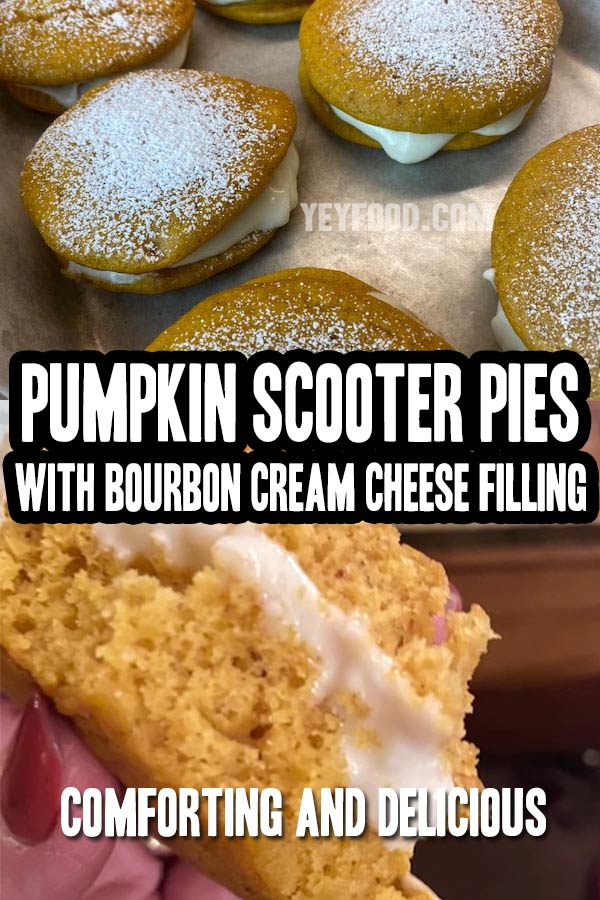 MORE RECIPES FROM US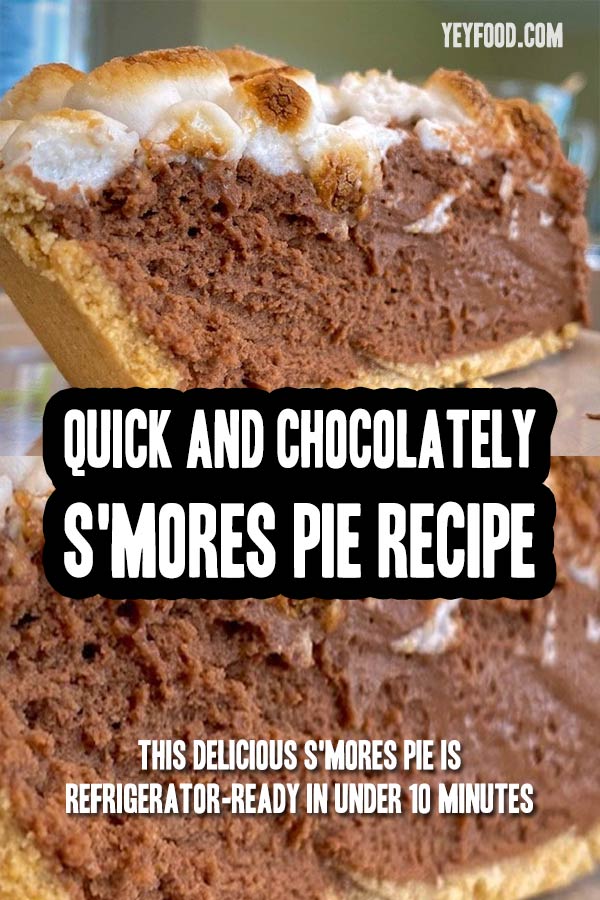 S'mores Bars How To Make Them Super Fast and Super Good
How To Make The White BBQ Sauce That's Fascinated Us Since 1925
German Sauerkraut Casserole With Bacon And Brown Sugar
If you like these recipes, you are our people! 😊 You can check some related articles below or search via categories on the right. But, be warned; you will be on here for hours. Enjoy!
So, please share this recipe on your social media accounts like Facebook, Instagram, Twitter, and Pinterest. We would be honored and ever so grateful; thank you!