Pumpkin Caramel Poke Cake With Bourbon Cream Cheese Frosting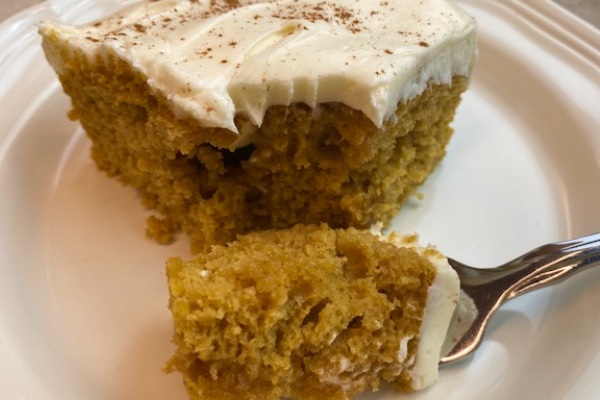 This pumpkin caramel poke cake is the poster child of all fall desserts. You've got to admit a dense, moist pumpkin cake poked with caramel AND topped with cream cheese frosting is already a winner. Spike that cream cheese frosting with bourbon? Now, my friend, we have a triple crown dessert!
Starbucks leads the charge to pumpkin-flavored everything beginning in late August. And by October, good gourd, the whole nation is swept into a frenzy of pumpkin fever! Why not? Pumpkin anything is pretty amazing!
I have a ridiculous fondness for pumpkins in every shape, size, and color, and it borders on an obsession. I love baby boo pumpkins, warty, flat, white, gray, and red pumpkins. No matter if they are short and squatty or tall and lean, I'm a fan.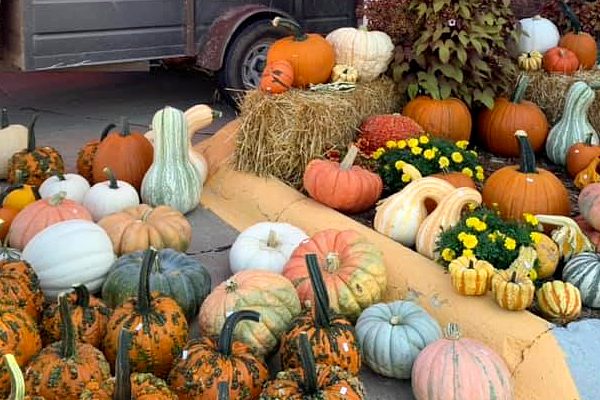 I love decorating with pumpkins and love eating pumpkin every bit as much. Every fall, I can't wait to try out new pumpkin recipes.
November Is Perfect For Pumpkin Cake And Pumpkin Flavored Anything
What would Thanksgiving dinner be without pumpkin desserts? This pumpkin caramel poke cake belongs right next to the pumpkin pie, and it's simple to make! The recipe starts with a cake mix and a can of pumpkin puree. What could be easier? The batter is thick and tantalizingly fragrant!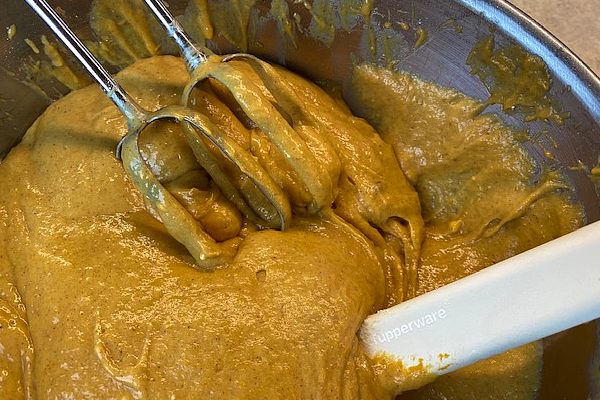 If you want to get fancy, bake it as a bundt or layer cake and adjust the baking times. Me? I wanted a simple (but amazingly tasty). So, I baked it in a standard 9 x 13 pan.
Bake this beauty at 350 degrees for about 30 minutes until the edges pull away slightly from the edge of the pan. The cake tester should come out clean, even in the tallest part of the cake.
Why I Want To Kiss The Brave Person That Made The First Poke Cake
The first person who courageously poked holes in a hot cake and poured something yummy into it deserves our eternal thanks! This step produces a super moist cake with an added dimension of flavor. So thank you, mystery baker. We'll love you forever.
Now, while the cake is still hot from the oven, grab a wooden spoon with a round handle and poke holes all over the cake about 1 1/2 inches apart. You want big, thirsty craters to soak up the caramel topping you're pouring in. Presto! Now, it's a pumpkin caramel poke cake!
Let the poked cake cool all the way to room temperature before you slather on the frosting. That is important but oh so hard. I hate waiting, especially for cake. Don't you?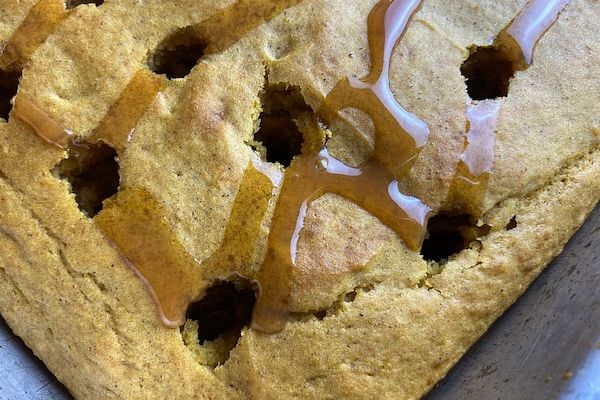 While you're waiting for the cake to cool, here are some of my other poke cake recipes. You oughta try them, too. Candy Bar Poke Cake, Rhubarb Poke Cake, Coconut Chocolate Almond Poke Cake!
The Decadent Cream Cheese Frosting Is Quick And Easy To Make
I hope you set out the butter and cream cheese to soften. You did, didn't you? The frosting is super simple to make when you start with creamy soft butter and cream cheese.
Beat the cream cheese and butter together with the vanilla and bourbon until it's all nice and fluffy. Next, gradually add the powdered sugar until you get the right spreading consistency.
Powdered sugar can be a bit mysterious, so do add it gradually. I found I needed about 3 1/2 cups. If it gets too thick, you can add a little more bourbon or even some milk. On the other hand, if it's too thin, add more powdered sugar until you are happy with it.
This recipe makes a generous batch for a thick blanket of frosting on the cake, and who doesn't think that's a good idea? Be sure and lick the beaters, or why else would you be the one washing the dishes, right?
I garnished the top with a sprinkle of cinnamon, and I could have used nutmeg. My husband isn't nuts about nuts on a cake or in fudge, so I left them off. However, my daughter and I think chopped party peanuts would add a salty, crunchy, and amazing element.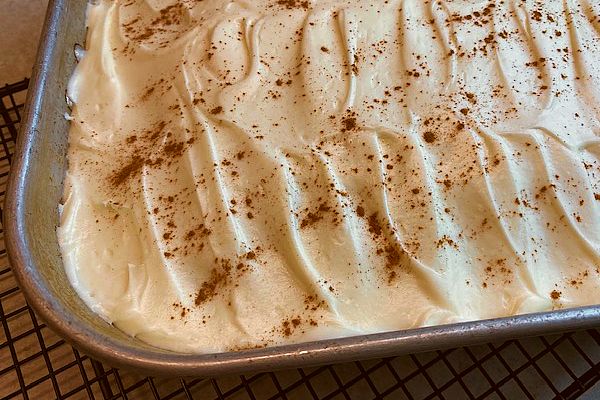 Just look at that dense, moist cake with so much frosting on top! Completely yummy!! In America, pumpkin pie is the favorite pumpkin dessert, but it isn't the first choice at our get-togethers. We want something even richer and creamier! If we are splurging on dessert, it's "go big or go home!" What is your favorite pumpkin dessert?
Yield: 16 servings
Pumpkin Caramel Poke Cake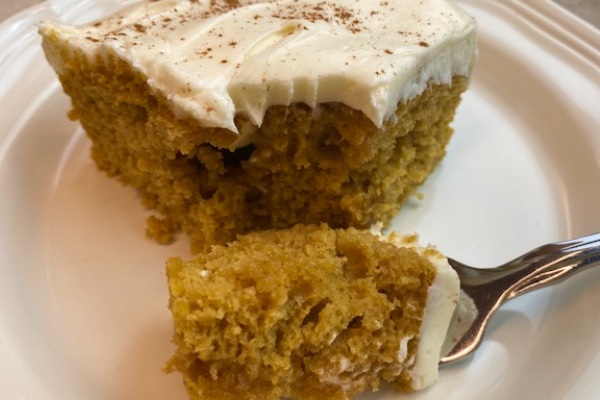 This cake is dense and moist, infused with caramel, and topped with a thick layer of decadent bourbon-laced cream cheese frosting.
Total Time
1 hour
50 minutes
Ingredients
CAKE
1 box yellow cake mix
1  15-ounce can pumpkin puree (not pumpkin pie filling)
1/4 cup brown sugar
1/2 cup vegetable oil
4 large eggs
1/4 cup water
1 tsp cinnamon
1/2 tsp nutmeg
1/2 tsp ground cloves
1 to 1.5 cups caramel syrup (ice cream topping)
1/2 cup chopped salted party peanuts for garnish (optional)
FROSTING
1 8-ounce block cream cheese, softened at room temperature
1 stick butter (1/2 cup) softened to room temperature, not melted
2 tsp vanilla
3-4 Tbsp bourbon
1/2 tsp salt
3-4 cups powdered sugar
Instructions
Preheat the oven to350 degrees.
Spray or grease the bottom only of a 13" x 9" pan.
Mix all ingredients and beat well. The batter should be thick and smooth.
Bake 30 minutes or until a toothpick or cake tester inserted in the center of the cake comes out clean. The cake should pull away slightly from the edges of the pan.
While the cake is still hot, use the round handle of a wooden spoon to poke holes in the cake. Holes can be about 1 1/2" apart.
Pour caramel sauce evenly in the holes.
Let cake cool completely before frosting, about an hour.
Add your desired garnish after the cake is frosted.
FROSTING
Beat cream cheese, butter, bourbon, and vanilla together until light and fluffy.
Add the powdered sugar gradually, beating well until the desired spreading consistency is achieved.
If it is too thick, add a bit of milk. If too thin, add a little powdered sugar at a time.
Spread evenly over the top of the cake.
If desired, add a garnish of chopped salted peanuts.
Optional: If you don't want to add nuts, a sprinkle of cinnamon or nutmeg makes an attractive garnish.
If you bake this cake, and especially if you put chopped peanuts on top, please send us a picture of you with your cake! We'd be so happy to hear from you! (And we can show my husband our idea was better!)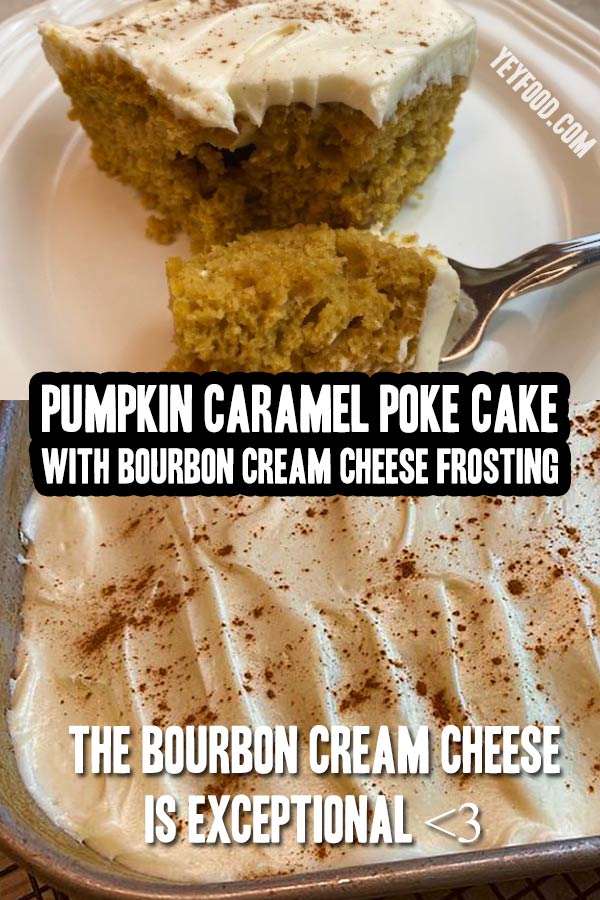 MORE RECIPES FROM US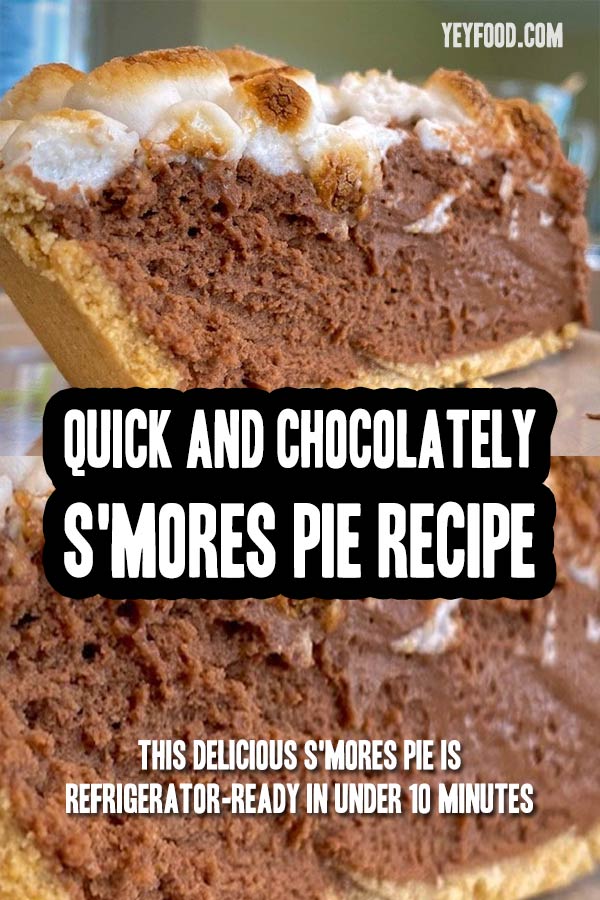 S'mores Bars How To Make Them Super Fast and Super Good
How To Make The White BBQ Sauce That's Fascinated Us Since 1925
German Sauerkraut Casserole With Bacon And Brown Sugar
If you like these recipes, you are our people! 😊 You can check some related articles below or search via categories on the right. But, be warned; you will be on here for hours. Enjoy!
So, please share this recipe on your social media accounts like Facebook, Instagram, Twitter, and Pinterest. We would be honored and ever so grateful; thank you!