Another Yummy Cake Mix Hack You'll Love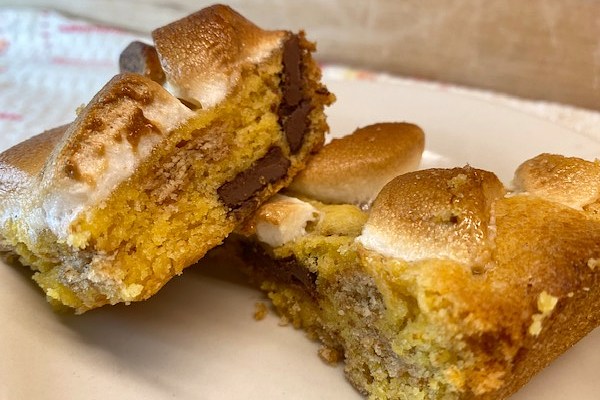 S'mores bars are something I threw together on a whim. (Yay for happy endings!) I had spent enough time at the keyboard and needed to play in my kitchen for a while. I made a mental checklist of what I had in the cupboard, and I decided I had everything I'd need to try a pan!
I can't think of anyone that doesn't love a s'more, can you? Gooey, marshmallowy, chocolatey, and delicious!
For years, I've been making cookies and bars using a cake mix to start with. It all began when our girls were in high school, and I was a half-crazed working mom. If there was a fast way of doing something, I needed to know it!
Check out these Busy Day Lemon Bars and read more about my Desperation Cookies adventures!
Yummy S'mores Bars In Record Time Here's How To Do It
Stir together one box of yellow cake mix with two eggs and 1/2 cup of oil. You only need a spoon! This is a one-bowl, one-spoon wonder!
Break two regular-size Hershey bars into pieces. (I broke each little rectangle in half.) Then, break 3 or 4 full-size oblong graham crackers into pieces. I broke each smaller rectangle into two or three pieces, all depending on how they broke!
Gently fold the chocolate and graham crackers into the cookie dough. SPRAY the pan with a little non-stick coating. You can also butter the pan. I love my trusty 11″ by 7″ glass baking dish. It's an old friend, so I used it, but you can also use a square baking pan, either an 8″ by 8″ or a 9″ by 9″ pan, too!
Pat the dough into the pan with your fingers. At this point, you can redistribute the chocolate pieces a little if you think they need to be spaced more evenly! 😉 Obviously, the thickness of the finished bar will vary a bit depending on which size pan you use!
Next, I quartered large marshmallows with my kitchen shears until I had enough to cover the top. I sort of lost count, but I think it was about 13 or 14 large marshmallows. (Remember, marshmallows puff as they toast!) I could have used miniature marshmallows, but I was out, and the whole point of this adventure was to use what I had in the cupboard!
Then I slid the pan into a 350-degree oven for 25 minutes, all the while keeping my fingers crossed that the marshmallows wouldn't get too brown! (This was untested before that day!)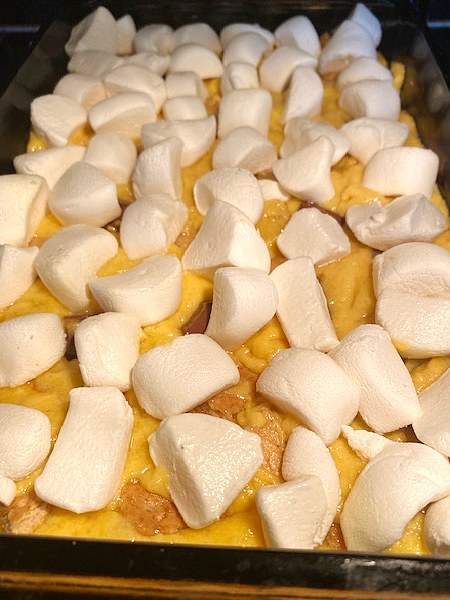 Hallelujah, it worked perfectly! See how gorgeous? The cake tester came out clean, and the marshmallows were beautifully toasted! Then came the hard part! Waiting for them to cool completely so I could cut them!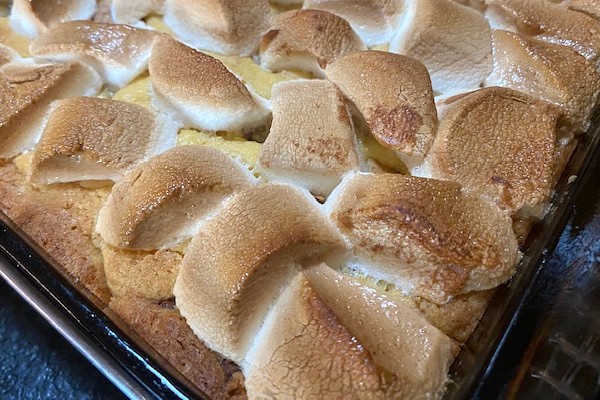 The marshmallows were a bit sticky when we first wrangled a sample out of the pan, but I covered the pan and left them until the next day. An out-of-town baseball game eliminated the temptation to tear into them more that evening!
Lo and behold the next day, they cut like a charm! Take a peek in the pan, and you can see the nice, clean edge on those yummy s'mores bars! See all the yummy bites of chocolate and graham crackers baked right into the soft, chewy bar? And those toasted marshmallows on top are the perfect finishing touch!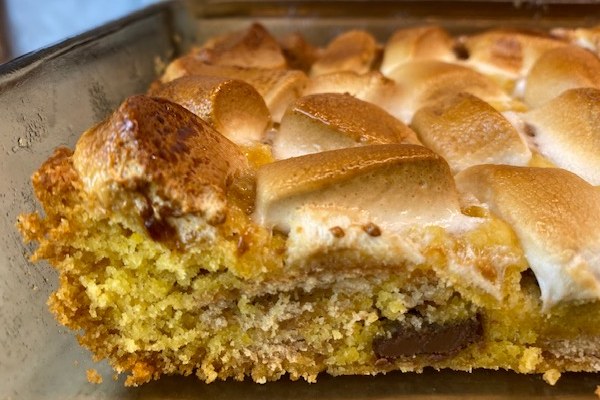 Later on, you can bake these s'mores bars when the snow is flying, and it will be summertime in your mouth! Here's another fun recipe you can make from a brownie mix, Chocolate Peppermint Hurry Up Bars. Christmas is less than five months away, so tuck that recipe away for a snowy day, too!
I bet the kids would love these s'mores bars in their lunch boxes! When does school start where you live? Too soon, right?
Yield: 16 bars
Fast And Easy S'mores bars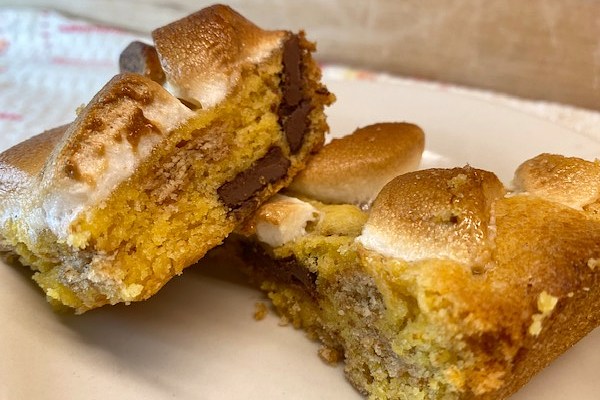 A quick and easy bar cookie starts with a box of yellow cake mix and is crowned with toasted marshmallows!
Ingredients
1 box of yellow cake mix
2 eggs
1/2 cup oil
2 regular size plain Hershey's candy bars
3 or 4 whole oblong graham crackers
About 13 large marshmallows, quartered 
Instructions
Stir together the cake mix, eggs, and oil until everything is combined.
Break the graham crackers into pieces.
Break the Hershey bars into pieces.
Gently stir the crackers and chocolate into the cookie dough.
Spray or butter a square 8-inch or 9-inch or an oblong 11" x 7" baking pan.
Pat cookie dough into the baking pan with your hands, redistribute chocolate pieces if needed.
Place quartered marshmallows on top of the batter, pressing down gently.
Bake at 350 degrees for about 25 minutes or until a cake tester comes out clean and the marshmallows are nicely toasted.
Let bars cool completely, even overnight, before cutting into bars.
Here at yeyfood, we have a huge sweet tooth, especially one person! We love fast and easy recipes, and we feel no shame in using every available shortcut! Here are some of our most popular fast and easy recipes when you crave something sweet. Peanut Butter Cheerio Bars, No-Bake Frito Bars, Busy Day Lemon Bars, and Three-Ingredient Cherry Dump Cake.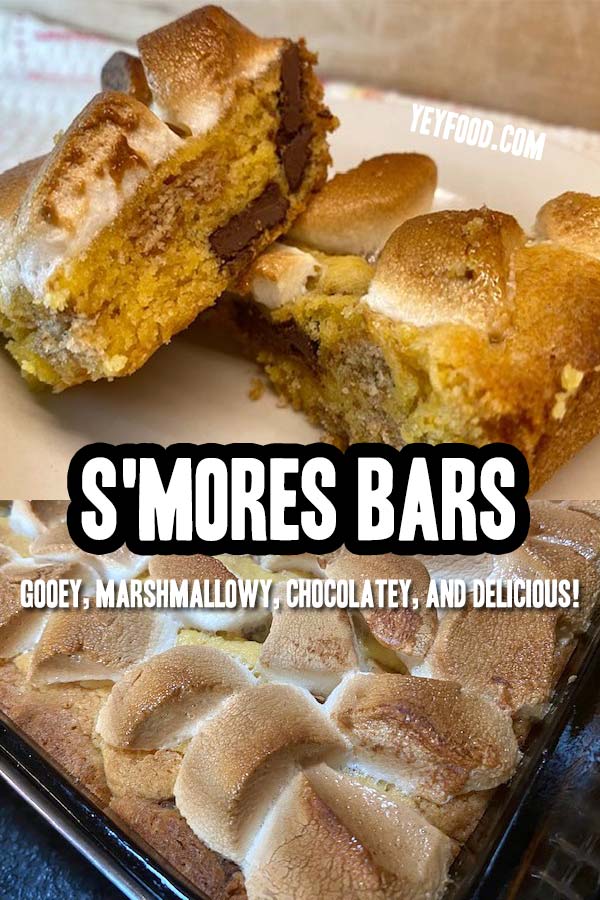 More recipes from us:
4 Reasons You Should Freeze Some Sweet Corn This Summer
How To Make The White BBQ Sauce That's Fascinated Us Since 1925
If you like these recipes, you are our people! You can check some related articles below or search via categories on the right. But be warned; you will be on here for hours. Enjoy!
So, please share this recipe on your social media accounts like Facebook, Instagram, Twitter, and Pinterest. We would be honored and ever so grateful; thank you!