This Is One Honey Of An Easy Snack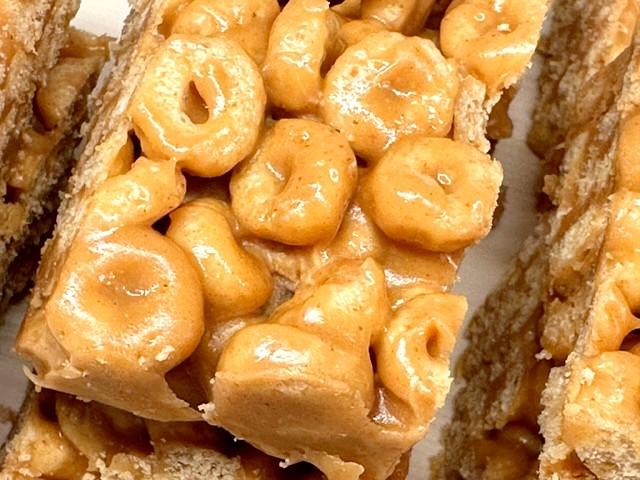 Here's a great healthy snack for kids of all ages. Perfect for mid-afternoon or midnight munching. These yummy Cheerio bars have just three ingredients; honey, peanut butter, and Cheerios oat cereal. In a pinch, these bars would be a fairly good breakfast on the go.
We don't have any kids at home anymore. Heck, even our grandkids are all nearly grown but they still pop in and sometimes they need a ride so I always try to have some snacks on hand for them. I like snacks as much as they do, and these Cheerio bars are a treat I don't have to feel guilty about.
The best thing about the Cheerios bars is that they taste good, in fact, they are chewy, gooey, crunchy, and pretty darn wonderful without any added sugar! The second best thing is they're ridiculously easy to make. Who-needs-grandma-easy.
Here's How To Make A Pan Of Peanut Butter Cheerio Bars
Gather the ingredients and line a square baking pan, either an eight-by-eight or a nine-by-nine pan with parchment paper or good old waxed paper as I did here. If possible, use local honey. Honey is a powerful antioxidant and has many other health benefits.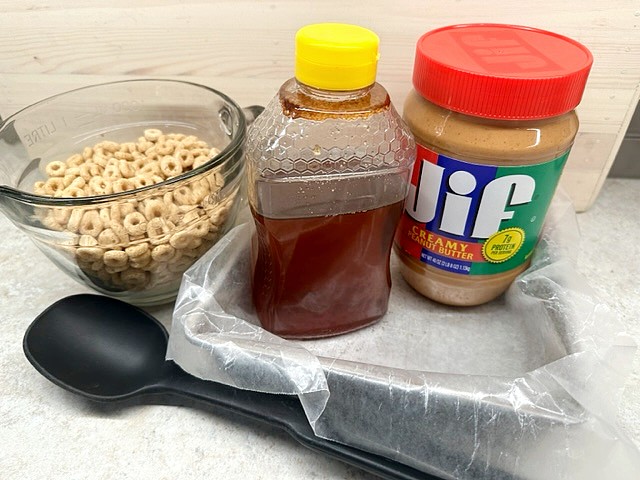 The best tip I can give you when you make these yummy treats is this. Non-stick cooking spray like Pam is your friend. Spray your measuring cups and the peanut butter and honey will slide right out.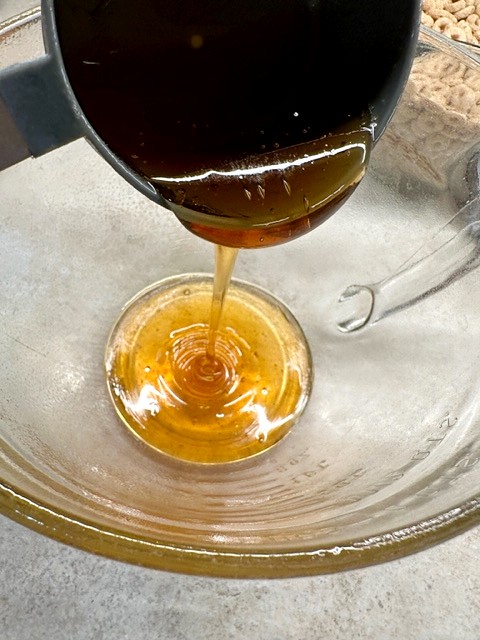 Spray a microwave-safe bowl. I love using my Pampered Chef batter bowls for a job like this. They have a handle and are so easy to use. Put the peanut butter and honey in the bowl and zap it in the microwave for thirty seconds. That should be enough to make it easy to stir them together. Spray the spoon!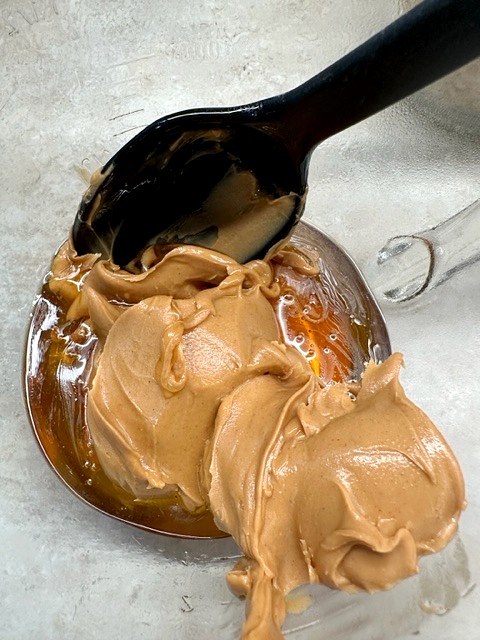 Now add the Cheerios, and by the way, I used a considerably less expensive store brand of the oatey circle cereal and it worked just fine!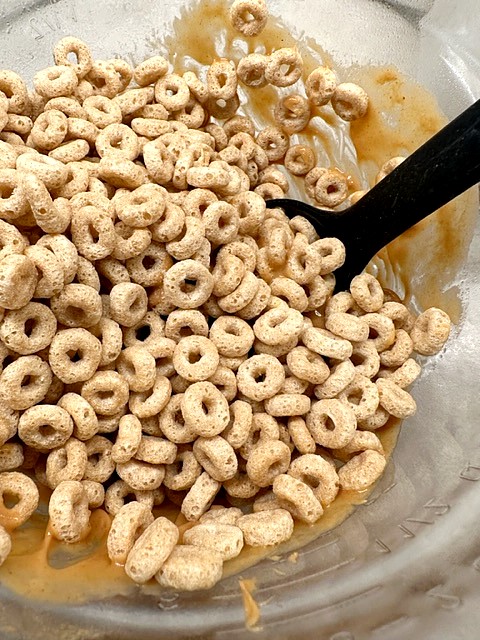 Now pour the sticky mixture into the pan you have lined, and with your fingers or a rubber spatula you have sprayed, pat the mixture evenly into the pan.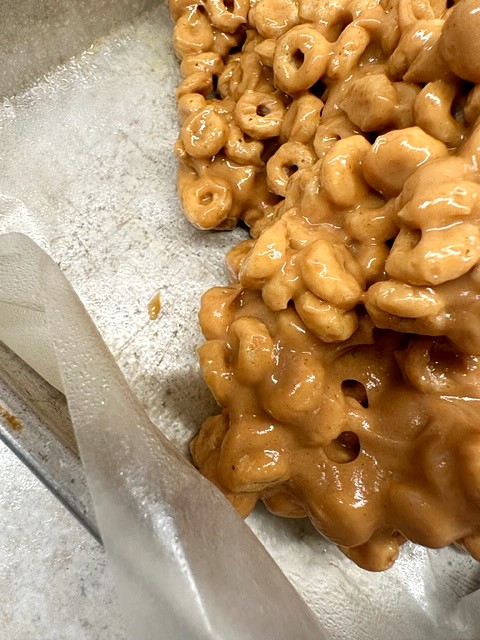 Here comes the hard part. You need to refrigerate the Cheerio bars for at least an hour to let them cool and get firm enough to cut. I know, it's hard to wait.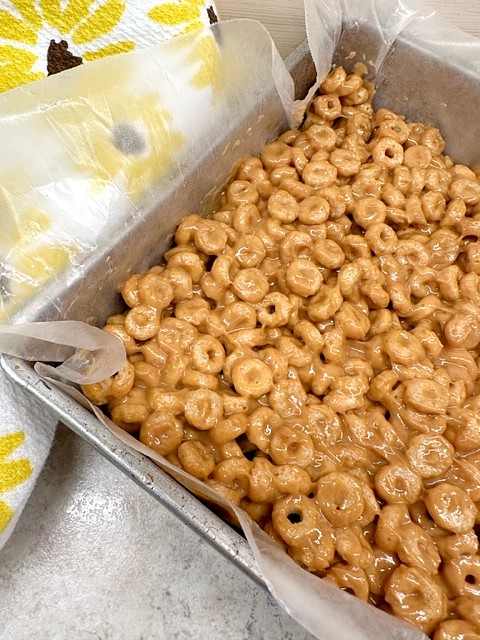 When the bars are cool, cut them into the size of serving pieces of your choice, I cut my eight-inch square pan into sixteen bars each about two inches square. Confession! I ate two of them immediately before I even took a picture! In a word, they are irresistible!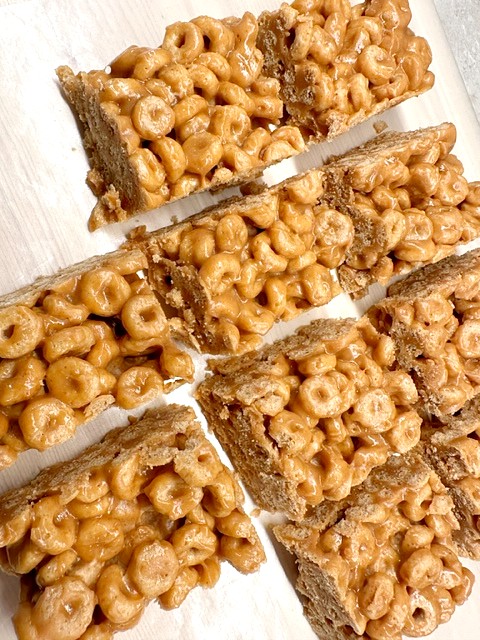 Since there is no sugar or corn syrup in this recipe, the bars should be kept in the refrigerator where they will stay firm. This recipe makes a small batch and if you like them as much as we do, they won't be in the refrigerator for long! You could easily double the size of the batch and make a thirteen-by-nine-inch painful.
If you want, you could use crunchy peanut butter or add some chopped peanuts for even more crunch! If you like, you could also add some mini chocolate chips!
These yummy peanut butter Cheerio bars have much less sugar than most snacks and since you make them at home, you know exactly what's in them and you can be confident there are no weird chemicals or preservatives.
Printable Recipe:
Yield: 16 squares
Easy Peanut Butter Cheerio Bars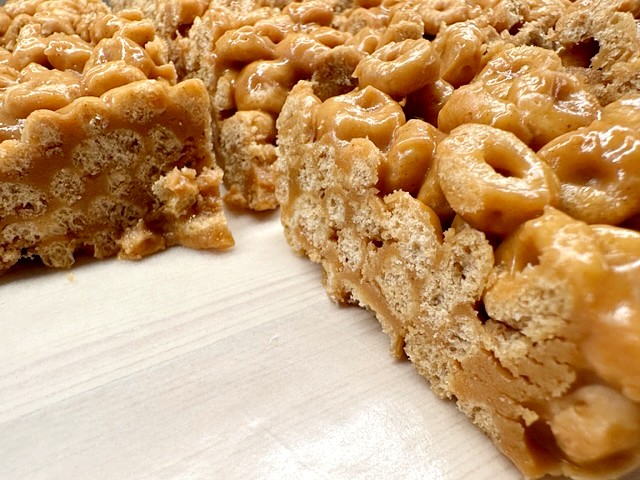 A quick and easy healthy snack made with just three ingredients, honey, peanut butter, and Cheerios cereal.
Ingredients
3 cups Cheerios
3/4 cup peanut butter
1/2 cup honey
Instructions
Line an 8x8 pan with waxed paper or parchment paper.

In a medium microwave-safe bowl, heat the peanut butter and honey for about thirty seconds, then stir until they are thoroughly blended. If necessary, heat for another thirty seconds.

Stir in the Cheerios until the cereal is completely covered with the peanut butter and honey mixture.

Place the mixture into your prepared pan and pat them in place.

Cover and refrigerate for at least 1 hour before cutting.

Keep any leftovers stored in the refrigerator.
If you enjoyed this recipe, please share it on your social media! I would love for more people to try this delicious and easy-to-make dessert. If you have any questions or feedback, please feel free to leave a comment below. I would love to hear from you! Shhh… Join our secret foodie group on Facebook.
We do love all kinds of wholesome homemade food we can feel good about serving to our family! Here are some of our most popular recipes. Classic American Goulash, Authentic Runzas, Easy Butter Baked Cod.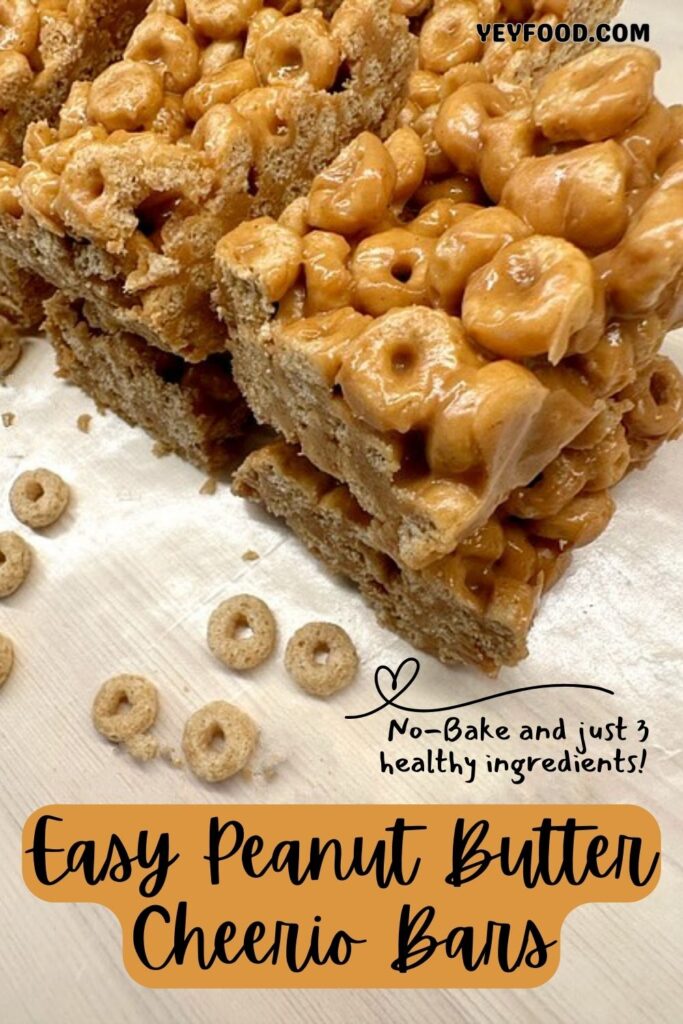 MORE OF OUR QUICK AND EASY FAMILY-STYLE RECIPES: