Crunchy And Packed With Flavor To Jazz Up Your Meal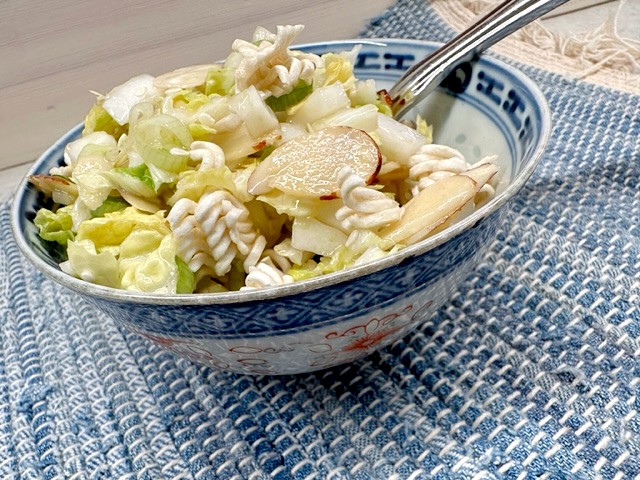 Last week, I ate lunch with my daughter at a cool deli located in an old dairy. The restaurant is famous for its Chinese cabbage salad. The place was oozing with character and history; it was charming as heck.
I love finding a new spot to eat, don't you? I had a terrible time deciding on a sandwich but knew I had to try the salad! This was a different version than anything similar I have had in the past, and I knew I would attempt to replicate it at home!
I don't know how long it had been since I had some Asian coleslaw, but after one bite, I knew it had been too long! There are many ways to make an Oriental-style cabbage salad like this, but I love how the curly, crunchy Chinese cabbage works in this recipe.
Chinese Cabbage Salad Begins With Beautiful Napa Cabbage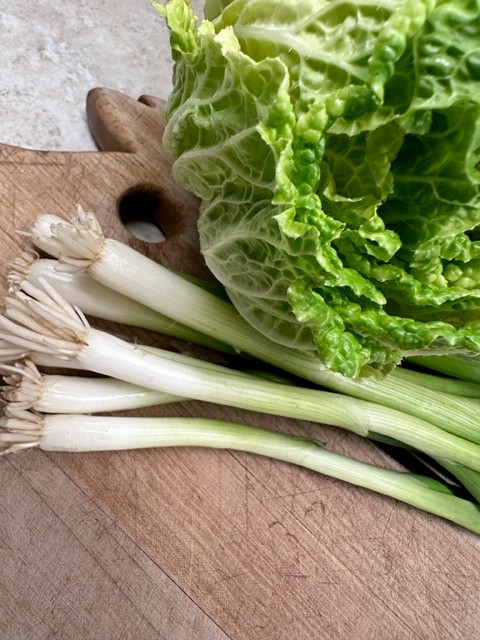 Chinese cabbage is the same thing as Napa cabbage. Chinese cabbage has a more elongated oval shape than ordinary round white cabbage, with long light green leaves. The leaves are very crinkly and tightly packed. The center of each leaf has a thick white rib that is tender and crunchy.
Chinese cabbage has a much milder flavor than white cabbage. It's an extremely versatile vegetable that can be eaten raw, cooked, stir-fried, or pickled. With its smooth leathery leaves, white cabbage can taste peppery; Napa cabbage becomes sweeter when cooked. It is a staple in Asian cuisine.
It works great in this salad because those crinkly leaves really hold onto the dressing, so it packs a punch!
Chop about six cups of Chinese cabbage into a bowl.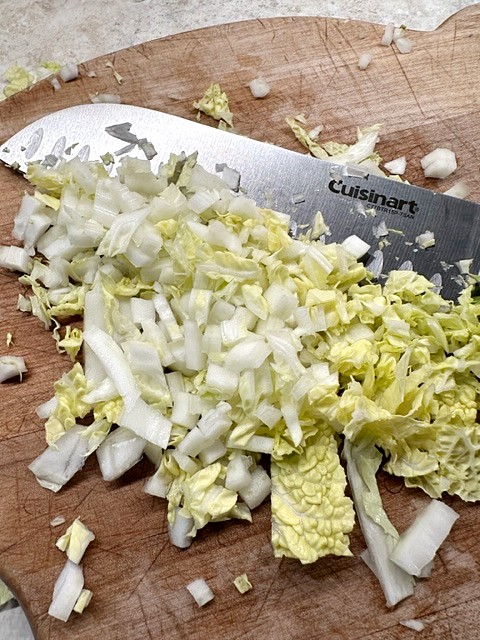 Next, thinly slice green onions, including part of the green tops. Use six or more; they add a lot of color and flavor to this wonderful Chinese cabbage salad.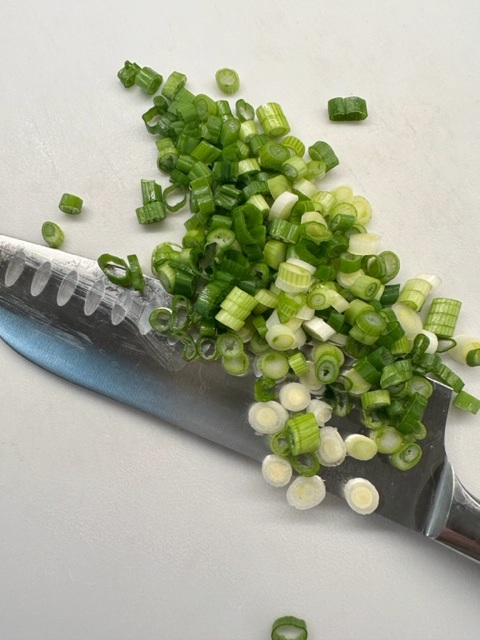 Now put the green onions in the bowl with the cabbage and add one-half cup or more of sliced almonds and two or more tablespoons of sesame seeds. Add as much crunch as you want!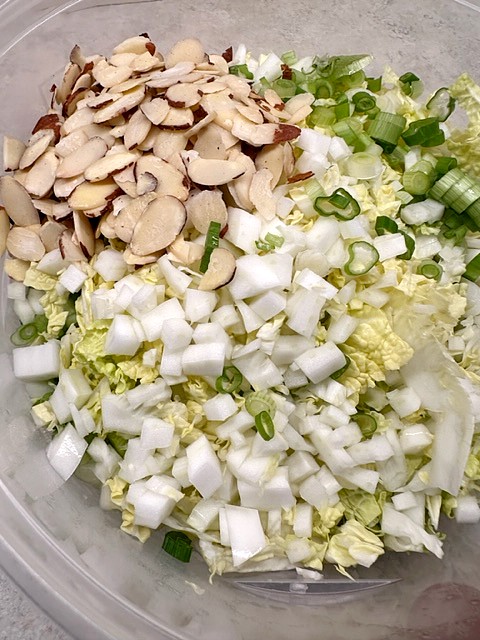 Shake Up The Piquant Dressing For Your Chinese Cabbage Salad
I used Maruchan seasoned rice vinegar; I love the tangy flavor. I chose sweet and savory Hoisin sauce instead of soy sauce because hoisin sauce is thicker, more complex, and has a lot more depth of flavor. Hoisin is made with sugar, water, soybeans, salt, sweet potato, sesame seeds, cornstarch, garlic, wheat flour, chili pepper, and spices.
Peanut or sesame oil would be terrific as part or all of the oil. I used ordinary canola oil in the dressing this time because that is what I had on hand. Finally, I added some sugar, but you may want to omit it. Taste first and decide!
I used a salad shaker bottle made just for this purpose, but you can also shake up this dressing in a jar with a tight-fitting lid. Pour the dressing over the cabbage mixture and toss it well.
Crush the ramen noodles but don't smash them to bits. Add the ramen noodles just as you're serving the salad, so they add even more crunch. In the deli, they add the ramen noodles as the salads are on the way to the table.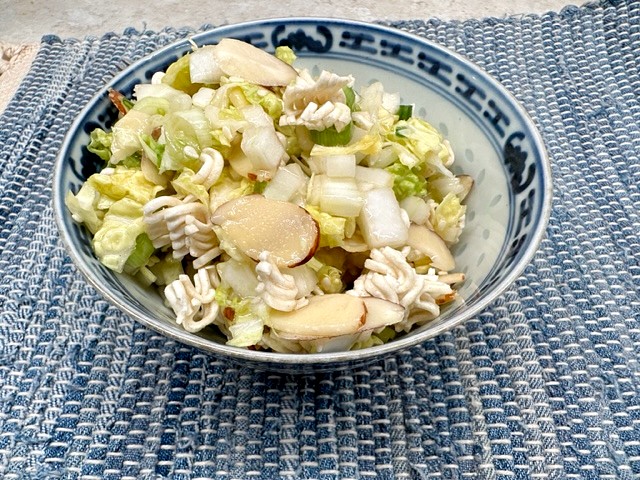 Unless you're sure you'll eat all the Chinese cabbage salad in one sitting, serve the ramen noodles on the side and let each person add them as they put it on their plate. The noodles quickly absorb the dressing and lose their crunch, and that crispy crunch is part of what makes this salad taste so amazing!
A great salad adds so much to any meal; even the most boring main dish benefits from some color and crunch of a tasty salad. They are worth the effort because they can really jazz up mealtime! The fact that this salad is so pretty and interesting helps, too, because momma always told us, "We eat with our eyes."
Yield: 8 servings
Chinese Cabbage Salad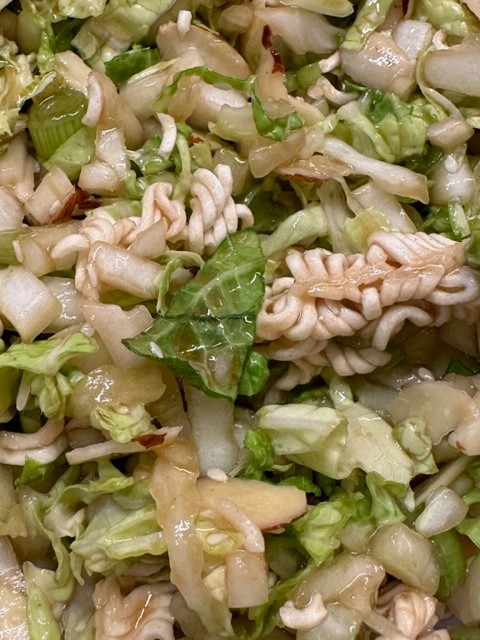 This is an especially tasty Chinese cabbage salad using Napa cabbage and a lively piquant dressing, crunchy almonds, sesame seeds, and raw ramen noodles.
Ingredients
SALAD
6 cups coarsely chopped Napa cabbage (also called Chinese cabbage)
6 or more green onions, thinly sliced. Include part of the green tops.
1/2 cup or more sliced almonds
2 Tbsp sesame seeds
One package raw ramen noodles, any flavor, coarsely crushed. You won't use the seasoning packet
DRESSING
1/2 cup Marukan Seasoned Rice Vinegar
2 Tbsp Hoisin sauce
1 Tbsp sugar, or about 2 tsp of honey
1/2 cup canola oil
1 Tbsp soy sauce or to taste, optional
Instructions
Combine the chopped cabbage, green onions, almonds, and sesame seeds in a bowl.
Mix dressing ingredients in a shaker jar, pour over the vegetables, and toss.
The crushed Ramen noodles need to go on immediately before serving, not sooner. I suggest you put them on at the last minute or do them on the side so they can be added by each person when they begin eating.
Nutrition Information:
Yield:
8
Serving Size:
1
Amount Per Serving:
Calories:

257
Total Fat:

20g
Saturated Fat:

2g
Trans Fat:

0g
Unsaturated Fat:

17g
Cholesterol:

0mg
Sodium:

438mg
Carbohydrates:

16g
Fiber:

2g
Sugar:

5g
Protein:

4g
We love a tasty salad, and we have loads of wonderful salad recipes on yeyfood. Here are some of our most popular ones. Broccoli and Cauliflower Salad With Bacon And Grapes, Sweet Corn Salad With Red Wine Vinaigrette, and Sauerkraut Salad. How about you? Do you have a terrific salad everyone looks forward to eating at your house?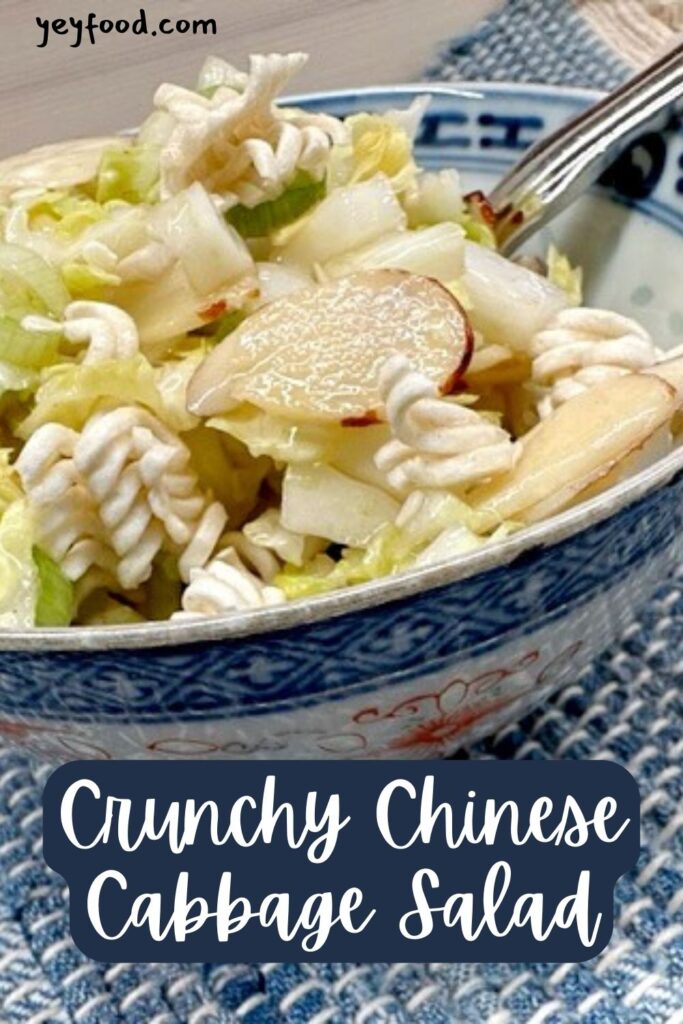 MORE OF OUR QUICK AND EASY FAMILY-STYLE RECIPES: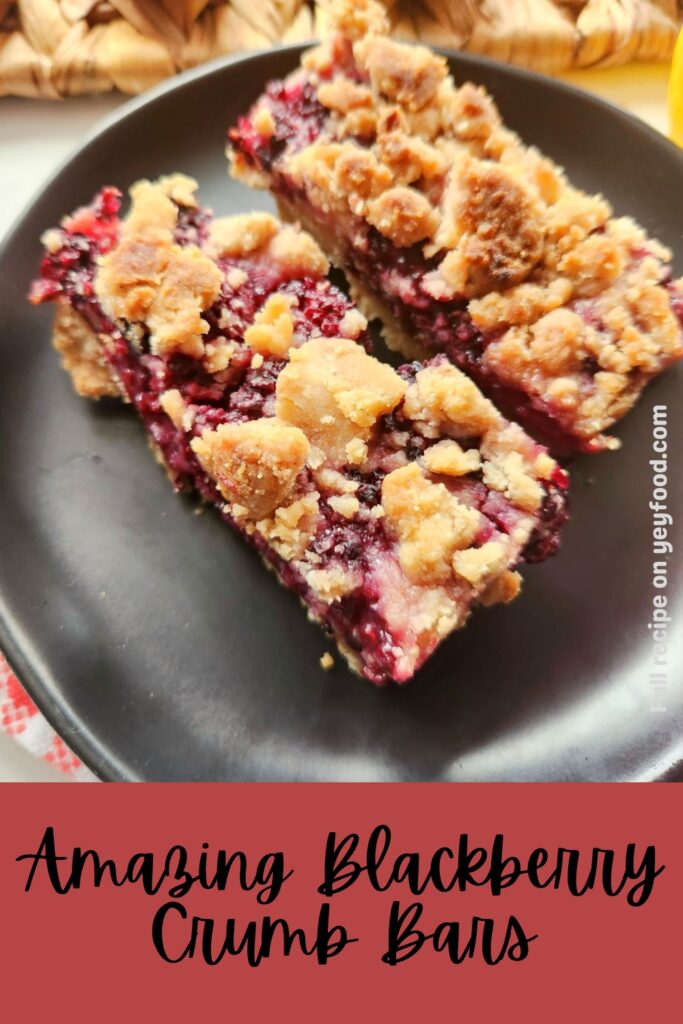 The Number 1 Practically Perfect Poppy Seed Bread
Oven-Baked Steak With Brown Gravy
Super Delicious German Dessert Recipes
Amazing Frosted Brownie Cookies
If you like these recipes, you are our people! You can check some related articles below or search via categories on the right. But be warned; you will be on here for hours. Enjoy!