Quick and Simple Healthy And Fresh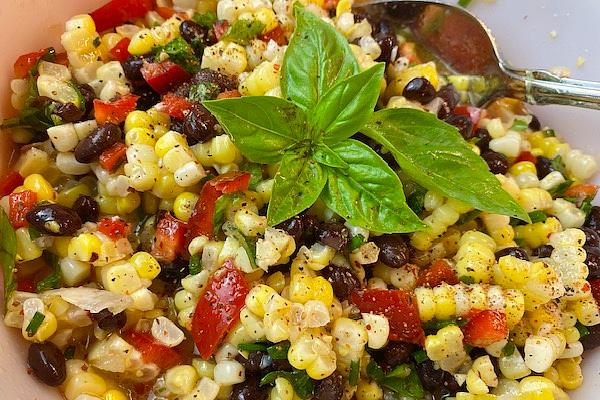 Last summer, I wanted to make a sweet corn salad with no mayonnaise or cilantro. When I began to think up a salad using sweet corn, I found many others had the same idea. However, nothing sounded like what I had in mind, so I started to experiment.
I'm one of "those people" who think cilantro tastes like soap. I feel so much better about it now that I know it is a genetic thing, and it's not that I am a fussy or picky eater. I always say, "food is my favorite dish," and I can count the foods I dislike on two fingers.
Interested? Please read this article; I found it to be fascinating and forgiving. Instead of using cilantro, I created this recipe using a spunky red wine vinaigrette with garlic, giving it a real boost of flavor and making the salad an exceptional keeper.
I knew that basil and chives were born to marry corn and beans. It's a delightful flavor profile! What's more, black beans and corn together make it a nutritional powerhouse. I call that a win!
Should We Call It Sweet Corn Or Should We Say It's Sweetcorn
It depends a little bit on which side of the pond we reside. Sweetcorn, one word, is the term of choice in the UK, while in the US, we buy Sweet Corn, two words, canned or frozen in grocery stores. It's also known as corn on the cob when we purchase it from a roadside stand.
Whatever you choose to call it, is genetically modified corn developed over a long period to have a high sugar content and served as a vegetable. Field corn is used for many products, including animal feed, syrup, starch, oil, and ethanol, an additive for gasoline.
Sweet corn is grown for our dining pleasure, so eat lots of it while the season lasts!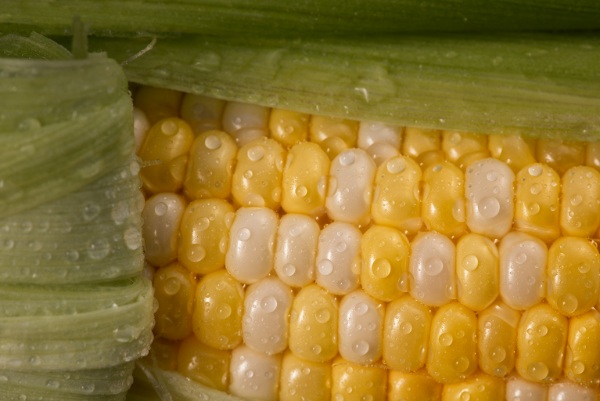 I hope you try this sweet corn salad recipe! Sweet corn is a wonderful gift of summer. While it's abundant, we eat it nearly every night. The season is fleeting, and we enjoy it to the limit.
Most of the time, we eat it plain. As for me, I don't even add salt or butter. I think it's perfect all by itself. If the idea of lugging out a big pot to boil corn and turning your kitchen into a steam bath makes you think twice, try this method! It's a game-changer, my friends!
How To Make This Delicious Fresh Corn Salad
Blanch the ears for just a bit to keep that sweet crunch, cut the kernels off the cob, and put them in a bowl. (If you do the microwave method, back off the cooking time to three minutes.)
Next, drain and rinse a can of black beans and add it to the corn and the other ingredients. Break up the corn kernels a bit but let some stay in little chunks. Those nuggets are the tastiest bites of this colorful, yummy combination!
Add chopped peppers and onion, chives, and basil. I like to use red peppers for more color and a sweeter taste. We find them easier to digest than green peppers. Don't fret if you don't have exactly the right amounts of everything or you need to substitute an ingredient. If you substitute, I suggest staying with crisp vegetables like celery, small zucchini, seeded and chopped cucumbers, or even chopped carrots.
Now shake up the simple red wine vinaigrette and pour it over the veggie, corn, and bean mixture. Garnish with fresh basil and refrigerate. This salad will keep a week or more in the fridge, and things will stay nice and crunchy.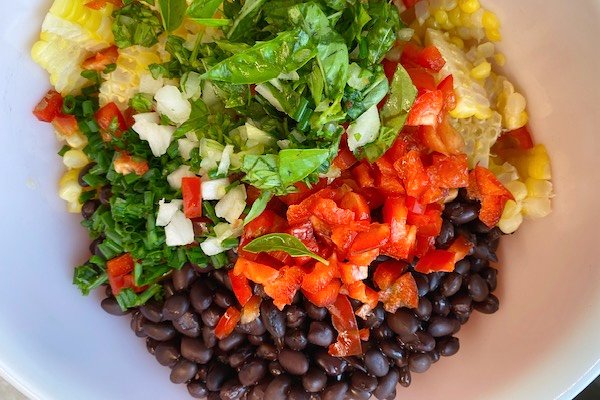 Tip: Garnish the sweet corn salad with some grape tomatoes, if you like, but put them on when served. They taste great but remember they do not refrigerate very well. I love adding a few fresh basil leaves as a garnish, too!
This salad is great alongside grilled burgers, hot dogs, chicken, you name it! And because there is no mayo, it's great to take to picnics and potlucks!
Crunchy Colorful Sweet Corn Salad The Big Winner In Summer 2021
Yield: 10 servings
Sweet Corn Salad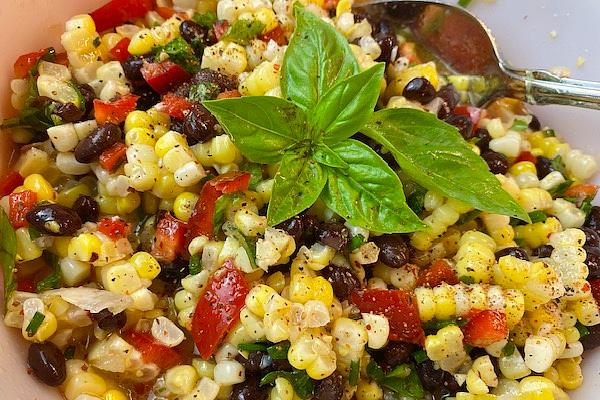 Crunchy, colorful salad of fresh sweet corn, black beans, sweet red peppers, basil, and chives in a tangy red wine vinaigrette.
Ingredients
SALAD
2 1/2 cups fresh sweet corn kernels, about five average ears.
1 15.5- ounce can of plain black beans, drained and rinsed.
1/3 cup sweet red pepper, seeded and diced, about 1/2 average-size red pepper.
3-4 Tbsp fresh basil chopped fine.
1 Tbsp fresh chives, cut fine.
2 Tbsp sweet onion or red onion, diced fine.
Grape tomatoes for garnish, if desired.
RED WINE VINAIGRETTE DRESSING
1/4 cup red wine vinegar
2 Tbsp vegetable oil
2 Tbsp extra virgin olive oil
1/2 tsp garlic powder
1/2 tsp seasoned black pepper
1 tsp seasoned salt
3 Tbsp sugar
Instructions
Blanch corn in boiling water for 3 minutes, remove and chill
Cut corn off the cob and put it in a bowl, breaking up the kernels but not completely.
Drain and rinse black beans.
Seed and dice sweet red pepper.
Dice onion finely.
Roll up basil leaves and slice thinly into ribbons or chop.
Chop chives into very thin pieces.
Combine all the ingredients in a bowl.
Combine all vinaigrette ingredients in a shaker or jar and mix vigorously until all is well combined.
Pour the dressing over vegetables and gently stir to mix.
Add more salt and pepper to taste and garnish with fresh basil leaves.
Garnish with grape tomatoes at the serving time if you wish; remember, they do not refrigerate well.
Notes
You can use well-drained canned corn to make this recipe when fresh corn is unavailable. You can also use frozen corn, defrosted and well-drained.
This colorful concoction was voted "Best New Salad" by family and friends in 2021! 😎 I am willing to bet it will be just as popular this year! Do you have a favorite summer salad? Here are some of ours: Sauerkraut Salad, Pasta Salad With Coleslaw, Broccoli Slaw, Grandpa's Favorite Cottage Cheese Salad.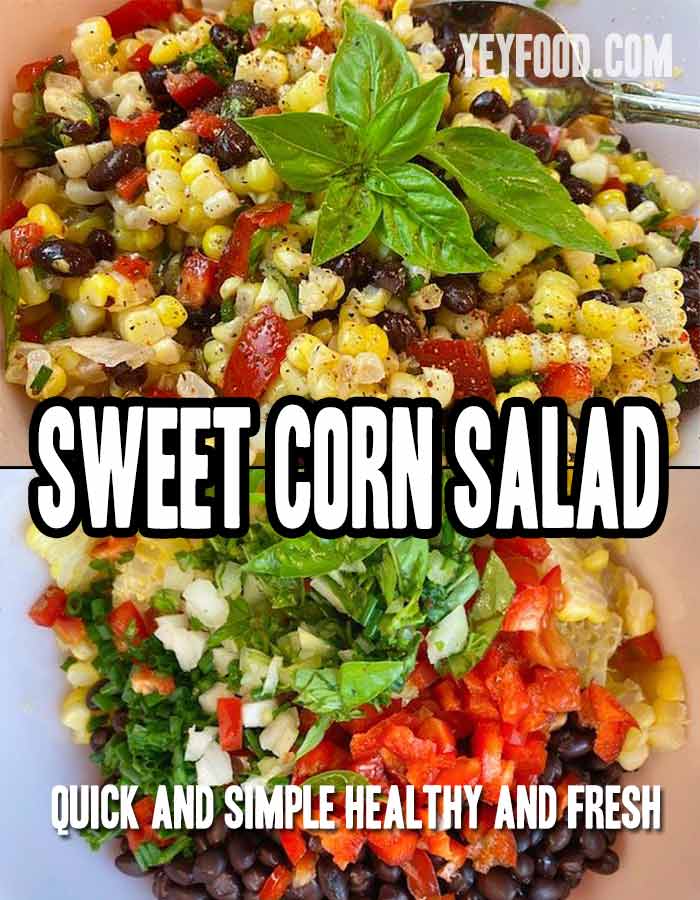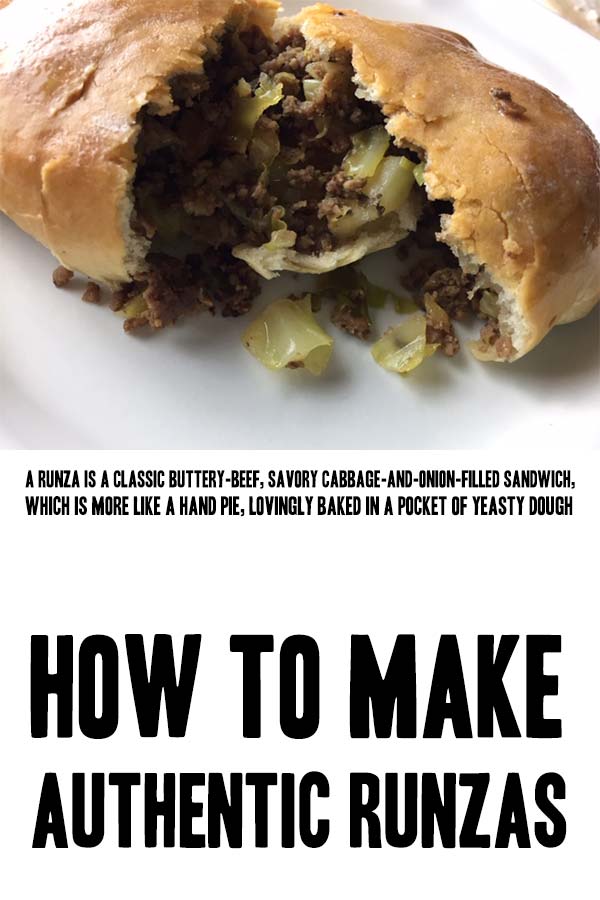 The Ultimate Bread and Butter Pickle Recipe
The Number 1 Practically Perfect Poppy Seed Bread
Oven-Baked Steak With Brown Gravy
If you like these recipes, you are our people! You can check some related articles below or search via categories on the right. But, be warned; you will be on here for hours. Enjoy!