Pasta Salad With Coleslaw Recipe
Pasta salad with coleslaw is a surprising, fresh combination I would not have dreamed up! It is crunchy, refreshing, and packed with colorful veggies. What a great side dish! This recipe makes a big batch that feeds a crowd!
There is a lot of chopping to do, but there are some shortcuts I'll share with you! It makes a big batch, so it's perfect for family gatherings and potlucks, and it pairs well with almost anything!
Confession: when I made this salad, I got a little tired of chopping. I wasn't sure I'd make it again. But then I tasted it! OH, MY STARS! Wow, it's going right in our meal rotation! And today, I ordered a new food chopper! (The red one was on sale today!)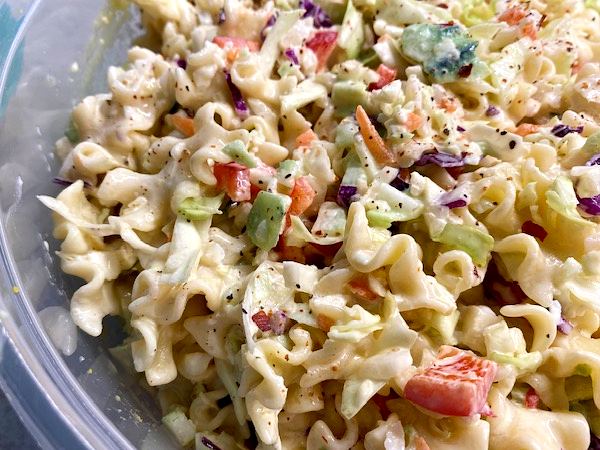 Cabbage is cheap, adds bulk and loads of nutrition, and holds well. The salad tasted every bit as good on day three because everything stayed crisp.
Pasta is also inexpensive, and it adds bulk, too. Watch for store brands for as little as a dollar for a twelve to sixteen-ounce package. Choose a small pasta shape like ditalini, rings, or small shells. I loved this mini lasagna shape pasta I found at HyVee when the variety used in the original recipe wasn't available. I thought it was perfect.
Cook the pasta as directed on the package in plenty of salted water. Stir to separate the shapes a time or two and cook until it is "al dente." You do not want mushy pasta. Drain and rinse in cold water and set it aside. In food service, a little trick I learned is to toss the pasta with a small amount of olive oil, a teaspoon or two, to keep it from clumping together until you use it.
Here Are Two Ways For You To Add Cabbage To This Salad
You can chop your own with a knife or a slicer. It's easy, it's cheap, you know it's fresh, but it takes a little time. It's actually pretty satisfying. Chop the cabbage into rather small pieces for this salad, so you get a bite of everything in every forkful! You will need about seven cups of chopped cabbage.
If you chop your own green cabbage, you will add color with more veggies.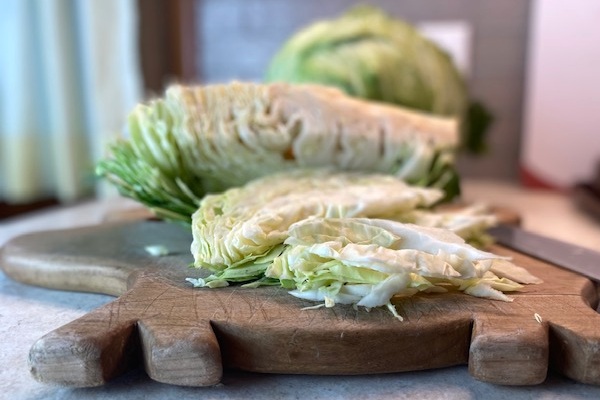 You can also buy a bag of coleslaw mix. A pack of coleslaw mix is usually sixteen ounces, which is also about seven cups. I recommend the tri-color blend with some carrot and red cabbage in the mix. Color is everything for fresh, attractive salads; the visual appeal is very important!
Open up that crisper drawer if you chopped your own cabbage. If you have some on hand, grate or chop some carrot and red cabbage to add.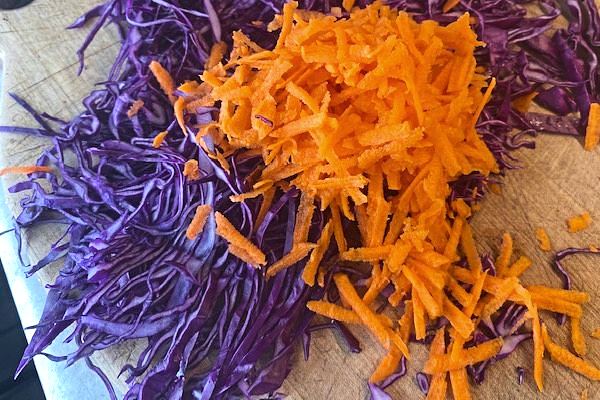 Peppers are always good! I chose red peppers in this salad because I wanted more color! The local grocery store had a great sale on colored peppers, so I took advantage of it! If I don't get them used up, I will freeze them to use later in any recipe with cooked peppers.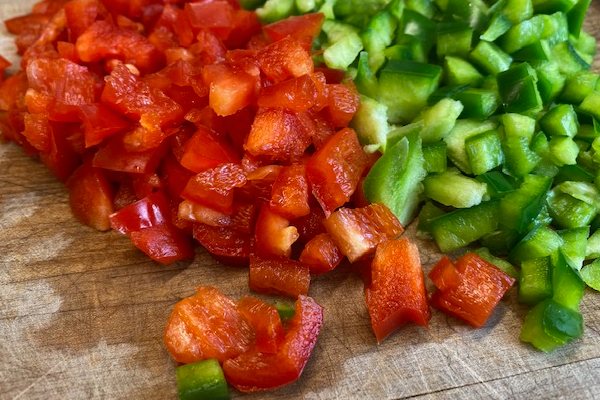 Celery adds lots of crunch and good fiber. If everything in the salad is about the same size, every bite is a party in your mouth! Chop the celery smaller than this.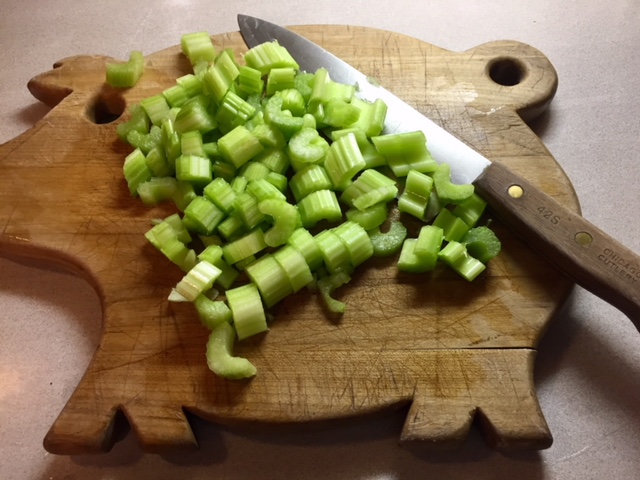 Cucumbers are great in this recipe! When you peel them, leave some of the bright skin for more color vibrance! I did not remove the seeds, but I'd scoop out the seedy middle if they were big.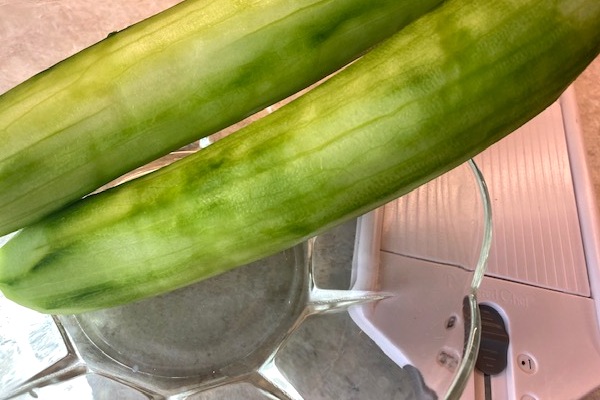 You will also add some chopped sweet onion and a can of water chestnuts, chopped. The other key ingredient for flavor in this salad is three chopped hard-boiled eggs!
You can buy shelled hard-boiled eggs in the store or make your own in an Instant Pot in minutes! Seriously, hard-boiled d eggs in an Instant Pot using the "5-5-5 method" are almost magic! The shells simply fall off, leaving a perfect egg!
The 5-5-5 Instant Pot WayTo Make Perfect Hard-Boiled Eggs
Put eggs on the rack or trivet in your Instant Pot and add one cup of water.
Seal the Instant Pot and lock it in place.
Set the pot to high-pressure cooking and five minutes of cooking time.
When the Instant Pot signal the cooking time is done, immediately set a timer for five minutes. This is an important step.
Do not quick-release the pressure yet.
When the five-minute timer sounds, THEN quick-release the remaining pressure and remove the eggs.
Finally, please put them in an ice-water bath (or at least the very coldest tap water you can run) for five more minutes.
Tap the eggs against the side of the sink to crack the shell, roll the eggs between your hands, then pop off those shells!
You can cook as many eggs as fit in a single layer in your Instant Pot. Same time, the same amount of water.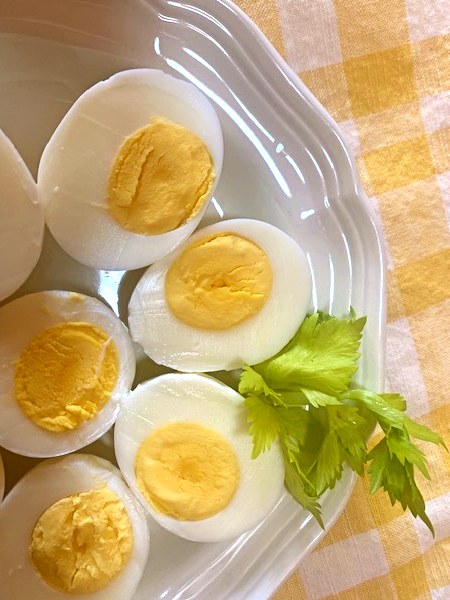 Make This Tasty Dressing For Your Salad With Just Five Ingredients
Please use full-fat regular REAL mayonnaise for this recipe. You will need one and one-half cups. You'll also need granulated sugar, apple cider vinegar, plus salt and pepper. I used Lawry's seasoned pepper for even more flavor and visual appeal.
I mashed the hard-boiled eggs instead of chopping them and added them into the dressing, so the eggs were evenly distributed throughout the salad. You can chop them if you prefer and add them to the pasta and veggies.
All you have left is to combine the pasta, coleslaw mix (or chopped cabbage), and the other veggies in a very large bowl. Stir it well and let it chill for a few hours before serving.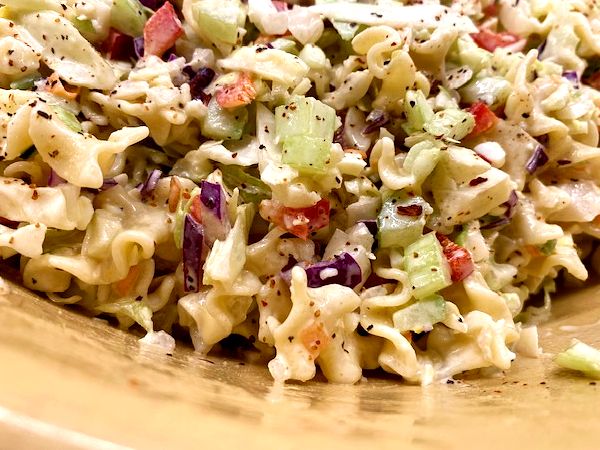 I took about half of the salad to church for a funeral dinner, divvied out a couple of samples for my friend and our daughter to try, and there was plenty left for Papa and me to enjoy as part of three meals!
Yield: 16 servings
Best Pasta Salad With Coleslaw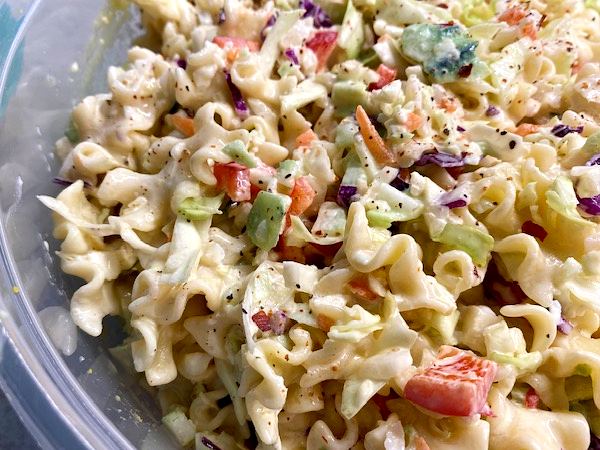 A light, crunchy pasta salad crammed with fresh veggies. A great recipe for potlucks and other large gatherings.
Ingredients
One 12 to 16-ounce package of small pasta shape
One 16-ounce bagged coleslaw mix, tri-color recommended *OR* seven cups of chopped green cabbage.
One red or green pepper, seeded and chopped into small dice
One or two cucumbers, lightly peeled, seeded and chopped into small dice.
1 cup or more of finely chopped celery
One eight-ounce can of water chestnuts, chopped fine
One cup of chopped red cabbage (optional but nice if you chop your green cabbage)
One cup of grated or finely chopped carrots. (optional but nice if you chop your own cabbage)
Three hard-boiled eggs, finely chopped or mashed.
One medium sweet onion, chopped fine.
DRESSING
1 1/2 cups full fat regualr real mayonnaise
1/2 cup granulated sugar
1/4 cup apple ciider vinegar
1/2 tsp salt or more to taste
1/2 tsp pepper, or to taste. I recommend Lawry's seasoned pepper.
Instructions
Cook the pasta according to package directions in salted water in a large pot until al dente.
Drain pasta and rinse in cold water and set aside. If desired, stir in a teaspoon or two olive oil to keep it from clumping.
Combine chopped cabbage or coleslaw mix with chopped veggies and chopped hard-boiled eggs.
Mix dressing ingredients in a separate bowl.
Put the pasta and veggies in a large bowl and pour dressing over it. Stir well to combine.
Chill in the refrigerator for four hours or more before serving.

Here are a few more recipes using cabbage! Asian Slaw With Sweet Soy Dressing, Frikadellar With Recipe For Creamed Cabbage, Colcannon.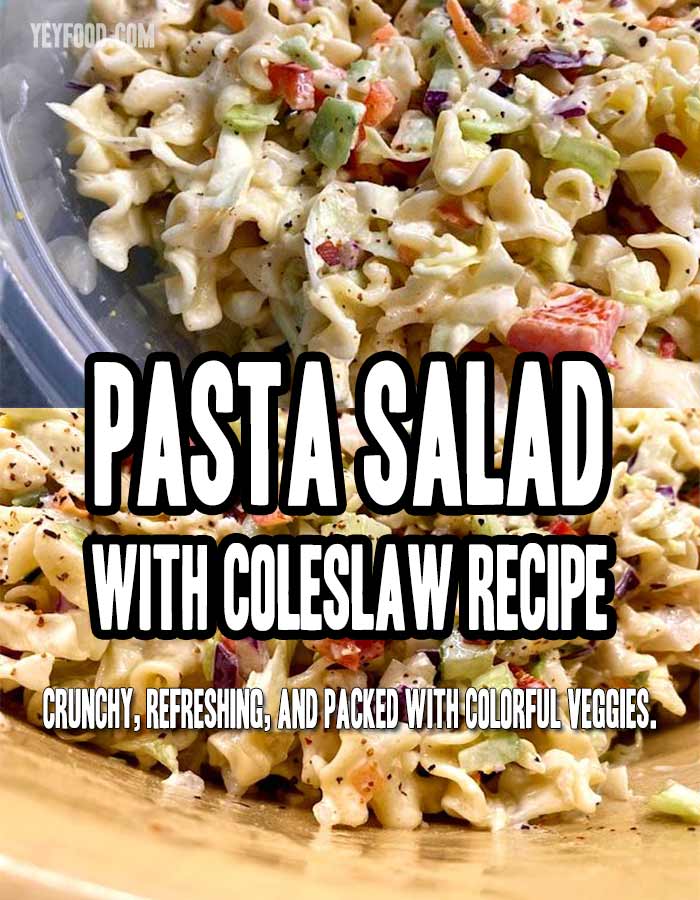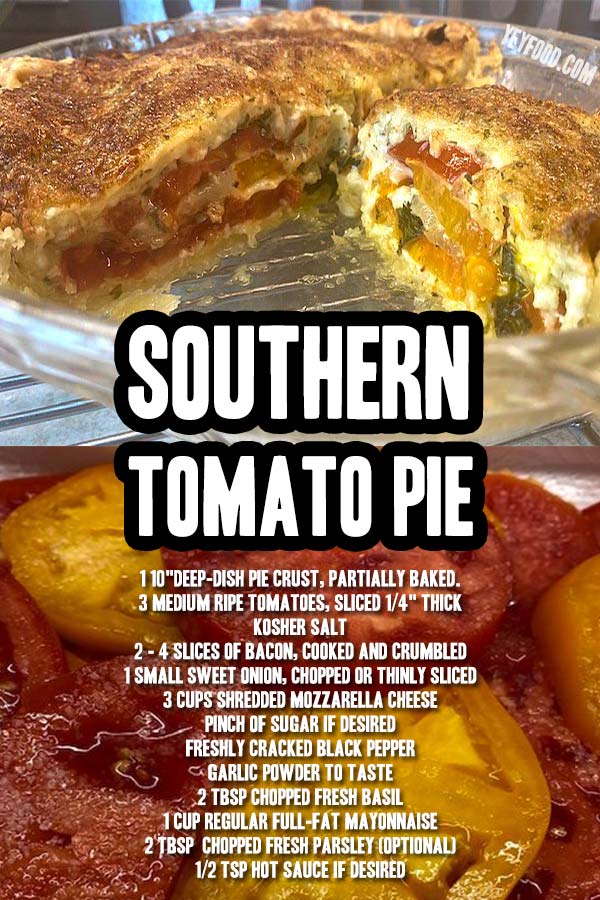 4 Reasons You Should Freeze Some Sweet Corn This Summer
How To Make The White BBQ Sauce That's Fascinated Us Since 1925
German Sauerkraut Casserole With Bacon And Brown Sugar
If you like these recipes, you are our people! You can check some related articles below or search via categories on the right. B t, be warned; you will be on here for hours. E joy!
So, please share this recipe on your social media accounts like Facebook, Instagram, Twitter, and Pinterest. We would be honored and ever so grateful; thank you!