The Quick And Easy Way To Freeze Peppers For Storage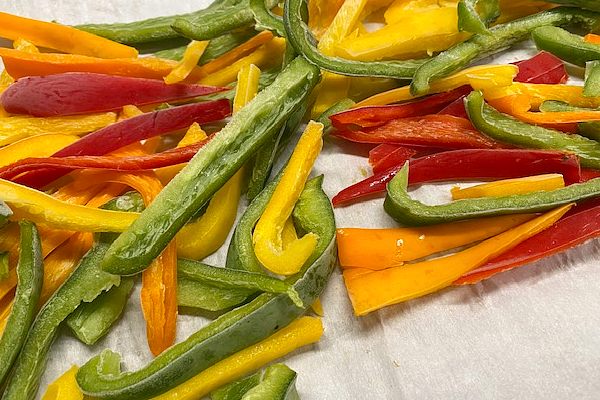 Now is the perfect time to freeze peppers! The farmer's markets have loads of peppers in every gorgeous color this month. They taste so amazingly good and sweet!
It is ridiculously easy to freeze them and save that amazing flavor for a fajita fiesta next month and throughout the winter! Peppers do not require blanching, so they're super quick to get ready for the freezer! You don't need anything but peppers and something to freeze them in. It's that simple!
When you freeze peppers, they retain their glorious vibrant color and cook up beautifully. No, they don't keep the same characteristic crunch of a crisp, fresh pepper. You can't use them in a salad, but they are perfect to use in any hot dish like fajitas or pepper beef. Frozen peppers are great to have on hand for so many recipes they are well worth the freezer space!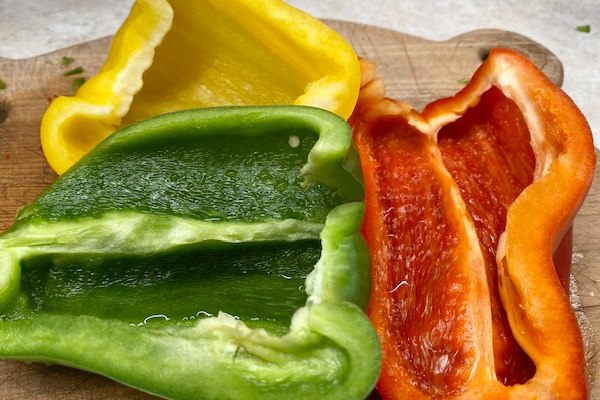 Follow These Simple Steps To Freeze Peppers
Wash and dry peppers and keep them dry. Don't rinse them after you cut them up! It will help prevent freezer burn.
Cut away any bad spots
Remove the stem, core, and seeds.
Decide what shape you want your peppers. You can cut them into rings, strips, or chop them. It depends on how you plan to use them and how much freezer space you have. You can even leave them whole and use them to make stuffed peppers. So let's get busy and freeze peppers!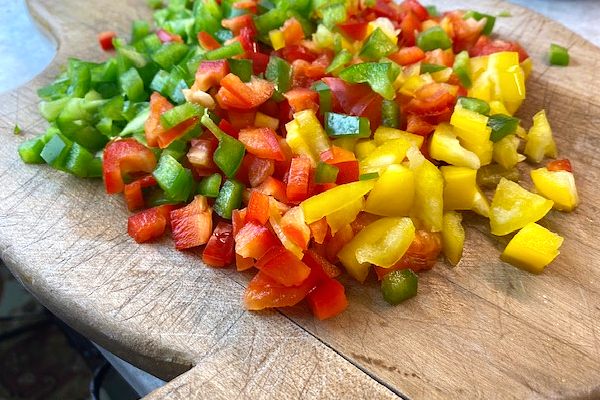 Lay them out in a single layer on a cookie tray you have covered with parchment paper. This way they will freeze fast and stay separated so you can simply grab what you need.
Pack in freezer bags, squeezing out as much air as possible. I also like to freeze long strips of peppers in wide mouth mason jars!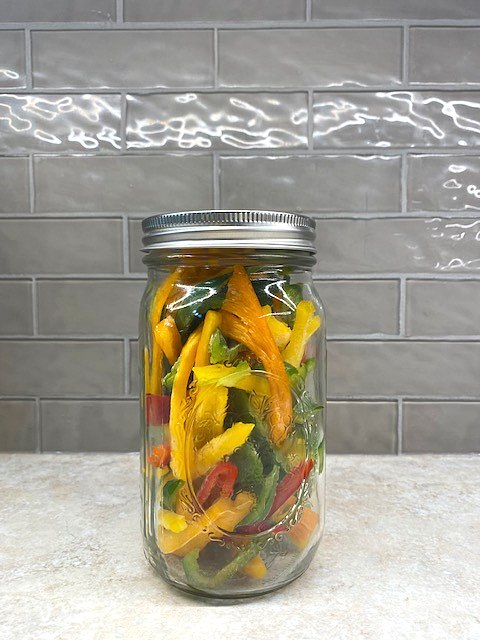 Store in your deep freeze. The colder the better, zero degrees is ideal. They will stay fresh and ready to use in your favorite recipes for six to eight months.
Yield: any amount
How To Freeze Peppers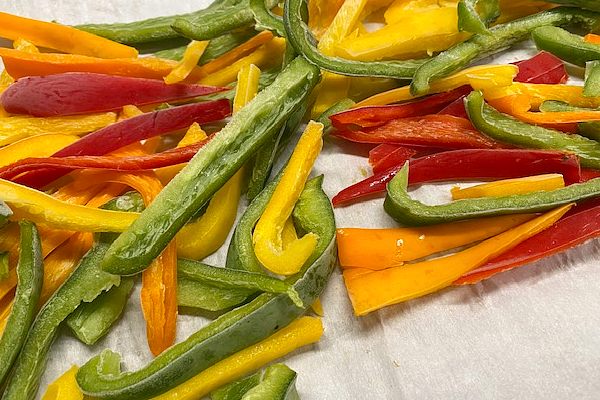 A simple, no-mess way to freeze fresh peppers to use in recipes.
Total Time
8 hours
20 minutes
Ingredients
Fresh peppers of any color, any type, in any amount
Instructions
Wash and dry peppers because this helps to prevent freezer burn.
Remove stem, core, and seeds. Do not rinse. Keep dry.
Cut peppers into any shape you want, strips, rings, chopped, or even whole for stuffed peppers.
Lay in a single layer on a baking sheet you have lined with parchment paper.
Freeze flat for 8 hours or overnight.
Scoop into freezer bags, squeezing out as much air as possible.
You can also freeze in mason jars.
Peppers keep for 6 to 8 months in the freezer.
Notes
Freezing flat in a single layer allows you to take out any amount you need.
Great Ways To Use Your Frozen Peppers
Stir-fry: Use your favorite fresh or frozen vegetables and add in peppers towards the end to warm through. They don't need much time to cook and they add such great color to wintertime stir fries!
Soups: Roasted red pepper soup can be made using frozen peppers! Wonderful flavor!
Fajitas: Slice and saute onions until they just begin to brown, then toss in frozen pepper strips and saute lightly. Boom! You are ready for fajitas!
Italian sausage sandwiches/subs: Saute onions and peppers like you were preparing fajitas but put on a hoagie bun with Italian sausage!
Pizza topping: Use chopped frozen peppers on a pizza! Easy and add a touch of sweet flavor!
Chili: Throw frozen chopped pepper into a pot of chili towards the end of cooking time.
Egg dishes: Scramble frozen chopped peppers with eggs, or in a quiche or frittata!
Sloppy Joes: Add along with beef, celery, and onions for great old-fashioned flavor!
Here's some great news! You can use the same technique to freeze onions, spinach, kale, and celery, too! Everything you need for delicious hot dishes will be ready at your fingertips! Now's the perfect time to stock your freezer with nature's bounty!
What is your favorite dish with peppers? If you have a dish you love, we'd love to see a photo when you make it!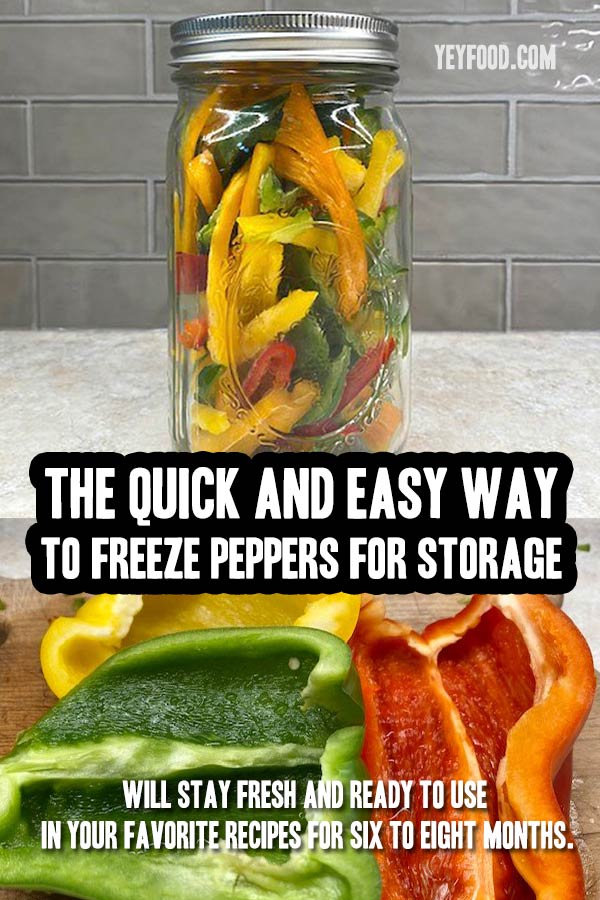 More recipes from us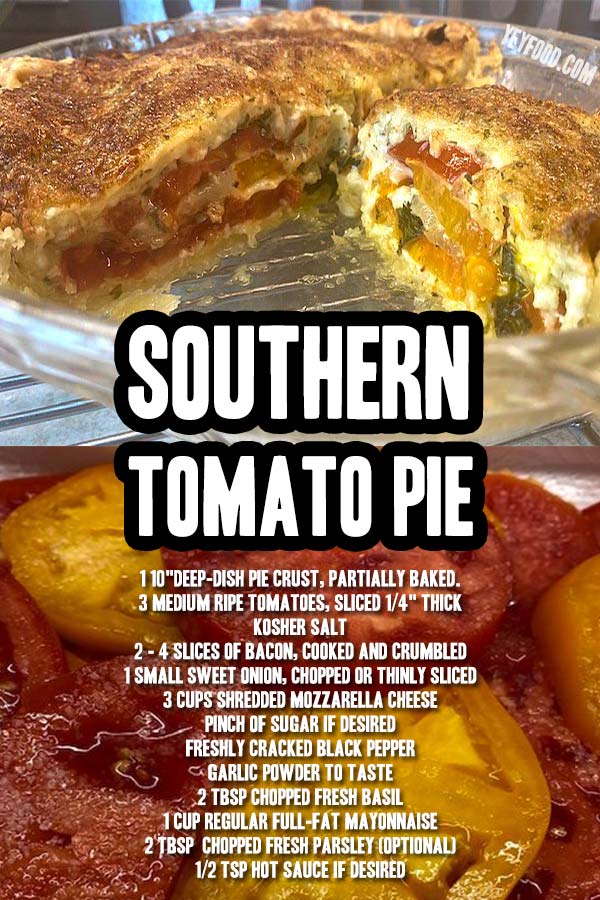 S'mores Bars How To Make Them Super Fast and Super Good
How To Make The White BBQ Sauce That's Fascinated Us Since 1925
German Sauerkraut Casserole With Bacon And Brown Sugar
If you like these recipes, you are our people! You can check some related articles below or search via categories on the right. But, be warned; you will be on here for hours. Enjoy!
So, please share this recipe on your social media accounts like Facebook, Instagram, Twitter, and Pinterest. We would be honored and ever so grateful; thank you!