Instant Pot Butternut Squash Soup Recipe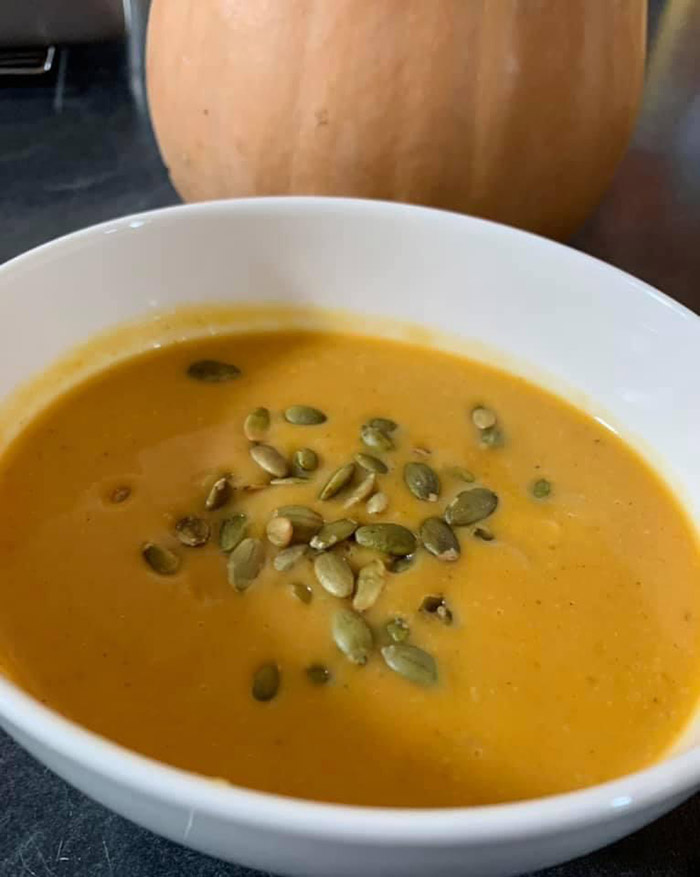 Butternut squash soup is a favorite part of fall, like cozy slippers, fluffy throws, scented candles, and warm spiced apple cider. It is comfort food at its finest, creamy, and the most delightful marriage of flavors! Great news! An instant pot makes butternut squash soup easy and quick enough to be a weeknight meal!
Butternut squash has a bowling pin shape, and it grows on a vine. The wide portion is the blossom end and where the seeds are stored.
The outer skin is yellowish tan, but inside, the flesh is orange in color. It has a sweet, nutty taste. As it ripens, the flesh darkens to a deeper shade of orange and becomes even sweeter. It is a good source of fiber, vitamins C and A, magnesium, and potassium.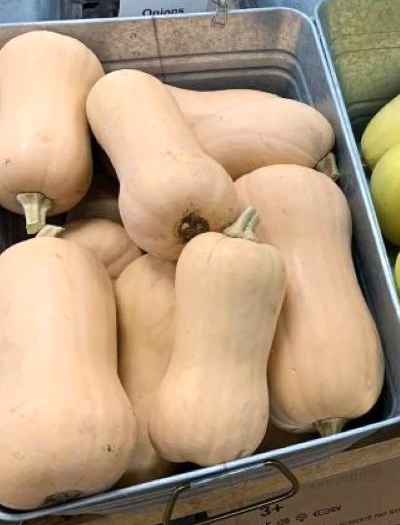 The skin of butternut squash is notoriously tough, so you will need a sturdy cutting board and a sharp knife to cut it into cubes for this soup. You can soften the squash a little by piercing it with a fork or knife tip in several places and cooking it for two minutes or so in the microwave oven, but this step is optional.
Begin by cutting off both ends of one medium-sized butternut squash, then cut the squash in half at about the "waist." It's much easier to peel in two smaller sections. Use a knife or a vegetable peeler to remove the tough skin. You may find it easier to do with a wide straight vegetable peeler than a swively peeler like you use for potatoes or carrots. Look in the kitchen section of your favorite retailer or find one online.
Next, cut each quarter in half lengthwise, then lay flat side down and cut into cubes about 1 inch in size. Put into the instant pot along with a diced tart apple like a Granny Smith, a diced carrot, a chopped onion, some peeled garlic, salt, pepper, spices, and sage. By all means, use fresh sage if you have some. Otherwise, dried is just fine.
Now add 2 cups of vegetable broth. My very favorite vegetable broth is from Knorr. I have had trouble finding the cubes in the store recently, but it is available online, and I use it so much for soup, I buy it in powder form in the restaurant-sized tub. Better Than Bouillon makes a good vegetable base, too.
You Are Just 8 Minutes From Yummy Butternut Squash Soup
Load everything into the instant pot and pressure cook on high for eight minutes. Let the pressure drop, add the coconut milk, then use an immersion blender to puree all the yumminess together. If you don't have an immersion blender, you can puree the soup in two batches in a regular blender or food processor. Do be careful, please. The soup will be hot!
If you are not a fan of coconut milk, feel free to substitute heavy cream. Season to taste, adding more salt or spices until it's just right for you! Serve up in a nice big bowl. If you like, add an extra swirl of coconut milk or cream. Pepitas make a perfect garnish, but garnish away with whatever you want!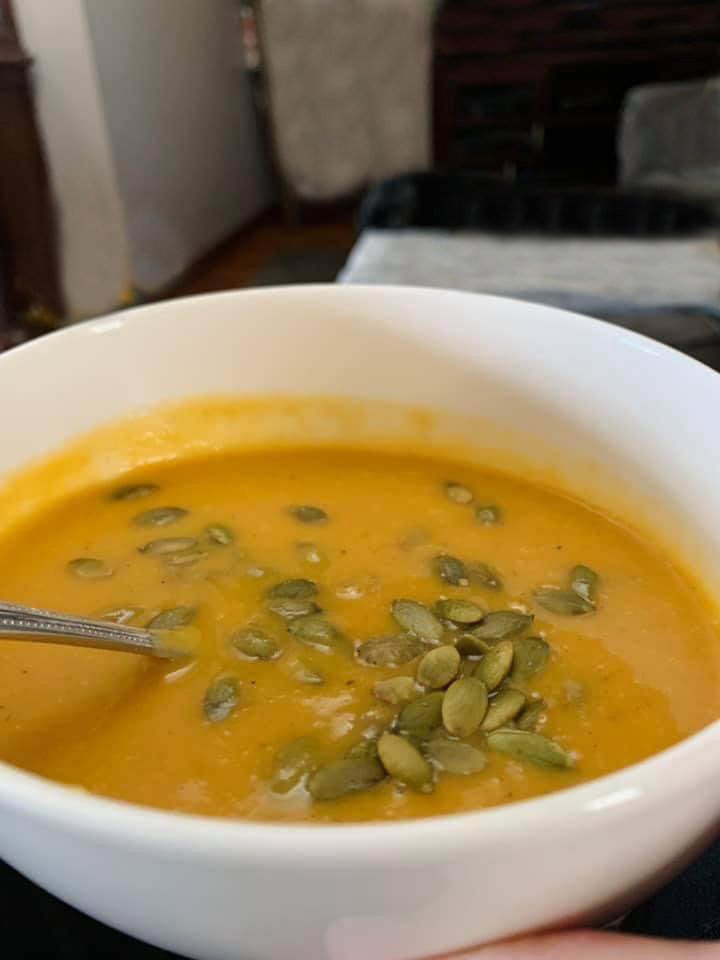 Yield: 8 servings
Instant Pot Butternut Squash Soup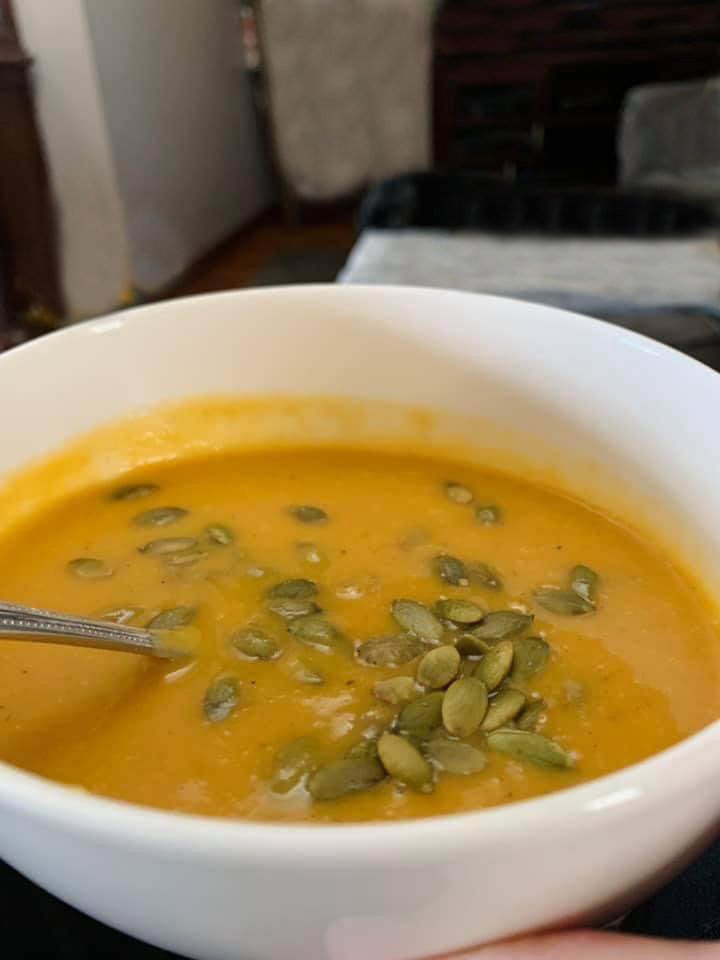 A cozy, tasty soup that says welcome fall! Smooth, creamy, and vegan when made with coconut milk.
Additional Time
10 minutes
Ingredients
1 medium (uncooked) butternut squash (about 2 to 3 pounds) 
1 Granny Smith apple, cored and diced
1 carrot, peeled and sliced
4 cloves garlic, peeled and minced
1 white onion, diced
1 sprig fresh sage, or a pinch of dried sage
1/2 teaspoon salt, or more to taste
1/4 teaspoon freshly-ground black pepper, or more to taste
1/8 teaspoon cayenne, or more to taste
pinch of ground cinnamon and nutmeg
2 cups vegetable stock
1/2 cup canned (unsweetened) coconut milk. Can substitute heavy cream.
optional garnishes: extra coconut milk and a sprinkle of smoked paprika (or cayenne pepper)
Instructions
Peel and cut the squash into 1-inch cubes.
Dice the onion.
Peel, core, and dice the apple.
Peel and mince the garlic.
Peel and slice the carrot.
Put all the ingredients in an instant pot along with salt, pepper, spices, and vegetable broth.
Cook on high pressure for 8 minutes.
Let the pressure release, then add the coconut milk or heavy cream.
Puree with an immersion blender or in a regular blender or food processor.
Ladle into serving bowls and garnish as desired.
Fall is soup time, and there are so many wonderful soups to choose from! Do you have a favorite soup? Do you eat soup a lot when the weather gets cooler? I love cooking once and eating two or even three times! Most soups get even better when reheated, don't you agree?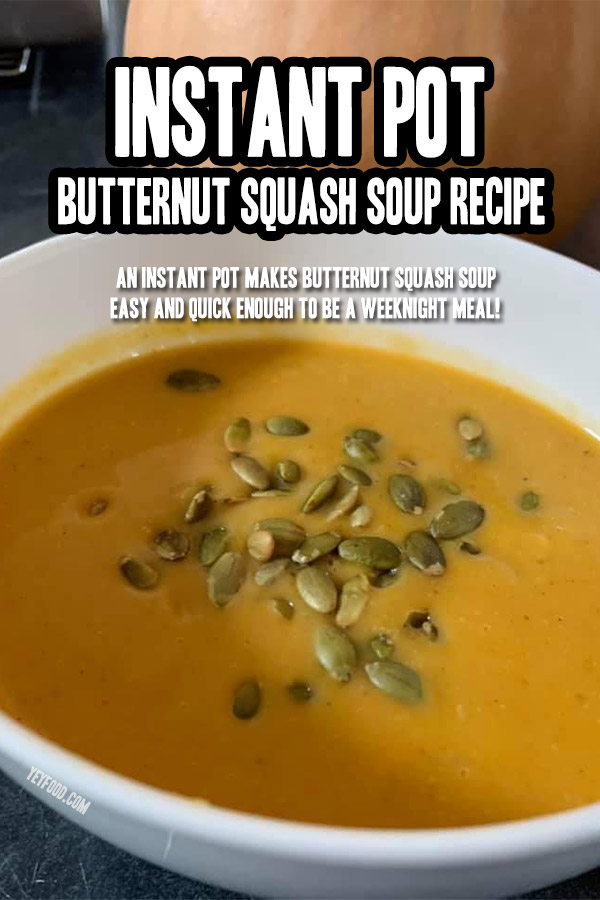 MORE RECIPES FROM US
S'mores Bars How To Make Them Super Fast and Super Good
How To Make The White BBQ Sauce That's Fascinated Us Since 1925
German Sauerkraut Casserole With Bacon And Brown Sugar
If you like these recipes, you are our people! You can check some related articles below or search via categories on the right. But, be warned; you will be on here for hours. Enjoy!
So, please share this recipe on your social media accounts like Facebook, Instagram, Twitter, and Pinterest. We would be honored and ever so grateful; thank you!