Moist Chocolate Chip Banana Bread Recipe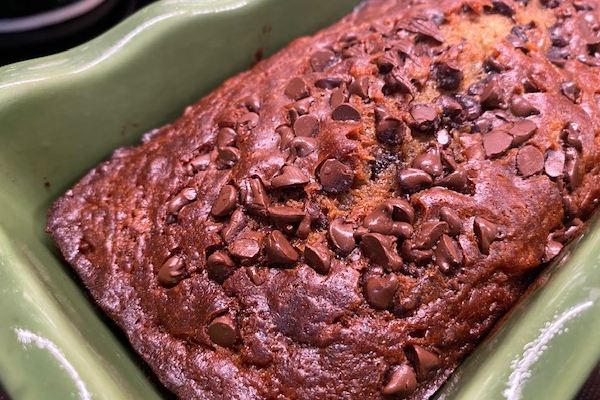 This amazingly moist chocolate chip banana bread was my reward last week for doing the one household chore I dislike more than any other, cleaning the refrigerator. 😒 This time, it was an especially big challenge because I'd let it go too long.
Not out of laziness, but out of too much yard work, finishing a small construction project, and having my gall bladder removed. I was way behind on housework, and our least favorite jobs are the easiest to put off. But there is a silver, no, a golden lining on this one! This bread! This bread!
I had a nearly full container of plain Greek yogurt to use and four ripe bananas with brown speckled skins staring at me. What's a girl to do? Search "banana bread made with Greek yogurt." I have a wonderful recipe for rhubarb bread that uses Greek yogurt, and I know the magic it produces in quickbreads.
Greek yogurt does incredible things for baked goods, but choose full-fat or at least 2% for the best results. Here's a great article with more terrific reasons to bake with Greek yogurt.
I chose a recipe with chocolate chips because I'd never made chocolate chip banana bread, and let me tell you; this is a winner!! You need less sugar for the bread when you add chocolate chips, and I used mini semi-sweet chocolate chips, so there was a little chocolate in every single bite!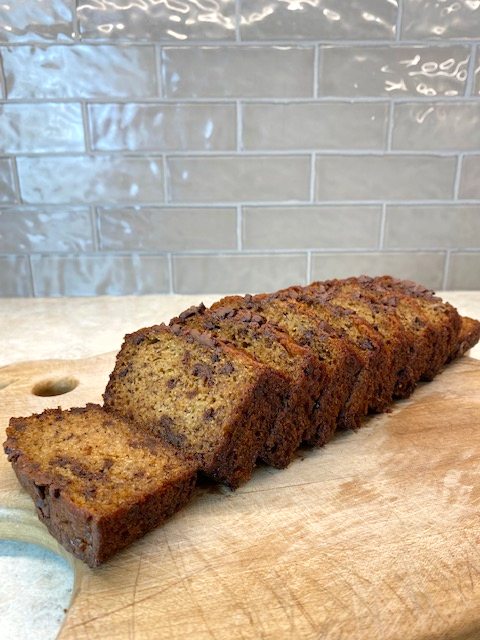 This Is Why Greek Yogurt Makes Such Moist Quick Bread
Greek yogurt is a style of yogurt that's been thoroughly strained of its whey, resulting in a much thicker consistency than regular yogurt. The straining process reduces the lactose in Greek yogurt and makes it lower in sugar, and it also has more protein and fewer carbs.
Greek yogurt has far fewer calories and less fat than common baking ingredients such as sour cream, but it delivers similar results with no loss of flavor. It also plays especially well with baking soda for the most beautiful leavening process!
Greek yogurt's slightly tangy flavor adds so much craveable flavor to baked goods, and it also helps create a light texture and a beautifully moist crumb!
Did I Mention You Can Make This In One Bowl Without A Mixer
Yes! You do not need to haul out the mixer, just a bowl, and a spoon or whisk.
I made a double batch of this yummy chocolate chip banana bread right off the bat because I had enough yogurt and ripe bananas. I also made it in smaller, shareable loaves to share with our kids and grandkids! This recipe makes one standard-size loaf or is enough for one medium loaf (about 7 1/2″ by 3 1/2″) and two mini loaves (about 5 1/2″ x 2 3/4″). I used an ice cream scoop to divide the dough among the pans.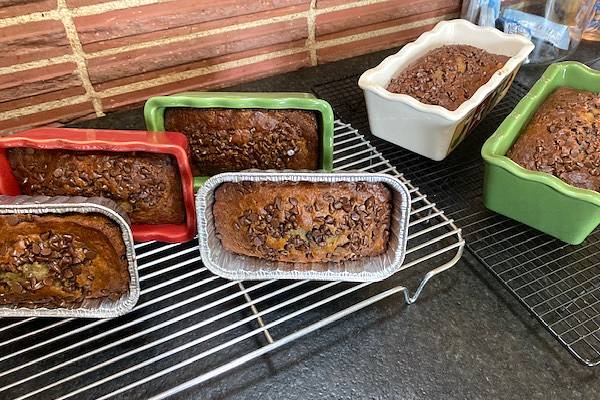 I'm sure this recipe would make great muffins, too. You will need to adjust the baking time for smaller loaves or muffins.
Begin by mashing the bananas and adding sugar, yogurt, melted butter, oil, vanilla, and eggs. I used half butter and half oil because oil also helps the bread retain its moistness. Whisk to combine everything thoroughly. Add the salt and baking soda to the wet mixture. Whisk very well and make sure the salt and soda are fully distributed. Then add the flour, mixing well, and finally three-fourths of the chocolate chips. Put the batter into a greased loaf pan and sprinkle the remaining chocolate chips on top.
Bake at 350 degrees for 50 minutes, then check with a toothpick or cake tester. You can remove your chocolate chip banana bread from the oven if it comes out clean. If not, bake for another 10 minutes so the interior isn't doughy. If it's getting too brown, put a tent of aluminum foil on top and keep baking.
Cool completely before slicing; this is the hard part! The bread freezes beautifully. You can slice and wrap individual slices in plastic film, then put them into a freezer bag. Pull out and defrost for snacks as wanted! That is if the loaf doesn't get wolfed down in one day!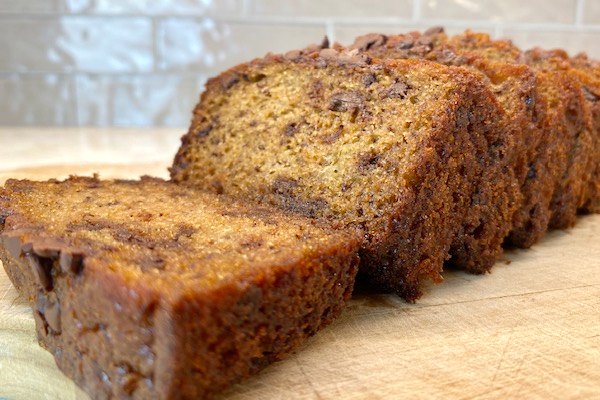 The popularity of banana bread spiked tremendously during the pandemic. It has a certain soothing, homey quality about it that makes us feel comforted. In addition to that, it's pretty easy to make, and the ingredients aren't hard to find. I found this article about banana bread during the first wave of Covid quite interesting. Pandemic or not, banana bread is still a wonderful, simple pleasure to enjoy for life!
Yield: 16 slices
Chocolate Chip Banana Bread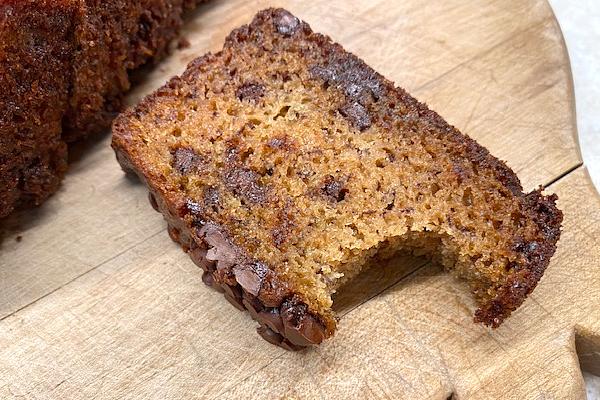 A moist, delicious loaf with a beautiful crumb. Made with Greek yogurt for a slightly tangy flavor and studded with mini semi-sweet chocolate chips.
Ingredients
2 large ripe bananas, mashed
1/2 cup plain, full-fat Greek yogurt 
1/4 cup butter, (equivalent to 1/2 stick of butter) melted
1/4 cup oil
½ cup white sugar
2 large eggs
1 teaspoon vanilla extract
1 and ½ cups all-purpose flour
1 teaspoon baking soda
½ teaspoon salt
1 cup mini semi-sweet chocolate chips, divided
Instructions
Mash bananas.
Add sugar, yogurt, eggs, oil, vanilla, and melted butter.
Whisk to blend thoroughly.
Add salt and baking soda, whisk together thoroughly to make sure salt and baking soda are well distributed.
Add flour and stir in until flour is all absorbed.
Fold 3/4 cup of mini chocolate chips into the batter.
Pour into a greased loaf pan and sprinkle remaining chocolate chips over the top.
Bake about 50 minutes in a 350-degree oven or until a toothpick or cake tester comes out clean. If it does not, bake another 8-10 minutes.
Tent with aluminum foil if the top browns too quickly.
Cool completely before slicing.
Do you have a favorite recipe for banana bread? Do you add cinnamon and nutmeg? Does your family like it with nuts or without? How about you? Do you make chocolate chip banana bread? We'd sure get a kick out of seeing your loaf if you make this recipe! We hope you'll send us a photo!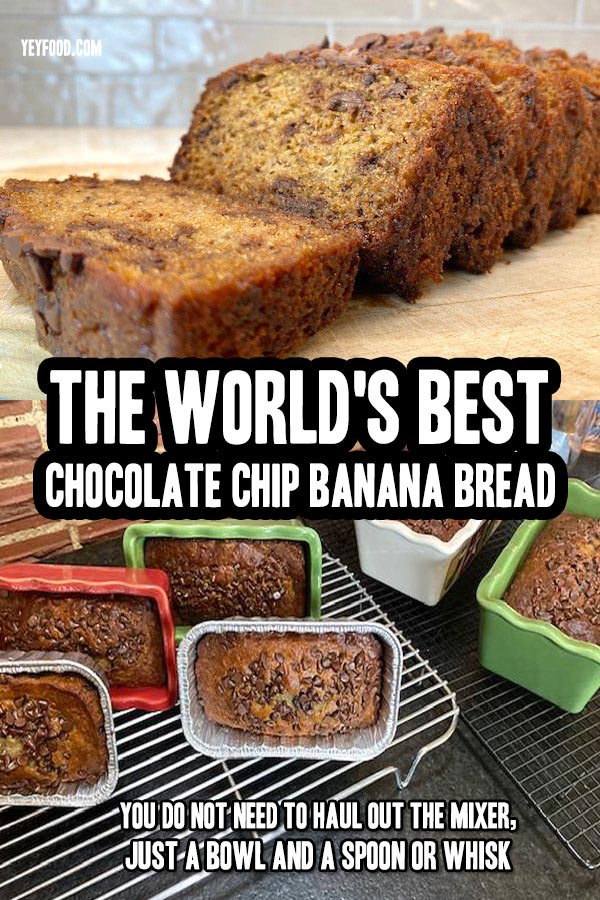 MORE RECIPES FROM US

S'mores Bars How To Make Them Super Fast and Super Good
How To Make The White BBQ Sauce That's Fascinated Us Since 1925
German Sauerkraut Casserole With Bacon And Brown Sugar
If you like these recipes, you are our people! You can check some related articles below or search via categories on the right. But, be warned; you will be on here for hours. Enjoy!
So, please share this recipe on your social media accounts like Facebook, Instagram, Twitter, and Pinterest. We would be honored and ever so grateful; thank you!