Crisp Chewy Gluten-Free Coconut Macaroon Recipe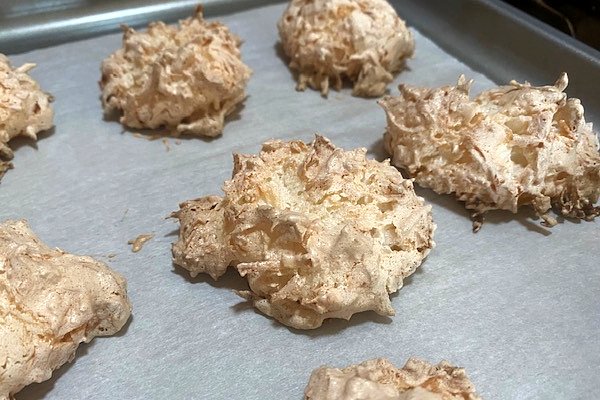 Coconut macaroons are a delightful old-fashioned cookie. They were a big-time favorite of my dad. Boy, did he love them! If he were alive today, he'd be 101 years old!
But they're also a favorite of his teenage great-granddaughters! I send batch after batch to college with the oldest girl. Whenever she's been home for the weekend, the kids in the dorm all peek in her room, hopeful there will be more.
History Of Coconut In The American Kitchen
Franklin Baker (a fitting name, right?) was a flour miller in Philadelphia. In 1894 he received a cargo of fresh coconuts in payment for a consignment of flour he exported, but Mr. Baker could not find a buyer.
Mr. Baker did what any red-blooded American entrepreneur would do in that situation! He opened a factory of his own to dry and shred coconut because he anticipated a huge demand. He was right!
After its initial success in Europe, coconut took America by storm. Recipes began showing up in cookbooks almost immediately, and coconut became a huge hit! By the turn of the century, coconut custard, cookies, and coconut cream pie were everywhere.
Gluten-Free Coconut Macaroons The Best Kept Cookie Secret
You don't hear much about coconut macaroons in a world of chocolate chippers, snickerdoodles, oatmeal-raisin, and peanut butter cookies. Maybe you've never tried them, or perhaps, you have never even heard of them, but they are amazing!
They are among the simplest cookies with four basic ingredients, egg whites, sugar, vanilla, and coconut. They bake up as light as air, crisp outside and chewy inside. By definition, macaroons are toasted coconut meringues that simply melt in your mouth.
In today's world, they should be getting more attention! Big news! They are an extremely tasty gluten-free treat! There is no flour in these yummy treats!
Beat 5 Egg Whites And You're Half Way To Macaroons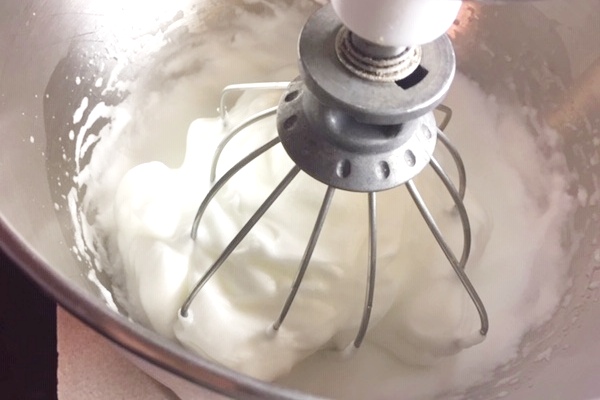 The meringue-like element of these cookies works best with eggs at room temperature, and the whites whip up whippier when the chill is off.
Start by separating the whites and setting aside the yolks until you can use them in yummy things like noodles or pudding. I did add about 1/2 teaspoon of cream of tartar to my most recent batch, and it helped stabilize the meringue, which means it held the air in the egg whites, and the cookies baked up taller and lighter.
Add the vanilla at the start, but add the sugar gradually, a few tablespoons at a time. Stop each time you add sugar, and scrape down the sides of the bowl with a rubber spatula.
You want all the sugar to dissolve into the egg whites. Test the sugar is all dissolved by rubbing a bit of it between your fingers as you go along. When done, you should not be able to feel any sugar crystals.
Next, gently fold the sweetened shredded coconut into the egg whites, and you are ready to bake your gluten-free coconut macaroons! Bakers Angel Flake Coconut is by far my favorite brand.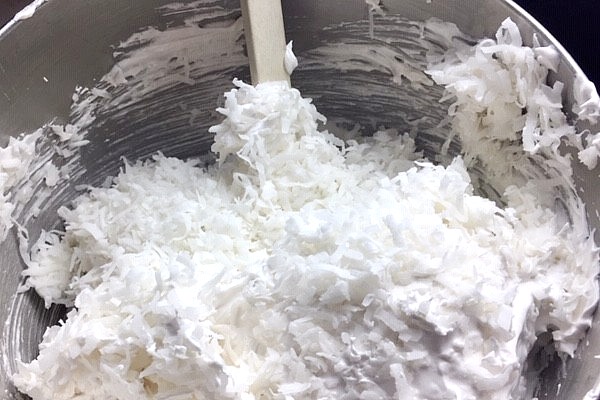 Plop by plump tablespoonsful (I'm making that a word) onto a cookie sheet you have covered with parchment paper. You can also use a silicone baking mat.
Now bake in a slow oven, about 325 degrees, for what seems like forever but is only about twenty minutes. The macaroons should have a blush of tan about the color of pantyhose if you remember anything about that. 😉
Let them cool a bit on the baking sheet before moving them to a rack to cool. And that is it!!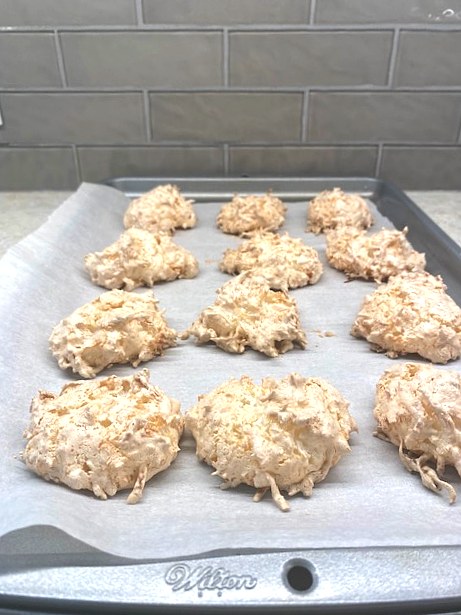 Store them in a tightly covered container. That way, they will retain their crisp exterior and chewy middles. But don't worry; they will disappear quickly once your people discover just how irresistible they are!
Yield: 36 cookies
Coconut Macaroons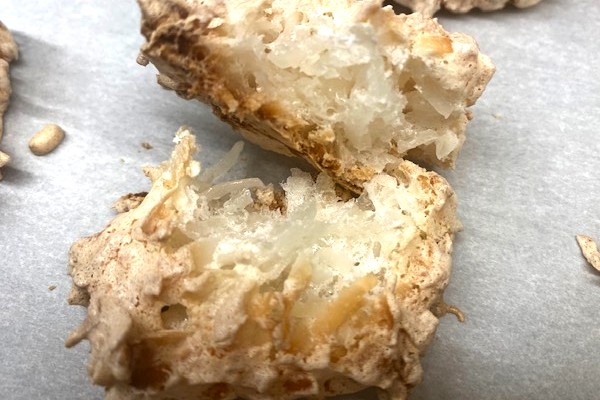 A simple, sweet, light, and crunchy meringue cookie crammed with loads of coconut.
Ingredients
5 large egg whites at room temperature.
1 tsp vanilla
1/2 tsp cream of tartar, optional
1 1/2 cups of sugar
3 1/2 cups sweetened shredded coconut, a 14 or 15 ounce bag.
Instructions
Set the eggs out long enough to let them get to room temperature; the whites will whip up better.
Separate eggs and save the yolks for pudding, noodles, or something else yummy.
Whip the egg whites with vanilla and cream of tartar until soft peaks form. Gradually add sugar and beat until stiff peaks form, scraping down the sides of the bowl each time you add sugar to make sure all the sugar dissolves.
Fold in the coconut.
Drop by rounded tablespoon onto a cookie sheet lined with parchment paper.
Bake in a slow oven, 325 degrees, for about 20 minutes or until lightly browned.
Cool on cookie sheet for a little while, then move onto a cooling rack. Store tightly covered.
Nutrition Information:
Yield:
36
Serving Size:
1
Amount Per Serving:
Calories:

73
Total Fat:

2g
Saturated Fat:

2g
Trans Fat:

0g
Unsaturated Fat:

0g
Cholesterol:

0mg
Sodium:

31mg
Carbohydrates:

13g
Fiber:

1g
Sugar:

11g
Protein:

1g
Do you love coconut? Not everyone does, but if you do, you've just got to try these coconut macaroons! They may become your new favorite! If you are a coconut lover, here are some of our favorites: Coconut Cream Pie, Hummingbird Cake, and Chocolate Coconut Balls.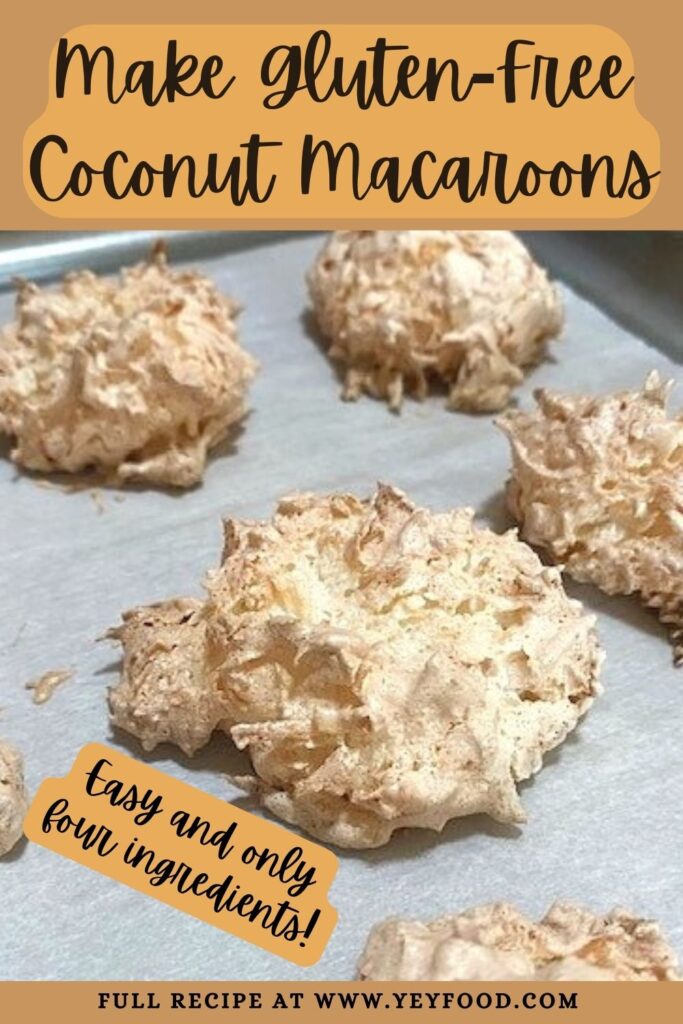 MORE RECIPES FROM US
S'mores Bars How To Make Them Super Fast and Super Good
How To Make The White BBQ Sauce That's Fascinated Us Since 1925
German Sauerkraut Casserole With Bacon And Brown Sugar
Best Old-Fashioned Coconut Cream Pie
If you like these recipes, you are our people! You can check some related articles below or search via categories on the right. But be warned; you will be on here for hours. Enjoy!
So, please share this recipe on your social media accounts like Facebook, Instagram, Twitter, and Pinterest. We would be honored and ever so grateful; thank you!