It's a Winner Since 1978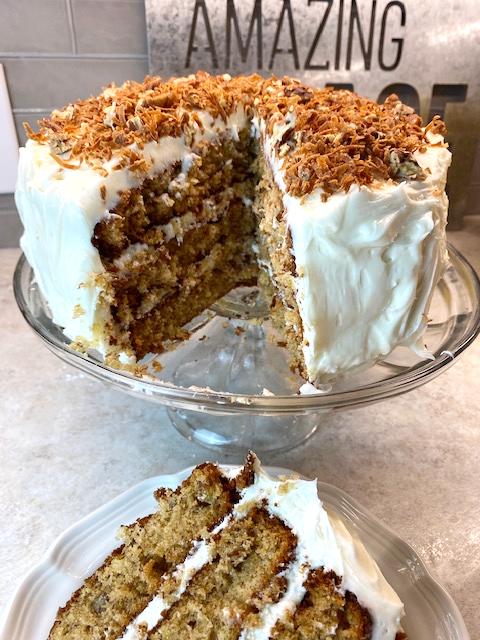 Hummingbird cake is a Southern classic, as intriguing as its name. It is a moist, dense, fragrant spice cake laden with mashed bananas, crushed pineapple, and toasted pecans. If that isn't enough, a decadent vanilla-infused cream cheese frosting fills the layers and covers the entire cake under a rich, creamy cloak.
But does it stop there? Heavens no! In the South, more is considered MORE! Finally, toasted coconut and more toasted pecans are lavishly sprinkled on top for a crown befitting this amazing dessert. Is your mouth watering yet?
Some Folks Say This Cake Is Sweet Enough To Attract Hummingbirds
Are you getting a Caribbean vibe when you see these delicious tropical ingredients? You are spot on because this cake was born in Jamaica somewhere around the late 1960s. There are many theories about how the cake got its name, but one idea suggests people are attracted to this cake the way hummingbirds hover around flowers.
What seems more descriptive is how hummingbird cake draws us to devour it quickly, like the tiny birds that dart in, feed quickly, and buzz away happy. That will be you when you try this cake!
Around 1968, the Jamaican tourist board began attracting visitors to the island by sending press kits to the United States. They cleverly included a few amazing Jamaican recipes. Over the next few years, recipes like it began to pop up in Southern kitchens, immortalizing Hummingbird Cake as a classic in the deep south.
Bakers entered similar cakes in county fairs and other baking contests as soon as the recipe hit the public but most food historians credit Mrs. L. H. Wiggin with the first "official" written recipe. She is the one who submitted the recipe to Southern Living Magazine in February 1978.
Since then, this cake has been revered for its incredible flavor and appearance, and it is a sweetheart among cake recipes to this day.
Let's Get Humming And Bake This Beautiful Amazing Cake
Hummingbird Cake is a three-layer cake, so I suggest that you choose a day to make it when you do not need to hurry. Begin by spraying three nine-inch round cake pans with non-stick cooking spray and lining them with parchment paper cut to fit inside.
These steps will allow you to remove each layer from the pan with ease, and you'll be glad you took the time to do it right!
I did quite a little research on this cake and cakes in general. Butter or oil in the recipe, which produces a superior cake? Opinions vary, but I came to this conclusion. If you want a lofty cake that stays moist longer, choose oil. Butter adds great flavor but a cake made with butter dries out more quickly.
This recipe came from my daughter's friend, a true Southern Belle, full of charm and grace. But, I decided to try replacing 1/2 cup of the oil in her recipe with butter. I hoped to get the best of both worlds, and I think it accomplished my goal! Feel free to experiment with proportions!
The cake batter is pretty straightforward. Cream the butter and oil with sugar until it's nice and fluffy. I veered off the directions a bit; no surprise here for anyone who knows me. I added the cinnamon, salt, salt, and vanilla, then beat in the three eggs one at a time. Next, I added flour, alternating it with the mashed bananas and pineapple until everything was well blended.
I divided the batter evenly into the three pans and baked them at 350 degrees. The batter browned quickly, and the cakes were perfect at about 45 minutes. Ovens vary a lot, so watch carefully!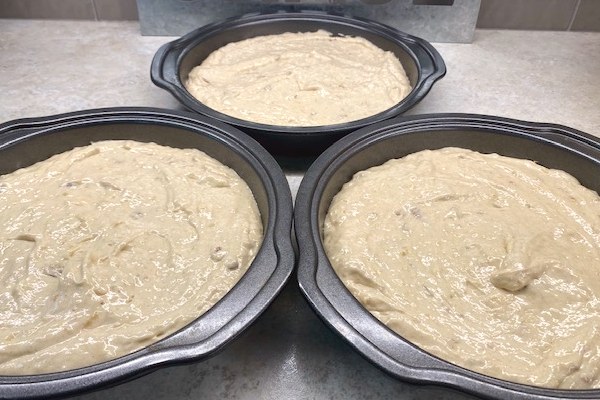 The cake tester came out clean, the top of the cake sprung back when I touched it lightly, and the edges of the cake pulled away slightly from the sides of the pan. Right away, I knew they would come out of the pans well after they had cooled completely! This is a place for patience. Let the cakes cool completely before removing them from the pan.
Next Let's Make The Creamy Frosting And Build This 3 Layer Cake
The frosting is one of the most amazing parts of this yummy creation—the tang of cream cheese pairs perfectly with the sweet pineapple and bananas. I probably won't make this cake often, but I want it to be amazing when I do! So, I made a big batch of frosting; in fact, I doubled the original recipe.
I wanted the frosting to be thick between the layers and all over the cake, but then I've always been a bit on the side of overdoing things. Let's just say this cake rocks, and I am not sorry I made more frosting. Thick or thin, it's up to you!
It's simple as can be. Beat the cream cheese and butter until they are fluffy, add vanilla, and beat some more. Then put in the powdered sugar and beat until it's reached a nice spreading consistency. Tip: Cover the mixer and bowl with a clean dishtowel when you begin this step. It will save a lot of mess!
Here's another handy tip: Put three strips of waxed paper on the cake plate. The edges should be just under the cake. When you are all finished icing the cake, pull them out gently. You will have a clean and tidy plate under your gorgeous cake!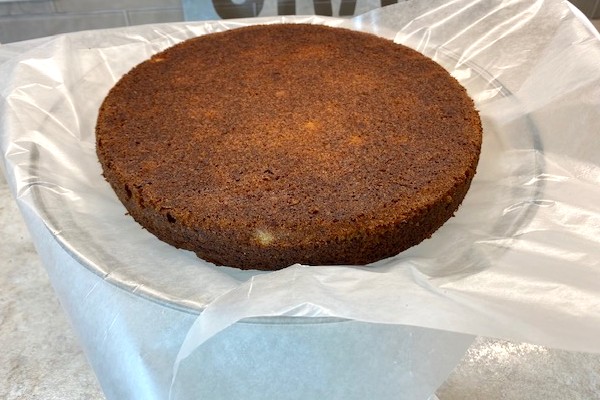 Put frosting between layers as you build the cake. Then, frost the sides of the cake and finally, the top. I had to put a second coat of frosting on the sides of the cake to cover the crumbs, but hey, that's more frosting!
I decided to toast the coconut and instead of putting it in the frosting, I put it on top of the cake along with more toasted pecans. I think it made a glorious crown for this cake that is perfectly fit for royalty!
Yield: 12 servings
Hummingbird Cake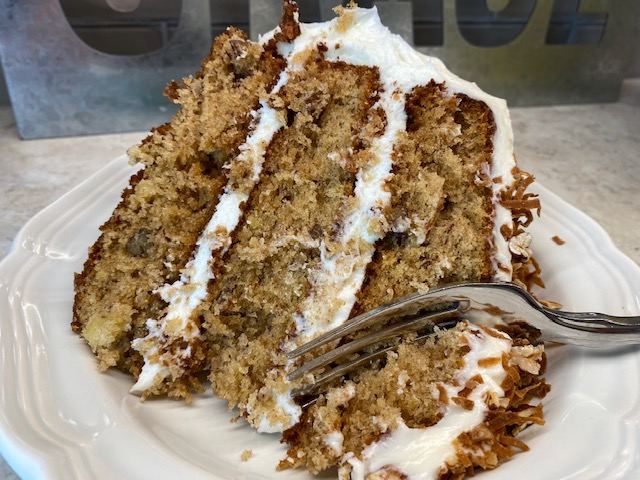 A classic layer cake. Dense and moist with a tropical flavor profile, it includes mashed bananas, crushed pineapple, and chopped pecans. Crowned with cream cheese icing and garnished with toasted coconut and pecans, it's sure to become a favorite.
Total Time
2 hours
30 minutes
Ingredients
2 cups sugar
1/2 cup butter
1 cup canola oil
1 tsp cinnamon
1 tsp soda
1 tsp salt
3 eggs
3 cups of flour
8-ounce can of crushed pineapple, do not drain.
2 very ripe bananas, mashed
1 cup chopped pecans, toasted
1/2 cup chopped, toasted pecans, optional for garnish
1/2 cup coconut, toasted, optional for garnish. You can also mix this coconut into the frosting instead.
Frosting
1/2 stick butter (1/4 cup)
1 8-ounce block cream cheese
1 tsp vanilla
3 1/2 cups powdered sugar
Instructions
Preheat oven to 350 degrees
Spray three 9" round baking pans and line with parchment paper cut to fit.
Cream together oil, butter, and sugar until fluffy.
Add salt, cinnamon, and soda and beat in well.
Add eggs one at a time. Beat each one in well.
Add flour and fruit, alternating between wet and dry ingredients. Stop and scrape down the sides of the bowl occasionally.
Continue until all ingredients are blended evenly.
Divide batter evenly between three pans.
Bake about 45 minutes until a toothpick or cake tester comes out clean and the cake pulls slightly away from the sides of the pan.
Cool COMPLETELY before removing cake layers from the pans.
FROSTING INSTRUCTIONS
Cream together butter and cream cheese until fluffy.
Add vanilla and beat again.
Add powdered sugar and beat until it reaches a good spreading consistency.
Notes
PLEASE NOTE FOR THIS RECIPE, AS PICTURED, I DOUBLED THE AMOUNTS FOR FROSTING!
Nutrition Information:
Yield:
12
Serving Size:
1
Amount Per Serving:
Calories:

831
Total Fat:

43g
Saturated Fat:

12g
Trans Fat:

0g
Unsaturated Fat:

30g
Cholesterol:

76mg
Sodium:

340mg
Carbohydrates:

108g
Fiber:

4g
Sugar:

77g
Protein:

8g
Have you ever had Hummingbird Cake? If not, I hope you will give it a try! If you have, you probably will never forget just how wonderful it tastes.
Pin It 🙂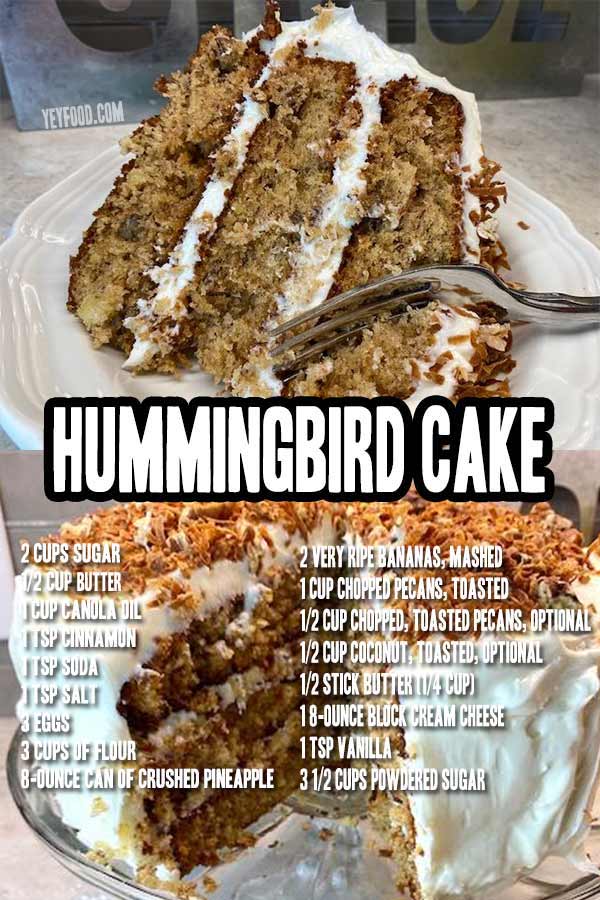 MORE OF OUR RECIPES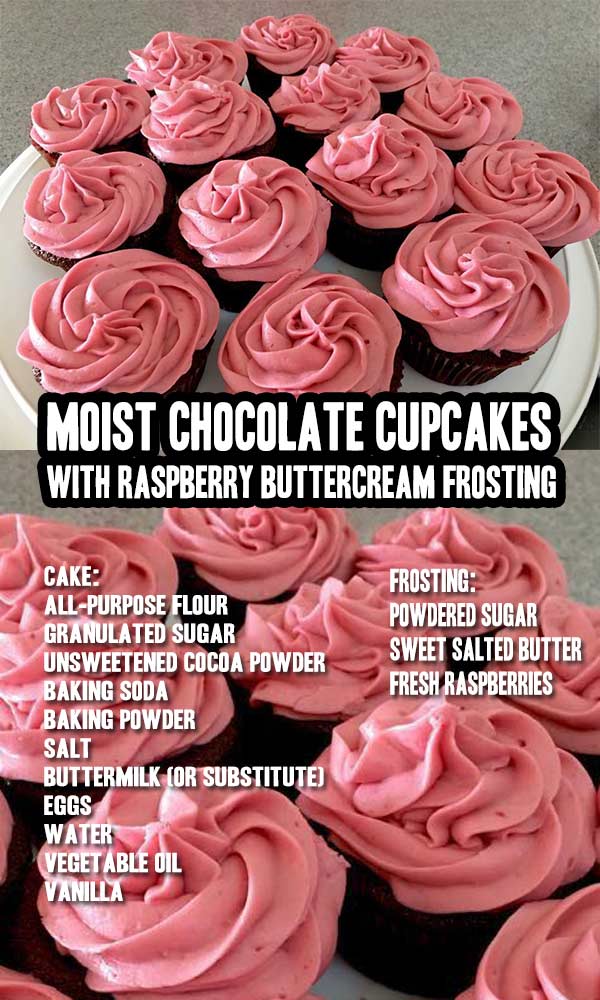 4 Reasons You Should Freeze Some Sweet Corn This Summer
How To Make The White BBQ Sauce That's Fascinated Us Since 1925
German Sauerkraut Casserole With Bacon And Brown Sugar
If you like these recipes, you are our people! You can check some related articles below or search via categories on the right. But, be warned; you will be on here for hours. Enjoy!
So, please share this recipe on your social media accounts like Facebook, Instagram, Twitter, and Pinterest. We would be honored and ever so grateful; thank you!